Travelling through the heart of the Ottawa Valley can be a rewarding experience for any tourist.  Extremely fresh air, beautiful rolling hills, superb hunting and fishing opportunities, and bargain accommodation prices are just a few of the reasons why domestic tourists flock to the Valley on weekends throughout the year. For international tourists, the sheer beauty and cleanliness of the freshwater lakes in the region is enough to entice them to stay for weeks. Since Canada has a temperate climate, the tourism industry adapts according to the temperature outside. The warmest months of the year span from June to September.  During a recent trip to the Ottawa Valley, I was lucky enough to catch a few weeks of warm weather on one of the nicest freshwater bodies of water that I have ever seen – otherwise known as Golden Lake.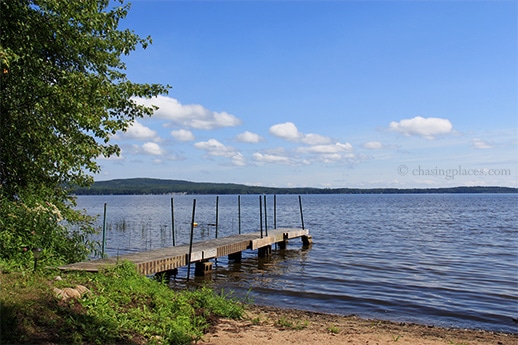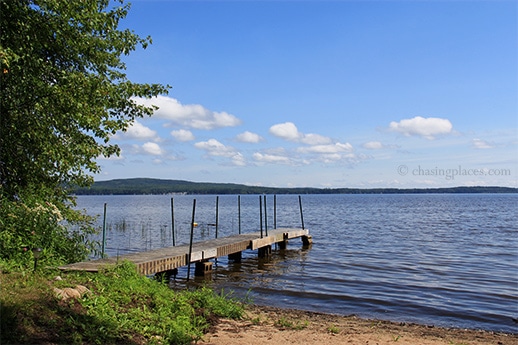 Located approximately 25 km southeast of Pembroke and about two hours from Ottawa, Golden Lake is situated far enough from surrounding cities for visitors to feel the authentic country living that makes the Ottawa Valley region such a prime tourist destination. The lake itself has a surface area of roughly 35 km2 and an average depth of 11 m. Therefore, there is plenty of water for water sports.  According to the locals, jet skiing has become increasingly popular in recent years, but it still ranks far below fishing in terms of popularity. Although I didn't get the opportunity to fish during my trip, I did find enough time to ask a few residents who live on the lake what types of fish species are typically caught. As it turns out, tourists will always be guessing what's on their line because there are so many different types including: northern pike, bass, muskellunge, pickerel, white fish, cat fish and perch.
           If fishing isn't your thing then there is ample opportunity to photograph some of the wildlife on the water. During my stay, I saw everything from large groups of mallard ducks to a massive blue heron with its elongated wing span. Taking a step into the clear water of Golden Lake was an experience in itself. Massive schools of tiny bait fish surrounded me from all directions. It made perfect sense why there were so many different species of bird prey only a few meters from the shoreline.
            Despite being on vacation, I made an extra effort to wake up for the exceptional Golden Lake sunrise. I consider this to be one of the highlights of my stay on the Lake. The combination of the crisp-fresh air, warm hot chocolate and the glistening reflection of the sun on the calm water was an unforgettable experience. This reminded me of one advantage of visiting a lake opposed to an ocean resort; you can catch both sunrise and sunset in the same day by simply driving to the other side of the freshwater!
          In retrospect, the most memorable aspect of my time on Golden Lake was interacting with the locals.  The Ottawa Valley is known for small-town kindness and the cottagers and residents staying on Golden Lake only add to this claim.  Since I stayed on the south western shore of the lake, it only took approximately five minutes by car to reach the beautiful village of Killaloe. I spent considerable time there as well during my trip.
Whether I was in Killaloe or on the Lake, it seemed as if almost everyone in the area knew each other, but this didn't stop them from passing on the same cheerful greeting to me. Based on my experience staying on Golden Lake, it is undoubtedly an underrated location for a family cottage stay in Ontario.  International tourists are sure to be impressed by the natural beauty and the broad range of outdoor activities available throughout the year.  Whether you enjoy ice skating, kayaking, hunting, snowmobiling or even trekking in nearby Algonquin Provincial Park there is something for everyone anytime of the year in the Golden Lake area.
Travel Checklist: Do you have everything you need?
 Here are some additional travel tips for your future trip to Golden Lake:
 1- If you want to catch the surreal sunrise head to the western side of the lake.
 2- During the summer months consider checking out the Killaloe Farmers' Market.  There you will find a wide variety of locally grown fresh-farm produce.  The organic garlic is particularly flavourful.
 3- If you need fishing supplies (permits, bait, tackle, rods or reels) or any items relating to camping (axes, ropes, fireworks etc.) then head to Killaloe Ace Hardware located in Killaloe central on the corner of Queen Street and Lake Street. The store offers a great selection of goods and the store owner can provide valuable information because he knows the surrounding area extensively. The store contact information is listed below: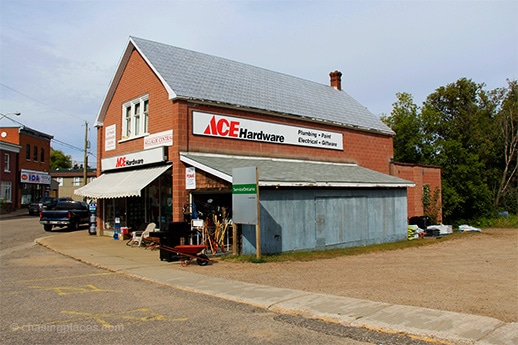 4- If you wish to camp on Golden Lake then there is a well maintained campsite called Golden Lake Park located off of Highway 60.  Campers can either hook up a trailer or bring a tent along for their stay.
5- If you prefer more upscale service and amenities you can look at different hotels in the region here. Aside from having a great spa and a beautiful beach, the restaurant and rooms get excellent reviews.
6- For visits longer than a day or two try to rent a cottage all to yourself right on the water.
Finding the cheapest hotel rooms in the Ottawa Valley
We suggest using one of two reputable online sites to book your room well in advance within the Ottawa Valley: hotelscombined.com or booking.com. Hotelscombined.com is considered by many travelers to be the world's best hotel price comparison site, whereas booking.com is extremely popular around the world for cheap rooms and ideal free cancellation options. Either way, you should have no problem finding a good bargain in the Valley. I have created links to their respective property lists in the Ottawa Valley so save you some time:
Rooms in the Ottawa Valley – www.booking.com
Compare Room Prices in the Ottawa Valley – www.hotelscombined.com