When I started taking an interest in traveling, it made perfect sense to explore Southeast Asia first. After all, I didn't need a visa to enter the countries in this region. And the fact is, Southeast Asia remains a relatively affordable travel destination.
It was during my  Southeast Asian trip that I came to realize that many people make their way to this region for the sole purpose of enjoying its beaches. I really can't blame them as there are truly mind-blowing, gorgeous beaches in countries like Thailand, Philippines, and Indonesia.   But I have also learned that Southeast Asia has more to offer than just dazzling islands and ocean-front resorts.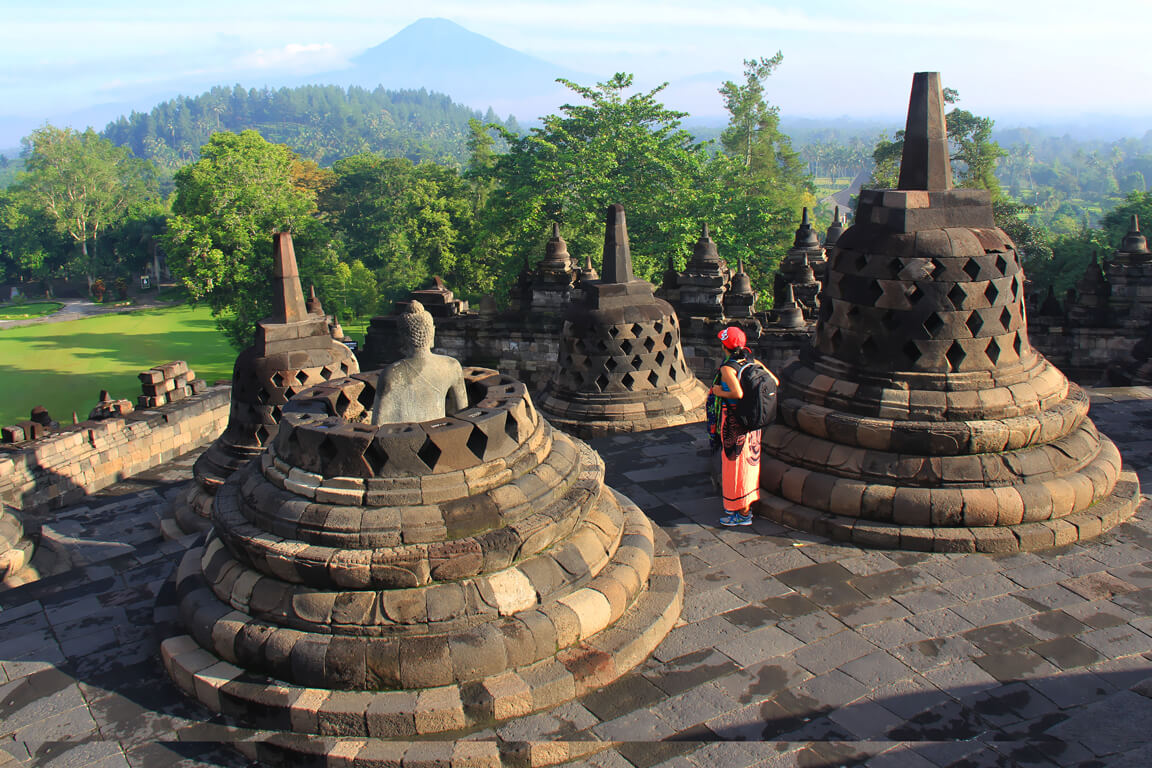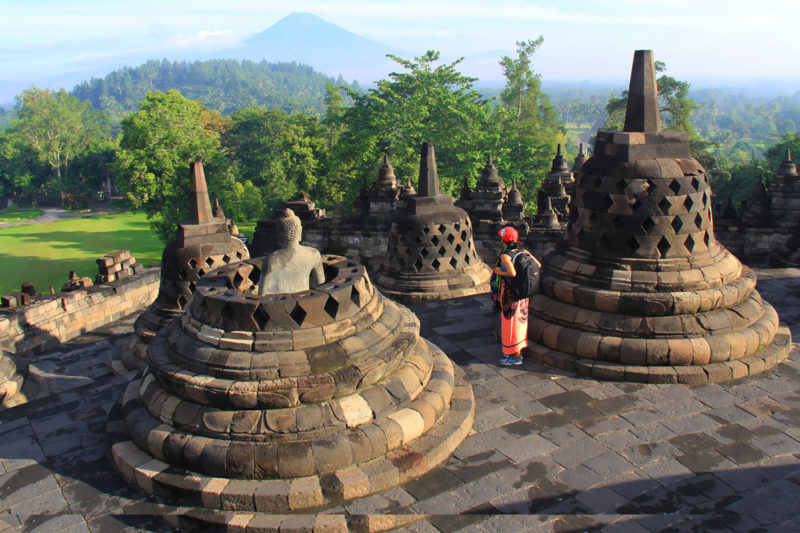 I don't want to stop you from enjoying the sand, the sea, and its waves, but I also would like to encourage you to explore Southeast Asia's cities. Most of them are nowhere near as developed as New York City or as elegant as Paris. What they do offer is a glimpse of their country's deeply-rooted cultures, intriguing politics, and insanely resilient spirituality.
Southeast Asian cities tend to hang on to their past and do not wholeheartedly embrace western ideals of progress. For me, they are like puzzles that do not need to be solved. Visiting a Southeast Asian city compels you to think, reflect, and even compare. Nothing is hidden from plain sight – whether its enduring religious devotion, strong community-oriented values or devastating poverty. They are all there for you to see and scrutinize.
Just in case you don't know which Southeast Asian city to visit, I have compiled a list of my top 9 favorite cities in this region. I will give you compelling reasons why each one deserves your visit. I'll even include some travel tips while I'm at it. You ready? Let's begin.
1. Siem Reap, Cambodia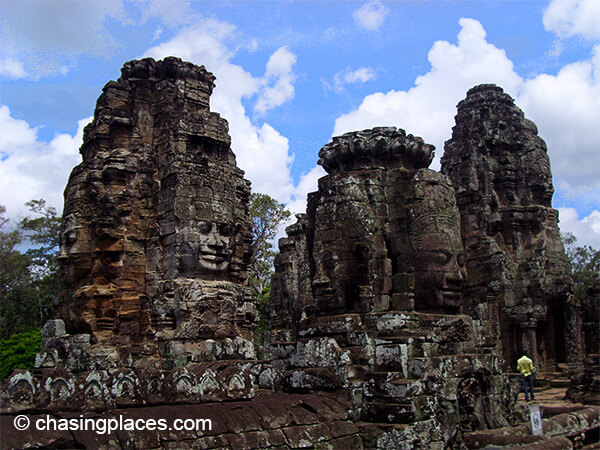 Why You Should Visit:
Siem Reap is a small city, devoid of impressive skyscrapers or flashy theme parks. But the main reason to visit this Cambodian city is its magnificent collection of ancient temples called the 'Angkor Archaeological Park.' Thanks to these truly fascinating temples and Angelina Jolie's film: 'Lara Croft: Tomb Raider', Siem Reap's tourism industry has been booming for years, fueling the national economy and giving jobs to many Cambodians.
Siem Reap is the most visited city in Cambodia. This is why it has some of the most luxurious hotels in the country. But what I like about this city is that it's still very much affordable to backpackers or travelers on a budget. There are numerous accommodation options in Siem Reap. Most of them are owned and operated by local families. Even though they are cheap (about $10 USD per night), they are generally clean.
Food and alcohol in Siem Reap are relatively affordable although they cost more than in other parts of the country.
What You Shouldn't Miss:
The Angkor Archaeological Park course! Just a warning: the park is fairly massive.  You have the choice to get a one-day or three-day access pass, so choose wisely. The main sites inside the park are Angkor Wat and Bayon Temple (my favorite!)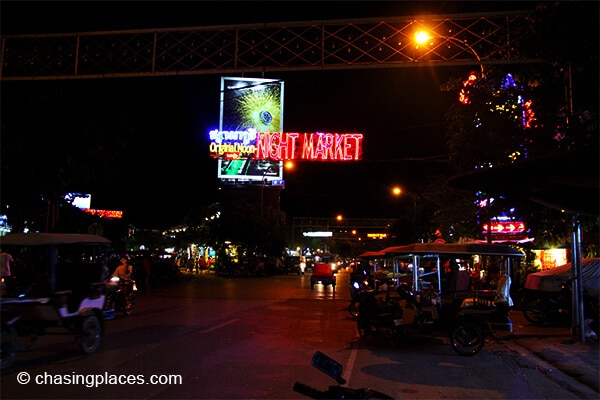 After exploring the archaeological park during the day, head out to the city's Night Market and Pub Street in downtown Siem Reap. Pub Street is famous for its numerous bars and restaurants that attract travelers from all over the world.   If you're traveling with family, treat yourself to the spectacular show called 'Phare – the Cambodian Circus'.
How to Find Accommodation in Siem Reap
2. Luang Prabang, Laos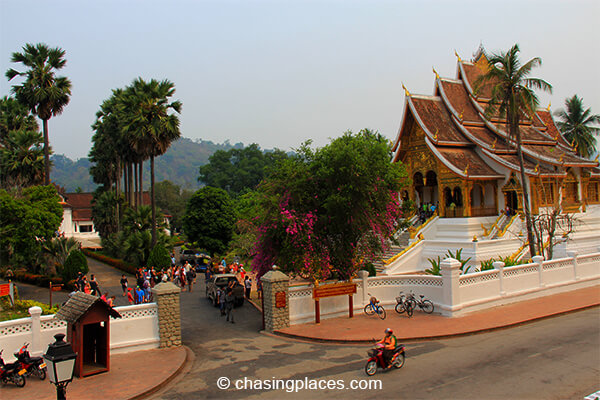 Why You Should Visit:
Declared a World Heritage Site by UNESCO, Luang Prabang is the former capital of Laos. Here, you will see Laotian wooden homes as well as French colonial architecture.   Luang Prabang is one of the most charming, polished and visually appealing cities that you will ever see in Southeast Asia.  It looks way more affluent compared to the other cities in Laos.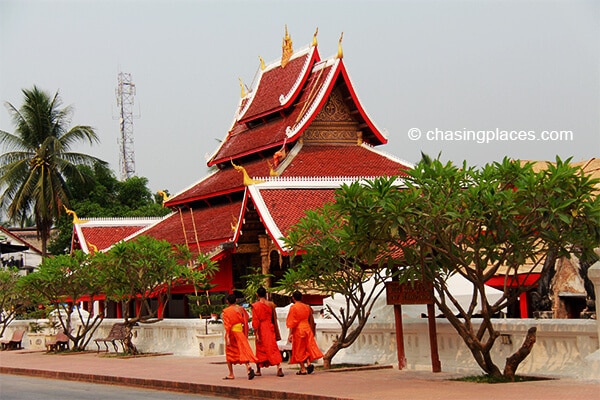 Because of its inaccessibility, not everyone who comes to Laos makes it to Luang Prabang, and that makes a visit to this colonial city all the more special. Some visitors choose the convenient way to get there, which is to take a flight from Vientiane to Luang Prabang on a small propeller plane. There are bigger planes that fly into Luang Prabang from cities like Bangkok, Hanoi, and Singapore but tickets can be very expensive.
The other cheaper option is to ride a bus or private car on a difficult road full of potholes and sharp hillside corners.   If you're not used to Southeast Asian road tripping, the journey may frighten you. But for those who are daring enough to do it, the experience is guaranteed to be a memorable one – definitely a story worth telling!
What You Shouldn't Miss:
Temple hopping is a popular thing in Luang Prabang, and you don't have to go outside the center to experience it. There are 34 fascinating Wats in Luang Prabang that are recognized and protected by UNESCO.  Wat Xieng Thong is considered to be the best one due to its intricate details, elegant appearance, and historical importance. There are also scenic boat tours around Luang Prabang that are worth checking out as well!
How to Find Accommodation in Luang Prabang
3. Bagan, Myanmar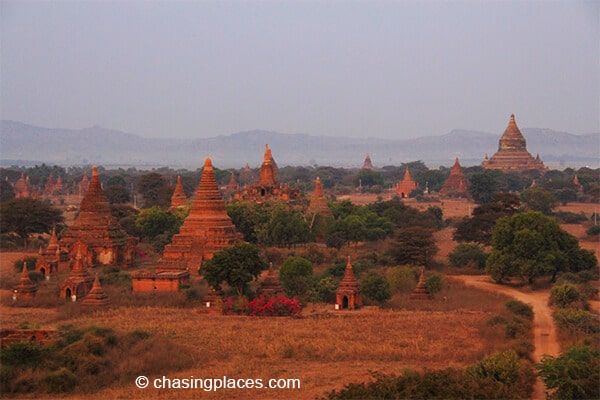 Why You Should Visit:
Myanmar's political turmoil in the past prevented it from becoming fully open to foreign tourists.  But nowadays, the country's civilian government is encouraging tourism.  Myanmar's most populous city – Yangon may be undergoing some major and rapid development, but it is Bagan that deserves your attention.
Set in Central Myanmar, this ancient city will mesmerize you with its Buddhist temples, pagodas, and stupas, mostly built during the 12th and 13th centuries. Bagan is oftentimes compared to the Angkor Wat complex in Siem Reap.  Compared to Angkor Wat's, the temples of Bagan may look a bit newer and less detailed. However, their appeal lies in their number.  This is, after all, the largest and densest concentration of Buddhist religious structures in the world.
What You Shouldn't Miss:
Most hotels and restaurants are in the main village of Nyaung-U. However, most of the temples are located near Old Bagan. The reddish and/or brownish hued temples and pagodas are spread across a plain that matches their color. From a distance, the Bagan temples are simply magnificent during the day and quite romantic during sunset.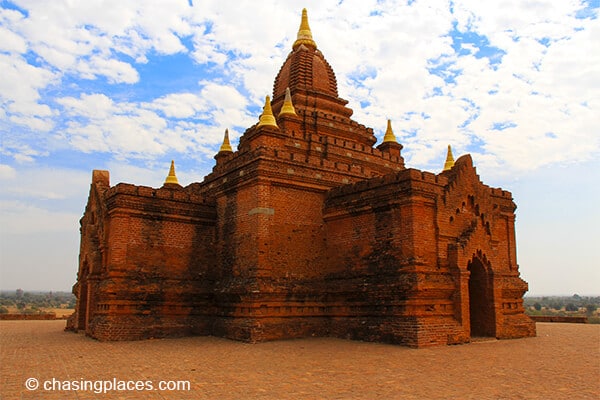 Car and coach tours are popular and include stops at the most prominent temples like the Ananda Temple. On our visit to Bagan, we decided to hire a driver to take us around. It made sense to do this because the temples are scattered around a vast area.  If you like to sweat more, drive a bike. For spectacular views, book a hot air balloon ride.
How to Find Accommodation in Bagan
4. Vigan, Philippines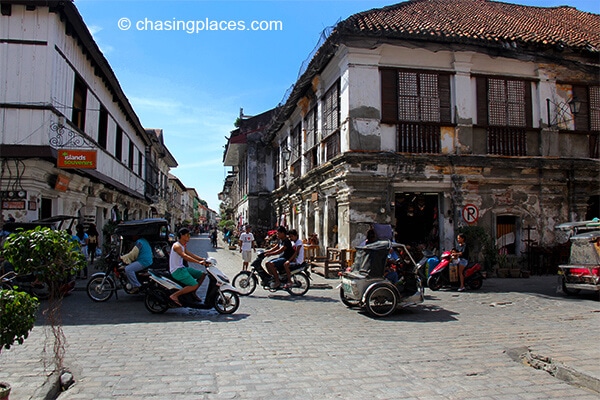 Why You Should Visit:
The Philippine capital of Manila may not be the best cup of tea for most travelers. So if you want to see something else, I suggest you head north and look for Vigan.
Vigan's biggest draw is its Old Town, which is labeled as the best-preserved Spanish colonial town in Asia.  While it may be true that there are more attractive Spanish colonial towns than Vigan; these towns are nowhere near Southeast Asia. You have to go all the way to South America for that. This is why Vigan is a unique destination in Southeast Asia.
The Philippines was under the Spanish rule for more than 300 years. Vigan's Old Town is an excellent representation of the country's colonial history. This past still very much influences the Filipinos' present culture, values, and way of life.
What You Shouldn't Miss:
In Vigan's historic quarter, you will find cobble-stone streets, old and very well-preserved houses and buildings built during the Spanish colonial times. Vigan's Old Town is hailed as a UNESCO World Heritage Site but it occupies a small part of a bigger city. Visit the small Burgos Museum, which has lively young tour guides. Then, walk over to the new Art Center, which was a former provincial jail.
For cheaper accommodation and for a dose of the Filipino way of life, venture outside the Old Town streets.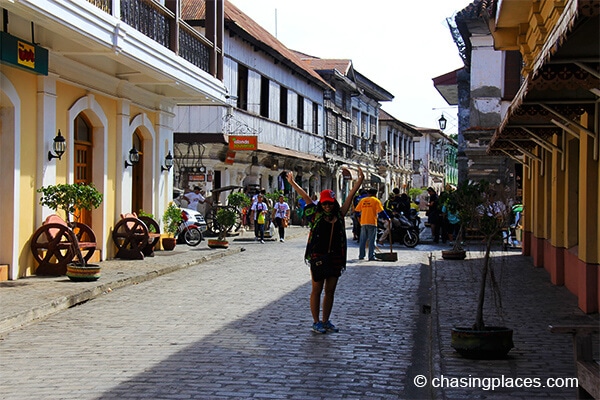 During my visit to Vigan, I experienced something that I will never forget. It's quite the story! After dropping by Burgos Museum, my two foreign companions and I decided to walk over to the provincial jail beside it.  The security staff on duty at that time were so nice and chatted with us. To our surprise, they invited us to go inside the jailhouse where the prisoners were. My companions were noticeably scared about the idea but decided to accept the invitation. We went in and saw a huge courtyard-like space populated by what must be more than a hundred prisoners going about their business. They were cooking, washing clothes and chatting, all in that one big area. We got a lot of curious stares but generally, the prisoners were well-behaved. Sensibly, we decided not to stay long but the experience of walking around inside this prison was very surreal. Currently, this prison compound now functions as an art center, but it will always be that friendly bizarre prison to me.
How to Find Accommodation in Vigan
5. Hanoi, Vietnam
Why You Should Visit:
The capital of Vietnam remains a very cultural place where Western retail shops and restaurant chains cannot seem to fully penetrate the local economy. Instead, Hanoi is dominated by street vendors and locals sitting on low chairs sipping local coffee and eating baguettes in the morning.
Some travelers may argue that Ho Chi Minh (Saigon) is the better city. Ho Chi Minh is definitely more dynamic, developed and open to western ideologies.
To an intrepid traveler, Hanoi is a place that's not hard to like. Despite being a capital, it feels so authentic and charming. In terms of development, it still has a long way to go, but I'm not sure if it really wants to transform itself completely. Hanoi stubbornly pays homage to the humble beginnings of Vietnam.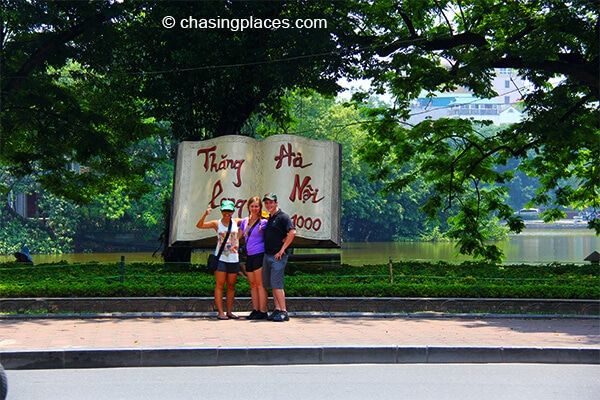 What You Shouldn't Miss:
To experience Hanoi, walk through its streets. Find your way through the streets of the Old Quarter and to the shores of the serene Hoan Kiem Lake. By doing so, you will come to respect the city's resilient character and strong identity. Tourists love Hanoi's street life.
Watching local vendors while eating Pho (Vietnamese soup) in the morning was my favorite thing to do in Hanoi- simple yet oddly satisfying.
How to Find Accommodation in Hanoi
6. Bangkok, Thailand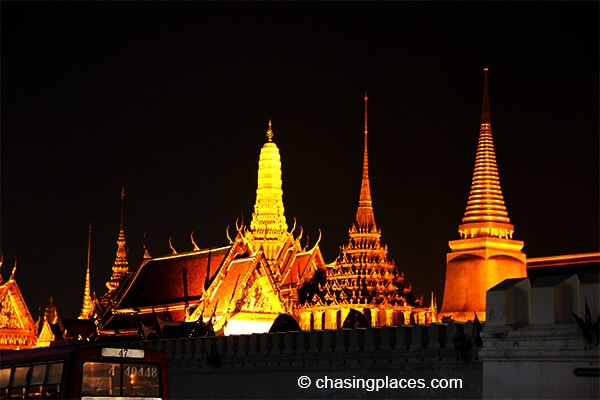 Why You Should Visit:
Bangkok is one of Hollywood's favorite Southeast Asian cities. Movies give Bangkok the reputation of being wild and unpredictable. But this city is sort of schizophrenic, exhibiting split personalities. It is the business capital and a commercial hub. It is a place where you can shop for affordable clothing and party on the streets until the wee hours of the morning. But Bangkok is also a sacred city for the Thai people as it is the home of the Grand Palace and the Emerald Buddha Temple.
What You Shouldn't Miss:
Despite its countless shopping malls and fancy restaurants, many tourists are still drawn to the streets of Bangkok to taste favorite Thai dishes like Tom Yum, Pad Thai, and Mango Sticky Rice.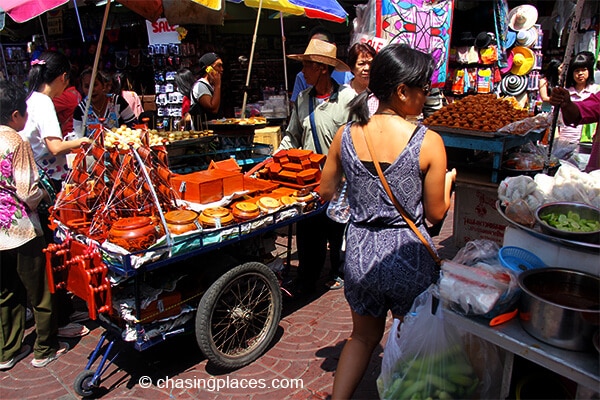 The Chao Phraya River is a popular destination because most of the city's major historic and religious sites are found along its shore. Chatuchak Market is the biggest one in Southeast Asia, but there are other interesting markets in the city that you can visit.
Bangkok can be almost anything you want it to be!  But whatever you do, don't be in a taxi going downtown during peak hours. Traffic jams in Bangkok are notorious and they can ruin your holiday if you don't plan well.
There's no doubt that Bangkok is a bustling metropolitan powerhouse. However, my favorite place in this city has always been the Grand Palace complex. I assure you that it's a site worth visiting!  The palace's sheer magnitude, grandiose materials, and intricate design make it absolutely jaw-dropping!
How to Find Accommodation in Bangkok
7. Singapore City, Singapore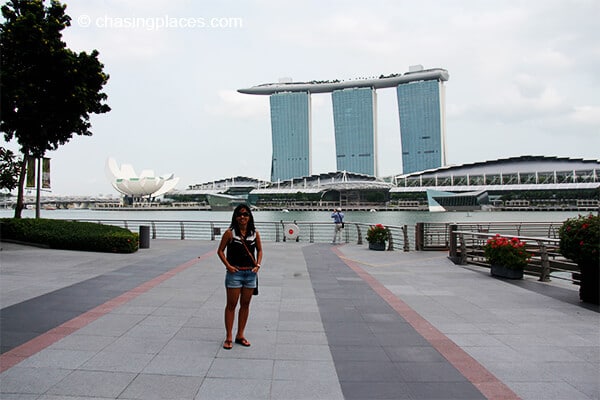 Why You Should Visit:
Technically speaking Singapore is a country but it's more like a city in terms of its size and vibe. Thus, I will ignore the technicalities and include it in the list.  With its sleek quays, towering buildings and well-disciplined people, Singapore is one the world's most impressive modern cities, worthy of admiration.
Some travelers complain about Singapore being less cultural, more serious and definitely pragmatic.  It's true that the usually strong Southeast Asian culture is not in your face here. Instead, Singapore tells you what a Southeast Asian city can be with hard work, tenacity, and discipline. To enjoy Singapore you must be ready to spend more than you normally would in other Southeast Asian cities. But the city will reward you with its wide streets, well-trimmed parks, very low crime rate and family-friendly destinations.
What You Shouldn't Miss:
Singapore is rarely described as being romantic by travel books and blogs, but I daresay that it is! The Marina Bay area is especially romantic at night. All the major buildings and even bridges are brilliantly and colorfully lit up. There's harmony to the colors projected as if a lighting scheme was carefully chosen even though the buildings are privately owned.
Whether alone or with someone, tourists can freely and safely walk or bike around the Marina Bay area late at night. Every time I'm Singapore, I never pass up the chance to walk around romantic Marina Bay.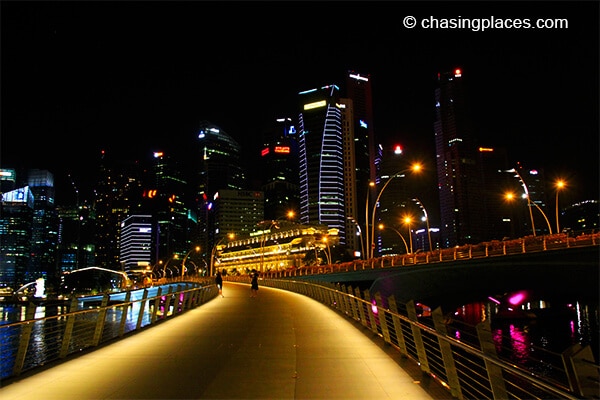 Singapore has a reputation for being a real modern metropolis with well-disciplined and Westernized population. But if you want to get to know the city's thriving local cultures, head out to districts like Chinatown, Little India, and Kampong Glam.
How to Find Accommodation in Singapore
8. Kuala Lumpur, Malaysia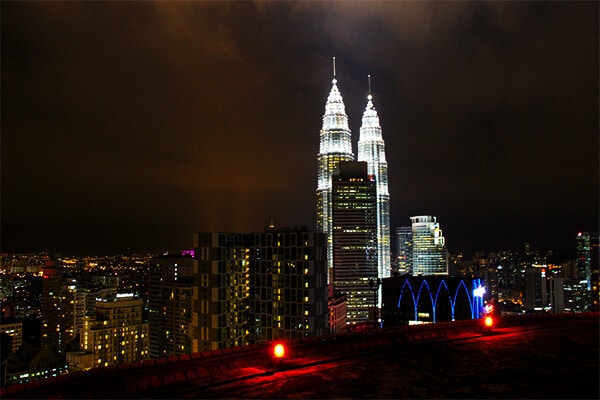 Why You Should Visit:
Kuala Lumpur is one the most developed cities in Southeast Asia. It features impressive infrastructure and road networks.  The best way to describe this city is that it's at a 'crossroads'. On one hand, there's a part of Kuala Lumpur that wants to be more like its neighbor Singapore. But on the other, it's still your typical Southeast Asian city – rich in culture but sometimes dismissive of values like discipline and efficiency.
Kuala Lumpur, like the rest of Malaysia, is not a melting pot, but it is more like a salad served cold. It is populated by three major ethnicities – Chinese, Indians, Malays (the majority).  There are issues surrounding how these three cultures coexist and interact. But for the most part, Kuala Lumpur residents live harmoniously, being more geared towards progress and prosperity.
What You Shouldn't Miss:
KL, as locals prefer calling it; is an easy, comfortable, convenient metropolitan city to explore. It is home to the Petronas Twin Towers, which is in my humble opinion, still the most attractive skyscraper in the world.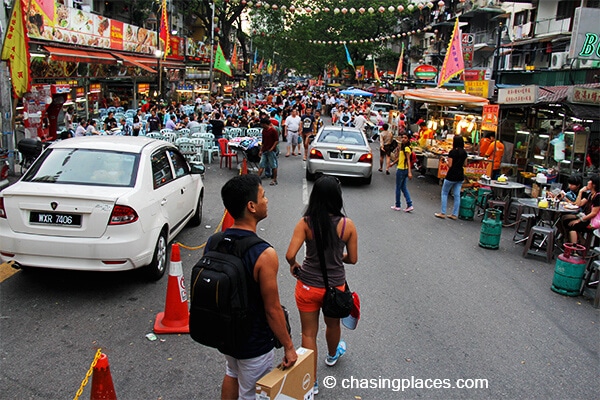 Eating in Kuala Lumpur is a great adventure.  Jalan Alor in Bukit Bintang and Petaling Street are the most famous spots. But there are many street markets, outdoor eateries, and hawker centers all over the city that are just as good, and often cheaper.
The locals love to eat!  If you want to eat like them; start by having dinner at around 9 pm and follow it up with a midnight "teh tarik" (local tea).
How to Find Accommodation in Kuala Lumpur
 9. Yogyakarta, Indonesia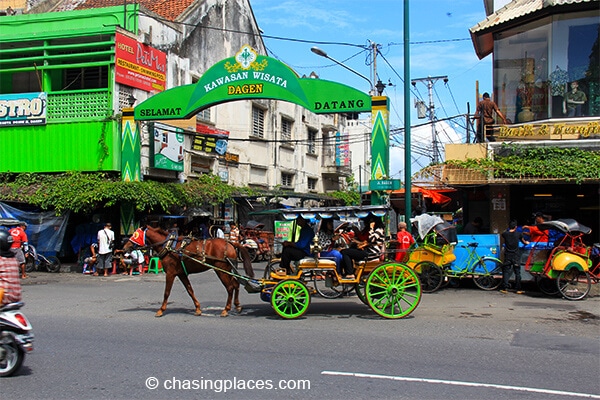 Why You Should Visit:
Yogyakarta is the more laid back sister of Indonesia's capital, Jakarta. Compared to Jakarta, this city is easier to travel around as the traffic is not nearly as bad. Yogyakarta will definitely not win you over with its infrastructure. Glamorous and ambitious buildings are nowhere in sight.  But what Yogyakarta will offer you is its bustling markets, humble lifestyle and strong devotion to the arts.
I love the city of Yogyakarta because the people here are nice and inherently happy. I could tell that they don't need to be rich to enjoy life. They like singing, dancing and performing.  A number of them make a living out of making crafts, jewelry, and artwork. They also like painting their public walls to express their thoughts and aspirations.
What You Shouldn't Miss:
Yogyakarta is a tourist magnet because it is a convenient gateway to major sites like Prambanan Hindu Temple, Ancient Borobudur, and Mount Merapi.  But after seeing these sites, I highly suggest spending time exploring the city.  Walk around the Malioboro Street Market, drop by an art gallery or get a becak (trishaw) to take you to Kota Gede for some exquisite but reasonably-priced silver jewelry.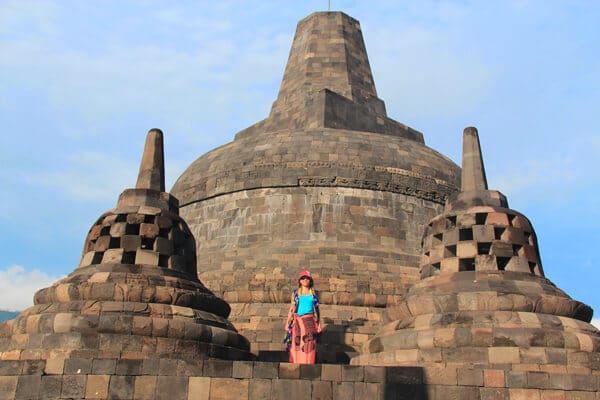 This list is based on my extensive travel experience around Southeast Asia. But I also want to know if you agree with my list. Comments are always welcome!
How to Find Accommodation in Yogyakarta
Travel Checklist: Do you have everything you need?