People visit tourist destinations for different reasons. If you happen to make your way to Bali's Ubud because you have heard or read so many rave reviews about this northern town we can't blame you. However, if you decide to come to Ubud with a skeptical mind and unsure about why so many visitors find Ubud simply captivating; then here are some of Chasing Places' top reasons why this Balinese district is a worthwhile travel destination.
The Great Passion for the Arts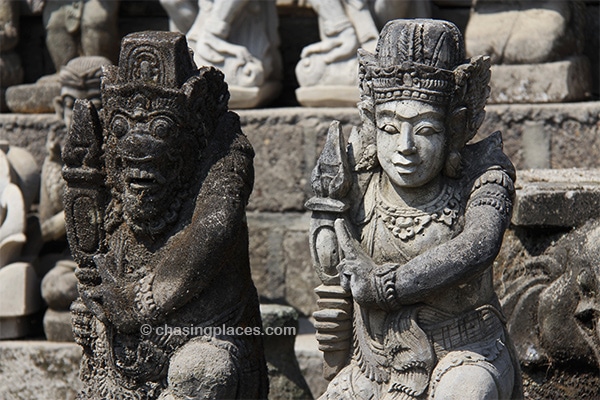 Serene, artsy and a little funky, Ubud has become the hub for travelers who have passion for the arts. Here, you can easily find some of the best artists on the island displaying their latest masterpieces. Take a stroll around the streets of the town, and you will most likely come across artisan shops and small galleries. Don't hesitate to browse through the collections. This is the time to indulge your sense of sight, appreciate local talent, and maybe, purchase a magnificent souvenir you can post on your wall back home.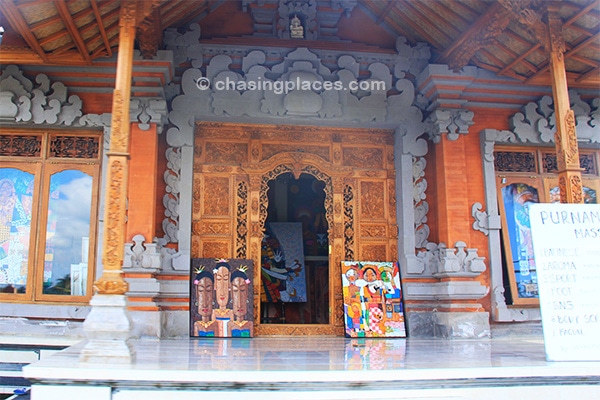 The Sacred Sanctuary
 The Sacred Monkey Forest Sanctuary is one of the top attractions not only in the Ubud area but on the entire island of Bali. As a testament to its popularity, tourists who are not planning to stay in Ubud still make their way to the sanctuary for a day trip. As a result, the roads to the sanctuary are particularly busy especially in the morning. To avoid the heavy traffic, we recommend that you spend at least a night in the Ubud area in order to have a convenient and hassle-free visit to the sanctuary the next day.
Officially named Mandala Wisata Wanara Wana, the sanctuary is made of dense forest. As its English name suggests, the sanctuary is home to grey-haired macaques that have long tails, acute senses and feisty attitudes. These monkeys may be nice to look at, and they do make adorable subjects for photography. But make no mistake about them, these creatures are out to swipe food (especially peanuts and bananas) that you may be trying to conceal.  Tourists are highly advised not to give food to these monkeys, but there will still be someone who deliberately uses food to get closer to the animals. If you don't want to be scratched or have a monkey sit on your head, it's best not to bring any food during your visit.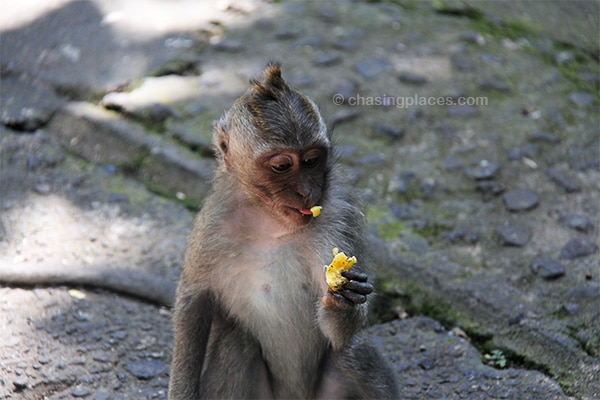 The Sacred Monkey Forest Sanctuary features three holy temples including the Pura Dalem Agung or Temple of the Dead, which is tucked deep into the surrounding forest.  There are three main entrances to the sanctuary. The main one is located at the southern end of Monkey Forest Road.  You need to pay an entrance fee to explore the sanctuary. Brochures that offer vital information about the forest, temples and its hairy inhabitants will be available during your visit.
Travel Checklist: Do you have everything you need?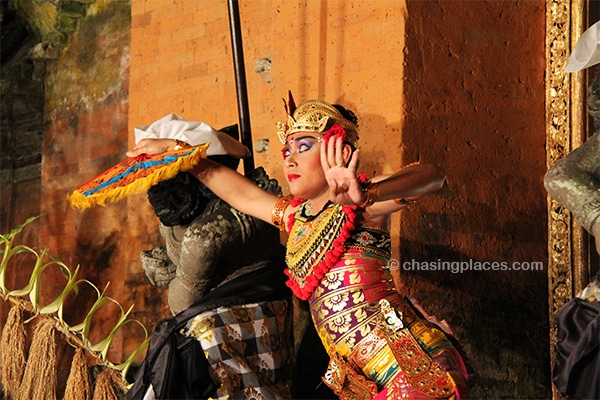 One of the most prominent landmarks in town is Ubud Palace. This royal palace sits in the heart of town, which shares the same space with another impressive building called Puri Saren Agung.  Seize the opportunity to walk around the palace compound as the buildings inside will impress you by showing off their ornate Balinese architecture. One of the best times to visit the palace is in the early evening, when a cultural dance show is being held. Traditional Balinese dance shows are being performed all over town including in some of the largest restaurants. But we soon found out that one of the best places to watch is in Ubud Palace. Even if you have not seen too many traditional dances, you can easily tell that the dance troupe performing in Ubud Palace is composed of truly professional performers. If you want to locate hotels near the Palace in the heart of Ubud click here for a convenient map view of the area.
The Scenic Ride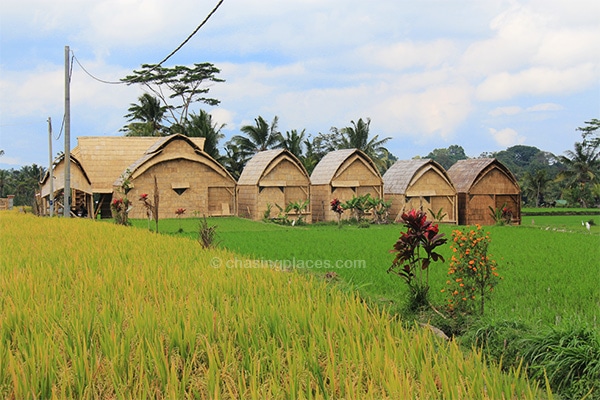 To discover the true beauty and magic of Ubud, follow the random back roads surrounding the town on foot, bicycle or even motorcycle. They will all eventually unveil Ubud's magnificent rice paddy-adorned countryside. It will seem like a simple landscape, but it does have the power to make you want to spend more days in the area without hesitation. When it seems like you're getting lost into a sea of rice paddies; ancestral houses that look like mini temples will remind you that you are exploring Bali's countryside and nowhere else. And as you drive along these backstreets on a motorcycle or bicycle, you will most likely encounter rural inhabitants (mostly farmers) carrying heavy loads and going about their day.  This is the simpler side of Bali, the side that has resisted mass tourism, and the side that will entice you to desperately fall under the charming spell of Bali.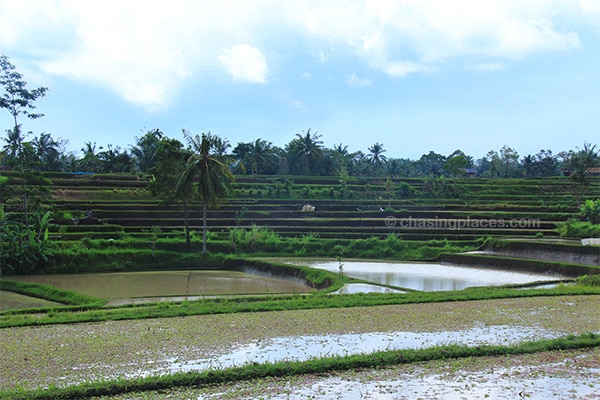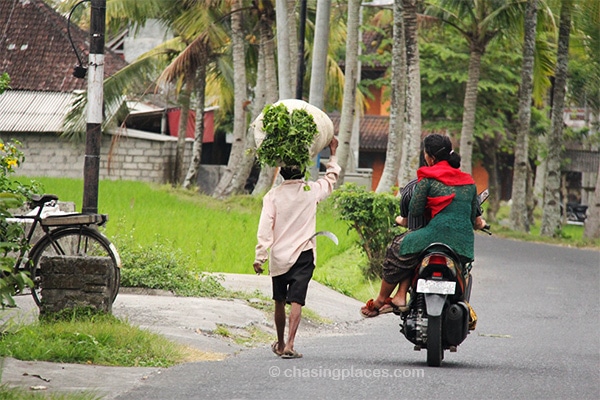 Finding hotels/guesthouses in Bali
Suggestions
Bali is loaded with some of the most luxurious resorts in the world. Ubud is no exception.  But walk 5 minutes down the road and you could be staying in a budget backpacker hostel.  In other words, it all depends on your budget and preferences.  We always prefer to use booking sites that offer a large selection, good cancellation policies, and of course, solid prices.  I use www.agoda.com and/or www.hotelscombined.com when I visit Indonesia. Agoda has a massive selection for Bali (over 5000 different places to stay at the time of writing). Therefore, it's a good place to start.  Another option that has saved us serious cash while backpacking through Indonesia is www.hotelscombined.com.  We find their price comparison searches very useful and cost-saving when we're on a strict budget. Hopefully, these sites will offer you the selection and price that you're looking for while planning your trip!