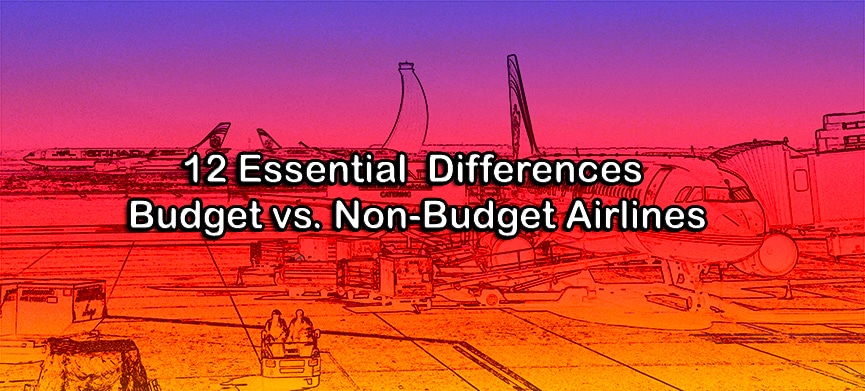 The aviation industry has always been evolving in one way or another. I often think that it has evolved so fast that many passengers haven't found the time to keep up with all of the advancements. It is important to have access to relevant information to make your trip as enjoyable as possible. One important decision that you may have to make in the near future involves whether to fly with a budget or a non-budget airline.  Below is a summary of the noticeable differences between low cost carriers and their more expensive competitors.
12. Sleep Packages
National carriers and elite non-budget airlines are known for providing high quality in-flight service. In most cases, for long haul flights they will either have "sleep packages" laid out on your seat before you board or they will pass them out shortly after take-off. Ear plugs, an eye cover, socks, a blanket and a toothbrush are normally included in these packages. Budget airlines may still offer these packages, but they are not embedded in the cost of the ticket.  Therefore, you will have the choice to purchase one in-flight if you are flying with a low cost carrier.
11. In-Flight Entertainment
For long distance flights with non-budget airlines expect to have your own personal screen with a wide range of music, games and movies available throughout your flight. If you are on an older plane then at least expect to see a larger television screen somewhere to look at. Most budget airlines do not have personal display screens on their planes, but they sometimes offer tablets that can be rented for the duration of the flight.  Again, you pay either way for the luxury of having in-flight entertainment.  Whether you need it remains to be seen?
10. More Legroom Please??
Depending on your height you may or may not have noticed that budget airlines often don't seem to have the same amount of legroom in comparison to their non-budget competitors. Keep in mind, however, that budget airlines usually offer shorter flights. Budget airlines often do have a small number of seats with more legroom but you will have to pay slightly more in order to pre-book one of these seats.  Ultimately, it comes down to what you value more – comfort or savings?
9. Round Trip vs. One way Advertisement
If you book a lot of flights then you have probably already noticed that budget airlines primarily advertise one way fares whereas non-budget airlines usually promote round trip journeys. This could have something to do with the length of the flights non-budget carriers offer and visa issues. Budget airlines want to entice passengers with super low fares and showcasing one-way prices does just that!
8. Luggage
The way in which budget and non-budget airlines manage their luggage policies is a very important difference passengers should be aware of. Non-budget carriers, in most cases, grant passengers 7 kg of carry-on luggage and at least 23 kg of checked luggage for international flights. Only if you exceed these restrictions will you have to shell out money at the airport.  Budget airlines also allow 7 kg of carry-on luggage, but in most cases you will have to pay for checked luggage. You will have the choice to pre-purchase luggage online or pay during check-in.  Therefore, try to travel light if you are flying with a low cost airline!
7. On-board Meals
Non-budget carriers typically provide meals with free-flow of drinks built into the flight price for international routes.  When you get on the plane the only reason to use your credit card will be for duty-free purchases. They also tend to serve a light snack and a small beverage for shorter domestic sectors.  Budget airlines differ in this regard because they usually allow passengers to pre-purchase meals before their flight departs. If passengers are hungry or thirsty in the air, then they must purchase additional food and beverages if they didn't pre-order.  This is fine for short flight routes, but it can add up if you are in the air for nine hours with a budget carrier.
Travel Checklist: Do you have everything you need?
6. Refund Policies
Budget airlines sure come in handy when you have to book a last minute flight without having to re-mortgage your home to afford the tickets. But they are not nearly as supportive when you have to cancel your flight tickets and request for a refund. Check out the refund policy first if you are skeptical about your trip.
5. Reward Miles Programmes
Historically, one of the benefits of flying with non-budget airlines was accruing reward miles that could be used towards the purchase of future flights and/or products.  This is still the case, but there has recently been an increase in the number of budget airlines starting their own rewards programmes. However, since non-budget airlines tend to have more affiliate airlines which share their rewards as part of larger programmes their programmes are still more rewarding. Either way, always try to collect miles for every flight regardless of the airline.
4. Flight Distances
Most non-budget airlines including national carriers are known for their intercontinental connections. If you are travelling over the Pacific or across the Atlantic there's a good chance you will be flying with a non-budget airline.  Most budget airlines focus on flight sectors below nine hours as shorter routes are more in-line with their business models based on fuel-price ratios.
3. Plane Sizes
If you get the chance to board an A-380 with a budget airline, consider yourself lucky!  In fact, most budget airlines stick with smaller planes because they service shorter routes.  National carriers and non-budget airlines typically use the largest Boeing and Air Bus planes available to the public as they try to provide the smoothest in-flight experience for their longest sectors.  Remember though – just because they're big doesn't mean they're new!
2. In-flight Service
Non-budget airlines usually have at least business class seats occupying the front of their planes. These passengers will usually get served refreshments before the plane even takes off. Then all passengers will get served about an hour after take-off with periodic service throughout the remainder of the flight. Budget airlines don't usually serve all passengers food and drinks because they are deemed purchasable items on board. Therefore, you will notice the attendants briskly walking back and forth asking passengers if they want to buy something. The service on short flights with budget airlines is usually quite fine, but it's nice to have more comprehensive service for intercontinental flights.
1. Flight Fares
This is the likely the most substantial difference between budget and non-budget airlines. As the name suggests, budget airlines typically offer cheaper flight tickets than their non-budget competitors. This statement can be debatable sometimes, however. If you decide to fly on a budget carrier and you buy a couple of meals, a few drinks and require lots of checked luggage your overall flight cost could turn out to be quite comparable.
After you have found your flight.
Finding the Cheapest Rooms
Regardless of where you are travelling to in the world, we suggest trying one of these three accommodation booking sites: www.agoda.com, www.booking.com and www.hotelscombined.com. All three are reputable, offer massive selections and solid prices.