Medan International Airport (locally known as Kuala Namu International Airport) is located roughly 40 kilometres away from Medan city. Since it is quite far from Medan, it is important that you are well informed of the transport options available in order to make the correct decision when you arrive. Based on our recent trip to Medan here is a step by step guide on how to get from Medan International Airport (Kuala Namu) to Medan city.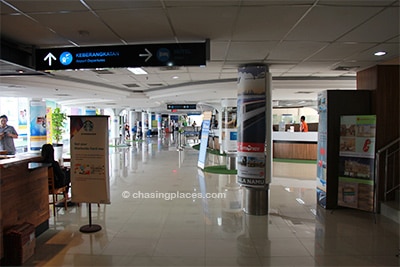 1. By Train (Rail Link)
This is arguably the best option from Kuala Namu International Airport to Medan. The rail link takes approximately 45 minutes from the airport. The rail station in Medan is centrally located and looks nice and new. The station has complimentary Wi-Fi and it is air-conditioned.  Although it isn't the quickest train in the world, the scenery is quite pleasant along the way and you will get a tiny feel of rural life in Sumatra. We travelled from Medan to the airport on the train and it was an overall good experience with no issues to speak of.  One unique feature of the rail link is that buying tickets in bulk saves money. Below is an overview of the rail link prices based on our trip to the airport.  Keep in mind that you will have to pay in Indonesian Rupiah.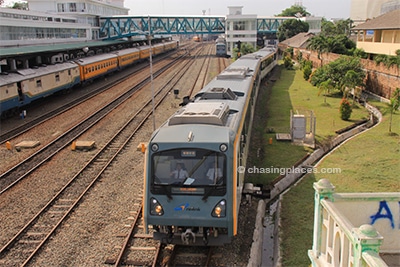 Rail Link Cost:       1 ticket = 80,000 IDR ($6.70 USD)
                             2 tickets = 150,000 IDR ($12.50 USD)
                             3 tickets = 200,000 IDR ($16.70 USD)
                             4 tickets = 250,000 IDR ($20.80 USD)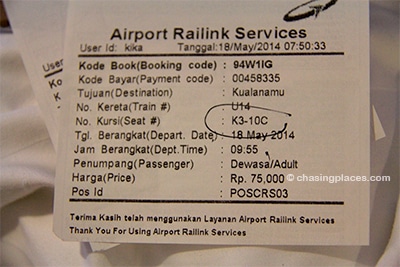 Travel Checklist: Do you have everything you need?
 2. By Taxi
This is not the cheapest option if you are travelling by yourself.  But if you are travelling with a group of people (4 total pax.) and you plan to share the cost, then it becomes the cheapest way to get from Medan International Airport to your hotel or guesthouse in Medan. Although traffic was alright when we took a taxi around 8 pm from the airport to central Medan it definitely could get congested. It took around 50 minutes at this time of the night. If you arrive late at night or early in the morning traffic should not be too bad. Be prepared for some horns and some weaving motorcycles along the way! Also, make sure that you get an official receipt when you purchase your ticket as there are touts lurking in the airport who will try to arrange trips in private vehicles to Medan city.
Taxi Cost: Approximately 210,000 IDR ($17.50 USD) depending on drop-off point in Medan.
Our Suggestion:
If you are travelling by yourself then take the train.  It's cheaper, more comfortable and it eliminates the need to worry about traffic. If you are with a few people and your hotel or guesthouse is far enough from the rail station then taking a taxi may be the best option.
How to Find the Cheapest Room in Medan?
I suggest staying near the airport train station in Medan for convenient access to transport options. If you want to check out hotels in the vicinity of the train station then click here. Avoid taking a taxi if you are landing or departing around peak traffic times as this introduces avoidable risk to your trip.
Medan is a great city for room bargains.  During our trips there we have used two different useful sites: Agoda and www.hotelscombined.com. Agoda is Southeast Asia's most popular room provider, whereas Hotelscombined.com has one many travel awards for its highly effective price comparison searches. Either one of these should help you secure one of Medan's room bargains!
If you have any additional questions or comments about our recent trip to Medan from Medan International Airport (Kuala Namu) or the reverse direction then feel free to comment below.  Safe travels!