Broga is a tiny town located around 45 minutes to an hour away from Kuala Lumpur in peninsular Malaysia. Although it is quite well known among locals, Broga Hill (or Bukit Broga in Bahasa) is the main attraction in this scenic region. If you are in Malaysia and you get tired of all the traffic jams and the horns consider spending a morning climbing Broga Hill.  It is a perfect day trip from the city to get some fresh air and some beautiful aerial views of the countryside. Here is a summary of my experience climbing Broga Hill.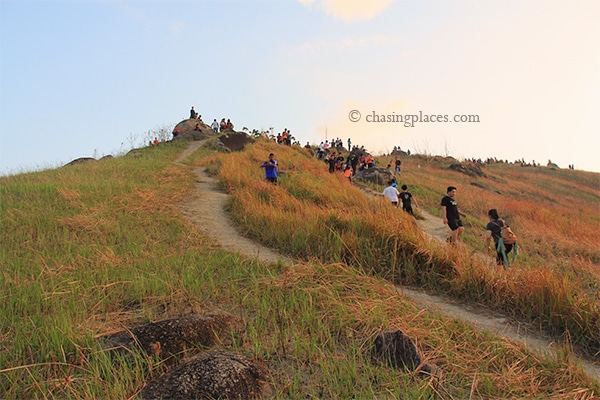 I started climbing Broga Hill at about 5:30 am. On the way to the base of the hill I couldn't help but notice that the parking lot was already over 50% occupied.  I began to think that sunrise at Broga Hill must be a sight worth seeing. The initial ascent up the Hill was not overly steep.  I could see that the trail was well packed with even stones showing noticeable signs of foot traffic leading up to the peak.  Moving briskly up the hill to catch the first glimpse of sunrise, I chose the emptiest sections of the trail.  This is one thing I really liked about climbing Broga Hill.  The main trail splits into smaller paths which enables faster hikers to deviate from the main path to pass larger groups and those taking their time.
The middle section of the climb became noticeably steeper than the initial section of the hill.  Also, some caution had to be taken with small cliffs on either side of the trail. As the sun continued to rise that morning, it became easier to avoid unexpected rocks and roots along the trail.  I think it's only natural to pick up your pace as you progressively get closer to reaching the top of any hill or mountain.  Broga Hill was no exception.  Nearing the first peak of the Hill, I walked briskly using the ropes to balance my weight. This, in my opinion, was by far the most challenging component of the Hill. Expect to get challenged during the last 300 meters of the ascent up to the first peak.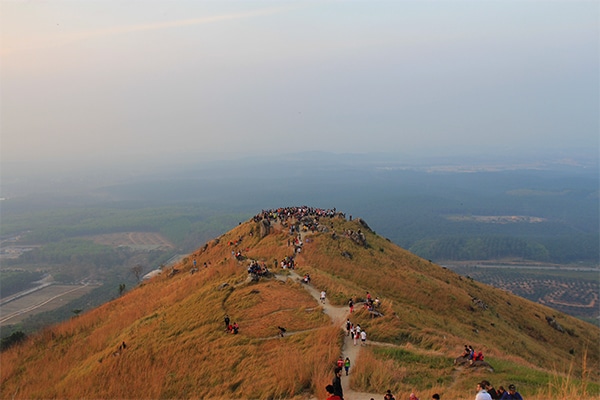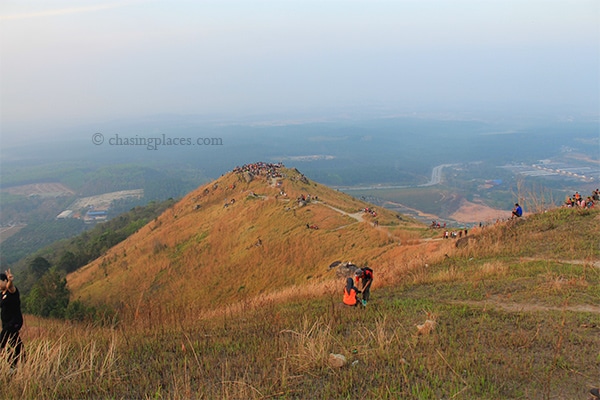 After I was safely up to the tip of the first peak of Broga Hill, I was quite surprised by the number of people already up there. I turned around and took in the impressive panoramic view of the surrounding countryside. School groups, families, and solo hikers were also quite enthusiastic about the environment.  Since I climbed Broga Hill on a Saturday morning, the top had an atmospheric, community-like feel to it.  After snapping a few photos, I decided to walk up to the next peak. The number of climbers decreased with increased elevation. I liked this aspect of Broga Hill.  There are numerous tiny peaks at the top of the Hill that you can hike up based on your fitness level. There are even trails that you can take at the top of the Hill as well.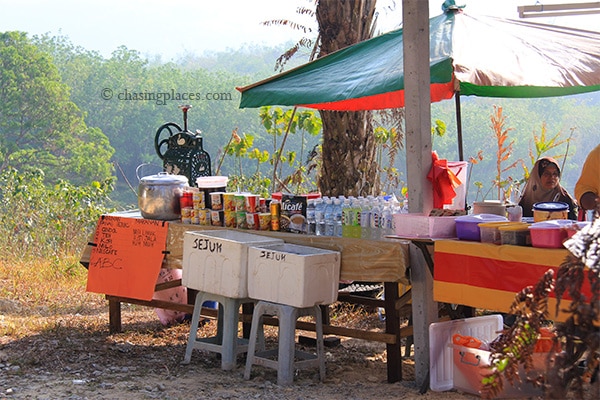 Travel Checklist: Do you have everything you need?
As expected, the sunrise was well worth the energy invested to get up to the peak.  After about 45 minutes at the top, it was time to slowly make my way down to the base before the humidity and the piercing rays of the sun took their toll. Thankfully, some local vendors were selling some fresh fruits and drinks near the base of the Hill.  Therefore, if you forget to bring some refreshments, it won't be the end of the world. Broga Hill is a worthwhile climb in peninsular Malaysia and I am quite glad that I made the decision to bring my camera along.  I have summarized some suggestions based on my experience climbing Broga Hill:
1. If you are climbing to catch the sunrise, expect it to take roughly 45 minutes to an hour to reach the first peak.  Of course, this will vary depending on your fitness level.
2. Bring a flashlight in the early morning to avoid tripping on rocks and roots along the trail.
3. If you are lucky to get to the peak on a clear morning it's a beautiful spot to take panoramic photos of the countryside.
4. Avoid climbing Broga Hill if it is raining because it will get muddy and too slippery, especially around the steepest sections of the climb near the peak of the Hill.
5. If you are not one for big crowds climb Broga on a weekday opposed to a weekend.
Where did we stay during this trip?
We have been to Broga Hill on multiple occasions while visiting Peninsular Malaysia. Typically, we prefer to stay in Kuala Lumpur, and then visit Broga as part of a day trip. The last few times we booked a room in Kuala Lumpur we decided to stay at the Pacific Regency Hotel Suites. We have no direct affiliation with this property or any property in KL, therefore we can provide an unbiased opinion about the place.  First of all, it's very conveniently located (10 minute walk to KLCC, 10 minute walk to Bukit Bintang, 5 minute walk to the Monorail Line). Secondly, their rooms tend to be super cheap considering how big they are (last time we booked a room that was almost 80 square meters for $65 USD!).  At the time of writing it had a score of 8.0/10 based on over 8000 verified guest reviews. I consider this to be an accurate representation of this property. If you're looking for something a bit more upscale with views of the Petronas Towers then you might want to consider the following options:
Traders Hotel by Shangri-La (rated 8.9/10)
The FACE SUITES Kuala Lumpur (rated 8.7/10)
The Ascott Kuala Lumpur (rated 8.4/10)
Want to find the cheapest room in Kuala Lumpur?
Most tourists that climb Broga do so as part of a day trip from Kuala Lumpur.  Therefore, it's more practical to book a room in KL and then arrange transport to Broga. Kuala Lumpur, fortunately, is still one of those bargain accommodation cities.  We have booked many rooms in KL with www.agoda.com and we have been completely satisfied with the quality for the price. Another solid option if you want to save time finding the cheapest room is www.hotelscombined.com.  Many of our readers just love Hotelscombined.com because of their cost-saving price comparison searches.  Here are some links to save you time:
Hotels in Kuala Lumpur with www.agoda.com
Hotels in Kuala Lumpur with www.hotelscombined.com
Top Rated Properties in Kuala Lumpur
Based on Verified Guest Reviews
Important: Mobile Users must swipe from left to right to see entire table.
 Criteria:
Properties rated based on 'overall' review scores from each respective website's verified guests.
Minimum of 50 verified guest reviews required to be considered eligible for comparison.
All star ratings and verified guest review scores are tallied at the time of writing, and therefore, are subject to change.
If you have any questions regarding Broga Hill please feel free to comment below.  Happy climbing!