Trekking up an active volcano is one of the most adventurous trips I made in my life. Everyone knows the strength and destructive power of a volcano, but very few have ventured close enough to marvel at a mysterious crater in first person. When we pursued Mount Bromo, it was not spewing hot lava up in the air (thank God), but it still was a very intimidating site to see nonetheless.  The volcano lies in the north eastern section of Java Island in Indonesia. It is situated in an area known as Bromo-Tengger-Semeru National Park. Mount Bromo is actually not the only volcano in the area. You can find four others in the near vicinity with Mount Batok being the only inactive one. However, it is common for adventurous travelers to make their way to Bromo because of its accessibility.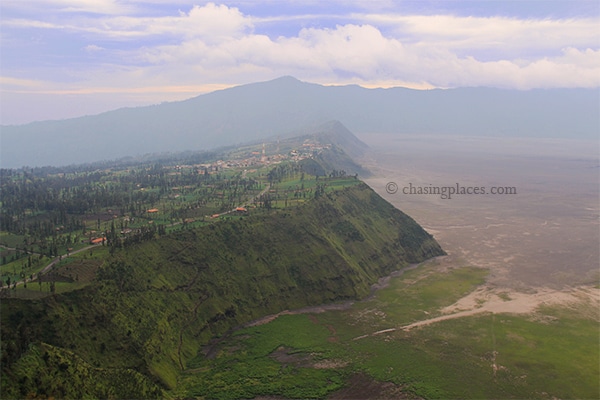 Making My Way to the Indonesian Volcano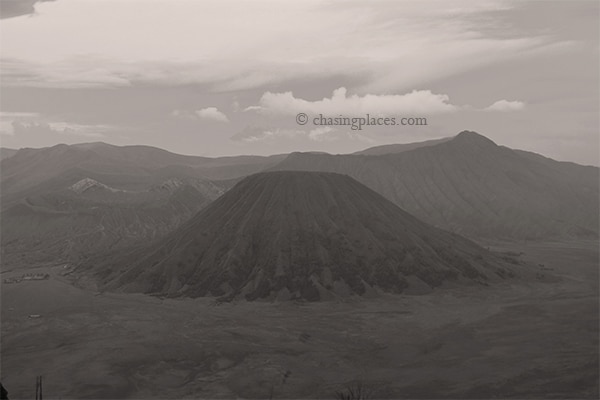 Our journey to Mount Bromo was an interesting, albeit a little sketchy experience. Our flight landed late at night at Surabaya Airport. When we left the airport terminal, there was no public transport except overpriced taxis. Two friendly Indonesian teenagers driving motorbikes offered to drive us for free to the Surabaya Bus Station. They were fascinated with tourists coming to their town. From the station, we took the bus to the connection town of Probolinggo.  When we arrived at the town's bus station, the setting was dark, empty and sketchy. There were no buses in sight and just a few local touts. The touts kept telling us there were no buses available at that time of the night, and that we needed to hire private transport to Mount Bromo – which of course they were happy provide.  One of them offered to take us on a rustic truck to a hill near Cemoro Lawang village to see sunrise over Bromo, and then bring us back down.   We agreed to a price and went with a guide. When we got to the top of the hill around 5 am, there were already several people waiting to get a glimpse of Mount Bromo.  Unfortunately, it was a hazy day and we didn't really get excellent photos.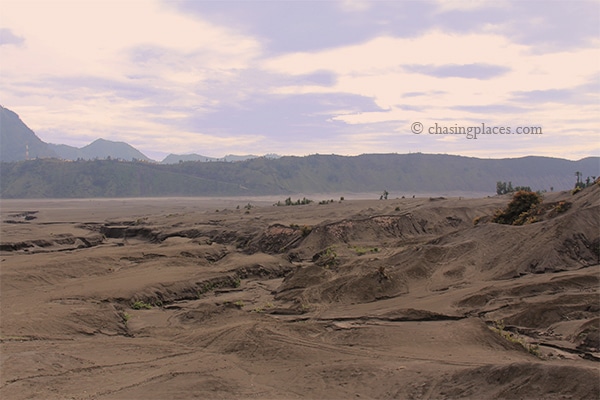 When the sun was up, we went back down the hill, which is just opposite Bromo. The surrounding landscape of the Tengger ridge area is like that of the moon. It arid, dusty and dessert-like but the sand was gray. Tourists had the choice to hire a horse or a motorbike, or hike to the foot of Mount Bromo.  We wanted to go hard core on this trip so we decided to walk about 2 kilometers across. The wind was pretty strong so dust was flying everywhere. Our hats, sunglasses and sarongs came in very handy, but a facial mask would have been perfect.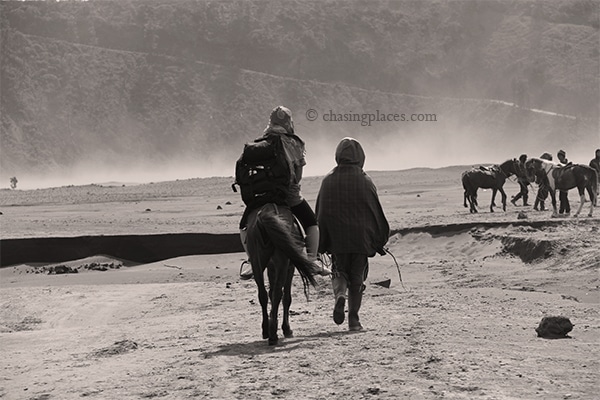 The Might of Bromo
[/fusion_builder_column]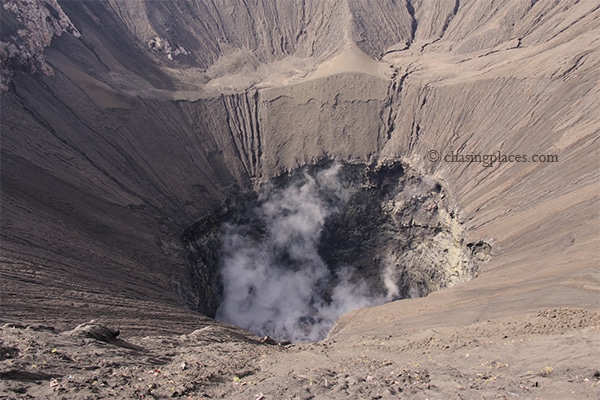 The ascent to the crater of Mount Bromo posted a physical challenge, but you don't need to be an experienced mountaineer to climb it. With no sleep since we landed, I did not know where I got the strength to climb the first set of stairs, but I clearly remember that it wasn't too tiring.  The path to the crater is well-marked and easy to follow. After a long set of stairs, you have to walk along the ridge to the crater.
Seeing the mouth of Mouth Bromo and the thick smoke coming out from it is probably one of the scariest things I've ever experienced in my life. I was not afraid of the actual smoke, my fear rose from the sheer power of the volcano. With the wind gushing hard, there was no barrier between me and the smoking crater.  At any moment, there was nothing stopping Bromo from unleashing its hidden magma and wiping out all the people standing on the crater. When you consciously think about these things, it's hard to linger around the crater for too long. And after 10 minutes of staring Bromo in the face, I conceded and made my way down. We inhaled enough dust for one day, so we opted to get a ride back on the local horses back to Cemoro Lawang. Bromo remained active for another day and so did we.
Want to find the cheapest room near Mount Bromo?
There are some solid budget options near Mount Bromo.  When we made the trek up to Bromo we used www.agoda.com for our room reservations.  We were quite satisfied with their selection and prices. Agoda is very well known in Asia for a large variety of rooms, excellent rewards programs and competitive prices. Another option if you're travelling to Bromo on a budget is www.hotelscombined.com. Many of our readers love Hotelscombined.com because of their cost-saving price comparison searches. Hopefully these suggestions will help your search for a good place to stay in this beautiful region of Java, Indonesia.
[/fusion_builder_row][/fusion_builder_container]