As one of the most popular tourist attractions in all of Indonesia, the more than 2000 meter tall Mount Bromo truly is a spectacular site surrounded by dramatic scenery.  Despite being situated on the densely volcano populated Indonesian island of Java, this active volcano draws the greatest number of tourists because of its accessibility. It is part of the Bromo Tengger Semeru National Park, which encompasses an area of approximately 800 square kilometers.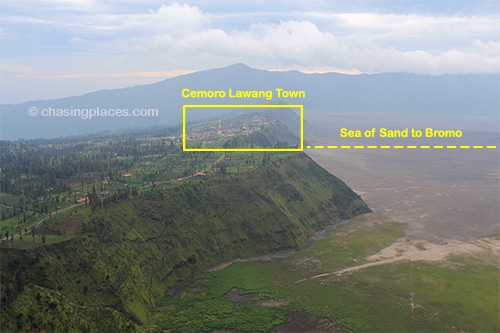 There are a couple of different ways to access Mount Bromo. But one of the best ways to is to fly into Surabaya, which is the capital city of East Java. Surabaya is home to Juanda International Airport, which facilitates regular flights from key cities like Singapore, Hong Kong, Jakarta and Kuala Lumpur.  You can easily book a flight to Surabaya and arrange transport to the Mount Bromo region.
One highly convenient and hassle-free, albeit expensive way to get to the volcano from Surabaya is to book an organized tour with a travel agent at Juanda Airport.  The tour will include transport to and from Mount Bromo, with the drive taking around 2 to 3 hours. Most tourists leave from the city at around midnight to reach the site in time for sunrise.
However, if you are looking for a cheaper way to reach Mount Bromo, you also have other options. Here are the steps:
1. Get on the Damri shuttle bus or a taxi from the Juanda International Airport to the Bungurasih (Purabaya) bus terminal in Surabaya.
2. From the bus terminal get on the express Patas bus that goes to Probolinggo.  You have the option to choose an air conditioned bus or the cheaper one that has only fans. The journey will take approximately 2-3 hours.
3. When you reach Probolinggo, you can take green mini-buses to Cemoro Lawang, which is a small town just beside Mount Bromo.  The mini-buses are usually park just outside the terminal. The bus leaves when it's full. If there are not enough passengers, which usually happens after 4 pm; you may have to wait for a couple of hours before leaving, unless you are of course willing to pay the full amount of IDR 250,000.
Important note: If you arrive in Probolinggo late at night, there is a chance that you won't see these mini buses. There will be touts there that will offer to bring you to the Bromo Tengger Semeru National Park to watch the sunrise over Mount Bromo. You may have to take the offer if you have no choice. Although they are normally harmless, these touts can very pesky. If you have to make a deal, talk to someone who drives his own vehicle and not a middle man. Do not agree to the initial price as it is always inflated. Haggle down the price to a reasonable amount and try to gauge the personality of your prospective driver.
Travel Checklist: Do you have everything you need?
4. The driver will drive you up to a hill nearby Mount Bromo to watch the sunrise but this will not be an intimate experience as there will likely be a tourist crowd hoping to watch the majestic sunrise. The driver is also expected to drive you down so you can hike to the Bromo when the sun is up. Make sure to pay him after he drives you down and not before to avoid a "dine and dash" situation.
Important Note: Getting a good spot before sunrise does not guarantee an incredible view.  There will be hazy days where you won't even get a glimpse of mighty Bromo or the other volcanic peaks in the region. If you're not a fan of getting up at dawn to only watch the sun in the horizon, then you can skip this part and save some cash and time. You can do an overnight at a guesthouse close to Mount Bromo or at Cemoro Lawang, and just head straight to the volcano in the morning or late in the afternoon, when there are fewer tourists.
5. After sunrise, your driver/guide will then take you to the sand sea that separates the town and Mount Bromo. Most drivers from Probolinggo do not take you straight to the stairs that lead to the crater unless you pay them more.  But the hike across the sandy area is not too hard except for the dust. Traveling on foot across the Sea of Sand to the crater takes about 45 minutes. From the town, you can follow the walking path located at the right of Cemoro Indah Hotel. If you want to reach the volcano faster, you can hire a motorbike or hop on a villager's pony.
Alternative Route
A number of travelers especially backpackers choose to head to Mount Bromo after exploring the bustling city of Yogyakarta and its nearby attractions. If you choose this route, you can easily find a tour company that will provide transport to the mighty volcano. You can also opt for a 3 day tour that will take you to Ijen and Bali after Bromo. Take note that this can be a very exhausting trip.  So if you are expecting a relaxing holiday, look for other options.
Want to find the cheapest room near Mount Bromo?
There are quite a few budget choices close to Bromo.  The area around Bromo is stunning so I would recommend staying at least 2 nights in this area. When we booked our rooms near Bromo I referred to 2 different sites: www.agoda.com and www.hotelscombined.com. Agoda is largely regarded as Southeast Asia's leading accommodation provider with a massive selection and solid prices. If you're on a tight budget then compare prices on www.hotelscombined.com prior to booking near Bromo.  It could save you some serious cash!