Yogyakarta (pronounced Jogjakarta) is one those cities that blew me away once I seized the chance to get to know it for a couple of days. Sure it looks like a flat rundown overpopulated city at first glance. But trust me when I say it gets more interesting when you dare to spend some time in this Indonesian city on Java Island.
Even though I had the opportunity to travel in Indonesia many times before this trip, I still found so many reasons why I fell in love with Yogyakarta. Thousands of tourists make their way to the city every year to explore the nearby UNESCO Heritage Sites of Prambanan and Borobudur. Although these sites are impressive; I had to admit that what really swept me off my feet is Yogyakarta's captivating and ubiquitous artistic spirit. Artistic expressions greeted me all over the city. And when I say "art", I do not only mean painting galleries (and there were a number of them).  I mean other manifestations of art particularly music, performing and street art.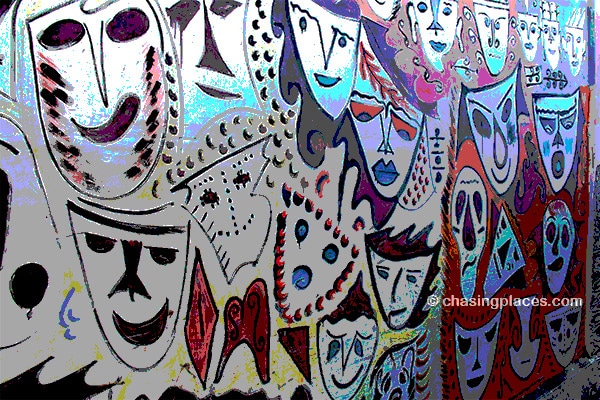 Yogyakarta does not have a single imposing skyscraper. My travel companion speculated that this 'flatness' has something to do with the fact that the city is situated in a volcano-dense region, where earthquakes can occur more frequently. But what it lacks in vertical modern structures, it makes up for with very colorful and graphic wall graffiti. Although the street art in Yogyakarta may not always look tidy, it's abundance is a reflection of the dreams and passion of the citizens residing in the city.  I respect the fact that Yogyakarta is not satisfied with being slated as another old rundown Indonesian city. Because it has become a popular tourist hub over the years, the city is home to a wide selection of hotels.
Travel Checklist: Do you have everything you need?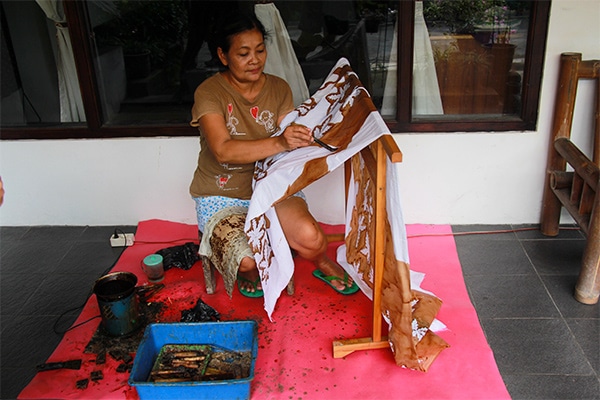 In the tourist hub of Maliorboro souvenir, accessory and craft stalls occupy the sides of the street. I can honestly say that the souvenir items sold here are of relatively higher quality compared to other Southeast Asian cities. And the reason for this is that the items were not made somewhere and then shipped to the city. The items were actually made and decorated by the artistic people of Yogyakarta.   As we walked along the city streets, touts did not approach us to promote sex shows or sell DVDs and other contrabands. Instead, they nagged us about attending an art exhibition. It was still annoying but it was a welcome change nonetheless.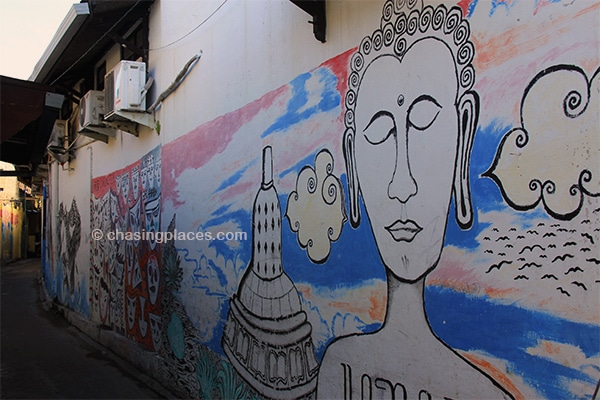 Yogyakarta is the kind of city where you will see a large number of people carrying their guitars singing to tourists and locals dining in small makeshift open-air local eateries. Of course singing for money is nothing new for some cities. But it certainly takes some true passion and dedication for a city to produce guitar-playing singers at so many street corners. Even our taxi cab driver who took us to the heart of the city chose to sing along to popular English songs while doing his job. I sang along with him. (I couldn't help it!)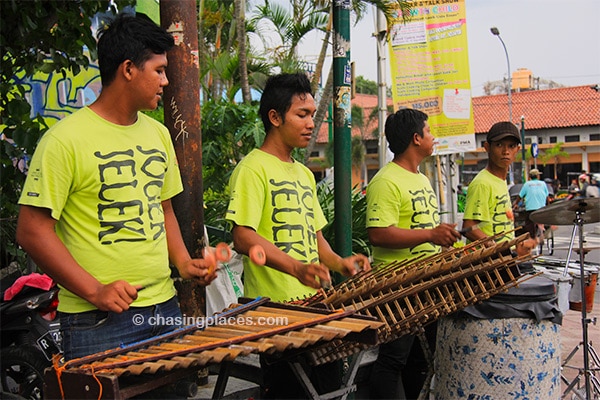 The entertainment the city has to offer is not only limited to pedestrians and diners. In fact, there are bands that play traditional instruments on the side of the road where stop lights are located. This unique set up certainly put a smile on my face. While waiting for the red light to turn green, motorists are treated to electrifying traditional music. The band members appeared to be in their teens and early 20's.  As the others were masterfully playing a well-rehearsed set, one member of the band would go around with a hat, hoping for some spare change. I don't know if a study has been done to learn the effects of these stoplight bands on motorists, but as a visitor, it generated positive effects as the festive music lightened up my mood. This simple money-making idea also appealed to me in a more profound way and here is my reason: Like a typical Southeast Asian city, it was quite obvious that Yogyakarta has been battling poverty.  But I absolutely adore the fact that impoverished youngsters don't feel entitled to beg for money. Instead, they choose to stand under the sun for several hours to show off their talent and skills for some spare change.  During my limited time of exploring the city, I got excited when I saw one of these traffic light bands.    The presence of these bands made me love the city even more. The beats they made with their drums in flawless synchrony conveyed an unmistakable message – "This is Yogyakarta!"
Which area of Yogyakarta should you stay in?
Based on our experience in the city, I would recommend staying near Jalan Marlioboro.  This is definitely the most colourful street we saw in the city.  Many Batik shops, cafes, restaurants and tourist services are also set up along this street.  You might want to try out Agoda's maps before selecting a room in Jogja.
Want to find the cheapest room in Yogyakarta?
Yogyakarta is an excellent city for budget accommodation. During our trip there we used www.agoda.com for our room bookings.  At the time of writing they had almost 600 different places to stay within Yogyakarta, so it's a good place to start your search.  Another solid choice is www.hotelscombined.com – the world's best hotel room price comparison site. To save you some time I have created links below to these respective sites:
COMPARE ALL YOGYAKARTA HOTEL PRICES ON www.hotelscombined.com