Vigan is a certified UNESCO World Heritage Site that showcases exquisitely preserved architecture that dates all the way back to the 16th century. The city is situated in the province of Ilocos Sur, Philippines. It sits comfortably on the western coast of the Luzon Island, overlooking the West Philippine Sea (South China Sea).  Aside from being a tourism hub and a premier attraction, it is also the province's capital city. To learn more about its Old Town; check out our related article: A Historic Taste of Spain in Vigan, Philippines
International travelers can reach Vigan by first taking a flight into Manila. From here, you can choose to travel to the heritage city by land or air.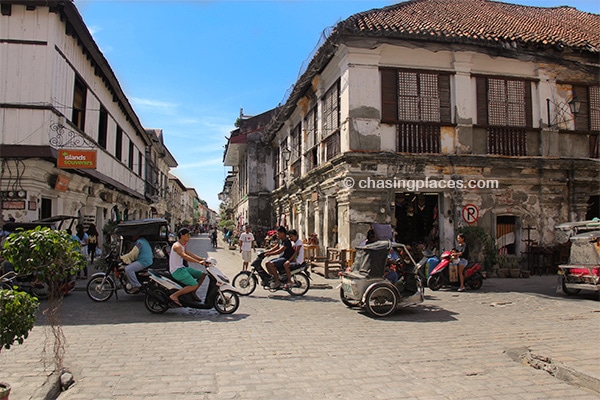 From Airport to Airport
The closest airport to Vigan is Laoag Airport in Ilocos Norte. This airport is about an hour and a half ride from the heritage city.
1. You have the option to take a taxi or to arrange private transport direct to Vigan from the airport, but this can add up.
2. If you don't mind commuting, take a tricycle (local three-wheel transport) to the main bus station in Laoag City.  Just inform the driver that you would like to catch a bus that goes to Vigan. Some of the bus companies that go to Vigan include Fariñas Transportation, RCJ Bus Lines, Partas Bus, Florida Bus, Maria De Leon Bus Lines, F. Franco Trans, and RCJ Bus Lines.
3. Once you are dropped off at a bus station in the city; you can easily hire a tricycle to take you to the city's medieval core or to your chosen accommodation. The fare should just be around 20 – 40 pesos ($1 USD).
Travel Checklist: Do you have everything you need?
From Manila to Vigan via Bus
Budget-conscious travelers who have the time can opt to reach Vigan by land after reaching Manila.
1. From the NAIA airport (Ninoy Aquino International Airport), take a taxi to the bus station of your choice.
Important Note:  Bus services in the Philippines are completely private. Thus, there is no central bus station in Metro Manila. Each company has its own private bus station. So before hiring a taxi, make sure you know which bus company you would like to travel with to Vigan. Bus companies like Viron Transit, Aniceto Bus Dominion Bus, and Partas Bus, run the Manila-Vigan route on a daily basis. Our very own Chasing Places travel experts took Partas and we were quite satisfied with their service.
*Bus lines like RCJ Transit, Philippine Rabbit Bus Line, Farinas Transit, Florida and Maria de Leon operate the Manila-Laoag route, but oftentimes drop passengers off at Vigan.
*Always take a metered taxi or an official airport taxi from the airport to avoid being scammed.  Refuse to travel with a driver who wants to negotiate a fixed price or one who claims that he doesn't know where the bus station is located.
2. Once you reach the bus station, avoid talking to touts, and walk straight to the ticket counter. The staff will be the only ones who will give you accurate answers to travel-related questions like departure time and seating arrangement.  Bus companies in the Philippines do not process payment via credit card so make sure to carry enough cash.
Usually, there are enough seats on buses that you don't have to make a reservation in advance. But if you plan to come during holidays or peak season, it is wise to be more proactive. Take note that most bus companies can only accommodate phone reservations.
3. The land journey to Vigan from Manila takes 7-10 hours. Buses usually take the picturesque Ilocos Highway. Some of the more modern (and expensive) buses are equipped with comfortable reclining seats and a large TV that plays the latest Hollywood movies.
4. From the station where the bus drops you off, you can easily take a tricycle to Vigan's renowned Old Town.
Which area of Vigan should you book your room in?
Based on our experience visiting Vigan, you definitely want to be as close to the Historic area as possible. Therefore, use a large, reputable room provider such as www.agoda.com and use their map tools to book a room in this area. Once you're out of Vigan's colonial area there isn't much to see!
How to find the cheapest room in Vigan?
Some of the hotels in Vigan are quite far from the Old Town, so be sure to check out the location of hotels in the area here. We suggest using one of two sites for room reservations in Vigan: Agoda and www.hotelscombined.com. Agoda is very well known in Southeast Asia for a large selection of rooms and very competitive prices. Hotelscombined.com is very popular with budget travelers because it allows you to compare room prices between the world's top sites.  This has saved us a pile of cash over the year's. Regardless of which one works for you, try to stay near the historical part of Vigan. Here are their links to their property lists for Vigan to save you some time:
ALL PROPERTIES IN VIGAN – www.agoda.com