One of the rewarding things about travelling around the world is observing how different people from different cultures prioritize their own time.  For some people tasks such as wood carving and gardening are meaningful experiences where often minutes turn into hours.  For others, however, outdoor activities are simply a painstaking experience that prevents them from doing something else they consider more meaningful.
In Hong Kong and Singapore for instance, businessmen walk at a brisk pace to meet their next deadline, where in less developed countries such as Laos locals appear quite content with simply watching the road traffic for much of the day. To explain the root cause of this dissonance would be an extremely challenging task.  Culture, religion, climate and standard of living could be just a few of the factors that influence how one's time is prioritized. In what I would consider two of the most laid back countries in South East Asia, I was lucky enough to catch a glimpse of how some local motorcycle drivers have implemented a few strategies to prioritize their own time.
This gentleman in Vang Vieng (Laos) has come to the conclusion that a wheelbarrow is much more effective when it is pulled opposed to pushed. Unfortunately, I couldn't catch up to him in order to find out what he usually places in the trunk.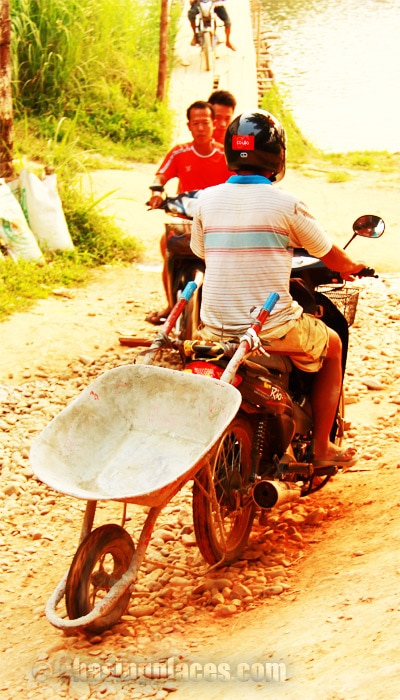 Travel Checklist: Do you have everything you need?
With modern riding lawnmowers costing thousands of dollars, why not save the money and do it in half the time with a motomower? A large lawn such as this in the colonial district of Georgetown (Penang Island, Malaysia) would take hours using a conventional push mower, but why waste the time when there is arguably the finest selection of hawker food in Malaysia only minutes away?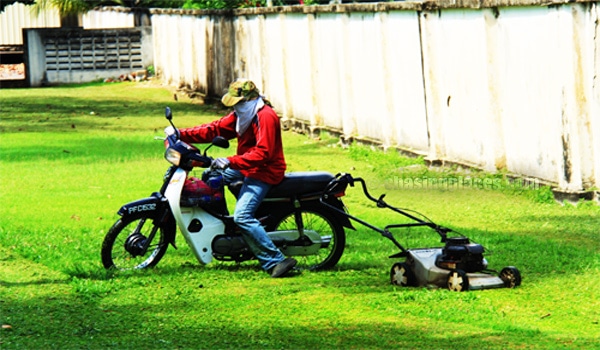 It just goes to show you that when there is minimal legislation innovative ideas can run wild!
Heading to Southeast Asia anytime soon?
Try using booking.com or hotelscombined.com to book your rooms well in advance.  We use booking.com because they offer many refundable room options, whereas hotelscombined.com is perfect for comparing prices prior to booking.