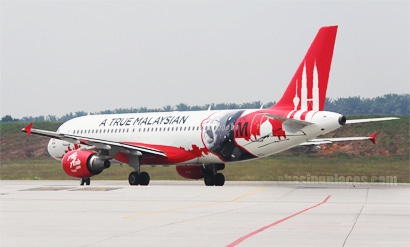 The budget carrier, Air Asia, has one of the strongest reputations among South East Asia's low cost airlines. This can be attributed to many factors including a reliable safety history, convenient flight connections, extremely competitive fares and innovative marketing strategies. A couple of times per year Air Asia will send out notifications on their Facebook page and to their registered email accounts that are designed to build up suspense for their highly anticipated BIG sales. Word of mouth then spreads amongst prospective travelers. Often, these sales entail free flights with customers only paying the airport taxes (which vary depending on the country and airport of origin). Each BIG sale typically begins at airasia.com on a selected Monday morning at 12:00 am Kuala Lumpur time.
The dates of travel are often up to a year in advance, so proactive planning can definitely increase your odds of traveling for pennies by getting the cheapest flights and hotels. Below are some surefire tips to help you book the cheapest flights during Air Asia's BIG Sales:
1. Create an account on airasia.com well before the sale date. Update the personal details (name, address, passport number etc.) of all travelers that could accompany you on a future trip.
2. Add your credit card details to their site in order to ensure that you don't have to type such details every time you decide to book a trip.
3. Make sure that you have requested for Air Asia to send you regular emails to receive information about their upcoming promotions so that you can prepare to stay up the Sunday night of the BIG Sale.
4. Request for your work calendar in advance and identify all of the available dates that you may be able to travel within the upcoming 16 months.
Travel Checklist: Do you have everything you need?
5. Log into your account around 11:45 pm on the Sunday night of the sale and remain active on their website.
6. If Air Asia has released the destinations and dates of travel for the sale in advance then immediately search for trips that adhere to your travel calendar.
7. If the website is being overwhelmed with traffic (which is quite common during Air Asia's BIG Sales) be patient and try again in a few minutes. You can also try to access Air Asia's mobile app, which may have less internet traffic coming in.
8. If you do not feel like waiting in a cue on their site, don't bother staying up until midnight on Sunday night. Instead, set your alarm for around 5:00 am on Monday morning and wake up to quickly book your desired trips. This helps to bypass the domestic website traffic in Malaysia. Even though your sleep may be disrupted, you will be smiling when you book multiple trips at rock bottom prices.
Heading to Southeast Asia anytime soon?
We suggest booking your rooms online well in advance using one of three reputable providers: booking.com, www.agoda.com or hotelscombined.com. Most of our followers prefer booking.com due to the excellent customer service and massive range of refundable room options. Hotelscombined.com is the world's best price comparison site, so use it to book if you're travelling on a budget.
You can use the search box below if you want to compare prices prior to booking.