One of the most challenging questions that western tourists have to answer when they are planning their first backpacking trip through South East Asia is, "Which countries should I visit during my 3 to 4 week vacation?" In most cases, Thailand is first on the list and this is often due to the fact that Thailand is organized and their tourist infrastructure is fairly well developed. It also doesn't hurt that Thailand has a world famous nightlife scene. Branching off east from Thailand to Vietnam can also be an equally rewarding experience for tourists. Delicious Vietnamese cuisine is one of the undeniable highlights of the country, but the traffic is also worth the trip in itself. And let's not forget about the welcoming tiny guesthouses. The combination of weaving motorcycles and sporadic honking is entertaining enough that in many cities restaurant seats are orientated such that patrons can watch the calamity as they enjoy their Pho (a local Vietnamese noodle dish). A quick glance would suggest that a two-wheeled moto is rather unstable, but the Vietnamese sure test this hypothesis by loading up their rides with extremely unique materials all over the country.  Here is a just a small taste of what to expect on the roads during your next visit to Vietnam.
1. Riding With Vegetables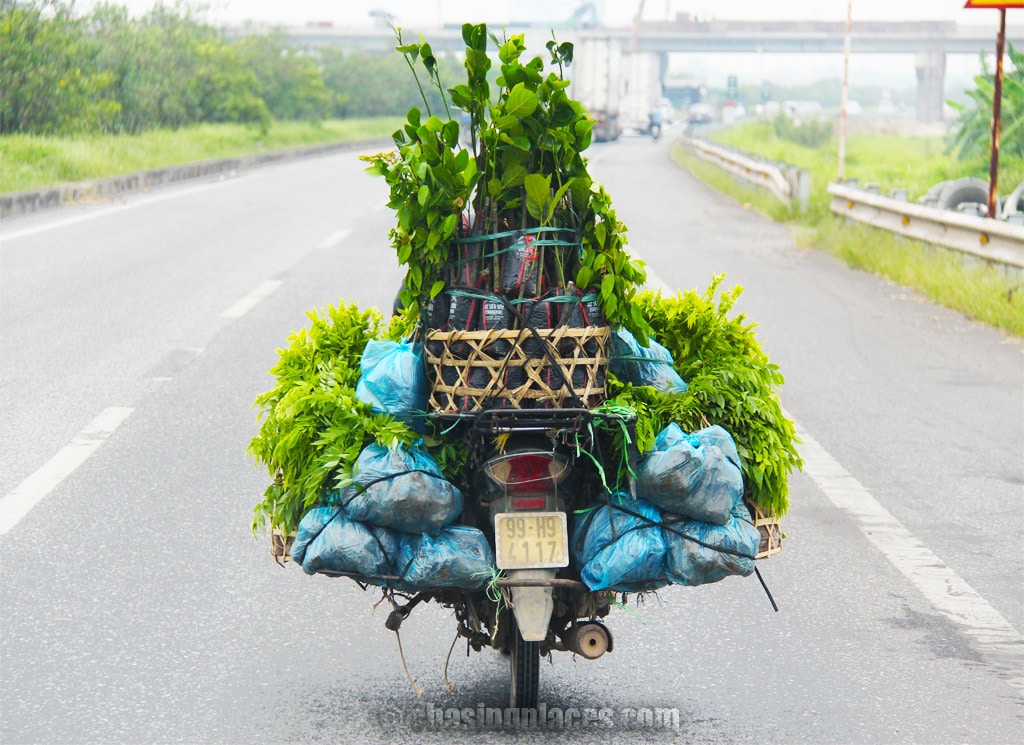 The bus ride from Hanoi to Halong Bay turned out to be more exciting than originally expected.  This motorcyclist managed to pack arguably one of the healthiest loads we have ever seen during our South East Asian backpacking adventures.  Innovative, yet tremendously organized.
2. Tackling the Heavy Traffic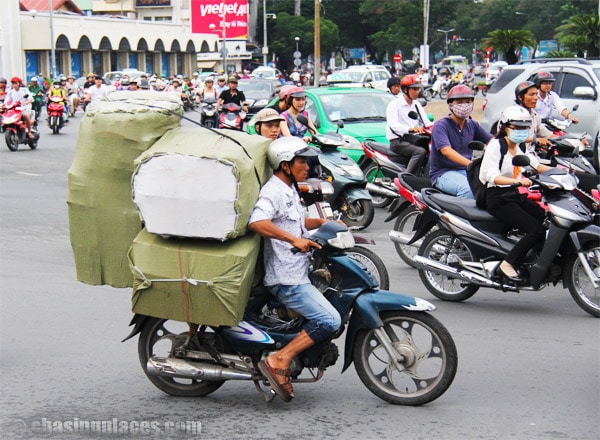 Ben Thanh Market in Ho Chi Minh is not only an ideal spot to hunt for bargains, but it's also an ideal vantage point to witness some of the heaviest moto traffic in Vietnam. It is hard to determine what's inside the bags; nevertheless this driver has excellent posture due to the massive load leaning against his back.
Travel Checklist: Do you have everything you need?
3. Paper Delivery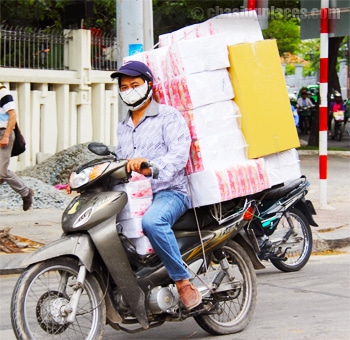 On the way back from the neatly preserved Reunification Palace in Ho Chi Minh we caught a glimpse of a moto driver transporting printing paper to offices in the area. Protecting his respiratory tract from the choking exhaust fumes, he wasted very little time as he proceeded to his next drop-off point.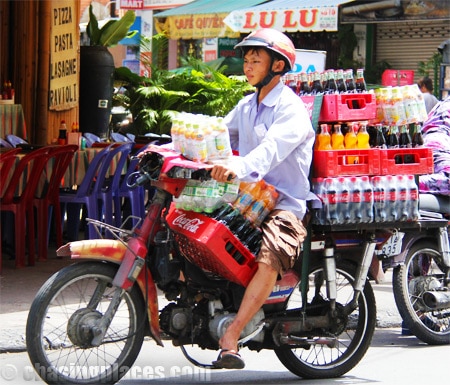 4. Trailer Substitute
In western society, massive transport trailers ship supplies from production plants to retail outlets.  In Vietnam, however, motorcycles are commonly seen distributing products to small businesses. This gentleman in Ho Chi Minh is obviously not too comfortable as he carries a supersized load of drinks to local convenience stores.
Heading to Vietnam anytime soon?
We suggest booking your rooms using one of three reputable providers: www.agoda.com, booking.com or hotelscombined.com. Most of our followers tend to use booking.com due to their excellent customer service and refundable room options, but www.agoda.com typically offers a wider selection of rooms in Southeast Asia. Hotelscombined.com is the best site for comparing prices before you book.