Maafushi Island what?
You have probably never heard this name before,  but when it comes to exploring the stunning island nation of the Maldives, visiting Maafushi is one thing you should consider doing.
Thinking of going to the Maldives? We can't blame you, this island nation in the Indian Ocean has some of the best beaches and hotel resorts in the world. And we were saying this out of personal experience!
With hundreds of islands to choose from, it makes planning to go to the Maldives a bit confusing and tricky for first-time travellers. You can't possibly visit all the major islands of the Maldives in one shot. So you should carefully select the islands that suit your travel goals, budget, and personal preferences.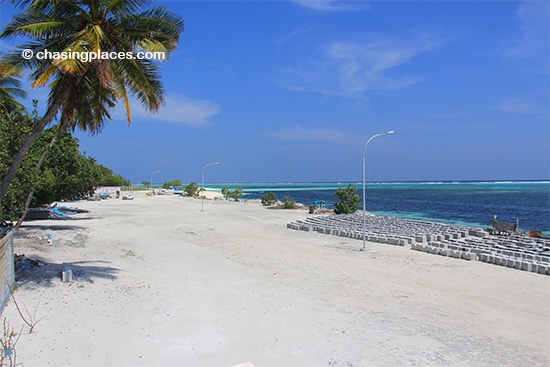 During our visit to the Maldives, we found an island that was perfect for our budget and travel wishes – Maafushi Island.
There are many reasons why we recommend Maldives travellers to visit Maafushi Island and here some very convincing ones:
7. It is cheaper to stay on Maafushi Island than other 'resort islands' in the Maldives.
The Maldives has built a reputation for being a luxury travel destination, thanks to its very grand resort islands. These are islands that are privately owned and occupied by a distinguished resort company.
For example, the Sun Siyam Iru Fushi Luxury Resort Maldives has a room rate of approximately 333 USD per night (with breakfast).
Fortunately, for more budget conscious and mid-range travelers,  the Maldives has also opened up their locally occupied islands to tourists.  As the name suggests, these are islands where locals stay and live. Before, these islands were not allowed to take in tourists, but now they are!
By opening up the local islands to tourists, two positive outcomes occurred:
Locals have been given more opportunity to earn money out of tourism. Before this, a huge chunk of tourism money flowed only to the island resorts.  

Budget and mid-range travelers have the chance to experience the Maldives without spending hundreds (or even thousands) on a

'resort' room

every night.
Accommodation options on Maafushi consist mainly of boutique hotels and guesthouses with reasonable rates. In our case, we found a comfortable hotel to stay in.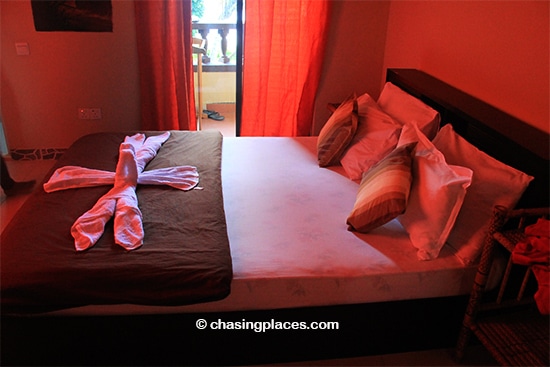 6. Maafushi is accessible via public ferry from the Maldives' capital of Male.
The boat journey to Maafushi from the capital Male is only 2 hours, unlike other islands where you need to travel far on a speedboat just to get there. Its distance from the Maldives International Airport is what makes it a great place to go.
Many tourists are asked to charter a hotel-operated speed boat even a seaplane to get to their resort. This transfer can be prices. But with Maafushi being a local occupied island, there is a public ferry that serves the island from the capital Male.
Tourists can take the public ferry and get to the Maafushi for a fraction of the price of chartering a private speedboat.
Here's how to get from Male to Maafushi via Public Ferry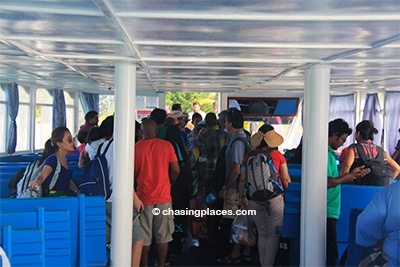 Travel Checklist: Do you have everything you need?
5. Staying on Maafushi Island gives you a better taste of the local culture.
Staying at a luxury resort island in the Maldives limits your exposure to locals and their way of life.
If you stay on Maafushi, you will get a better feel for the local Maldivian culture. You will get to see how the locals eat, interact and live on a day-to-day basis.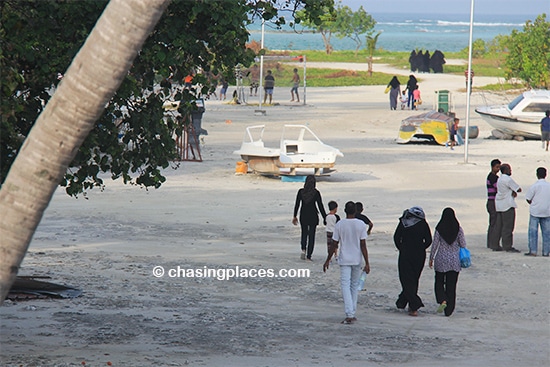 4. Maafushi is safe and extremely laid back.
Despite being a locally occupied island, Maafushi has a very relaxed island vibe.  It does not have a heavy "touristy" ambiance like an island resort.
There is actually a prison complex on the island, but our hotel manager told me that most prisoners are in there for minor crimes. The island felt very safe and we did not feel like our safety and security were threatened at any time.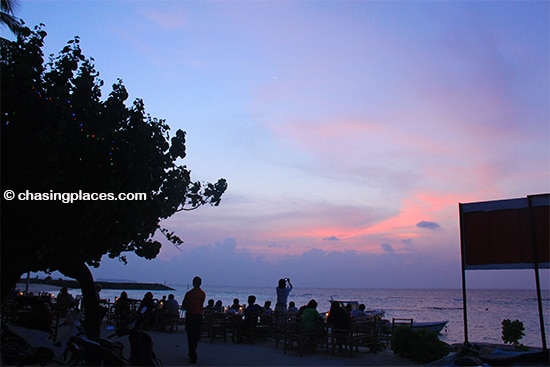 3.  Maafushi is small and easy to navigate.
Maafushi is not very large, and therefore, it's easy to get acquainted with the island within an hour. It takes little effort to find shops and restaurants. The island also a nice, tiny stretch of beach where tourists can swim and sunbathe. There's no need to take a taxi to reach the swimming area. You can simply walk to and from your hotel.
Because of its size, ambiance, and convenience, Maafushi is the perfect island for families. Children can play around easily, and it's hard for a parent to lose sight of them!
Reminder: Maafushi like the rest of the Maldives practices Islam, which adopts conservative dressing norms. You have to be respectful not wear swimwear outside the prescribed swimming area. Yes! There is an area that is visibly marked for tourists who wish to wear bathing suits.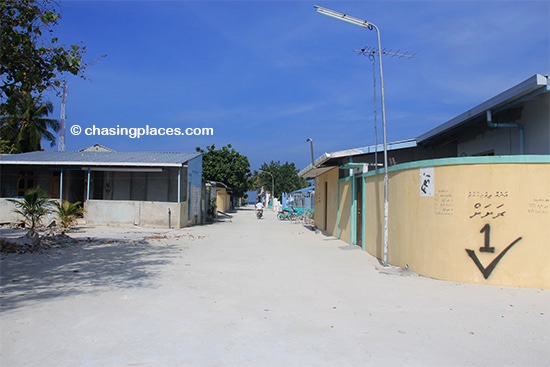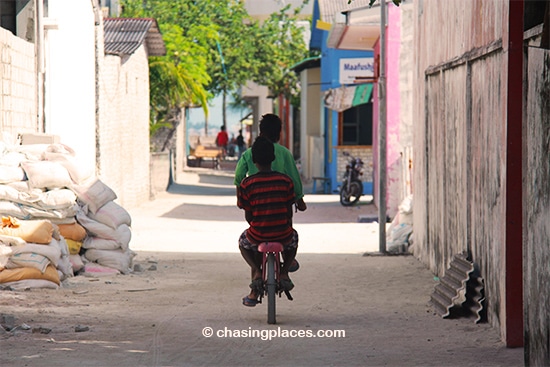 2. Maasfushi Island has its very own powdery white sand swimming beach.
You don't have to leave Maafushi to enjoy a day relaxing under the sun and swimming in clear blue waters. The island offers a powdery white sand beach, which seems to be the norm in the Maldives.
This magnificent stretch of white sand is located on the northwestern tip of the island, and is accessible on foot from any point of Maafushi. There is a designated swimming area on this beach marked by a visible fence. This area is especially dedicated to visitors who would like to swim in their bathing suit.
Maafushi Island like the rest of the Maldives has a conservatively dressed Muslim population. Although locals are quite tolerant, visitors are not allowed to walk around in their swimsuit outside the designated swimming area.
It is not appropriate for women to be topless anywhere on Maafushi Island.
To be sure, ask your guesthouse team where the best swimming spot is if you want to work on your tan as the island policies may change.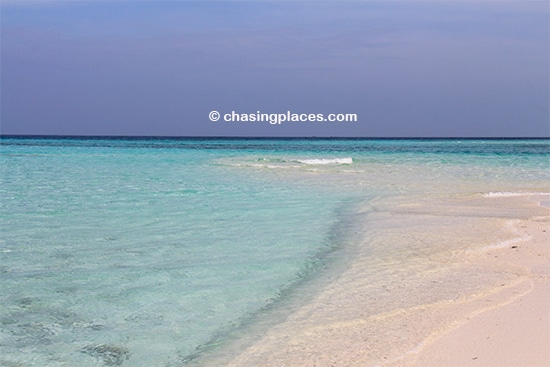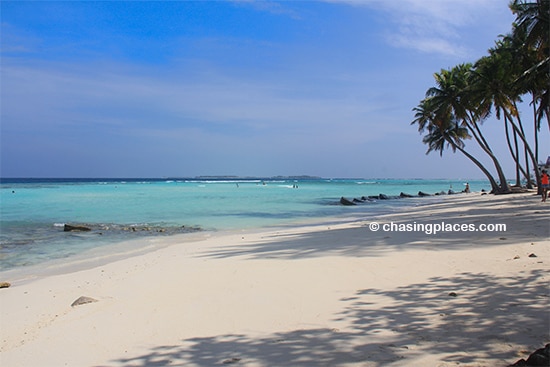 1. You can visit island resorts and arrange excursions from Maafushi.
Maafushi Island is not very isolated. In fact, it's near to other island resorts. So if you're curious and want to have a day trip to neighboring resort islands, it's possible to do so.  Some of the island resorts allow day visitors to come in and enjoy some of their amenities for a fee.
During our stay on Maafushi, we arranged a day trip with our hotel. Our itinerary consisted of going to snorkeling spots and spending a considerable amount of time relaxing at a resort island.
On our part, it was a really great decision that allowed us to experience both types of islands in the Maldives.
Aside from day visits to resort islands, excursions offered in Maafushi include fishing, diving and personalized sunset trips to remote sandbars.
There you have it, the 6 reasons why you should consider staying on Maafushi Island when you're visiting the Maldives.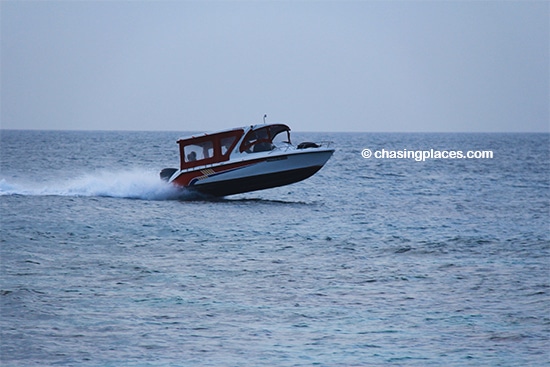 ---
Where Did We Stay on Maafushi Island?
During our visit to Maafushi, we decided to stay at Island Cottage, a pleasant guesthouse located in the quiet corner of Maafushi Island.
We had a great stay with them and they gladly arrange a whole-day boat tour for us. The tour turned out to be worth every penny, as we got to snorkel, have a satisfying buffet lunch and visit a nice resort island.
Get more information about Island Cottage.
Of course, there are other accommodation choices on the island. Check out the hotel comparison below.
You may also check with hotelscombined, one of the world's leading hotel comparison website to look for a hotel in a Maafushi that suits your budget and preferences.
Top-Rated Properties on Maafushi Island Based on Verified Guest Reviews
   Important: Mobile Users must swipe from left to right to see the entire table.
Criteria:
Properties rated based on 'overall' review scores from each respective website's verified guests.
Minimum of 50 verified guest reviews required to be considered eligible for comparison.
All-star ratings and verified guest review scores are tallied at the time of writing, and therefore, are subject to change.