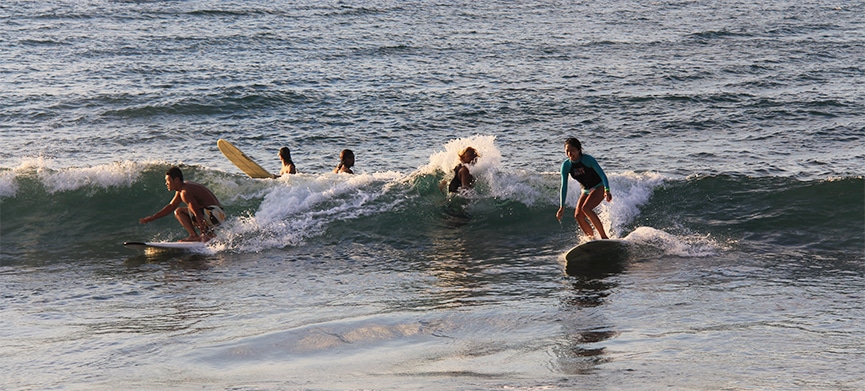 For many years, the Philippine province of La Union has been claiming the title of the "Surfing Capital of the North."  And rightfully so as La Union's coastline boasts some of the top surfing beaches in the country.  This coastline is considered to be one of the longest in the world.
Although the La Union coastline offers numerous surfing choices, the beach in Urbiztondo Barangay (village) of San Juan town is the most popular. At certain times of the year, this beach (also generally referred to as San Juan Beach) generates short waves that are perfect for novice surfers.
With many convenient flight options to Manila and a growing number of reasonable hotels and resorts to choose from, San Juan is a nice area to explore for a long weekend. Our Beach Breakdown article, further explores important features of San Juan Beach.
Here are the steps on how to get from Manila to San Juan Beach:
La Union is about a 6-7 hour drive from the Philippine capital of Manila. If you're flying here, most tourists book their flight to Ninoy Aquino International Airport.
This airport has four separate terminals. The terminal you will land at depends on which airline you're flying with. Most international carriers fly into Terminal 1.
1.  Choose your private bus company to La Union.
Important Note: There is no central bus terminal in Metro Manila. Private buses run their own terminal in separate locations.
So you should already select the bus company you want to go with before you tell your taxi what bus station you want a ride to.
If you are spending a night in Manila first, you can check out the hotels and accommodation options near the airport here.
The Partas Transportation Company is one of reputable bus companies that drop passengers in San Juan town. If you choose to go with Partas, take a taxi from the airport to their terminal which is on:
816 Aurora Boulevard, Cubao, Quezon City
Telephone numbers in Metro Manila: +63 2 727 8278, +63 2 724 9820
The estimate bus fare rate from Manila to La Union should be around 380 pesos.
Partas Transport buses usually go all the way to Laoag – the capital of Ilocos Norte. But you can tell the ticket personnel and the bus driver that you want to be dropped off at Urbiztondo, San Juan along the way.
2. Make your way to your chosen private bus terminal if you plan to go straight to La Union.
You can take a taxi from your terminal at the Ninoy International Airport in Manila. Make sure you get the metered taxi and don't let the driver ask you for a set price. They tend to overcharge foreigners.
You can use the GrabCar Service. GrabCar is the only ride-sharing app in operation in the Philippines. If you don't have access to 3G or 4G, then you can go to the GrabCar booth outside the Arrival Terminal.
This booth will have a GrabCar staff in uniform who will help you book a car using his/her phone.  GrabCar service offers a fixed price to a particular situation. Be sure to have Philippine peso as they do not accept any other currency.
3. Tell the bus driver that you wish to be dropped off at the highway of Barangay Urbiztondo or at San Juan town's main plaza. 
Barangay Urbiztondo is located on MacArthur Highway which is parallel to San Juan Beach. This road is often called the old highway.
Take note thats some buses don't pass through Urbiztondo and the old highway but instead take the new highway called San Fernando By-Pass Road to avoid traffic congestion.
If the bus operator informs you that they won't be passing through Urbiztondo, you can just tell them to drop you off the San Juan town's main plaza.
Travel Checklist: Do you have everything you need?
4. From San Juan's main plaza,  take a tricycle south to San Juan Beach in Urbiztondo on MacArthur Highway.
The cost of the ride should only be around 30-40 pesos for one person. You can get a cheaper deal if you walk to the main street and catch a jeepney that goes to San Fernando town along MacArthur Highway. The jeepney ride is only 8 – 10 pesos.
Important Manila to La Union Travel Tips
Aside from Partas, there are other buses that go to destinations in the Ilocos region such as Laoag, Vigan, Ilocos Sur and Abra. These buses prefer to drop off passengers in San Fernando City in La Union opposed to the smaller town of San Juan. If you are doing this route, you only need to catch a jeepney that goes to Urbiztondo.  Some of the bus companies that go to San Fernando include:
Genesis
Dominion Transit
Viron
Fariñas Transit
RCJ Transit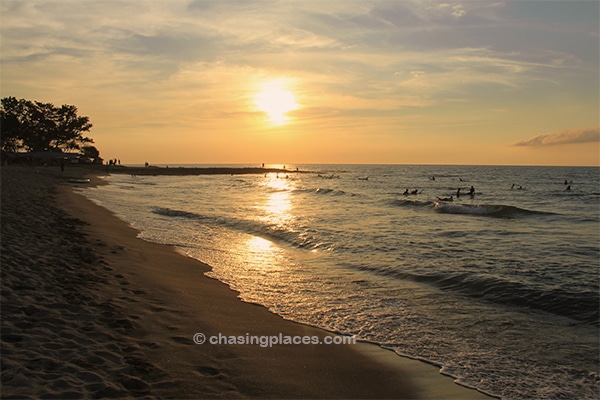 Partas buses can get full during weekends and certain times of the year. Chasing Places recommends that you arrive early to secure a seat or even call the company to reserve seats.
The driving time to San Juan Beach depends heavily on the traffic situation in Manila, but you will generally reach the town quicker if you take the bus at night.  Please also remember to pre-book your accommodation as close to the beach as possible especially during peak season.
This will help you to avoid paying for tricycle and jeepney rides to and from the prime beach area throughout your stay in La Union.
How to Get to Manila from San Juan Beach La Union
To go back to Manila, you can wait for buses along the old highway which runs parallel to the beach. But take note that you could wait for a long time as not all buses use this road.
If you want to secure a seat, you can alternatively take a jeepney to the next city of San Fernando and ask to be dropped off at the San Fernando City Bus Terminal, located on Quezon Avenue.  Here you will find buses heading to Manila.
Where did we stay in La Union?
During our trip to La Union we made the mistake of not booking in advance. Subsequently, when we arrived we only managed to find an overpriced room since most of the affordable options were already fully booked with surfing school students.
We suggest checking out all the reviews before you book a room. Some of the budget options around the surf beach looked rundown.
Based on our research, here are the most positively reviewed properties in La Union at the time of writing. Please take note that we have no direct affiliation with any of these properties.
Find the cheapest rooms in La Union and Manila
Many tourists that visit La Union for surfing first fly into Manila and then travel up the coast. Whether you need a room in Manila or near San Juan Beach in La Union my suggestions are the same.  Use either www.agoda.com or www.hotelscombined.com. We have traveled to the Philippines countless times and we typically find that Agoda has the best selection even in the most remote areas. We also use Hotelscombined extensively because their price comparison searches do save us money. To save you some time I have created links to both Manila and San Juan (La Union) based on the suggestions above:
Rooms in Manila with www.agoda.com
Rooms in Manila with www.hotelscombined.com
Rooms in La Union with www.agoda.com
Rooms in La Union with www.hotelscombined.com
---
Finding the Cheapest Flight to the Philippines
During our travels to, from and within the Philippines we have relied on price comparison sites to find the cheapest flights.  The Philippines has a pretty healthy aviation industry with lots of competition between airlines (especially for domestic trips). Therefore, the best way to get a feel for the prices out there is to use a site that can compare a lot of flight options at the same time.
In our particular case, we used BookingBuddy for this trip to/from the Philippines. I have created a link below to their flight comparison page to save you some time: COMPARE FLIGHTS to/from the Philippines : BookingBuddy
Feel free to explore some other itineraries like flying into Vigan and then working your way down the coast to Manila.  This will cut down on bus rides and still enable you to surf.
Regardless of where you choose to stay, have a safe and enjoyable experience in the Philippines! Please free to comment below if you have any additional questions.