You would not think that a pedestrian crossing could possibly draw so much attention, but in Tokyo, one crossing has become a major tourist attraction.
The pedestrian crossing in the Shibuya District of the city is one scene you don't want to miss if you happen to visit the Japanese capital. It is often referred to as the busiest in the world – a claim that's hard to measure. But whether this claim is true or not, it doesn't take away the fact that the pedestrian crossing here is truly a fascinating sight to witness.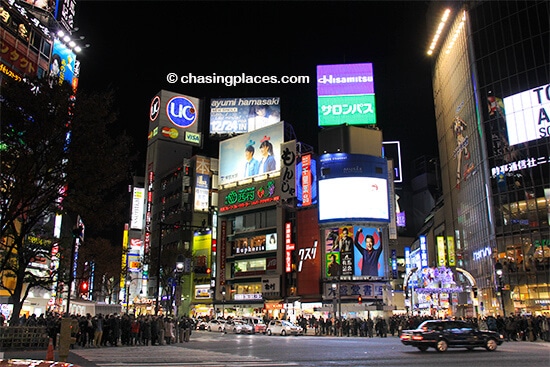 In a way, the Shibuya crossing is representative of how visitors would expect Tokyo to be – vivacious, busy, crowded, yet disciplined. Night after night, hundreds of people from all corners cross the district's main intersection. An invisible but ever reliable conductor commands the traffic lights, and upon his cue, the crowd moves in simultaneously; creating a symphony of spellbinding chaos. With such sheer numbers, somebody is bound to miss a beat – pushing, shoving, and stepping on feet are inevitable consequences. Yet, like a well-polished orchestra, everybody seems to know where they're going. And what is seemingly a confusing scene, is by essence, an organized one.
And when the lights of Shibuya command vehicles to drive through, the crowd that had converged in the middle, will dissipate even before you can fully comprehend the chaos. But stay in the area longer, and you can re-live the fleeting scene again and again; as new sets of faces will gather, wait, and move upon the conductor's cue.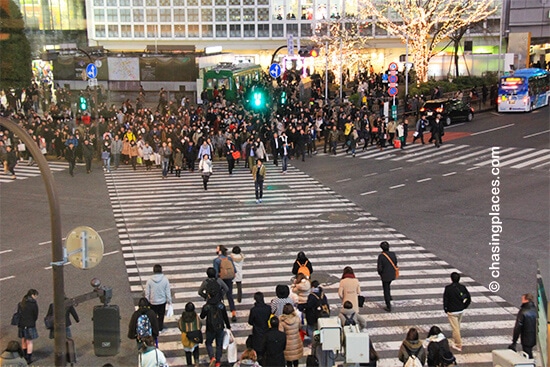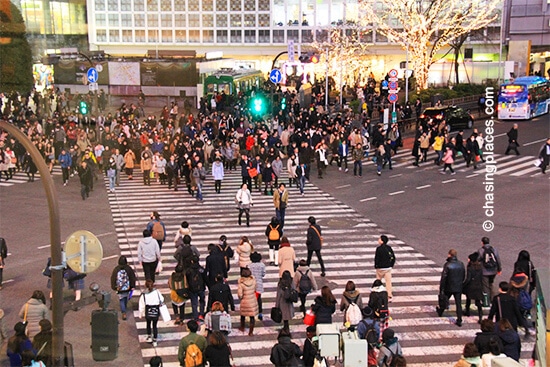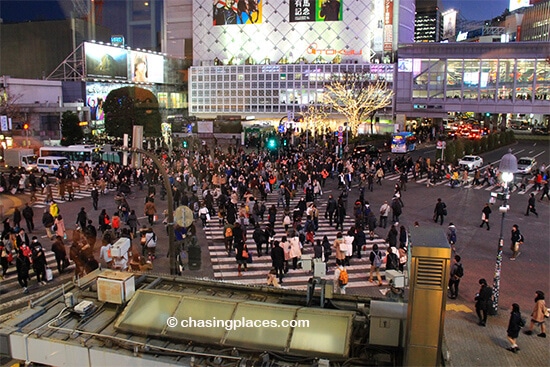 "Where are these people going?" and "Why are there so many of them?" I have ideas, but I'm never been really sure. But what I'm sure about is the delight I felt walking with the crowd to cross from Shibuya Station to the 'other side'. I thoroughly enjoyed the moment of being one within the sea of bodies, basking in the distinct and overflowing energy only a metropolis like Tokyo can offer.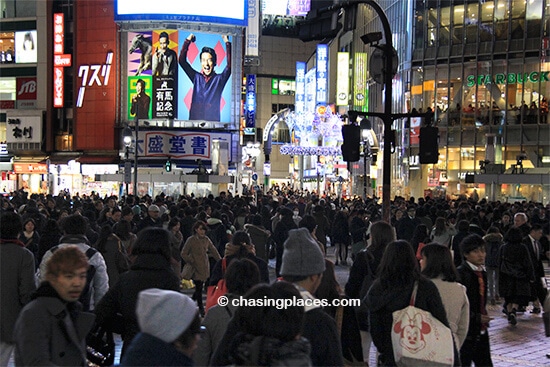 The people, the energy, the neon lights, they're all very intoxicating. I crossed the Shibuya intersection a couple of times. Both my companion and I could not get enough of it, so we went to up to the 2nd floor of the Starbucks café in the front portion of the QFront Building. This particular Starbucks is probably one of the best positioned in the world. The café's second floor is designed with wide full-glass windows, offering a very satisfying bird's eye view of the crossing. We had to purchase a fairly expensive coffee and brownie to be entitled to a spot, but the café was full (as should be expected) with no seats left.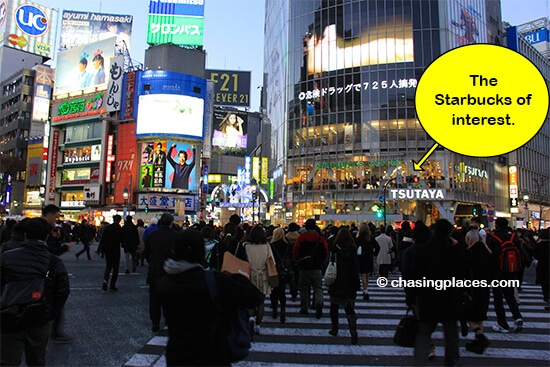 So if you want a good seat overlooking Shibuya, you have a much better chance by going early before sunset. Otherwise, you need a whole lot of patience waiting for someone to get up. Standing could also be your only option. I would dare say that the patience, effort and overpriced coffee are worth the view, but it will all boil down to personal preference.
The Shibuya Crossing may be the highlight, but it's certainly not the only thing to look forward to while visiting Shibuya. The district is in fact, a huge nightlife and shopping spot, attracting both tourists and locals. Bright screens and neon lights rule Shibuya, beckoning the masses not only to shop but also to dine, drink and de-stress. My favorite thing about Shibuya's nightlife is its collection of small, nicely-themed and well-designed pubs. Some of them remind me of quaint English pubs, while others are sleek and modern. They are constructed to be pleasing to the human eyes.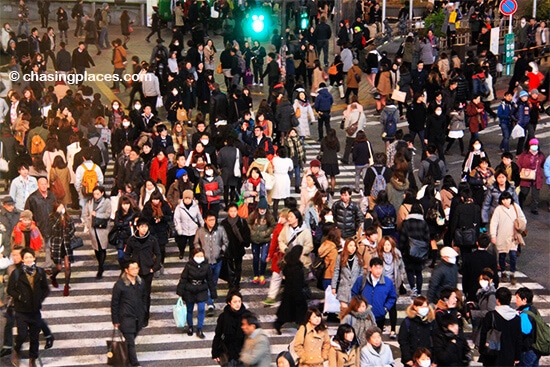 Travel Checklist: Do you have everything you need?
Getting to Shibuya
There are two train stations located in the Shibuya District. The first one is Shibuya Station, which is located on one side of the famous intersection. If you want to get into the thick of things, find Hachiko exit while leaving the station. The second station is Harajuku, which sits on the other side of the intersection, (the side where the Starbucks is situated. To get to the crossing from Harajuku Station, you need to walk out the Hachiko exit. Both Shibuya and Harajuku Station are part of the JR Yamanote Line, Of course, you can always take a taxi to the district, but you probably already have an idea of how expensive Tokyo's taxis are. So, grab the more reasonably priced JR Pass and you're all set to go.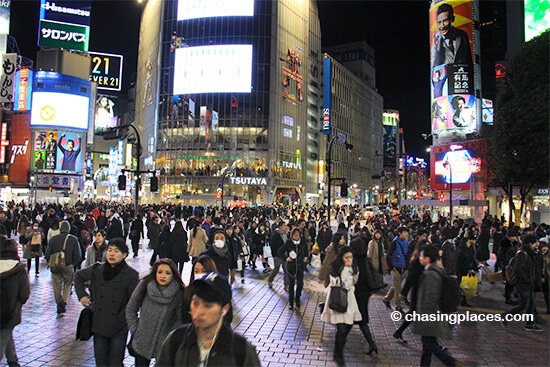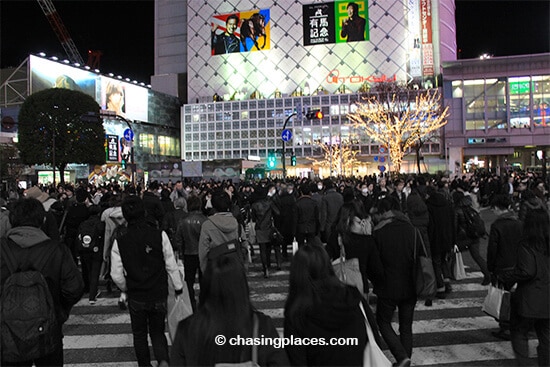 Where did we choose to stay in Tokyo?
We had a few priorities to consider before we booked our room in Tokyo. Since we had the Japan Rail Pass, we wanted to stay within walking distance of the JR lines in Tokyo.  We also wanted something affordable because we were travelling in Japan for just under 3 weeks. Eventually we decided to stay at Hotel Horidome Villa. We don't have a direct affiliation with this property so our opinion is an unbiased one. Overall, it was a pretty nice boutique hotel.  Efficient staff, clean and friendly are some words that come to mind.  If you can handle a small, but economical room then it's a solid choice.  If you need space, upgrade and book a larger room somewhere.  At the time of writing it had a score of 8.0/10 based on 1918 verified guest reviews.
How to find the cheapest rooms in Tokyo?
As I am sure you can imagine, some of Tokyo's rooms are super expensive.  During our trip to Tokyo we referred to two large booking providers before we came to our decision where to stay: agoda.com and booking.com. Since both of these sites are very well connected in Asia, they have a huge selection which was convenient for us based on the budget we had.  In such a big city like Tokyo, try to stay as close as possible to public transport options like the metro otherwise you will pay for taxis which will directly cut into your room savings.
Many of our readers also book their rooms in Japan directly with hotelscombined.com. I think this has something to do with saving time and money.  This site does a superb job of comparing the top hotel sites in the world with just one click. This can translate to big time savings in Tokyo and I regret that we didn't use it for our trip there! I have created links below to save you some time:
Top Rated Properties on Tokyo Based on Verified Guest Reviews
Important: Mobile Users must swipe from left to right to see entire table.
Criteria:
Properties rated based on 'overall' review scores from each respective website's verified guests.
Minimum of 50 verified guest reviews required to be considered eligible for comparison.
All star ratings and verified guest review scores are tallied at the time of writing, and therefore, are subject to change.
Alternatively, you can compare room prices before you book using the search box below for Tokyo: