If you spent the majority of your time, temple-hopping in historical Kyoto, perhaps it's time to take a break from these religious buildings, and hit the streets. And if those streets happen to be in Gion, you will not be far removed from the rich history that Kyoto has been famous for.
Sitting on the eastern bank of the Kamo-gawa River, Gion has become a very popular district in Kyoto. It is an entertainment area, full of eateries and tourist shops. But despite the modernity and influx of tourism, some parts of Gion have retained its old look and feel. When evening sets in, Gion's streets turn on their hidden charm and just mesmerize people to linger longer.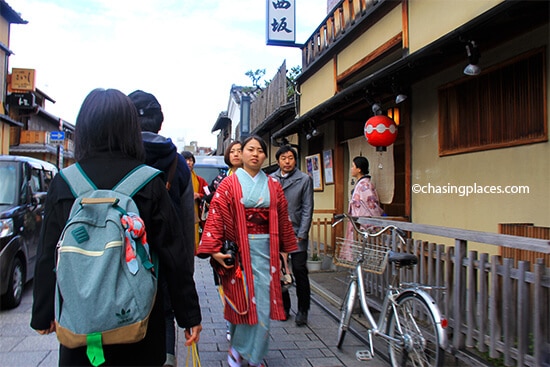 Are there Geishas left in Gion?
Since the time of the Edo period, Kyoto has been considered the center of the Geisha scene, and Gion is its focal point.  It is safe to say that the Geisha scene is not the same as it used to be. In fact, according to Lonely Planet, Geisha numbers have been dwindling.
The image of Japanese Geishas has captured the hearts and imagination of people all over the world. Many tend to romanticize their existence and the life they supposedly live. This image has been widely perpetuated when author, Arthur Golden released the historical novel "Memoirs of a Geisha", which later became a bestseller and was adapted into a film.
Because of the success of the novel, the art of the Geisha has been gravely misunderstood.  Geishas are not raised to be high level prostitutes who service specific masters. Yes, the part where they are trained to be highly skilled in music and performance arts is true. They are like theatrical performers or ballet dancers whose main duty is to make social settings more entertaining. A Geisha's life is rigorous and intricate; it is meant to be shrouded with mystery, as this is part of their appeal and allure.  Oddly enough, the name, Geisha, is not often used to refer to these talented women in Kyoto. The full-fledged ones are called Geiko while the younger bunch in training are called Maiko.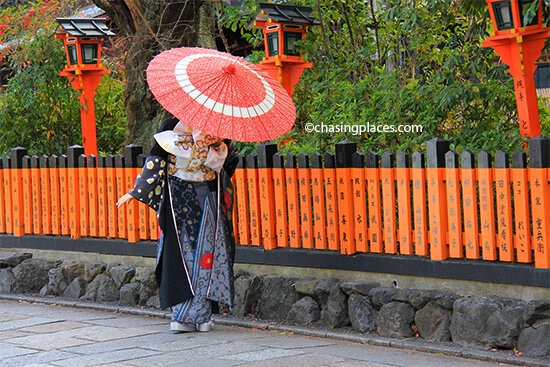 The small number of Geishas still existing in Gion are surely not be found running around the streets, waiting for hordes of tourists to "photo-mug" them. Apparently, this has become a problem for many of these ladies. I have come to appreciate the history of Geishas without the real need to see or capture their image. Geishas are women with extreme dedication to their craft. I imagine that those who practice this lifestyle are not overly keen to become tourist novelties.
I did not see any real Geishas when we walked all throughout Gion. We did, however, come across Asian women and couples wearing traditional costumes, having their pictures taken. They were surely not the real deal. Still, I understand a visitor's excitement when they catch sight of a seemingly Japanese woman in traditional "Geisha-ish getup". I felt that tingle of excitement myself when I saw the colorful clothing. But I was not even sure that those people were even Japanese. I discovered that some tourists actually pay to be dressed up like Geishas, in hopes, perhaps of capturing a little bit of that fascinating romantic Japanese Geisha history.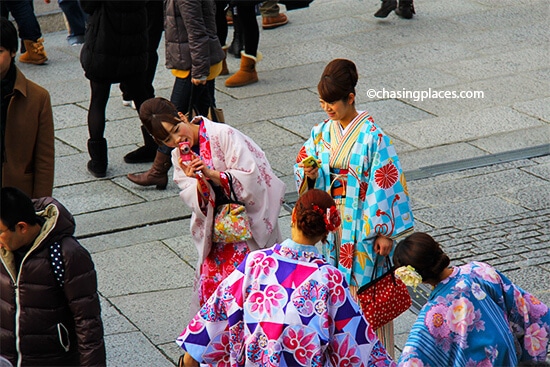 If you really want to see a modern-day Geisha performance, then you have better luck going to an authentic ochaya – a geisha tea house. Some of the teahouses were built as early as the 17th century and have managed to survive the passing of the centuries. A number of them are located along main Gion spots like Shijo Street and Hanami Lane.   These establishments offer private geisha shows. But because they are very exclusive, be prepared to spend top dollar to secure a seat. Ichiriki Chaya is hailed to be one of the oldest and most popular ochayas in all of Kyoto.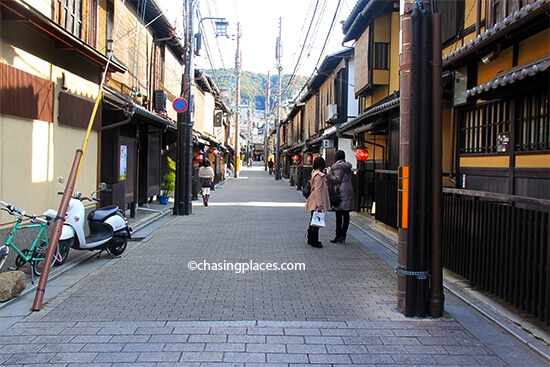 Travel Checklist: Do you have everything you need?
The Beautiful Street
If you don't have the deep wallet to see the beauty and grace of a real Geisha, you might as well treat your eyes to another kind of aesthetic. Also called Shirakawa Minamidori, Shimbashi's beauty is not only mesmerizing, it is also haunting.  It is tranquil and nostalgic, but never assuming.  Come here in the evening to admire the cherry blossoms (if they are blooming), small canals, and old buildings that seemed to defy the wishes of time. Shimbashi is to the north of the Shijodori and Hanami-koji intersection. And whatever you do, don't leave Gion without properly admiring it.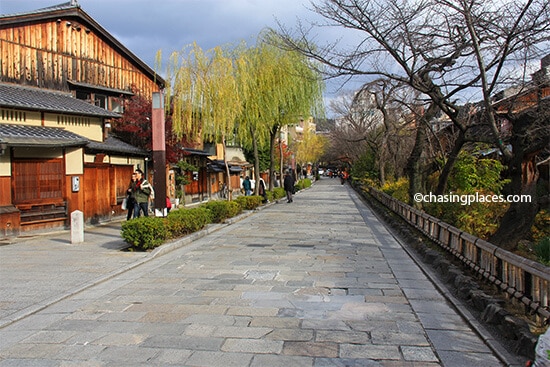 Where did we choose to stay in Kyoto?
We had a few priorities to consider before we booked our room for Kyoto. Primarily, we wanted to be close to Gion – the Geisha district of Kyoto, while at the same time being close enough to the public transport options in the city.  We were travelling on a pretty tight budget.  We eventually decided to stay at Santiago Guesthouse Kyoto. We have no direct affiliation with this property so our opinion is an unbiased one. Overall, it was a nice guesthouse with friendly staff and a 'backpacker' vibe.  It's about 7-10 minutes from Gion. I wouldn't recommend it if you're seeking privacy or luxury by any means. At the time of writing it had a score of 8.2/10 based on 451 verified customer reviews.
How to find the cheapest rooms in Kyoto?
The first thing you need to understand before you book your room in Kyoto is that the city gets super busy during peak season (April for instance). Kyoto is loaded with attractions, so be sure to check on a map exactly where you want to stay before booking.  We found our rooms using large, reputable hotel providers like agoda.com and booking.com.  They had a huge selection of rooms in Kyoto.
If you would prefer to shop around for the cheapest rooms, then try out hotelscombined.com.  They have been rated the top hotel price comparision site in the world for the last few years.  They make it super easy to find cheap rooms in large cities like Kyoto with all the reputable sites out there. I have made links below to their respective rooms lists for Kyoto to save you some time:
Top Rated Properties on Kyoto Based on Verified Guest Reviews
Important: Mobile Users must swipe from left to right to see entire table.
Criteria:
Properties rated based on 'overall' review scores from each respective website's verified guests.
Minimum of 50 verified guest reviews required to be considered eligible for comparison.
All star ratings and verified guest review scores are tallied at the time of writing, and therefore, are subject to change.
Alternatively, you can use the search box below to immediately compare room prices in Kyoto with one search: