Overshadowed by its neighbor Osaka, Kobe is often neglected by visitors, who know little about what this particular Japanese city has to offer. But from what I discovered, Kobe makes a great overnight or even day trip destination.
Before you think of pronouncing Kobe like the way you say that famous NBA player's name, the city is actually pronounced as Ko-beh.
What Kobe Has to Offer
Kobe is a port city and a very modern one at that. It is way smaller than Osaka but it is sleek and sophisticated. Like other port cities, the wealth brought about by the trading and shipping industry is very much evident. At first glance, it is just one of those typical Japanese metropolises, but upon closer inspection, there's quite an abundance of natural attractions to choose from.
Osaka may be the perfect spot to enjoy dazzling nightlife, but Kobe is the place to be for hills, gardens and the other allures of Mother Nature. Luckily, tourists don't have to make a difficult decision of visiting one over the other, as both cities are only less than an hour-train ride from each other. (How to get from Osaka to Kobe).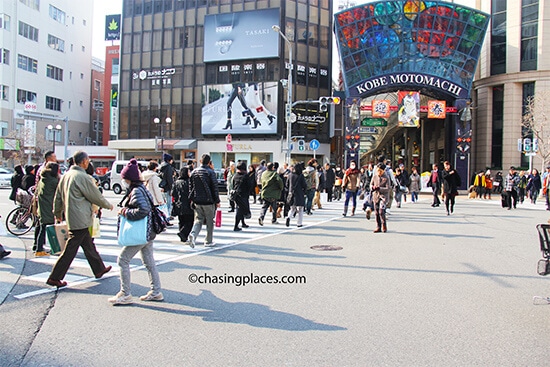 If you have one full day , here are the top places in Kobe City Japan we highly recommend for you to check out:
3. Kobe's Downtown and Waterfront
Kobe's downtown is small enough to navigate by foot. But if visitors need to take transport, it should be the train; which is fast, easy and convenient. The main entry points to the city are the Sanomiya and Shin-Kobe stations.  Sanomiya is located in the heart of the city center, while Shin-Kobe is in the northeast part of town.
We found our way to the heart of Kobe and walked around Kobe Harbor Land to get a good feel of the city. The view of the sea was nice, and we were able to watch some big boats in action. The harbor area, as expected, was clean and modern.  It was surrounded by some buildings, and decorated by interesting modern sculptures. During the day, it was mostly quiet and calm, a nice place to just relax and breathe that refreshing sea air.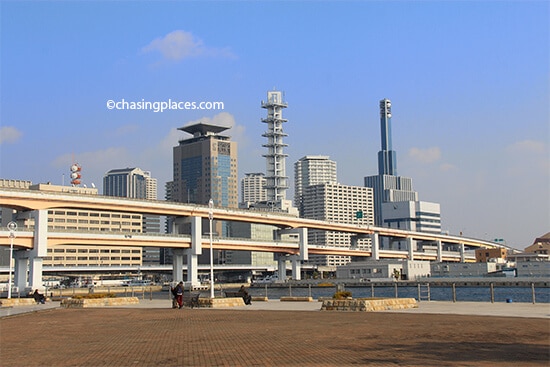 2. Shin-Kobe Area and the Nunobiki Waterfalls
The downtown area may be all sleek and modern, but the real treat for us was the Shin Kobe area. We didn't have to go far from Shin-Kobe station, and we already found green patches and hills of beauty and serenity.
We went down to the ground floor of the train station, and followed a path that eventually led us through an underpass, and finally to the beautiful Nunobiki Waterfalls.
The existence of a set of waterfalls in this area was quite unexpected, but it was definitely a pleasant surprise seeing two sets of waterfalls. The smaller one we saw first. This waterfall is small yet lovely. However, it is also surrounded by fences and private houses.
We were about to leave, when we realized that there must be another set of falls somewhere. We found out that there was another path that leads up a steep hill. We followed that path and it eventually took us to the main set of cascades.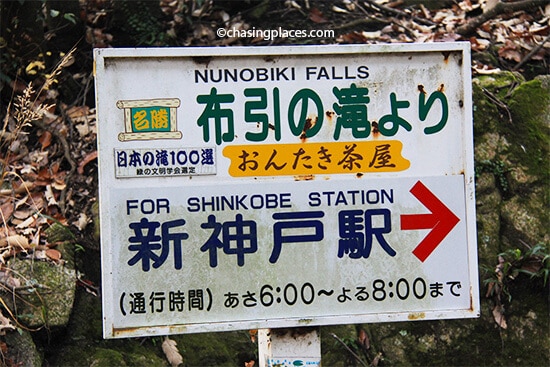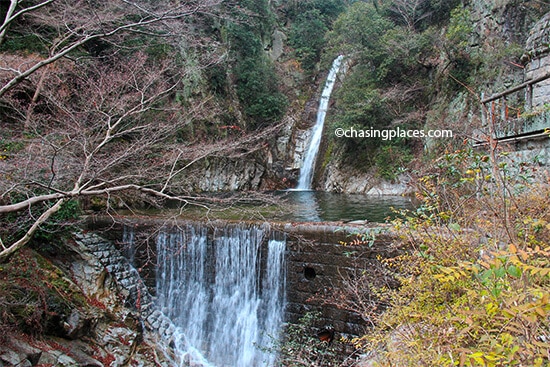 When we saw Nunobiki, we were immediately impressed. Plenty of water flowed from it.  The hike to the waterfalls took around 30 minutes. It was long and steep enough to make my heart pound and it got my sweat "going". During our hike to Nunobiki, we found out that the entire hill range is like a hiker's paradise.
There are a couple of paths that connect to the waterfall. These paths lead to a hillside promenade with viewpoints, showcasing the cityscape. This area is definitely one of the most relaxing spots in the entire city. And it seems like Kobe residents have great fondness for the spot too, as we saw a number of them engaging in leisurely hiking.
If you love hiking and the calorie-burning that goes with it, hiking to the Nunobiki Waterfall and the Nunobiki Hillside Promenade is certainly worth it.   If you're an inexperienced hiker, it's much better to just slow down, and take some time to enjoy the view of the river that flows from the falls.
Travel Checklist: Do you have everything you need?
1. Nunobiki Herb Gardens and Ropeway and the Shin Kobe Cable Car Ride
After seeing the waterfalls, our Kobe experience was not over yet. Our next destination was the Nunobiki Herb Gardens and Ropeway.
The Herb Gardens is set on a mountain high above the city, and people get there by hiking, or more conveniently, by taking the Shin Kobe Cable Car service. This cable car service leaves from a building close to the station. It then travels up to a mountain ridge, approximately 400 meters above the city proper.  The cable car experience offered amazing panoramas of Kobe and the surrounding bay.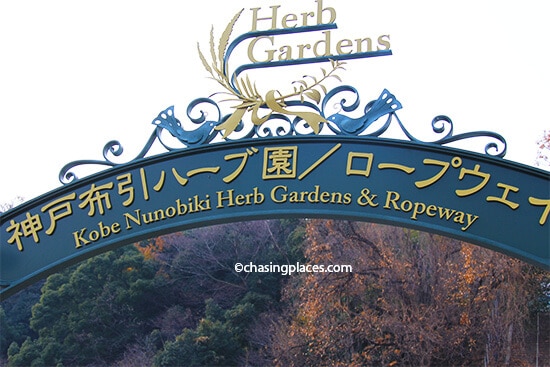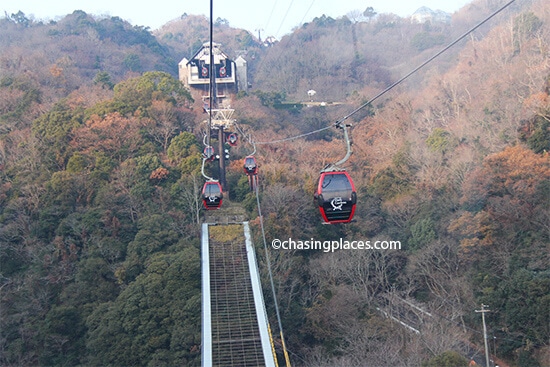 Usually, guests are given the choice to purchase a one-way or return ticket. In our case, we decided to go up via cable car, and then planned to walk down. As we went up the mountain via cable car, we were treated with panoramas of the city. We even saw the Nunobiki Waterfalls from afar.
The cable car has two major stops going up. The first platform is the site for the trail that will lead to the waterfalls and the dam area.  The second station is located higher and sits on the mountain ridge. It is close to a complex, complete with restaurants, cafes, an herb market, gardens, and a fragrance museum. It was a very pretty place, again boasting views of the city below.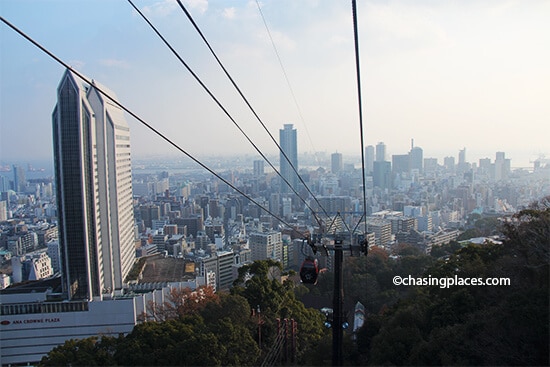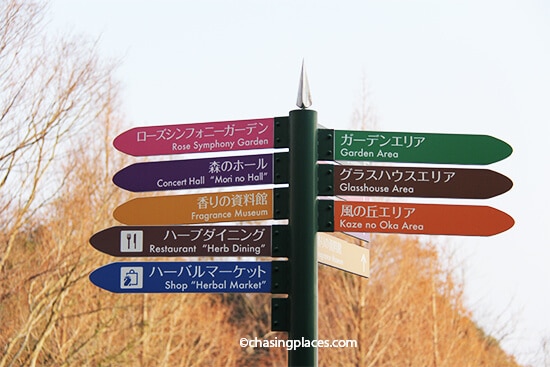 The real treat for us was revealed when we decided to make our way back to the base station. We noticed a winding path from the main complex that led down to the city. Along the trail we stumbled upon a place that we didn't know existed. The site was collectively called Glass House. It is composed of four well-manicured greenhouses with glass walls and roofs to protect the colorful plants.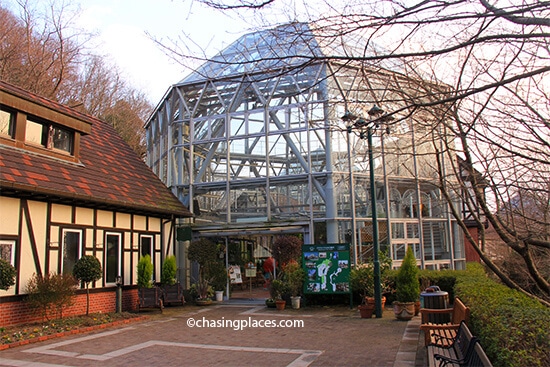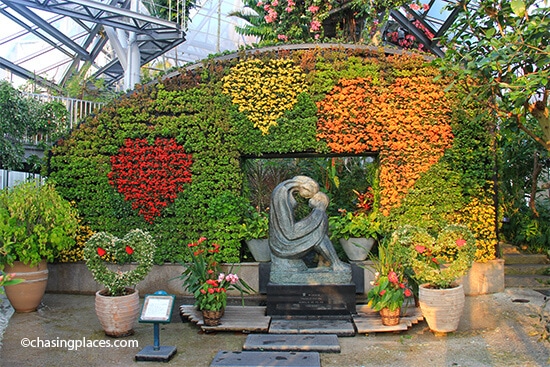 It is an absolutely gorgeous place! Our guidebook did not even mention it, and there we were, looking at a beautifully manicured ensemble of flora. Access to the Glass House was absolutely free! And so we walked through the main entrance, and were greeted by museum-like displays of antique furniture, surrounded by the various plants of course.
Everything about the display was very well-placed and thought-of. It was such an atmospheric spot that we were in no hurry to leave. The Glass House is also equipped with a café that has chairs and tables on an open verandah. And so we watched the setting of the gorgeous sun, undisturbed, on the verandah.
This very moment alone was enough to make my day in Kobe an eternal sunshine in my mind.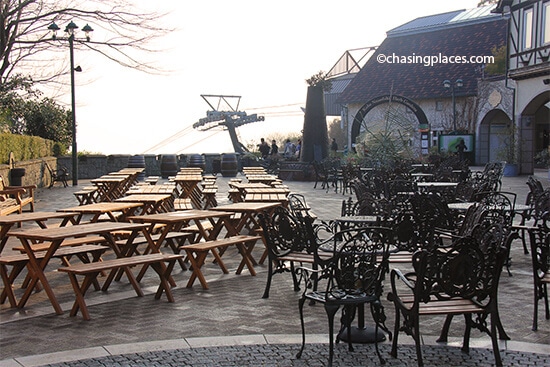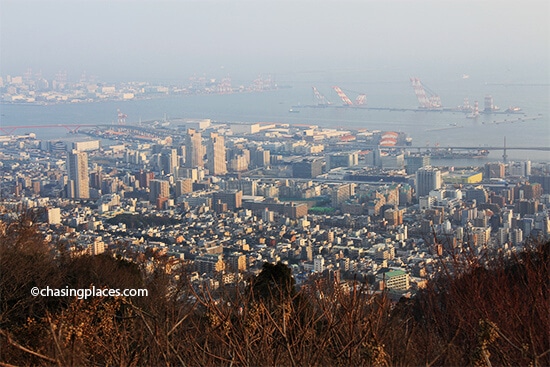 Where did we stay in Kobe?
When we were trying to select our room for Kobe we wanted to book a room close enough to the water, not too far from China Town and walking distance to Kobe's public transport system. Sounds like a challenge doesn't it?
We also wanted something in the budget to mid price range because two of us were sharing a room.  Eventually, we decided to stay at Hotel Sunroute Sopra Kobe.  True to Japanese form, the place was clean, organized and efficient. It was about 5-10 minutes to the rail lines and 15 minutes to Chinatown. The rooms were not overly big by any means, so if you want a larger room, then you might have to pay more. At the time of writing it had a score of 7.5/10 based on 145 verified customer reviews.
How to find the cheapest rooms in Kobe?
Kobe, is a coastal city, so it's always a bonus to find a room with an ocean view to wake up to!  But there are indeed accommodation choices to suit all budgets.
Your best bet of finding a well-priced room in your preferred area of the city is with a large room provided such as agoda.com or booking.com. Many of our followers tend to find absolute cheapest rooms with hotelscombined.com as they offer an effective search comparison of the world's top sites prior to booking. To save you some time, I have created links to their respective rooms in Kobe:
Top-Rated Properties in Kobe Based on Verified Guest Reviews
Important: Mobile Users must swipe from left to right to see entire table.
Criteria:
Properties rated based on 'overall' review scores from each respective website's verified guests.
Minimum of 50 verified guest reviews required to be considered eligible for comparison.
All-star ratings and verified guest review scores are tallied at the time of writing, and therefore, are subject to change.
Read Related Japan Articles
Article Last Updated May 2018