When you do your travel research about Kyoto, you will most likely read about Kinkaku or the Golden Pavilion. You will find that many travel brochures and guides recommend a visit to this complex. So why is the Golden Pavilion a must-see in the former Japanese capital?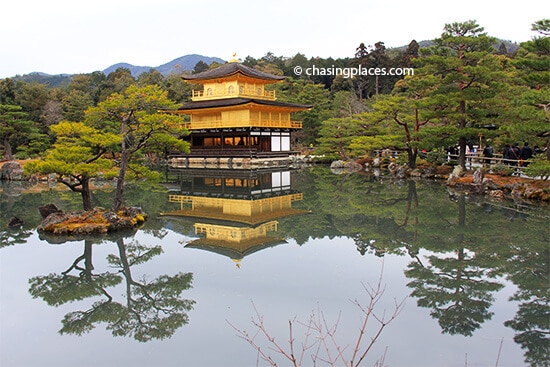 The answer lies in its history and strong connection to the Buddhist religion. Kinkaku is a shariden or a Buddhist hall, which houses valuable relics of Buddha. This is the main reason why it is a highly revered sanctuary.  In fact, visitors are not allowed to enter the Golden Pavilion.  The building that glistens under a clear sunny day is surrounded by the pond of Kyoko-chi that acts as its protector.  However, such a natural setting undoubtedly adds to the beauty and serenity that radiates from the shariden. It is also said to be a representation of Buddha's Pure Land in this world.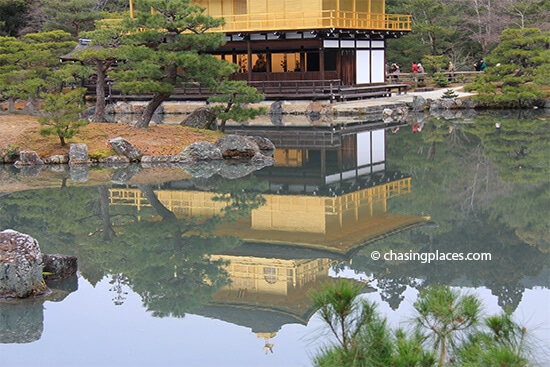 The Golden Pavilion is actually part of a Zen-Buddhist temple, which used to be called Rokuon-ji. These days, it is more commonly known as Kinkaku-ji. The Golden Pavilion is a registered World Cultural Heritage Site. Although ordinary visitors are not allowed to go inside it, the shariden still manages to impress with its incredible architecture. The exterior of the upper two levels of the building is actually made up of gold foil on lacquer. Although it is generally regarded that the pavilion's architecture is a reflection of the Muromachi period, each level has a specific style. The first level is built in the style called shinden that demonstrates the imperial aristocracy period of the 11th century. The second level, on the other hand, is in buke style, reminiscent of the warrior aristocracy. The third and topmost level is done in the style of Chinese zenshu-butsuden.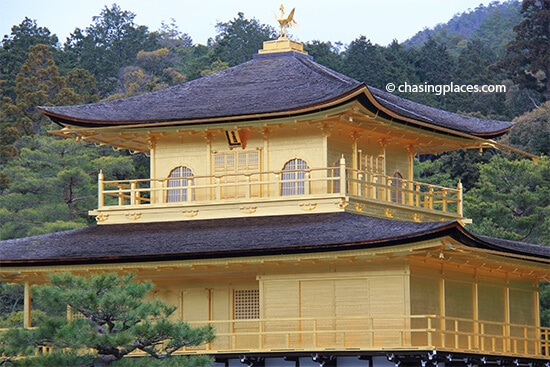 Travel Checklist: Do you have everything you need?
The pavilion sits at the heart of a complex surrounded by a garden and other buildings. The pond where Kinkaku is nestled is part of the garden, which is very common during the Muromachi period. You will notice a number of huge rocks around this site. These rocks are actually donations made by various provincial lords governing during this period. Walk around the pond of Kyoko-chi to get a good look at the Golden Pavilion at different angles, take a relaxing stroll around the rest of the complex, which has charming hills, gates and other structures.
The Sekka-tei Tea House is a charming site within the complex. Built during the Edo period, the tea house is a popular destination during late afternoon, not only because of its exemplary tea collection, but mainly because of its magnificent view of the Golden Pavilion during this particular time.
There is an abbot's chamber and living quarters of priests inside the temple complex. You can find them on the left once you have entered the grand Chinese style gate. The Kinugasa Hill and Hidari-Daimonji Hill serve as backdrops to the temple. And if you have time, venture to another lovely body of water called the Pond of An-min-taku. It is oftentimes and understandably less busy than Kyoko-chi, but is a perfect spot to bask in the quiet beauty of nature.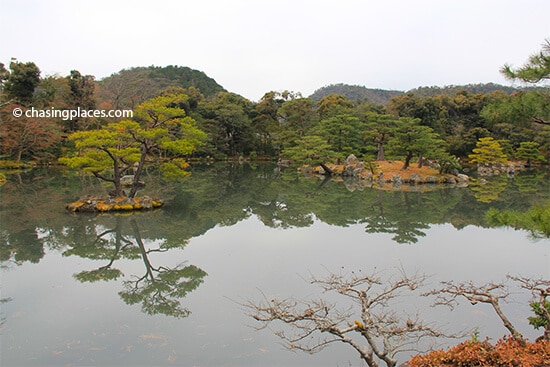 How to Reach Kinkaku-ji
The best way to reach the Golden Pavilion is to first make your way to Kyoto Station. From here, hop on the Kyoto City Bus 205 or 101, and get off the Kinkakuji-michi stop. Another popular commute route is taking the Kyoto City Bus 59 from Sanjo-Keihan and getting off the Kinkakuji-mae stop.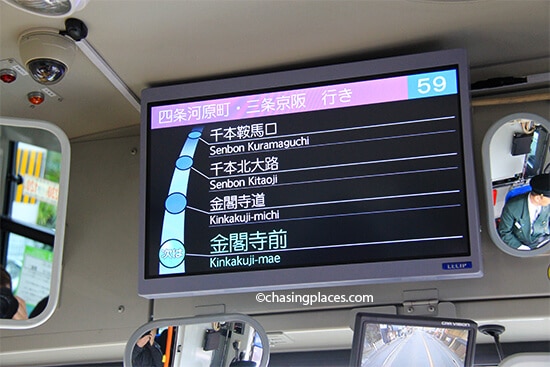 Admission Fee for Kinkaku-ji are as follows:
Adult (16 years old and older)   400 Yen
Child (7 to 15 years old)              300 Yen
Kinkaku-ji is open every day from 9 am to 5 pm. Come early in the morning or late afternoon to avoid the crowd, especially tourists arriving on bus tours. Just outside the temple entrance, you will find a series of stalls that sell food, drinks and souvenirs. Just take note that the prices in this stalls are more expensive than the usual. So if you're on a budget, make sure to bring your own snacks and water.
Where did we stay in Kyoto? 
Our main focus while 'room searching for Kyoto" was position ourselves close to the geisha district (Gion) and Kyoto's transport options while preserving our 'site' budget.  Eventually we decided to stay at Santiago Guesthouse Kyoto. We don't have any direct affiliation with this property or any in Kyoto, therefore our opinion of it is completely unbiased. Overall, we were happy that we stayed there. The staff were helpful and the place had a nice 'backpacker' vibe to it, but it's not overly private so if want a quiet, rejuvenating stay, then you might want to pay more, for greater privacy.  If you're on a budget it's an above average place to stay..  At the time of writing it had a respectable score of 8.2/10 based on 451 verified guest reviews. It was about five minutes from Gion which made it convenient for us to explore the nearby attractions without having to jump on the train every time we stepped out.
How to find the cheapest rooms in Kyoto?
Kyoto has a massive selection of rooms to choose from. But the prices can vary and depending on the time of year you are visiting, the top choices can sell out well in advance. Try using a large room provider like agoda.com or booking.com to get the largest selection in the area you are looking for.  They both have excellent map tools to double check the exact location of hotels and guesthouses before you confirm.  If you want to shop around then hotelscombined.com is the obvious choice for price comparison before you confirm. I have created links to their respective rooms to save you some time:
Top Rated Properties on Kyoto Based on Verified Guest Reviews
Important: Mobile Users must swipe from left to right to see entire table.
Criteria:
Properties rated based on 'overall' review scores from each respective website's verified guests.
Minimum of 50 verified guest reviews required to be considered eligible for comparison.
All star ratings and verified guest review scores are tallied at the time of writing, and therefore, are subject to change.
Alternatively, the search box below will quickly find you the cheapest rooms for your intended dates in the city: