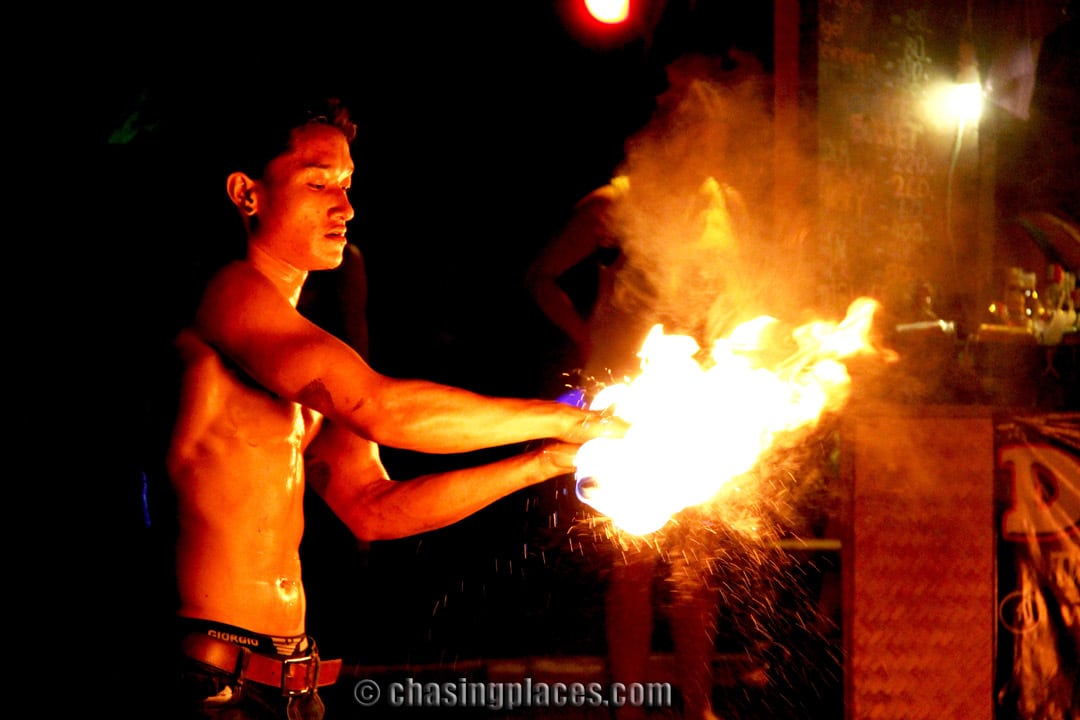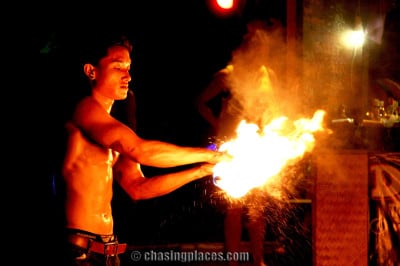 Having heard many close friends share their experience going to the world famous Full Moon Party on Haad Rin Beach, Koh Phangan, Thailand we decided that it was about time to experience it for the first time.
Since the demand for flights to Surat Thani was quite high as it often is before the Full Moon Party, we decided to fly into Hat Yai with Air Asia.  From there we took a bus north up to Surat Thani.  Prior to this trip, we anticipated that Surat Thani would be the typical bland connection city which serves frequent bus routes to the ocean piers serving Koh Phangan, Koh Samui and Koh Tao among other places. Although it didn't have major tourist attractions, it turned out to be a worthwhile stop and rather un-touristy in comparison to other places we have been in Thailand.  The markets had an impressive array of insects to sample as well as a healthy selection of goods to choose from.  Surat Thani's noticeable Thai culture made it easier for us to relax for an evening with the powdery sand of Had Rin consciously on our minds.
South East Asia is full of surprises, especially when it comes to the transportation industry and our journey to Koh Phangan from Surat Thani was no exception.  After picking up a pair of joint bus-ferry tickets at a local travel agency in Surat Thani, we boarded a mini bus the day before the Full Moon Party began. Immediately, we thought that this form of transportation was too clean and modern for the basic fares we purchased and we were correct.  After picking up other passengers at various hotels and guest houses we were finally dropped off and asked to get on an ancient-looking bus.  It honestly looked like it had endured thousands of trips to and from the jetty pier over the last forty years. The seats were torn, frayed and it stunk of hangover, but it thankfully made it to the pier where we boarded a jam-packed boat en route to Koh Phangan. It remains to be seen whether this bus is simply used during extra peak periods like right before the Full Moon party or whether it used on a day to day basis.
The boat ride over went as expected with many different tourists occupying different classes of seats.  Many of the younger more physically fit backpackers chose to strip down to their swim wear and remained along the edges of the deck during the ride.  We assumed this was to get some additional oxygen and relaxation in preparation for the epic 24 hours that would soon follow.  It was quite clear that many of the male passengers were already eyeing up some of the beautiful girls that would be taking part in the festivities.
As the boat slowed down and the captain began angling the vessel to dock, we were confused as to whether we had made it to our intended destination.  This confusion was created due to a couple of factors.  First of all, most boats that travel from the pier to Koh Phangan do not solely drop of passengers going to Phangan, but also Koh Samui and Ko Tao. This helps the boat liners (especially in low season) fill up their vessels year round.  Geographically, it would have made sense for us to stop at Koh Samui first along this route, but the captain decided to drop off the crowded Koh Phangan crowd first.  This of course created some confusion as no announcement was made to describe what island we had reached.  Rest assured, the young enthusiastic crown spread the word quickly and everyone eventually made it off safely.
One of the great experiences of backpacking is reaching your destination without any idea about where you are going to stay.  There is something intriguing about trying to find the best location with the best rate with the ambience that suits your present mood.  This of course is balanced with the probability of not finding a room due to high demand. Near the famous Haad Rin beach, we were starting to feel tired and frustrated because most of the rooms were full.  Fortunately, we did manage to find a real nice chalet style room minutes from the beach.  To avoid breaking the bank, we negotiated a three night stay which shaved some Baht off of the initial offer.  Lessoned learned: be sure to book accommodation online before travelling to Haad Rin for the Full Moon Party.  It would be safe to show up three days before or two days after without arranged accommodation.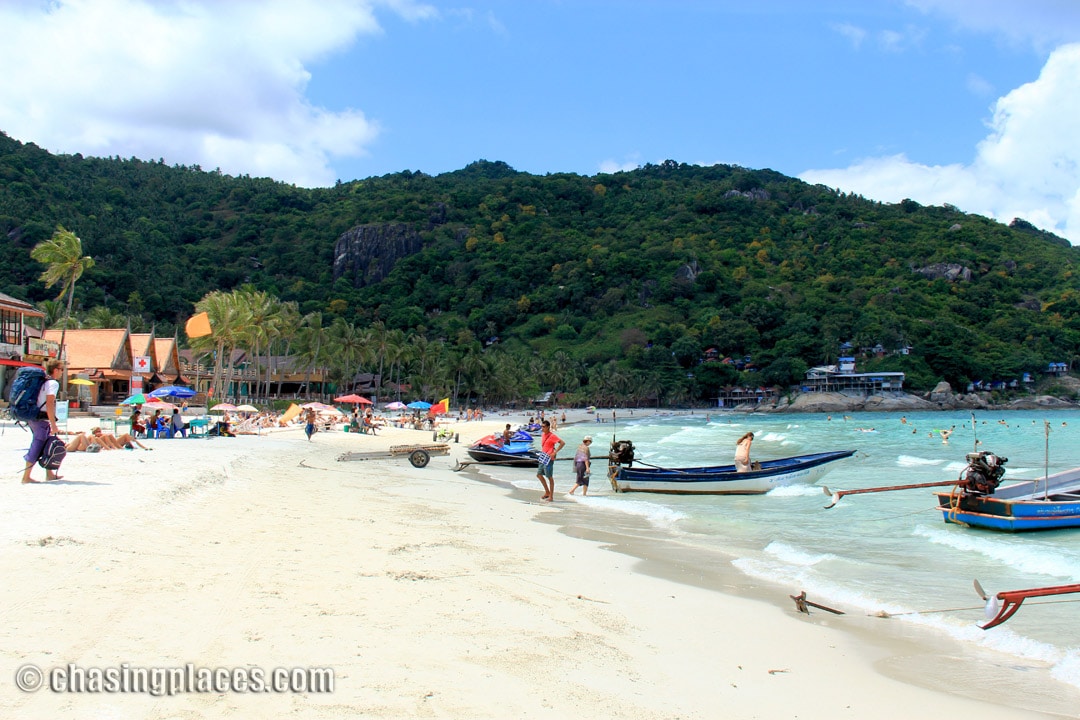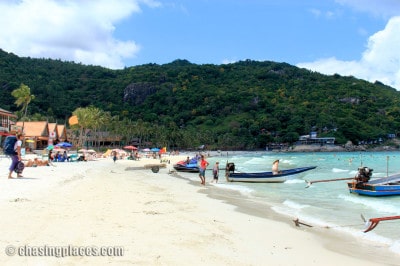 The Haad Rin area consists of two beaches.  The quieter Haad Rin beach has golden sand with some small pebbles. It is not ideal for swimming, but is a nice enough spot to catch some fresh air in a laid back fashion. The busier Haad Rin beach, however, exceeded our initial expectations.  We assumed that with all the parties over the years that it would be average at best.  To our surprise, it has very powdery white sand and beautiful water. This can be attributed to the dedicated clean-up crew that examines the beach for everything from broken glass to rum buckets.  We did see a few unfortunate tourists step on some broken glass, so don't be entirely fooled by the soft white powder.  It is not the kind of beach to run on shoeless and there is more embedded in the sand than the eye can see.
Travel Checklist: Do you have everything you need?
On the night of the Full Moon Party, we couldn't help but notice tourists from all over the world relaxing in the vast array of funky backpacker pubs and restaurants in the area.  Fluorescent paints and glow sticks became increasingly visible as we approached the beach.  Initially, the beach was quiet in the early evening, but it consistently became busier and busier until partygoers occupied most of the white sand. The party organizers did an excellent job of making sure that the beach was subdivided into different genres of music.  This organization was equally balanced by the calamity of the party.  The younger generation of partygoers skipped fire ropes, slid down fire slides from rooftops and danced on elevated stages along the beach.  The amount of cameras going off only added to the intense atmosphere of neon and fire.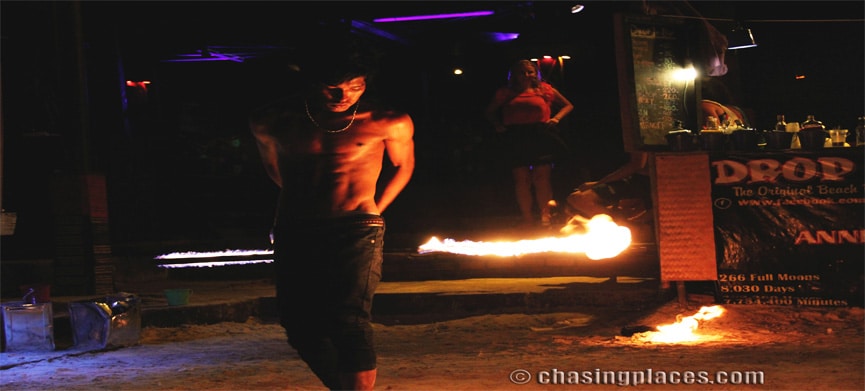 After taking a short walk inland from the beach we decided to order one of the world famous rum buckets. The young Thai server tried her best to hide her business strategy, but it didn't stop us from catching her diluting our drinks.  But this didn't affect our mood as there are numerous vendors selling similar mixed buckets.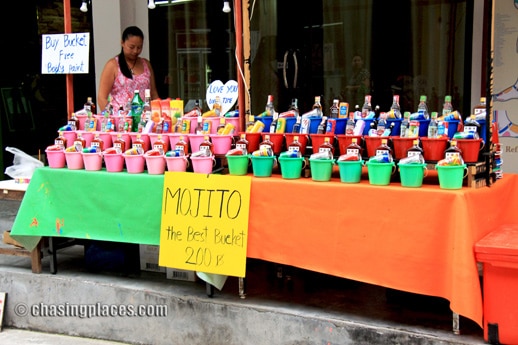 The full moon party carried on well into the next morning and it did indeed live up to the hype.  Large scale events such as this depend on the anticipation of the tourist.  Many older tourists seemed to be enjoying the festivities even more than their younger counterparts.  We even saw kids walking down the beach before midnight.  If you go thinking the Full Moon Party will be a romantic tranquil evening don't even bother going.  But if you want to just "people watch", take photos or consume some buckets of alcohol and let your inhibitions subside for a night, you will definitely enjoy your evening.
Booking Your Room for the Full Moon Party
Most of our followers choose one of the following three sites to book their rooms in Thailand: www.agoda.com, booking.com, or www.hotelscombined.com for their room reservations. Here are quick links to their respecitve properties on Koh Phangan:
Rooms – www.agoda.com     Rooms – www.booking.com