Hong Kong is the Asian economic powerhouse that boasts captivating attractions, a distinct culture, a huge hardworking population, and a splendid cityscape. At night, the skyscrapers and stunning hotels that dominate Hong Kong's sky look even more enchanting while shining luminously in the dark. But the giant metropolis offers another trick up its sleeves to completely lure tourists in, and this is in a form of a show entitled "A Symphony of Lights."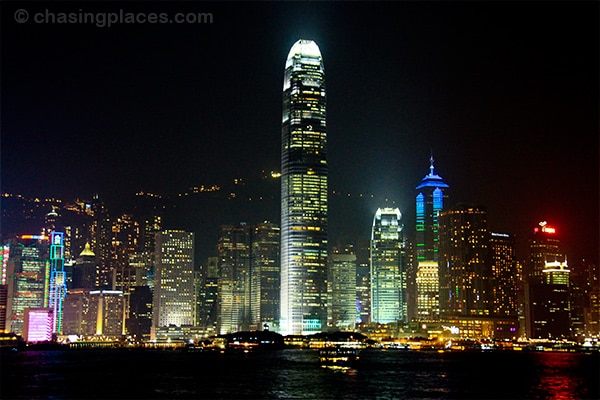 What is it all About?
This is not your typical multimedia show, which features laser beams and interactive colored lights, synchronized with dazzling music. It actually involves over 40 of the most prominent and largest buildings in Kowloon and Hong Kong Island; two city areas that occupy each side of Victoria harbor.
This mammoth tourism initiative happens every night, earning it the distinction of the "World's Largest Permanent Light and Sound Show" from no less than the Guinness World Records.  "A Symphony of Lights" is not just a way to show-off Hong Kong's affluence and sweeping cityscape; it is meant to highlight the city's lively spirit and recognizable diversity.  Don't be believe us? Luckily we have proof. Just listen to the narration that goes with the show. It eloquently reveals the show's five main themes, which are Awakening, Energy, Heritage, Partnership, and Celebration. "A Symphony of Lights" is Hong Kong's way of telling the world that it stands proud amidst challenges set forth against it.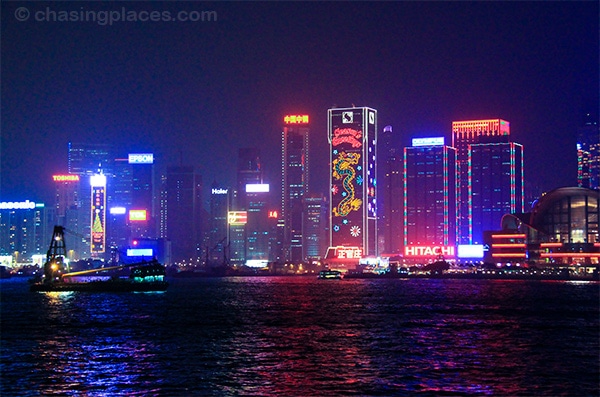 This nightly spectacle is completely free for anyone who wish to celebrate with Hong Kong. So cheers to that!  
Show Specifics
"A Symphony of Lights" lasts for about 13 minutes and takes place at 8 pm every night, except if there's a tropical cyclone warning (safety first of course!) The English narration of the Show is broadcast every Monday, Wednesday and Friday. On Tuesdays, Thursdays and Saturdays, the narration is in Putonghua (Mandarin) while it's in Cantonese on Sundays.
Viewing Options
To enjoy this impressive multimedia show, seek out one of the available vantage points.  If you have the budget, climb aboard a Victoria Harbor Cruise ship. By doing so, you will get to know this natural harbor, which played a crucial role in making Hong Kong a powerful trading and business hub.  There are many schedules for harbor cruising. But if you want to hit two birds with one stone, then go for a night cruise to catch the Light and Sound Show while sipping your favorite drink onboard.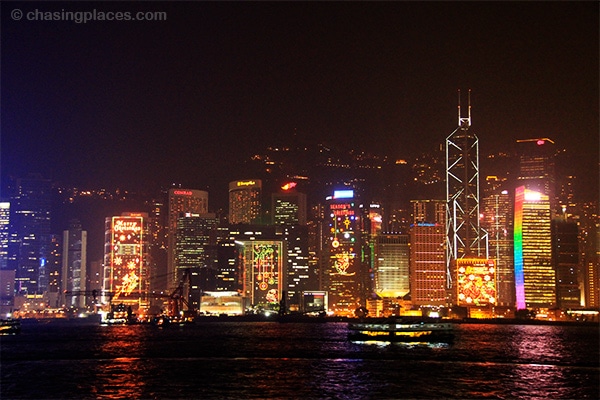 Another perfect spot to view this skyline spectacle absolutely free is the Tsim Sha Tsui waterfront in Kowloon. One good thing about this waterfront is it's very close to some of the city's prime attractions like the Hong Kong Cultural Centre and the Avenue of Stars. Thus, we highly recommend that you make your way to the Tsim Sha Tsui area in the late afternoon to have enough time to check out these attractions. Then end a memorable day in Hong Kong by viewing the spectacular Symphony of Lights. If you're on Hong Kong Island, you can view the Show at the promenade near Golden Bauhinia Square in Wanchai district.
Travel Checklist: Do you have everything you need?
Getting to the Show
To reach the Tsim Sha Tsui waterfront, take the Mass Transit Railway (MTR) service and get off at Tsim Sha Tsui East Station. Hop on the MTR to Wanchai Station and cross the footbridge to reach this promenade in Golden Bauhinia Square.
Staying Near the Show
As you probably already know, location is everything in Hong Kong.  If you click here you can access a super convenient map (and satellite feature) that clearly shows the different regions of Hong Kong to stay.  Scroll about half way down the page. Over the years we have been to Hong Hong on various occasions.  We routinely refer to these sites to book our rooms in the city:
www.agoda.com – the largest room provider for Hong Kong with just under 700 different properties at the time of writing. We use www.agoda.com extensively for booking rooms in HK and all over Southeast Asia.
www.booking.com – this is an awesome site if you're planning your trip in advance. With cancellation-free rooms and top notch customer service www.booking.com is very popular with many of our readers.
www.hotelscombined.com – this price comparison site works wonders for booking a room in Hong Kong. In such an expensive city it pays to spend a few seconds comparing room prices between websites.  We use www.hotelscombined.com all the time.
Safe travels!