After exploring the city of Kandy in the northern highlands of Sri Lanka, we wanted to head straight to the historic city of Galle without having to spend a day in Colombo.  We decided to go for another train ride as it is reliable, safe and very scenic. But this route can be a little tricky as it is not commonly done by tourists. Nevertheless, it is very much possible, granted that you make some necessary sacrifice such as walking up very early and enduring a longer train ride.
So here is a step-by-step guide on how to get to Galle from Kandy via a scenic train ride:
1. Decide on the train route.
There is only one train service that goes from Kandy Fort Station to Galle Station, albeit this train still stops at Colombo for less than 20 minutes.  This train leaves the Kandy station at 5:10 am.
If by any chance you miss this train, you can still take the train service to Colombo, which runs a couple of times during the day. If you take this route, you will need to get off the Colombo Fort Station, purchase another ticket for the train that goes to Matara and stops at Galle. But take note that by doing taking this route, there is a risk that the tickets to Galle may be sold out.
Tip: Check the schedule for the Colombo to Galle route before leaving Kandy so you can estimate your waiting time.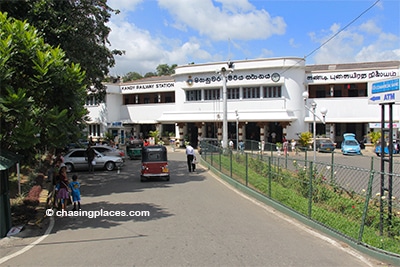 2. Arrive early
You cannot make advance bookings for the Kandy to Galle route, so you will need to show up at the Kandy station at least an hour early before the departing time (5:10 am). You will need to purchase your ticket and line up with the locals, as there is no special line for tourists.
This means that you will need to get to Kandy station from your hotel before dawn.  Thus, arrange your transport the day before you leave, so you don't have to take the chance of hailing a three-wheeler at a most inconvenient time.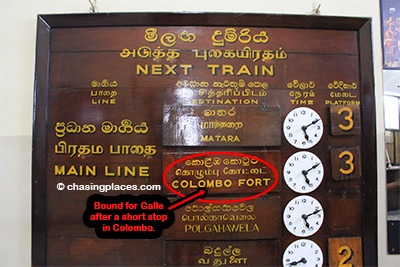 Travel Checklist: Do you have everything you need?
3. Decide on the ticket class.
When we were trying to buy the tickets for this route at the Kandy Station, there was no indication that a first class carriage existed.   According to the bulletin board at the train station, The fare from Kandy to Galle are as follows:
2nd Class: 320 rupees (2nd Class carriages have better seats and less people.)
3rd Class: 175 rupees
However, when you look at the Sri Lanka Railway website, they posted different ticket prices and indicated that a first class carriage is available. Chasing Places is not sure about the reason behind the discrepancy. It may mean that ticket prices are not always fixed and that the first class carriage is a new addition.   Our advice is for you to be prepared for the price changes. You can also verify at the train station whether the first class carriage is indeed available for the date of your intended departure.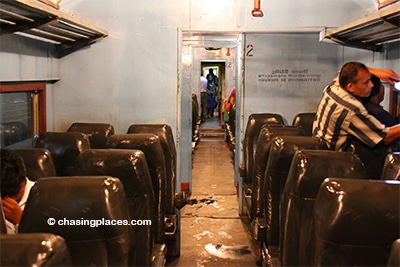 4. Get on the Train
The train ride from Kandy to Galle is a long one so make sure to bring snacks and drinks with you.  The view is more picturesque on the left side of the train between Kandy and Colombo. After Colombo, the train runs all the way down to the southern coast of Sri Lanka; so when you reach this section, you will get an excellent view of the sea on right side of the train.
Estimated travel time (Kandy to Galle): 6 hours
Estimated arrival time to Galle: 10: 49 am
5. Go the historic Galle Fort
From the Galle station, you can easily hire a three wheeler to bring you to the Galle Fort.
To check the train times, visit the official Sri Lanka Railways website, www.railway.gov.lk. But train delays or schedule changes can happen so make sure to double check again with the local schedule displayed at the train station.
How to find the cheapest rooms in Galle?
I would recommend two different sites if you're heading to Galle any time soon: www.agoda.com or www.hotelscombined.com. Agoda has a strong presence in Sri Lanka with a massive selection of rooms at solid prices.  Many of our backpacking readers like Hotelscombined for their price comparison searches prior to booking.