Being one of the largest markets not only in Asia but the entire world; the weekend market of Chatuchak is definitely a must-see when you're in Bangkok. Covering an area of approximately 35 acres, the market's extra-large size makes it easy to accommodate the thousands of tourists that flock to the Thai capital.  Chatuchak's very wide variety of merchandise and lively atmosphere are definitely enough to make you spend at least half a day here; not to mention it's also a great spot to sample tasty, and sometimes exotic local treats and snacks!
A number of medium-range hotels, guesthouses and hostels are located on streets near the Grand Palace (Wat Phra Kaew) and backpacker-central Khao San road. In our opinion, this is definitely one of most ideal places to stay as it close to all major landmarks in Bangkok including the Chao Phraya River.  So if you are staying in the Khao San neighborhood, how do you get from there to Chatuchak Market?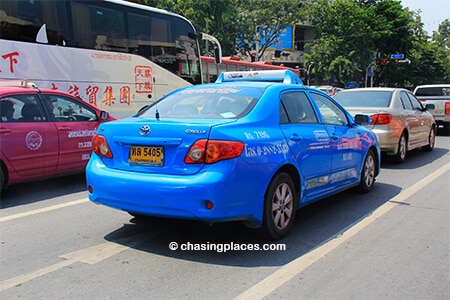 There are many ways to go about it. Because there is no train or subway station within walking distance of Khao San, some tourists prefer to just take a taxi, as it is convenient and relatively  cheap (if they follow the meter, which they often do). But this option can be a real drag if the traffic is bad downtown.  During our recent visit to Bangkok, we found that the fastest and most convenient way to reach Chatuchak Weekend Market from the Khao San neighborhood is taking the tuk tuk and Sky Train route. Here is a step-by-step guide on how to get from Khaosan Rd to Chatuchak Market.
1. Contract a tuk tuk to take you the Ratchathewi Station, which is part of the Sky Train service. 
Tuk tuks are the zippy three-wheeled public transport that you will see around the city. The general perception of tourists and the stigma associated with tuk tuks is that they are 'touristy' and they usually charge exorbitant amounts. But tuk tuks are fast and flexible enough to navigate through the busy streets of Bangkok effectively avoiding many traffic jams.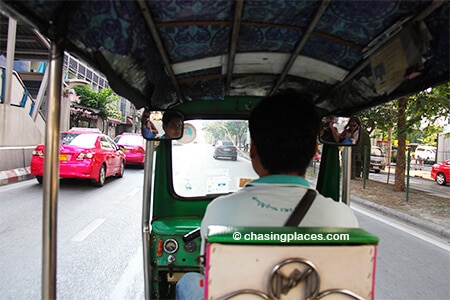 If you are not aware of this, Bangkok has one of the worst traffic flows in Southeast Asia. We were there during the weekend, and it was always busy on the streets. Tuk tuk drivers are so skilled that they can drive through jams, and thus, cut your travel time by as much as 50%.
However, if you are not familiar with how Southeast Asian drivers drive, then you may most likely think that tuk tuk drivers are crazy.  Honestly, it is not the safest ride, if you base it on first-world standards as they are no seat belts and other safety measures. But somehow tuk tuk-related accidents are not common. You can also tell your driver to drive a little slower if you think they are getting out of hand.
Pricing
Another issue about getting a tuk tuk is that they charge tourists too much. Some of them are also quite sneaky, and have the tendency to bring you to a travel agency, to earn commission off you.  But here are some tips to remedy these issues:
Tell the tuk tuk driver where you exactly want to go. Be serious when you state your destination, and avoid looking unsure. This will only give them the impression that they can bring you somewhere else.
When heading to Chatuchak market from Khao San tell them to bring you to Ratchathewi Station. Aside from saying the name of the station, show them the name in print.  Tell them these words:  "Skytrain, Ratchathewi Station." They should be able to understand this. If they say they don't then get someone else because it will only lead to a disaster. We had no problem finding a tuk tuk driver who understood that we wanted to go to Ratchathewi.
It is important to bring a map with you, so you have a rough idea which part of the city you want to go, and whether the driver is taking you to the right spot. Every Sky Train station has a big sign visible from the road, so that you will know that you have arrived at the right station.
The amount you should pay to get to Ratchathewi from Khao San area is 100-120 Baht. This is more than enough, and higher from what locals are willing to pay. If a driver asks for a higher amount and claims it's 'far', walk away. They will call you back because they know that this rate is more than fair.
Travel Checklist: Do you have everything you need?
2. Once you reach Ratchathewi Station, take the Skytrain (BTS) to Mo Chit station, which is the terminal station. The fare is about 44 Baht per person per way.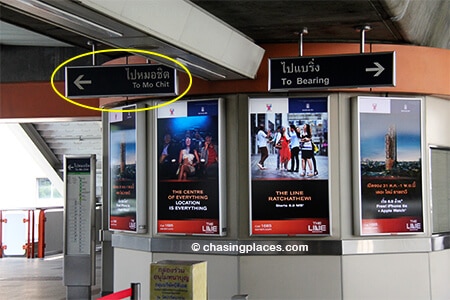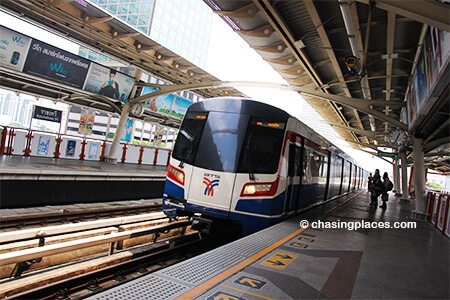 3. Take exit No. 1 and walk down the stairs. Just follow the crowd walking along the side of the road.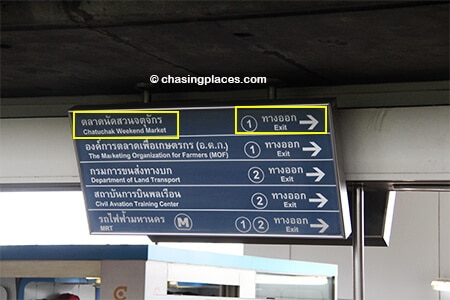 You will eventually see an information center, where you can ask for the entrance. But it's usually unnecessary because you only need to follow the crowd passing the subway station entrance. You will then come across rows of stalls selling clothes.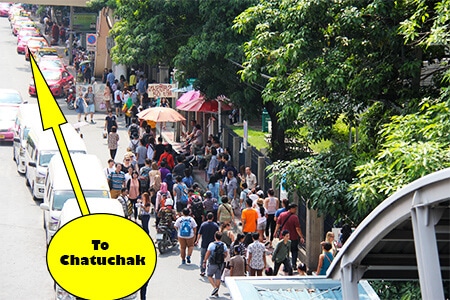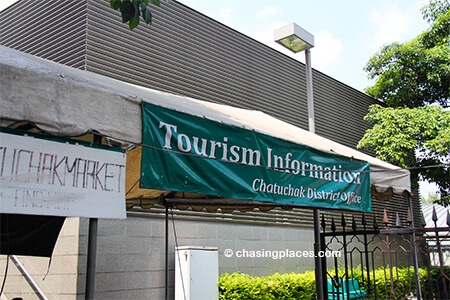 If you turn right, you will see a small entrance that leads into the market proper. It's hard to miss it!
The weekend Chatuchak market is open on Saturdays and Sundays, 09:00 – 18:00, and Fridays 18:00 – 24:00.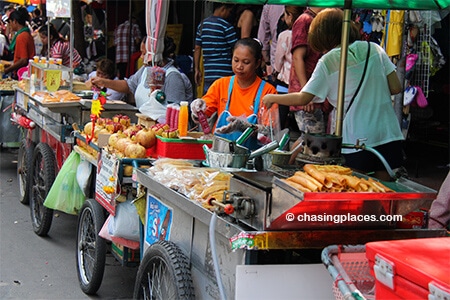 Summary of Costs
Tuk tuk Ride to Ratchathewi – 120 Baht (15-25 minutes depending on the traffic)
Ratchathewi Station to Mo Chit Station (skytrain BTS) – 44 Baht (one way) (15 minutes)
Shopping – spend as you please, and don't hesitate to haggle!
Accommodation Considerations
It's not really practical to stay in the vicinity of Chatuchak because it's not an ideal 'home base' to see the rest of the city. Instead you will be probably better off getting a room near the Khao San area, but not too close to the party scene.  Many of the hotels directly on Khao San struggle to contain street noise and pounding music. If you want more luxurious options then try to book a room near the Skytrain in one of the newer areas of the city such as Sukhumvit.
Where did we stay in while in Bangkok?
When we were in Bangkok we wanted to stay within walking distance of Khaosan Rd. and the Grand Palace without spending a fortune.  We eventually decided to book at Baanboran. We don't have an affiliation with this specific property, therefore in an unbiased manner we can say that we enjoyed the place. The room we had was very clean and the staff were pleasant and helpful.  They barely spoke English, but they tried their best to answer any questions that we had. At the time of writing Baanboran had a score of 8.1/10 based on 164 verified guest reviews. If you're looking for an upscale place, then this is definitely not it.  Here are some other popular hotels in Bangkok that guests typically rate positively:
Mandarin Oriental Hotel (rated 9.2/10)                 The Peninsula Bangkok (rated 9.1/10)
Shangri-La Hotel Bangkok (rated 9.0/10)             Okura Prestige Bangkok (rated 9.0/10)
If you want to look at Bangkok has almost 2000 hotels to choose from.  Click here to view these options with a helpful map feature.
How to find the cheapest room in Bangkok?
For all of our trips to Bangkok we have used three different sites to book the cheapest room: www.agoda.com, www.booking.com and www.hotelscombined.com.  I have created links to their respective property lists in Bangkok to save you some time:
Top Rated Properties in Bangkok
Based on Verified Guest Reviews
Important: Mobile Users must swipe from left to right to see entire table.
Criteria:
Properties rated based on 'overall' review scores from each respective website's verified guests.
Minimum of 50 verified guest reviews required to be considered eligible for comparison.
All star ratings and verified guest review scores are tallied at the time of writing, and therefore, are subject to change.
Compare Room Prices in Bangkok – www.hotelscombined.com
Regardless of where you decide to stay make the most of your trip to Bangkok.  We always encourage our readers to ask questions and make comments if you are seeking additional information.