As soon as you get to know Koh Lanta as a travel destination, you will immediately realize that when it comes to beaches, there are many to choose from.  And if you are looking for a place to stay, there is no better lodging option than close to one the island's beaches or bays!  But there are about 9 sandy stretches to choose from, so making this decision can be quite tricky for any traveler.
In our case, we chose beautiful Kantiang Bay to be our home base while on Koh Lanta. If you cannot find where Kantiang Bay is located on the web, it also goes by its original Thai name, Ba Kan Tieng Bay.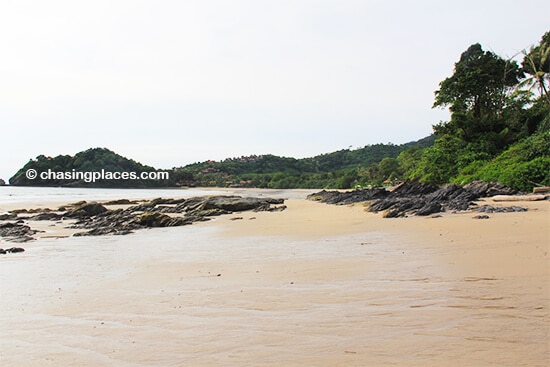 There are many reasons why we chose to stay on Kantiang Bay, and why we have not regretted such a decision.  Here are just some of the reasons why we loved our time on this beautiful bay:
1. Kantiang Bay possesses simple beauty and character.
Situated on the southwestern shoreline of Koh Lanta, Kantiang Bay possesses that rare unadulterated beauty, evident in its crescent-shaped shoreline, greenish Andaman Sea Water and off-white sand.  While it's true that it is far from the main port town of Ban Saladan, Kantiang's distance from the busier parts of the island gives it a more tranquil and secluded appeal. The bay really has this inexplicable charm, especially when it's low season and there's hardly anyone around especially during the middle of the day.  The beach is wide and long, making it perfect for sunset strolls.  There are a few resorts with restaurants lined up along the beach, but they are not big 'eyesore' structures. Instead, they are low-key and far enough that they don't interrupt the raw look of the bay. The forested hills of Koh Lanta act as a backdrop to Kantiang, and on the eastern side of the bay huge boulders are sunk deeply into the sand. These rocks definitely add more character to Kantiang.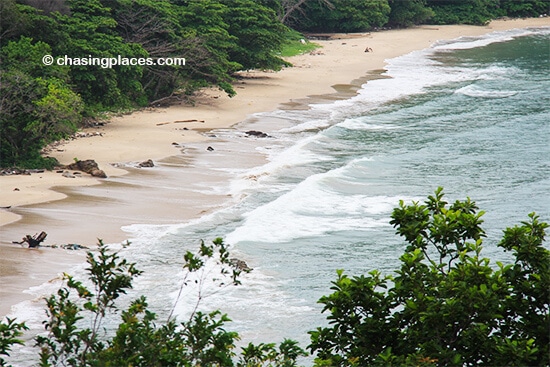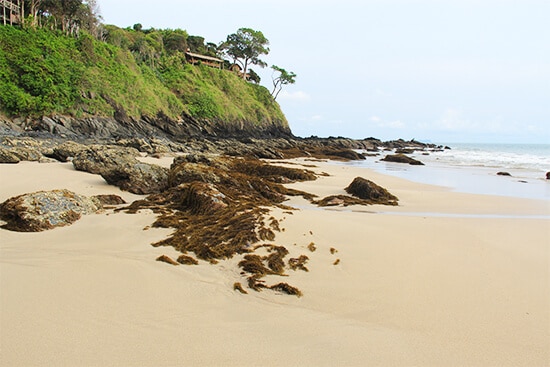 2. Kantiang Bay is perfect for laidback travelers.
If you want a swinging nightlife and a party atmosphere that will last through the night, you won't find it on Kantiang. It is not for everybody. But it is definitely perfect for travelers who want something laidback and low-key. Unless you are going to a bar at night, there's nothing else to do but sleep early in Kantiang. It's not such a bad thing as you are assured of a very peaceful and quiet rest, giving you more energy to explore the rest of Lanta the next day.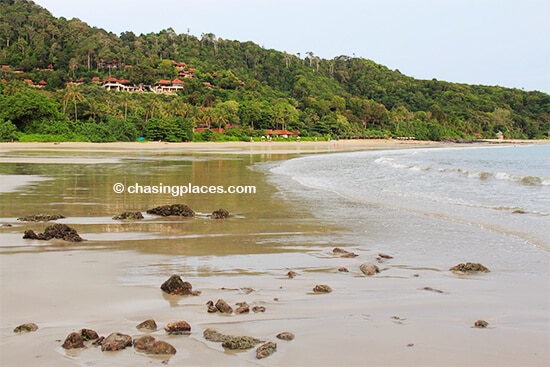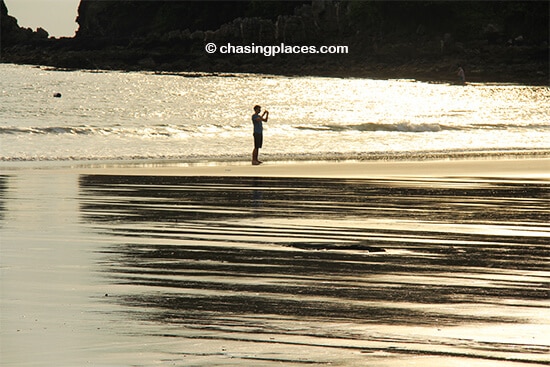 3. Locals also enjoy Kantiang.
It is quite refreshing to see a Southern Thai beach with locals actually enjoying it. It just seems more authentic and grounded.  Kantiang pretty much comes alive around 5 pm when locals come out to play beach volleyball and soccer. There are also kids running around and swimming.  There are not too many of them, because I guess there are plenty of beaches to hang out on, but there were certainly enough to spark a jolly atmosphere. The locals who were playing volleyball seemed like they have been playing for a long time, as they rotate groups in a systematic way. Two teams of 6 players (a mix of men and women) start playing while keeping score, very much like a formal volleyball game. The losing team gets to sit out as another team comes in to challenge the winner. I must say, they weren't bad players. Some of them were pretty impressive. I loved watching them in action, because I could tell that they genuinely love the sport. And it so nice to see people not needing much to be happy. In a way, they are quite fortunate for being able to play volleyball everyday on a beautiful bay.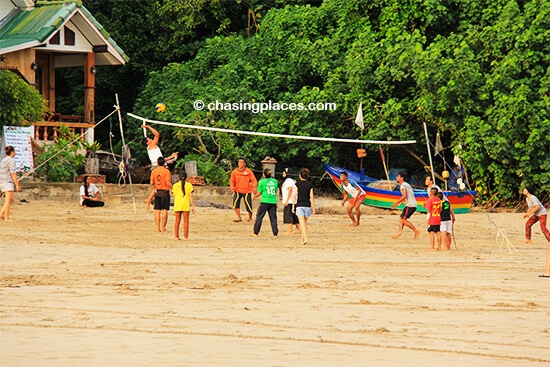 Travel Checklist: Do you have everything you need?
4. Kantiang Bay has enough facilities and amenities to satisfy tourists.
Despite being in a more secluded location than many of Lanta's Beaches, the village where Kantiang Bay sits is well-equipped with facilities that can cater to tourists' primary needs.  The main road and junction in the area has become a small tourist hub that has a huge 7 Eleven convenience store with ATMs, a tailoring shop, a scuba diving center, a travel agency, a massage parlor, a motorcycle/car rental shop, internet cafes and a couple of restaurants that offer Thai, western and seafood dishes.  There are also a few laidback bars (like the reggae-themed Why Not Bar) in the area for those looking for some kind of nightlife. So there is no real need to actually travel to another town. It is definitely possible to just stay and relax on Kantiang throughout your stay.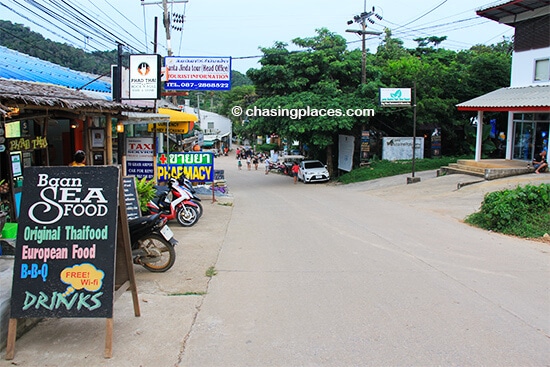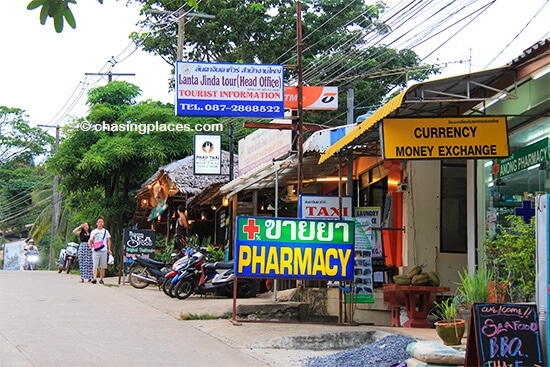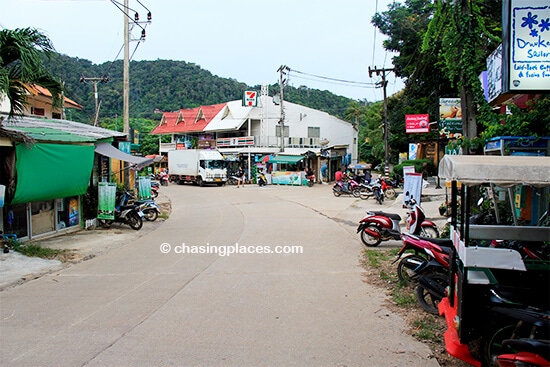 5. Kantiang Bay is the ideal gateway to Koh Lanta's southern beaches.
Since Ba Kan Tieng Bay is a prominent tourist hub, it is an easy and convenient access point to the other secluded southern beaches on the island.  Some seasoned travelers claim that southern Koh Lanta beaches are the most beautiful on the island.  Rent a motorcycle and drive further south, along the main road past the town. This road is well-paved and mostly quiet, although quite steep in some sections. It will lead you to three other beaches further south on the island. As you drive along this road, you will be treated to gorgeous vistas of the southern coast.  This for me, is one of the most scenic routes on the island.  If you drive all the way to the end (about 8 kilometers from the bay) you will eventually reach the protected National Marine Park section.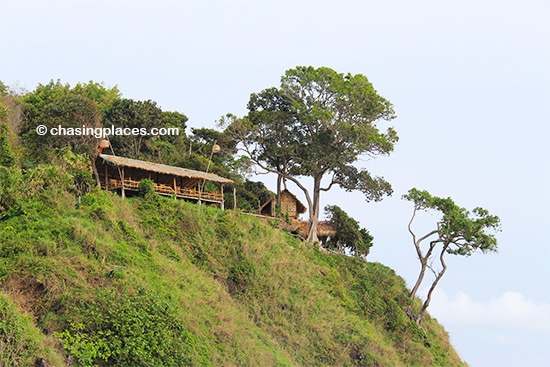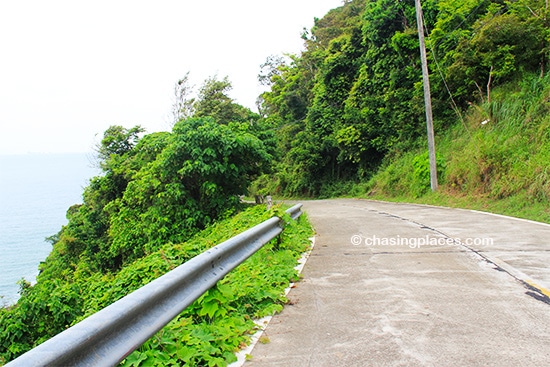 Take note that Kantiang Bay is on the far south of Koh Lanta, almost geographically, at the opposite end of the port town of Ban Saladan. Tuk tuks/taxis will most likely charge you more if you ask to get to Kantiang Bay.
6. Accommodation in Kantiang is varied.
At first glance it doesn't seem like there are too many places to stay in Kantiang. But if you investigate further this place specializes in simple inexpensive family-run bungalows and guesthouses. At the same time, it is also the home of luxurious resorts like the 5-star Pimalai Resort & Spa that cares more about giving their guests an intimate and stress-free holiday experience, instead of being flashy.  The nice thing about Kantiang is that you can actually book a room with a view of the bay or very close to the beach, for a very reasonable price.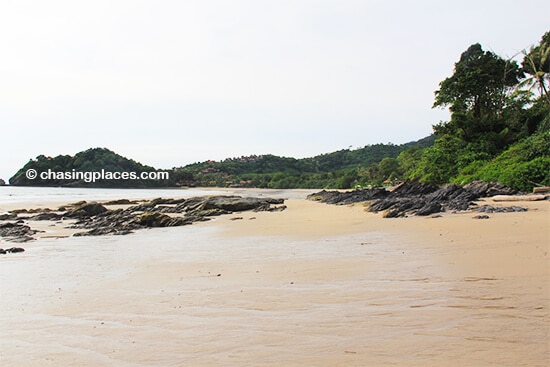 Where did we stay on Kantiang Bay?
When we were visiting Kantiang Bay we prioritized booking a room very close to the beach. Some of the rooms here are way back from the beach on steep hillsides, therefore we wanted to avoid heart thrusting hikes to and from our room.  Eventually we decided to stay at Baan Lanta Resort and Spa. We don't have a direct affiliation with this property, therefore in an unbiased manner we can say that we liked the place. It offers a nice breakfast spread overlooking the beach in the morning.  It also has a modern and well kept pool to lounge around in when you're relaxing. The one downside is that it can get quite pricey due to high demand during peak season.  Therefore, if that's the case you might want to check and then shop around.  At the time of writing it had a score of 7.7/10 based on 259 verified guest reviews. We would consider this score to be a fairly accurate representation of what we experienced there.
How to find the cheapest rooms on Koh Lanta?
Koh Lanta has many beaches, and subsequently, many places to stay. I would suggest using Thailand's most popular booking site to start your search: Rooms on Koh Lanta – www.agoda.com.  If you're not satisfied with it, try the world's best price comparison site to instantly compare room prices from the world's top accommodation sites: www.hotelscombined.com. Booking.com is also a very solid choice for many of our readers. I have included links below to their respective property lists for Lanta to save you some time:
Top Rated Properties on Koh Lanta
Based on Verified Guest Reviews
Important: Mobile Users must swipe from left to right to see entire table.
Criteria:
Properties rated based on 'overall' review scores from each respective website's verified guests.
Minimum of 50 verified guest reviews required to be considered eligible for comparison.
All star ratings and verified guest review scores are tallied at the time of writing, and therefore, are subject to change.
Alternatively, you may also use the Search Box below to compare hotel prices on Koh Lanta:
Koh Lanta is a big island with many things to see and do.  Therefore, feel free to checkout our related articles about Koh Lanta and the rest of Thailand here.