Putrajaya is Malaysia's impressive futuristic garden city, and also the administrative capital of the country. Its sleek ultra-modern architectural masterpieces like the Seri Wawasan Bridge, the Putra Mosque and world class hotels are just a few of the reasons why the city is worth visiting. Putrajaya is very close to Kuala Lumpur International Airport which makes it a convenient destination to include in your itinerary after you have booked your flight (try Momondo or BookingBuddy)  Wide lanes for cycling and some eloquent waterways make it a unique destination in peninsular Malaysia.
Although, it is slowly becoming a tourist spot for visitors, you may also need to reach the city for more practical purposes such as processing documents at administrative offices like the National Immigration Office. Whatever your purpose may be, there are a couple of ways to reach this garden city from the commercial capital of Kuala Lumpur.
Traveling by Train
The most convenient, straightforward and fastest public transport method to reach Putrajaya is via the KLIA express train service available at KL Sentral Station. You will need to figure out how to reach the station on your own. Budget travelers can get to KL Sentral via public transport options including Monorail, LRT and public buses. If you prefer to take a taxi to KL Sentral insist that the driver uses the meter. We personally book our hotel within walking distance from KL Sentral which makes it convenient not only to get around Kuala Lumpur, but also to reach destinations such as Putrajaya.
Once you reach KL Sentral, look for the KL Transit gate.  KL Transit is a train service that makes selected stops en route to Kuala Lumpur International Airport. This service stops at Bandar Tasik Selatan Station before proceeding to the Putrajaya/Cyberjaya Station.
The one-way train fare for adults is 9 RM (approximately $3). For children it's RM4.50.  Please click the link to check the cost table for KL Transit.
You may purchase the ticket from the ticketing desk in front of the gate entrance or from the nearby machine. It takes about 17 minutes to reach Putrajaya Sentral, and the train departs every 30 minutes.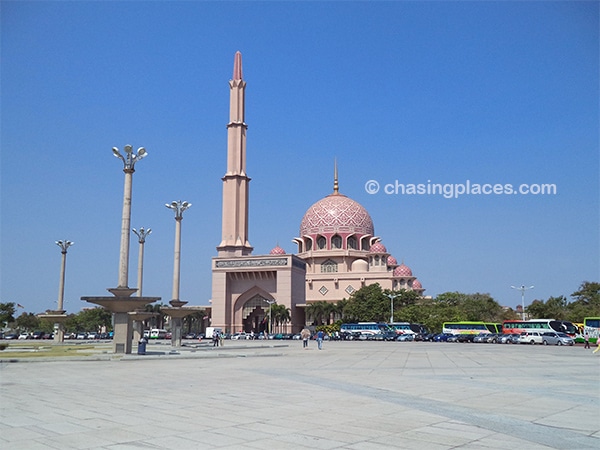 Travel Checklist: Do you have everything you need?
Traveling by Bus
To reach Putrajaya, you can take the E1 bus from the Pasar Seni LRT station, which is part of the Kelana Jaya-Putra LRT line.  This bus is operated by Rapid KL. This bus also stops at Jalan Tun Sambanthan Street, which is near KL Sentral.
Buses are almost half the price of the train but their journey time is significantly longer. This is a more viable option if you're not in a hurry. Take note that bus schedules in KL are not consistent. Prepare to wait for a long time for the bus. It's better to take the E1 from Pasar Seni than from Jalan Tun Sambanthan Street as the bus does not park in the same exact spot. You may pay the fare on the bus.
Apparently, the Rapid KL Bus No. U42, which picks up passengers at Serdang Komuter Station, also stops at Putrajaya Sentral.
For more information about bus schedules and route plans, please check out the Rapid KL website.
Once you reach Putrajaya Sentral, you can take the Nadi Putra bus service to take you to key areas in the city like the Taman Warisan Pertanian.
Traveling by Taxi
It is also possible to hail a taxi and ask the driver to bring you all the way to Putrajaya. By law, regular taxis must always use the meter when driving passengers.  But you will soon discover that a number of drivers don't follow this rule. They usually haggle for a set price, giving a variety of reasons for doing so. If you agree to a set price, make sure you know the estimated normal cost for the journey, as unfortunately, some drivers tend to overcharge foreigners. As a guide for estimating, take note Putrajaya is closer to KL than the KLIA2 airport. Taxis usually charge from 80-100 RM to drive to the airport.
Accommodation Information – Putrajaya/KL
Where did we stay in Kuala Lumpur?
Whenever we are visiting the Klang Valley as tourists, we typically prefer to stay in Kuala Lumpur and take day trips to Putrajaya.  Therefore, staying close to KL's Monorail or LRT lines is a priority for us because they grant easy access to KL Sentral and thus transport options to Putrajaya. Usually we book our room at the Pacific Regency Hotel Suites.  We don't have a direct affiliation with this property, therefore our opinion is an unbiased one. This property has some of the best room prices I have ever seen throughout my travels. Last time we stayed in a massive room (80 square meters for $65 USD) that was literally a ten minute walk to the Petronas Towers and ten minutes from Bukit Bintang, not to mention only 5 minutes from the monorail line. At the time of writing it had a score of 8.0/10 based on over 8000 verified guest reviews. I think that this score is quite representative of this property.  If you are looking for something even more upscale with direct views of the Petronas Towers, then the following options might work better for you:
Trader's Hotel by Shangri-La (rated 8.9/10)
The FACE SUITES Kuala Lumpur (rated 8.7/10)
The Ascott Kuala Lumpur (rated 8.4/10) 
Want the cheapest room in Putrajaya or Kuala Lumpur?
Putrajaya is known for massive low season hotel sales with 5 star rooms going for the price of 3 star rooms.  KL is a bit more challenging to find bargains.  Either way, by far the best way to find the cheapest and best-located room is to use a hotel price comparison website. Many of our other readers visiting Southeast Asia also love www.agoda.com because of their massive selection and excellent rewards programs. Refer to the links below for a massive range of refundable rooms in Putrajaya and Kuala Lumpur respectively using both www.hotelscombined.com and www.agoda.com. Take note that Agoda bundles both cities together on their site due to their proximity to one another. Hopefully, these suggestions help.
Rooms in Putrajaya with Hotelscombined      
Hotels in Putrajaya and Kuala Lumpur with Agoda
Rooms in Kuala Lumpur with Hotelscombined
Top Rated Properties in Kuala Lumpur  based on Verified Guest Reviews
Important: Mobile Users must swipe from left to right to see entire table.
 Criteria:
Properties rated based on 'overall' review scores from each respective website's verified guests.
Minimum of 50 verified guest reviews required to be considered eligible for comparison.
All star ratings and verified guest review scores are tallied at the time of writing, and therefore, are subject to change.
Flight Information:
Booking Flights To/From Putrajaya
What airport did we fly into to reach Putrajaya?
By far the most convenient and practical airport to fly into when you are planning on visiting Putrajaya is Kuala Lumpur International Airport (airport code = KUL). Oddly, Putrajaya is actually closer to Kuala Lumpur International Airport than KL itself. Putrajaya is on the way from the airport to Kuala Lumpur. This makes it ideal to see before you even get to Kuala Lumpur. Typically, however, tourists first book a flight from different spots from around the world to Kuala Lumpur, see Kuala Lumpur and then head to Putrajaya as part of a day trip. This is also an okay idea, but a bit less efficient.
How did we find the cheapest flight(s) to Putrajaya during our trip?
We used two different price comparison sites before we booked our flight to KLIA: Momondo and BookingBuddy to find the cheapest flight to KL. Once we arrived in Kuala Lumpur we extensively saw the city and then planned to go to Putrajaya.  You could also get to Putrajaya by flying into Penang, Johor, or Singapore but these options don't make any sense unless you are planning on seeing them first.  There are so many airlines that fly to KL, therefore save yourself hours of searching and use a price comparison website.  Here are two below that we used for our trip:
COMPARE FLIGHT PRICES TO Kuala Lumpur: Momondo
COMPARE FLIGHT PRICES TO Kuala Lumpur: BookingBuddy
How long does it take to reach Putrajaya from Kuala Lumpur International Airport?
It should take about 30 minutes in a taxi to reach Putrajaya from the airport. If you are taking KLIA transit then it could be a bit less.