When the government of Malaysia unveiled the Putrajaya project to the world, they referred to it as "The World's First Intelligent Garden City." Today, the new Federal Government Administrative Center is almost completed, and it hopes to represent Malaysia's outlook of the future. Even from afar, Putrajaya looks very impressive. It is a modern architectural masterpiece that definitely took tremendous effort, time and funds to build.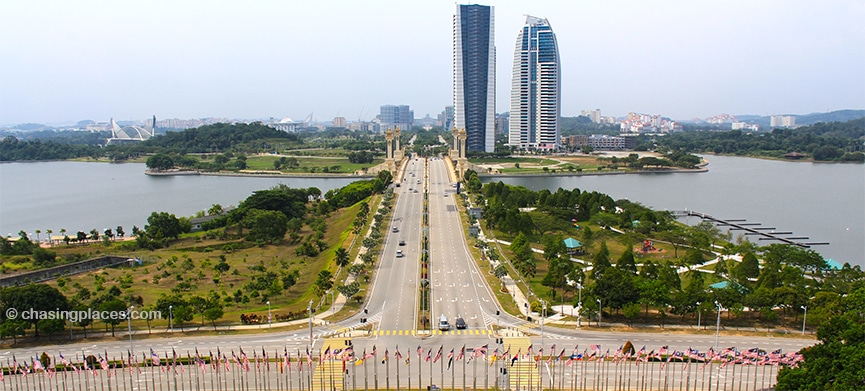 According to its official website, the city's design and layout is a convergence of Malaysian heritage and the latest technology available in the 21st century.  It is in Putrajaya where you will find minarets standing proudly together with ultra-modern buildings and sleek bridges. The city roads are adorned by colorful gardens to hold true to the vision of environmental conservation amidst an urban jungle setting.
They say that the concept of Putrajaya was born because the government wanted to build a city from scratch, and to correct the past urban planning mistakes made in the commercial capital of Kuala Lumpur. Putrajaya aims to provide everything better – better housing, better administrative buildings, better road planning etc.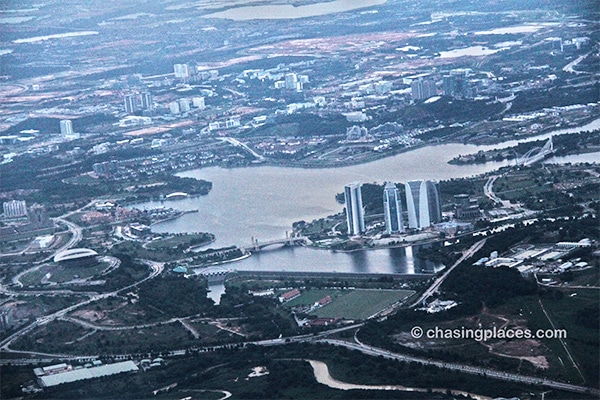 I was truly impressed when I laid my eyes on Putrajaya for the first time. Everything about it feels futuristic, fresh and stylish. The only thing that I cannot understand about the place is that it feels quite empty. It was during the weekend when we visited this Federal Government Administrative Center. We got in a car and drove around the city. During the drive, it was rare to see people outside. When we stopped at an impeccably clean and carefully manicured park, there was barely anyone there to share our admiration. The experience made me wonder whether the city just lacks occupants or if we happened to visit at the wrong time. Nevertheless, we spent the whole day exploring the World's First Intelligent Garden City.
 Attractions
I believe that Putrajaya was also built with the notion of attracting tourists from all over. That's why, it was easy to find attractions within the city center. The beautifully designed buildings are definitely a highlight of the city. Most of these buildings are government offices that are situated along the Putra Square. At the heart of this main square is the large man-made lake. Hopping on to a boat tour around the lake is a great way to marvel at Putrajaya from a different perspective.  Cruise Tasik Putrajaya is the organization that offers different types of lake cruising packages.  Their office is located at the Jeti Putra along the lakeshore. Their extensive fleet consists of air-conditioned luxury catamarans and replicas of the traditional Malay boat called "perahu."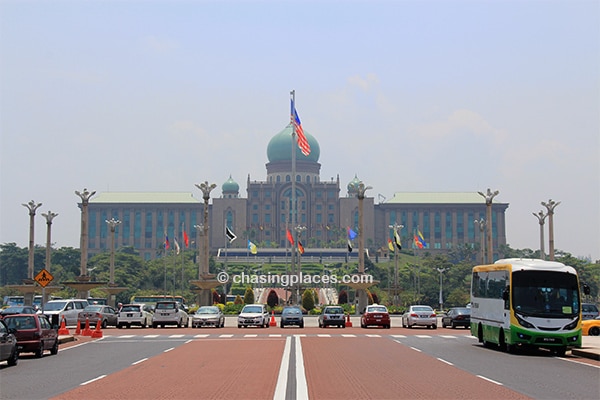 Standing a few meters from the man-made lake is Perdana Putra, the large complex that houses the office of the Malaysian Prime Minister. The complex welcomes visitors Mondays to Fridays, from 8 AM to 12:30 PM, and from 2 PM to 4 PM. It is also opens in the morning on the 2nd and 4th Saturday of the month.  Entrance is free but an ID or passport for non-Malaysians must be presented at the gate.
For me, the Putra Mosque was the most striking-looking building in Putrajaya. This eye-catching appearance may be attributed to its design, which is influenced by Malaysian, Persian and Arab-Islamic architectural concepts.   I, for one, was quickly captivated by its dominantly pink hue.  Despite its color and modern design, the Putra Mosque is still a religious spot. Thus, visitors are expected to follow the dress code and other pertinent rules if they wish to set foot in the mosque. Shorts and sleeveless tops are not permitted. But don't be afraid to ask caretakers for a sarong to cover up.
It is said that the Putra Mosque can accommodate up to 15,000 worshippers.  This humongous space can also be used for huge conferences and seminars.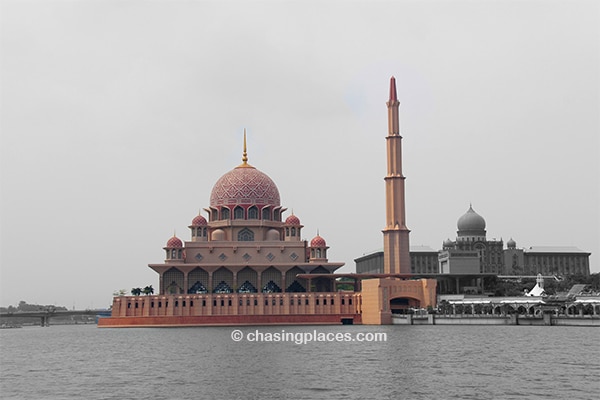 Travel Checklist: Do you have everything you need?
Other buildings worth seeing:

Putrajaya International Convention Center – It is situated at the end of Putrajaya Boulevard, so you can't miss it.  This is where huge high profile conventions and meetings are conducted.
Seri Wawasan Bridge – It overlooks the Putra Mosque. Although impressive during the day, Seri Wawasan looks even more captivating at night when it's all lit up.
Seri Perdana – In case you are wondering where Malaysia's Prime Minister lives, look no further! Unfortunately, you cannot go past its façade or you will get arrested!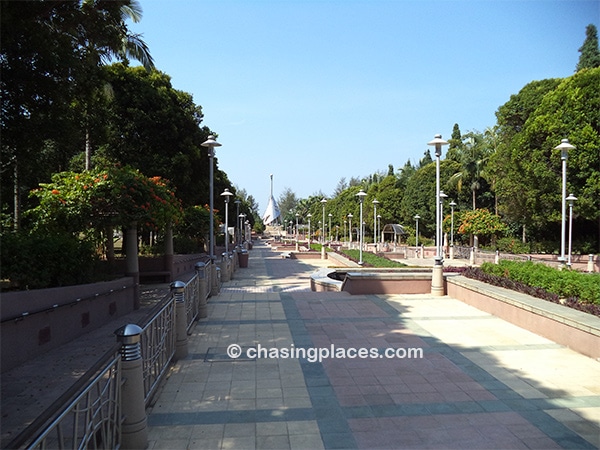 Final Thoughts
Although Putrajaya already has public amenities and infrastructure like hotels, banks, schools, a golf course and a shopping mall in place, I think it's still working on luring more Malaysians to permanently live here.  This can be a challenge as Kuala Lumpur remains quite attractive to the country's diverse population.  According to their official website, there's still much work to be done in Putrajaya. Will the city eventually fulfill its ambitious goals? Only time will tell. For now, I reckon that the city is a worthy spot to visit as it shows the bold part of Malaysia that warmly embraces the future.
Want to find the cheapest rooms in Putrajaya and Kuala Lumpur?
Based on our experience visiting Putrajaya and Kuala Lumpur on multiple occasions there are two accommodation sites that we would suggest using: www.hotelscombined.com and www.agoda.com. Agoda is widely regarded as Southeast Asia's best room provider with a massive selection and a great rewards program. We typically use Agoda, but if you're on a budget and you want to compare the room prices listed on the world's top hotel sites then Hotelscombined.com is a solid choice. Our "backpacking" readers love their site.
I have created direct links to these sites to save you some time:
Hotels in Putrajaya with www.hotelscombined.com
Hotels in Kuala Lumpur with www.hotelscombined.com
Hotels in Putrajaya and Kuala Lumpur with www.agoda.com
Top Rated Properties in Kuala Lumpur
Based on Verified Guest Reviews
Important: Mobile Users must swipe from left to right to see entire table.
 Criteria:
Properties rated based on 'overall' review scores from each respective website's verified guests.
Minimum of 50 verified guest reviews required to be considered eligible for comparison.
All star ratings and verified guest review scores are tallied at the time of writing, and therefore, are subject to change.
Take note that Agoda combines Kuala Lumpur with Putrajaya due to their proximity to one another.