One of the most picturesque regions of Ontario is the Ottawa Valley. Blessed with beautiful rolling hills and dense green lungs in the form of thick forests, it comes as no surprise that domestic tourists from Toronto and Ottawa make annual trips to the Valley for rest and relaxation.  For most tourists, the preferred choice is to rent a cottage for a week or two on one of the countless fresh water lakes in the region.
Although there are many lakes to choose from and a range of accommodation choices as well, I had the opportunity to spend time on Round Lake and Golden Lake.  The combination of the fresh Ottawa Valley air, extremely friendly locals and the beautiful natural landscape made it an easy decision for me to return back to the Valley. Although much can be said about the Ottawa Valley, one aspect of the Valley that I want to highlight because I feel it is worthy of discussion is the beautiful collection of wildlife that tourists can encounter during their visit to the region.
If you have had the opportunity as a tourist to see different regions of the world, then you have most likely seen people taking photos of domesticated macaques and other animals that are not commonly seen in their home country. Snakes and lizards are even captured and displayed to tourists as part of sidewalk exhibits. Often these animals are so familiarized with tourists and their cameras that the whole experience loses some authenticity.
During my recent visit to the village of Killaloe and the surrounding area I was lucky enough to see some stunning animals in their natural environments – far removed from tourist crowds. Since there are so many lakes around Killaloe, you will not only see animals while you drive along farms and forested areas, but also a range of aquatic and amphibious wildlife as well.
Before I arrived in the Ottawa Valley, I knew that there was a realistic possibility of seeing anything from a black bear to a moose.  Although I didn't get the opportunity to see either one of these, I did manage to see multiple other animals that were definitely worth photographing. Only about 20 meters from a quiet road on a small farm I drove by an adult female deer (otherwise known as a doe).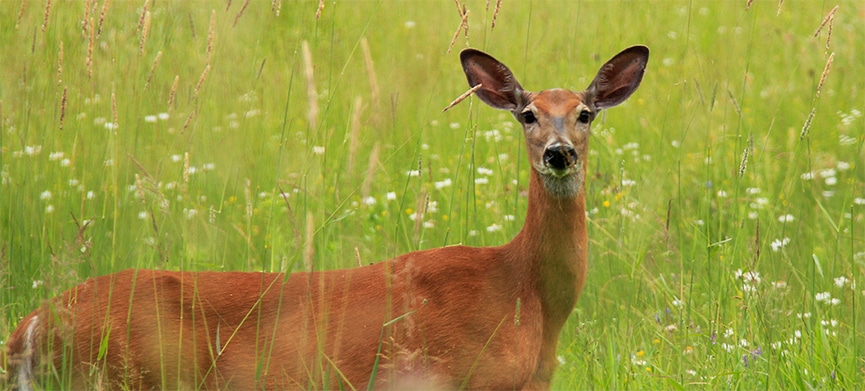 I jumped out of the car and got some photos.  It remained somewhat timid and curiously stared at me before it walked into some thicker brush cover. It was also great to see a young buck (adult male deer) in the vicinity. Throughout my two week stay in the Ottawa Valley I was fortunate enough to have seen over 15 deer along numerous countryside roads in their natural habitat. Since the legal deer hunting season is open during the autumn, deer are often more courageous during the summer months from June to August when they feel less threatened by human spectators.
A few days later on one of the unpaved roads between Killaloe and Round Lake I was fortunate enough to get a short but rare glimpse of a racoon in action. Typically, racoons are hard to see during the day as they are more active at night.  They tend to hide near the tips of trees during the day if humans are around.  The Ottawa Valley is a superb area to see racoons, just don't be surprised if they are rummaging through your garbage disposal boxes at night!
If you decide to jump into one of the refreshing fresh water lakes in the Valley you may get the chance to see tadpoles swimming around your feet. Wait a few more months and on land you will get the chance to see the final product in the form of a frog.
Leopard frogs are particularly common in the Ottawa Valley. So common, that if you visit every year you may begin to underappreciate their vibrant green coloration. This close-up shot was taken near the Bonnechere River, roughly 25 minutes away from the access point to beautiful Algonquin Park.
Travel Checklist: Do you have everything you need?
Every summer the village of Killaloe organizes a Fishing Derby for children to celebrate Canada Day. Locals and tourists alike bring their enthusiastic kids to see if they can catch freshly stocked trout in Brennan's Creek. One young fisherman surprised us all when he pulled in a crayfish. Something tells me when this fishing story is re-told the crayfish might grow a few more inches.
The last two animal encounters I had during my visit were quite different. Brown squirrels are certainly one of the easiest creatures to see while in the Ottawa Valley.  And trust me – if you can't see them, you'll definitely hear them. These quick creatures become even less shy when they are raised near campsites.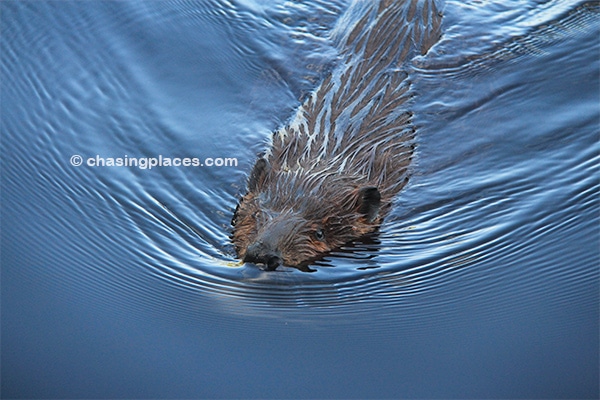 My favourite sighting of all would have to be of the elusive Canadian beaver. On a stunning stretch of river connecting Kamaniskeg Lake to Bark Lake, I got the rare chance to witness a couple of beavers splash and frolic around without a worry in the world.  They even swam within meters of dock I was standing on.  This close encounter wouldn't have been possible if it weren't for my generous and welcoming friends who invited me over for a mouth-watering dinner.
Although this year's visit to the Ottawa Valley and area was truly rewarding on so many different levels, who knows what next year will bring? In my opinion, foreign tourists should consider a trip to the Ottawa Valley.  The scenery is spectacular. The people are extremely hospitable and you are always a stone-throw away from something unexpected.
Want to find the cheapest rooms in the Ottawa Valley?
If you are looking for the best prices for rooms in the Ottawa Valley I would suggest using a price comparison site such as www.hotelscombined.com. In a few seconds you can see the cheapest prices from the leading sites and then directly book your room with your favourite site. You can quickly compare room prices in the Ottawa Valley using the link below: