You probably have heard of Kuta Beach before, and you might be thinking of the one in Bali Indonesia. But this is not the Kuta Beach I am going to talk about. There's another Kuta Beach found on the lesser known Indonesian island of Lombok.
Lombok, however, is by no means a less beautiful island when compared to Bali. In fact, many may argue (including Chasing Places) that Lombok has way better-looking beaches than Bali. Don't get me wrong, Bali is still a fascinating island in its own right, but if you want to see really spectacular beaches, without the crowd, then make your way to Lombok.
Kuta is one of the coastal towns in the southern part of Lombok Island. What I am about to say is not an exaggeration – Kuta has some of the nicest beaches that I have ever seen not only in Indonesia, but anywhere in Southeast Asia. The beaches here have white powdery sand and turquoise water. Yes, you heard it right, turquoise, like the water in the Caribbean. This bluish green hue is quite distinct from the 'greenish' water of the Andaman Sea around Thailand. Kuta has not one but several beaches to choose from within 20 minutes along the coastline. Some of them barely receive visitors. A few are known for their giant waves, that's why this area is also a popular surfing spot.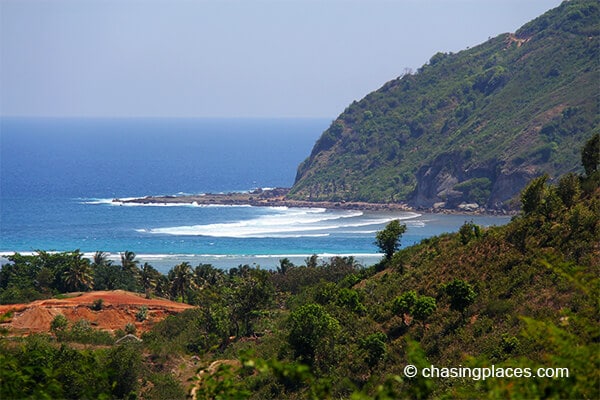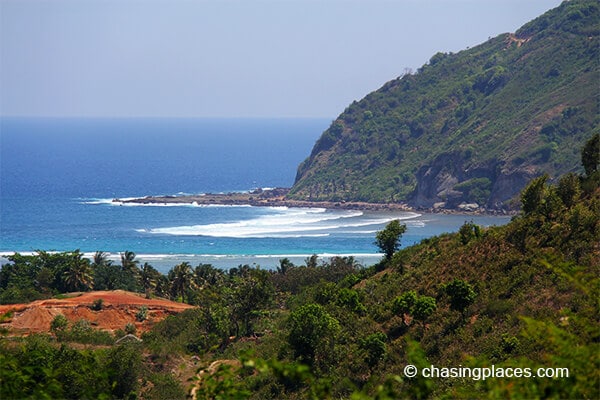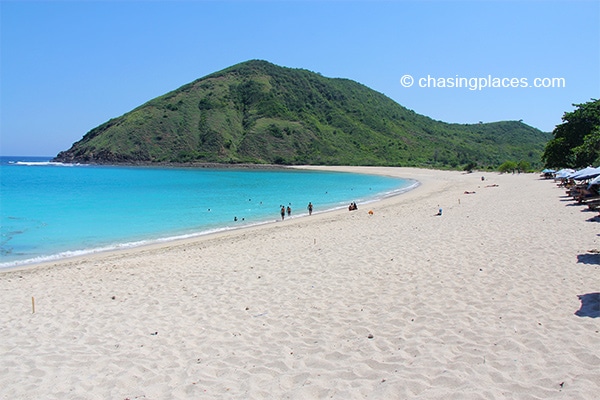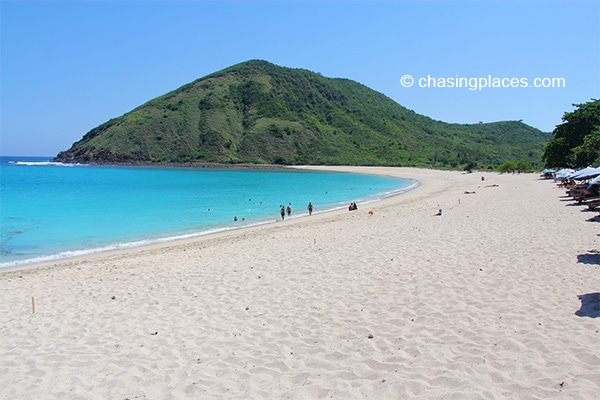 Now that I have shared a few facts about Kuta (I will be sharing more in succeeding articles), let me first tell you how to get to this gorgeous beach town.
Here is your step-by-step guide on
getting to Kuta Lombok from Lombok International Airport
:
1.  Take a flight to Lombok International Airport.
Lombok International Airport or Bandar Udara Internasional is Lombok's new airport located in the southwest Lombok near the town of Praya.
There are daily flights from Jakarta to this airport via airlines like Garuda and Lion Air. There are also international flights from cities like Kuala Lumpur and Singapore.
2. Get a land transfer to Kuta from the Airport.  Here are your choices:
Taxi Service Companies (Set Price)
You will see many car stands just outside the arrival door of the Lombok International Airport. They are run by different companies. Be prepared for staff shouting to get your attention. They are legitimate businesses and have their own set price depending on your destination of choice.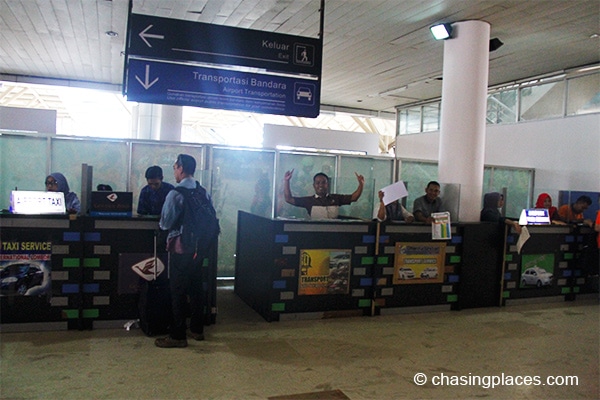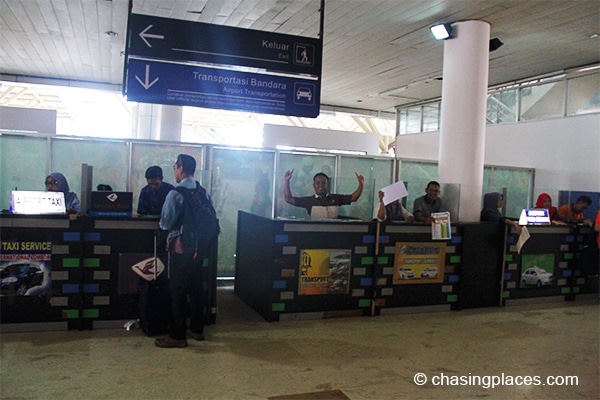 Metered Taxis (Parked Outside the Arrival Terminal)
You also have the choice to hire a metered taxi to get to Kuta from the airport. There are two major taxi companies, Express and Blue Bird.  In our case, we decided to go with Blue Bird because their company maintains a good reputation and a relatively better customer service record. With the Blue Bird taxi, you can either ask the driver to use the meter or negotiate a price.
Reminder: Ignore the touts that are waiting outside the airport that are offering rides. Perhaps some of them are just trying to make an honest living, but for safety reasons, we advise you to just go with a legitimate transport company.
Estimated Journey Time from Lombok International Airport to Kuta is 35 minutes.
Estimated taxi cost: Rp 225,000 (around 20 USD)
Travel Checklist: Do you have everything you need?
Here are the steps on getting to Kuta from the towns of Senaru and Sembalun (Mount Rinjani):
During our trip to Lombok, we decided to first check out the town of Senaru, along the foothills of Mount Rinjani before visiting Kuta. Kuta Town was our last stop before we left Lombok.
1. Book your transport.
Take note that there is no public transportation in the towns of Senaru and Sembalun. You have to arrange private transport from here to Kuta in southern Lombok.
Your hotel management will likely know a driver who can drive you to Kuta. You can still negotiate the price of the transfer. You do not have to accept the initial price that they will offer you.
In our case, we paid 600 000 Rupiah (around 55 USD), for a private car to drive us from Sembalun to Kuta Town. The drive took about 4 hours in moderate traffic.
Tip: Make sure that you ask the driver if he is experienced driving to Kuta from Senaru or Sembalun as the roads are narrow and angulated especially around Rinjani. It is risky to drive with an inexperienced driver or in an unreliable vehicle.
2.  Enjoy the ride.
It is a long one, about 4 hours. A nice compensation for the long journey is the scenery along the way. The countryside and mountainous landscape along the way are nothing short of spectacular.  We had to ask our driver to stop a few times, so we could take pictures.
If you are going to book transport to Kuta in Lombok, it is better that you already have a place to stay in Kuta so that your driver will know where to drop you off.  Get the address of the hotel. Or better yet, save a map that shows where your exact hotel is located in Kuta.
Kuta has many types of accommodation to choose from. Some of which are near the beach, but most are along the main roads in town.
Getting to Kuta (Lombok) from Bali Island
By Plane
The fastest and most convenient way to get to Kuta from Bali is to catch a flight from Denpasar Airport to Lombok International Airport.  Flying time is very short, only about 25 minutes. Some companies fly with turbo propellers (smaller planes), while others are jet powered.   The most reliable airline with a good record in Indonesia is Garuda (the national airline), but there are also other choices out there.
By Ferry + Bus
Another way to get to Kuta (Lombok) from Bali is to take the ferry + bus option. Tour agents in several locations throughout Bali (like in Ubud, or Seminyak) offer this itinerary. But be careful if you decide to do this. Based on what we have heard, it's a bit risky, aside from being quite expensive. There are reports that some companies do not bring passengers directly to Kuta, and drop them elsewhere. Take extra precaution and book with a reputable company that you have made some research on.
There are supposed to be slow ferries departing from Padang Bai to Lembar Pier on Lombok Island. Chasing Places has not taken this itinerary before, so if you're interested in doing this, make sure to do enough research.