It's not exactly a secret, but many Southeast Asian travelers may have never heard of Sembalun. In fact, during our visit to this town, I did not see any other foreign tourists. But let me answer your first major question: Where is Sembalun?
Sembalun is located on the steep slope of Mount Rinjani, in the north eastern region of Lombok Island, Indonesia. It is one of the gateway towns to trekking Rinjani. Sembalun is actually divided into two villages, Sembalun Lawang and Sembalun Bumbung. They are only two kilometers apart, and neither one is very big. So for this article, I will just talk about the two villages as one.
Most foreign visitors make their way to Sembalun to trek one of the highest mountains in Indonesia. But a number don't even spend the night here, much less see the town. They typically stay in the neighboring town of Senaru, and then get transported here to access Rinjani. Technically speaking, Sembalun is closer to the some of the hiking trails to Rinjani than Senaru. It sits at a higher elevation above sea level. But why is Senaru getting all the trekkers? I can't answer this question. It may be because trekking companies were first established in Senaru.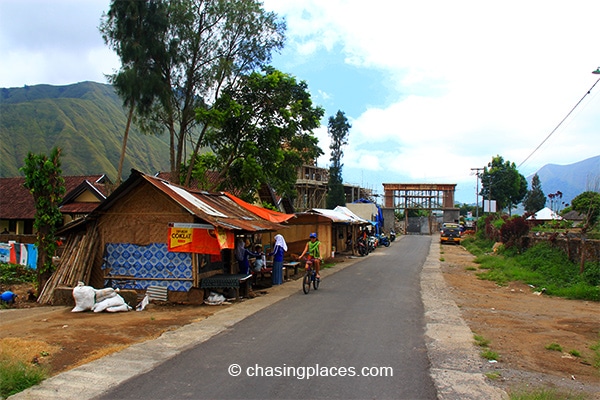 Why Visit Sembalun?
The main reason to explore Sembalun is its range of breathtaking countryside panoramas. The town is surrounded by mountains, hills, rice paddies and plantations. It is also gives you a different view of towering Mount Rinjani. Because of its high elevation and fertile soil, crops such as coffee and strawberries grow very well in Sembalun. In fact, the town is a major producer of fresh vegetables, which are being sold all over Lombok Island.  
If you are one of those travelers who are looking for an off-the-beaten-path destination that will blow your mind, I cannot stress this enough – Sembalun should be on your list.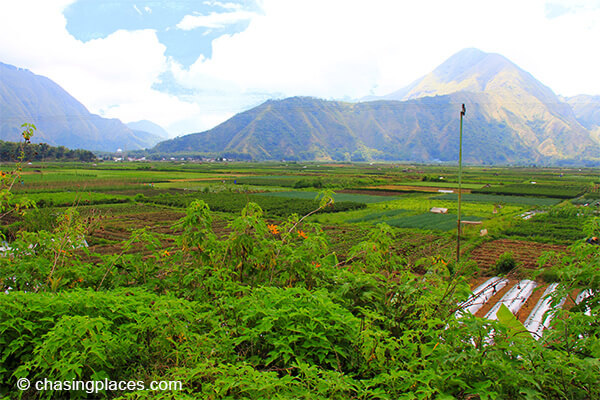 How to Experience Sembalun?
There is only one way to experience the area, and that is to drive all around it.  There is no public transportation in or around the villages. The only way to explore it is to rent a motorcycle, bicycle or car.
Biking around the village is a great experience. You will have time to enjoy the scenery and say hi to the locals. The disadvantage of biking is it can be a tiring task. The roads in Sembalun are undulating. If you are not an experienced cyclist, it can be very tiring to go up and down all the time.
The easiest means of transport to get is a motorcycle. You can ask your hotel or guesthouse if they know someone who is willing to rent out a motorcycle. With a motorcycle, you will get to explore the rice paddies and mountain vistas, which are located outside the village proper. Most locals drive a motorcycle in Sembalun.
It is possible to rent a car or hire a local to drive you around Sembalun. Just take note that you should be prepared to negotiate a good price. Since, Sembalun is quite remote, also don't expect formal papers when you rent someone's vehicle. It will be quite informal. The locals here are not used to people renting their cars, so some of them may ask for an expensive rate. If you are comfortable driving around Lombok, then picking up a rental car at the airport is another option.  Then, of course, drive it all the way to Sembalun.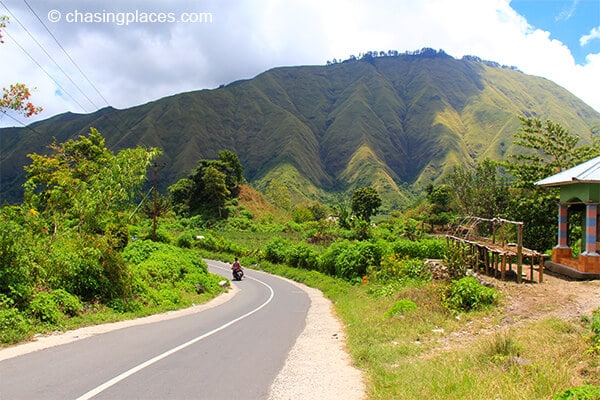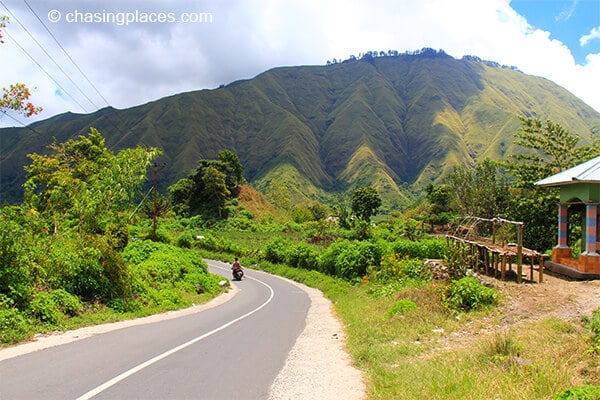 Biking Around Sembalun Lawang Town
Unlike many tourists, we decided to spend the night in Sembalun. We arrived very early in the morning, and used the whole day to explore. We were fortunate enough to stay at a place that rented out both bicycles and motorcycles.
In the morning, we cycled around town. I have to tell you my readers that I'm not a skilled cyclist. I am not confident using a big bicycle, so I settled for the smaller BMX bike, which was owned by our host's ten-year old son.  The bike did not get me far, and oftentimes, I had to walk up the hilly portions of the roads. I say over and over again to everyone, Indonesians are nice people. They are generally shy but once you say hello, they will not hesitate to flash you a big smile. This perception was proven once again true during my bike ride around Sembalun. The locals were very curious, giving lingering looks especially towards my Caucasian companion. Despite the lack of a common language to communicate, they welcomed us with their smiles. Cycling shamelessly around town with that bike got me a lot of attention and giggles from local children. One group even took out their school books and hurled all the English words they knew at us.
By noon, I gave up (mainly because I was afraid I would get into an accident if I did not). Nonetheless, I enjoyed my brief time cycling around the town of Sembalun Lawang.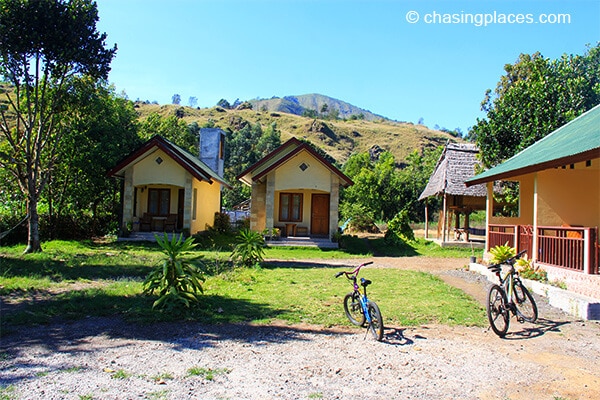 Travel Checklist: Do you have everything you need?
Sembalun Took My Breath Away
In the afternoon, we decided to rent a motorcycle, to explore other farther attractions.  The host's helper, a nice teenage boy told us about a traditional village that we should definitely see.  He was so persistent that we agreed to see it. And boy, were we were glad we listened to him. The traditional village he was referring to is small with about 8 traditional Sembalun houses standing there.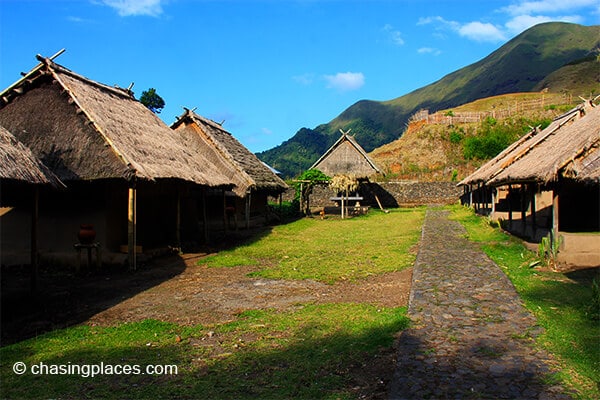 Though it is nice to get to know a little about the local culture and history, it wasn't the traditional village that took our breath away. Instead, it was  the vista located just at the back of it. When we walked past the traditional houses, we came upon this large protruding land mass, which spectacularly overlooks a wide green valley. At the base of the valley we saw charming rice paddies, with mountains looming in the background. I think words are not enough to describe the beauty that unfolded before our eyes.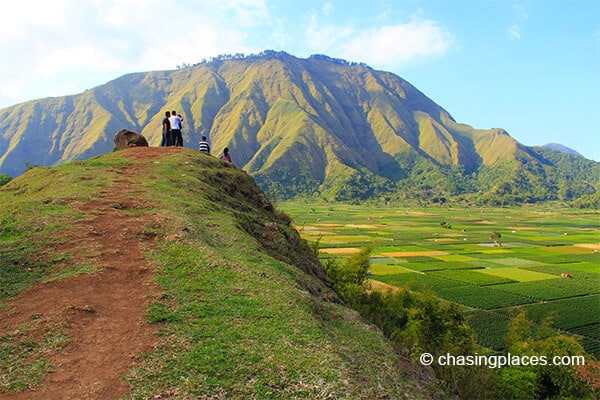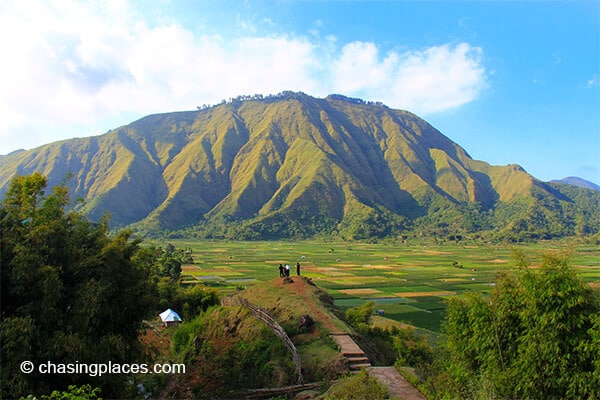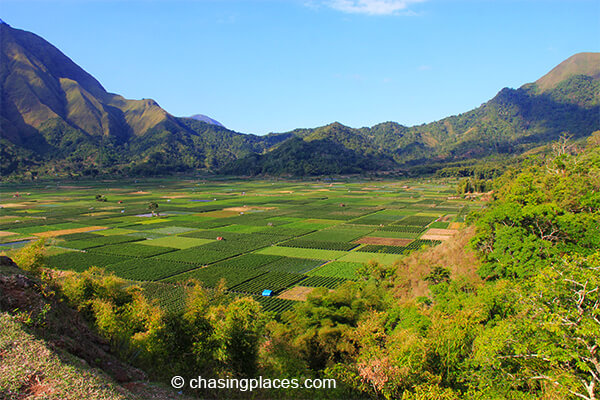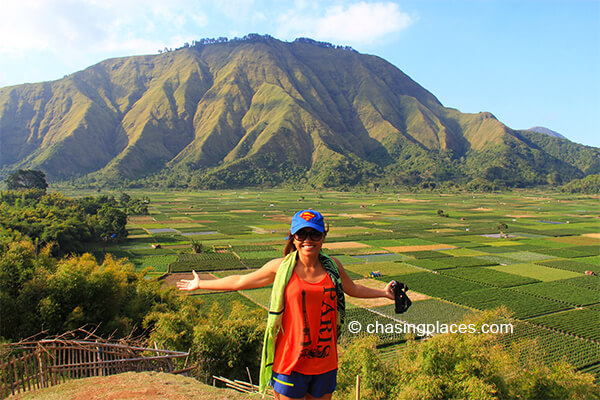 We took as many pictures and videos as we could.  Honestly, I did not want to leave the place. But our motorcycle trip was still far from over. My partner wanted to travel through the valley to visit other vistas. It was one of the best motorcycle rides I've ever had (even though I was technically not driving.) I absolutely love Sembalun, and I think you will too.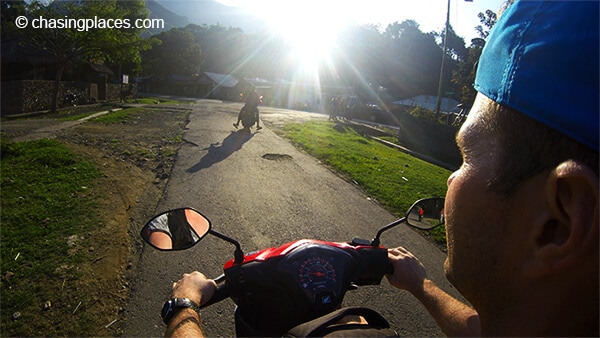 Where Did We Stay in Sembalun
There are not a lot of accommodation options in Sembalun, given that it is a small mountain town. Some of the rooms available here cannot be booked online. But we found a property right at the foot of the hills. The rooms are individual chalet type made of cement. They are basic and small with a double bed in the middle. Our toilet was clean enough and we had a patio, where we could sit and relax. The rooms have no aircon (you don't need it as Sembalun is cool due to its high elevation.) It is not a hotel room by any standard but it was good enough to stay for one night. Our host was nice but he was charging us quite a bit for services like vehicle transfers and bicycle rentals. Breakfast was included in the price we paid but we only had the choice of a noodle soup or dry noodle.
Book a Room in Sembalun Lombok through Booking.com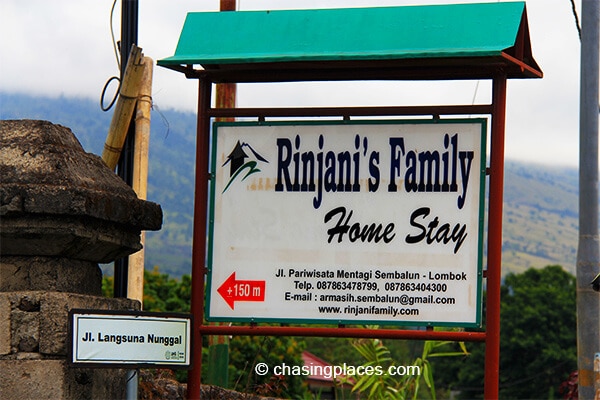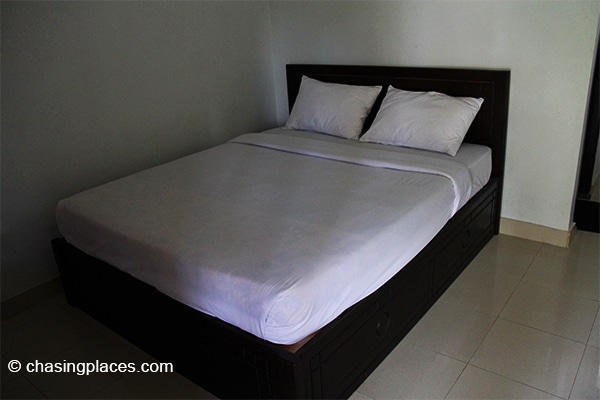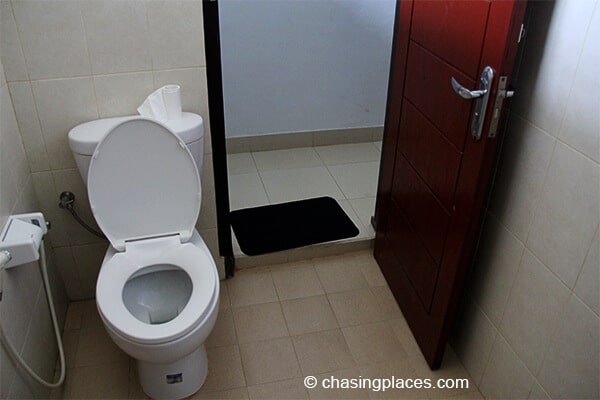 How Long Did We Stay in Sembalun
Our excursion in Sembalun lasted two days and one night. The area is small enough that you can get to enjoy it in one day. As mentioned, we rented a motorcycle to reach viewpoints and rice terraces outside of the main town. If you do not know how to drive, you can arrange for a local to drive you around. It is also an ideal place to do trekking trips; but you will need to spend more time in Sembalun, which is not really such a bad idea.
I need to emphasize, Sembalun is not a place for luxury travel. It is an off-the-beaten path traveler's dream come true: visually stunning, remote, fertile and authentic. It is rural Indonesian traveling at its finest! Go for it, I dare you.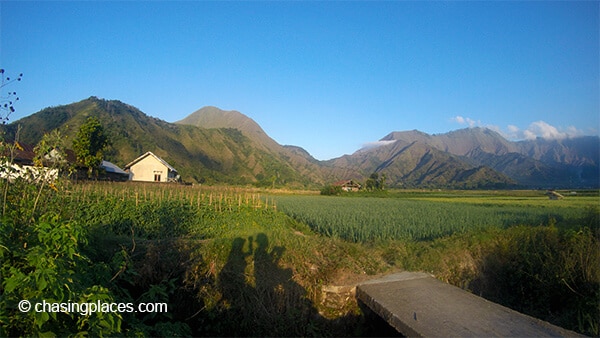 Got questions? Did you like my travel story?
Drop us mail, like our Facebook Page. I will be happy to hear from you.