If there is one place that completely embodies Bangkok's free-spiritedness and party-oriented persona as a travel destination, it would be none other than Khao San Road. This road has reached legendary status among backpackers in Thailand, especially those who are following the iconic 'Banana-Pancake trail.'
Khao San defines what a vibrant street should look and feel like.  It is deliciously chaotic, and is never apologetic about being so. Everything that a traveler needs in a practical sense is in Khao San. The street has banks, money changers, booking offices, and guesthouses.  This hodgepodge of establishments seems to fit in this barely 1-kilometer long road. The local vendors on Khaosan also seem to know what the average backpacker likes: cheap yet fashionable clothing; affordable eats, happy hour; music; and of course lots and lots of booze, including the ever famous 'Thai bucket'.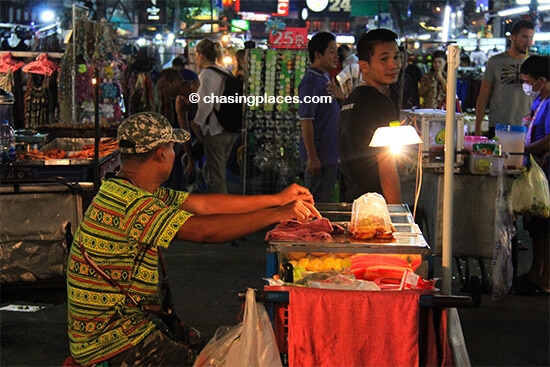 What I like about Khao San is how it gives you a sense of freedom. Even with the military taking over Thailand's government during our recent visit, we never felt that the mood had changed on Khao San since our last visit. There were certainly no restrictions made. Alcohol was readily available, bars were always blasting their music to the highest level that their speakers could handle; and anybody could break out into a dance in the middle of the street. While Khao San is no doubt backpacker central, I saw families and all types of people from all around the world walking through the street and enjoying what it has to offer.
People-Watching
If you are going to ask me what are some of the things to do while on Khaosan, I will blurt out: people- watching. While some may argue that this not a legitimate tourist activity; but I can assure you that there's something quite amusing and entertaining about grabbing a chair at a roadside bar and just watching people. You will most likely see interesting figures and quirky characters, who appear to live life in an unconventional way. Of course, this is going to be one of the speculations you will make during the night, but it's fun doing it, especially if you are enjoying your favorite drink while doing so. Whether they're locals, tourists or expats just going about their night on Khao San you will be sure to be entertained by the diversity on display.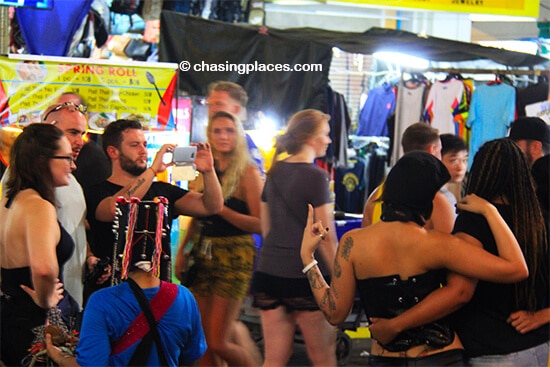 Treating Yourself to Insects
They will be the first thing you will notice about Khao San, movable small stalls selling insect delicacies. Grasshoppers, crickets, and scorpions are fried to perfection, skewered, and placed on a wooden sticks and placed in trays in the hopes of enticing the adventurous palate. We even saw several locals going into bars and restaurants holding trays or plates of these bite-size treats.  I guess this marketing method works well with foreign visitors, especially during the prime age of selfies and social media. For the most part, tourists buy the insects not because they are curious about how they taste, but mainly, to show off they are eating them while their friends snap a Facebook "like" worthy picture.  But do they really eat them?  Maybe some will take a bite. I'm sure they are valid snacks in Thailand and in other parts of Southeast Asia.   I, for one, can't get enough courage to eat them. If I could muster that courage, I will probably wouldn't try the ones on Khao San Rd.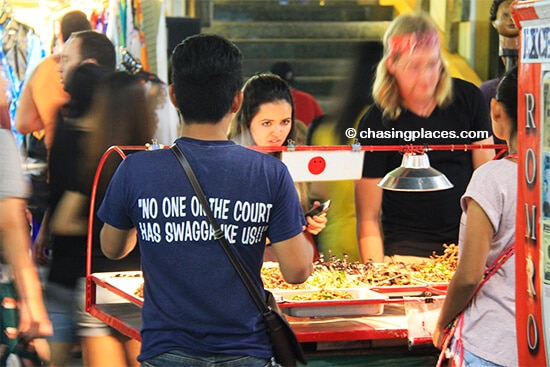 Why? Well before we left Khao San around 2 am that evening, the insect-eating frenzy had already died down, but we noticed that were still many insects on the trays. My travel companion asked me with a concerned voice: "Do you think they will throw out those and prepare new ones? I doubt it." I agreed; but to be fair, I am not sure if these insects on a stick spoil easily.
Travel Checklist: Do you have everything you need?
Live Music
All bars on Khaosan play their own style of music; but some of them feature live music, which is something I really enjoy. Some bars have only one singer playing an acoustic guitar, while others have at least a trio with a percussion.  What's good about Khaosan's live music is that you don't have to pay a cover charge or pay more for your drinks to enjoy such entertainment. The singers, though not world-class, are quite decent. They sing English songs and play a range of pop and rock hits. I remember that one bar still had a duo singing even after 1 am. Live music is truly one of the delights of Khao San.
Khao San in the Early Evening
Although Khao San is always open for business at any time of the week, it is at its full force during the weekend, when local and expat patrons also descend on the street to have a good time after a hard day's work.
If you want to enjoy the lively atmosphere of Khao San without being in the middle of a drunken fest, come here around 6 to 10 pm. At this time, people are more concentrated on having dinner, chatting, shopping and just browsing around to satisfy their curiosity.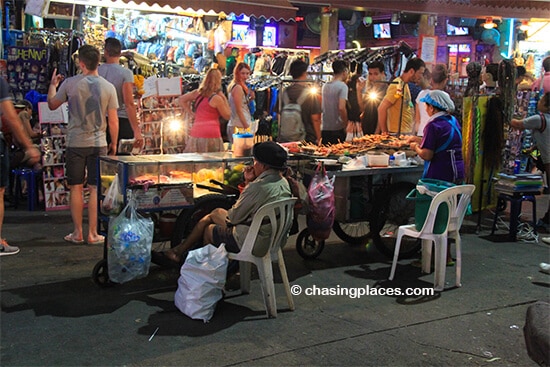 By midnight, a number of the stalls selling food and clothes pack up and clear up the middle of the street. Visiting families with children will be long gone. What will be left are the party revelers who have more than just a simple buzz. At this time, the dancing and partying transforms full swing! Late night Khao San is not for everybody, but if you like street parties then Khao San sets the standard high.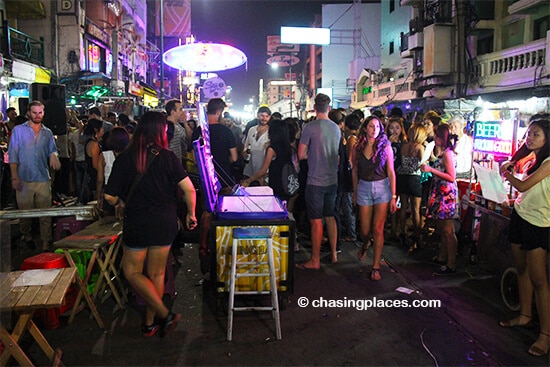 Fueled by alcohol, people during our recent visit were less inhibited, friendlier and willing to talk. Local entrepreneurs, who don't have physical bars, set up their speakers, DJ tables, and mini bars; to compete with the established ones. There are even some guys who sell drinks from coolers. At 2 am, it's a little difficult to move towards the other end of Khaosan as folks from the side street bars spill into the middle of Khaosan, to convert the pavement to their official dance floor for the rest of the night. The whole scene was quite amusing, and I've never seen something like this before.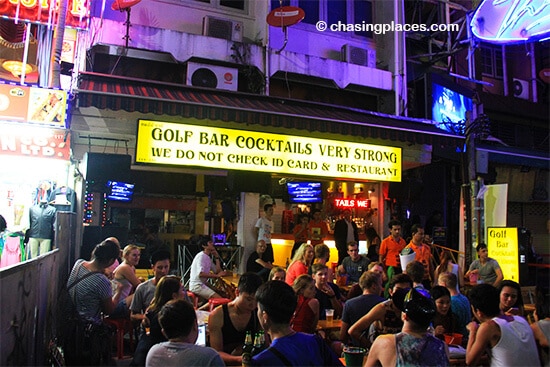 Staying on Khao San
Unless you don't plan to sleep at all or you can sleep through a hurricane, Khao San is not the ideal place to book your accommodation. I assure you that the loud music and partying will last until the early hours of the morning. But what is ideal is to find accommodation along one of the quieter streets close to Khao San. The guesthouses here are affordable, and there are also boutique hotels that are quite clean and decent for a couple of nights.  One great thing about staying in this neighborhood is that it is close to notable Bangkok attractions like the Royal Palace, the Reclining Buddha and the Chao Praya River.
A Gentle Reminder
If you're on Khao San alone late at night, be more mindful about the people you encounter. It's also probably not too wise to get too drunk so that you can't walk.  This may sound as a big paradox but if you're a "responsible party reveler" then you will definitely wake up the next day with a smile on your face because Khao San, was awesome!
Where did we stay in Bangkok?
During our time in Bangkok we stayed at Baanboran and we found it to be affordable, very quiet and convenient located 5-10 minutes from both Khaosan Rd. and the Grand Palace Grounds. At the time of writing it had a score of 8.1/10 based on 164 verified guest reviews. Please take note that we have no direct affiliation with this property, or any property in Bangkok.
If you are looking for something a bit more upscale then popular hotels in Bangkok include:
Mandarin Oriental Hotel (rated 9.2/10)        The Peninsula Bangkok (rated 9.1/10)
The Okura Prestige Bangkok (rated 9.1/10)      Shangri-La Hotel (rated 9.0/10)
How to find the cheapest room in Bangkok?
Bangkok has so many rooms to choose from.  Typically, these are the most popular booking sites that visitors use: www.agoda.com, www.booking.com and www.hotelscombined.com.  I have created links to their respective property lists for Bangkok to save you some time:
Top Rated Properties in Bangkok
Based on Verified Guest Reviews
Important: Mobile Users must swipe from left to right to see entire table.
Criteria:
Properties rated based on 'overall' review scores from each respective website's verified guests.
Minimum of 50 verified guest reviews required to be considered eligible for comparison.
All star ratings and verified guest review scores are tallied at the time of writing, and therefore, are subject to change.
Enjoy your time in Bangkok and let us know about your trip in the comment section below!
Compare Room Prices in Bangkok using the Hotelscombined's Search Box below: