Before I arrived on Koh Lanta in southern Thailand, I didn't really know what to expect of the place.  Many of the outdated guidebooks that I had read referred to Koh Lanta as a bohemian, frontier-like island with minimal development and few tourists. This picture of true exoticness with jungle-fringed beaches seemed overly enticing. Unfortunately, this view of an ideal island destination was competing in my mind against my previous experience visiting Thailand on numerous occasions. It's no surprise that Thailand's booming tourism industry is affecting the natural ecosystems across the country in a detrimental way. Could Koh Lanta be immune to Thailand's backpacking crowd and the so called 'suitcase' tourists?
I figured the best way to develop a reliable and trustworthy opinion of Koh Lanta would be to see as much of it as possible during my visit.  To do this, I needed to rent a moto and tour around the island.
Arriving on Koh Lanta and Renting a Moto
After taking a minibus from Krabi Airport to Koh Lanta we quickly checked into our resort.  Within an hour we had already rented a moto for three days with the intention of exploring anything we could find on Lanta.
The process of renting a moto was stress-free, convenient and very affordable. When you arrive on Koh Lanta you will see signs all over the place advertising motos for rent and various other tourist services such as day excursions and so on. We opted to rent our moto directly from our resort opposed to renting it from a third party provider. Based on our experience, unless you get a price that is significantly cheaper from a third party source, it is often more convenient and reliable to book directly from your guesthouse, resort or hotel. If any mechanical issues arise, you can bet on getting more support from the place you are staying at opposed to someone that does not have to provide you with good service. Although it's not always the case, more reputable establishments might also have some extra cash to keep the maintenance on the moto at a higher overall level.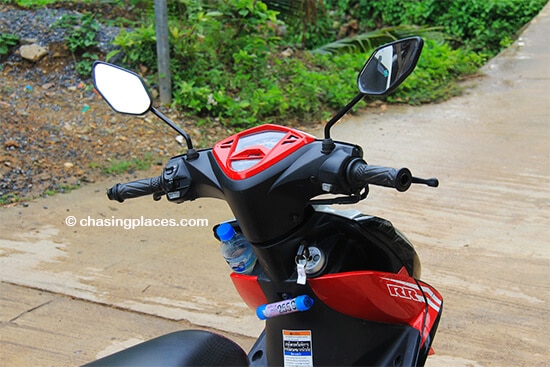 We paid 250 Baht per day for our Honda motorcycle on Koh Lanta. Before you pay for the rental be sure to check that the brakes are functioning appropriately and that the provider is aware of any dents and scratches so they can't make the incorrect assumption that you did it. In some parts of Thailand moto providers have been known to try to charge tourists for damages that were already present before the rental occurred.  Just be cautious.  The last reminder is to ensure that each person that plans to get on your moto gets a good helmet. Lots of people that ride on Koh Lanta drive without one, but it's always a smart idea to wear a helmet.  I personally was not concerned with my own driving ability, but rather, the other people on the road.
Travel Checklist: Do you have everything you need?
The Road Traffic on Koh Lanta
Since we visited Koh Lanta in September it was officially low season on the island. Therefore, it was an ideal time to drive a moto. The traffic becomes more congested as you get closer to Saladan – the pier town Koh Lanta. Many minivans whisk tourists to Saladan as they take ferries primarily to Koh Phi Phi. Aside from Saladan, you will encounter the odd vehicle here or there, but for the most part Koh Lanta doesn't have an overwhelming amount of traffic in comparison to other Thai islands like Koh Samui or Phuket. The southern tip of the island has the lowest volume of traffic.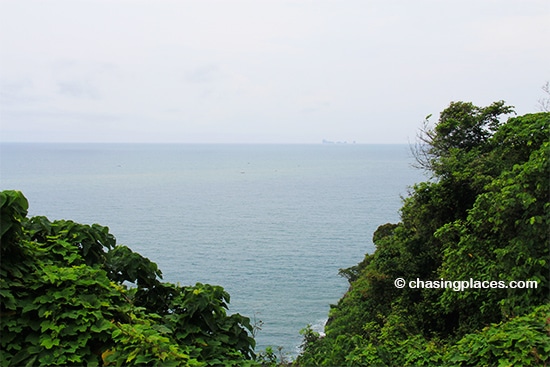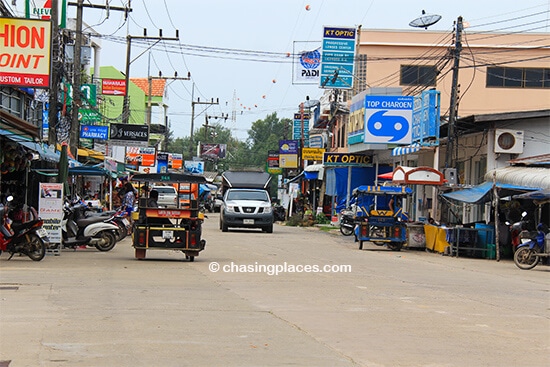 The island is completely paved, therefore you don't have to deal with gravel roads. If you haven't driven a moto before then be cautious because the road gets particularly undulating as you head towards Mo Koh Lanta National Park in the southern tip of the island. It's always a good idea to honk your horn proactively before you drive into blind corners.  Braking down hills is also something you will have to be competent doing if you plan to drive safely on Koh Lanta. My suggestion is take your time until you get used to the flow of traffic and the nature of the coastal roads.
Special Sights on Koh Lanta
Renting a moto on Koh Lanta enabled me to see some beautiful, and completely empty beaches. Therefore, the guidebooks were right to a certain extent. I particular enjoyed the southern end of the island. The western coastal road is guarded by thick jungle near Mo Koh Lanta National Park. Periodically, you will be spoiled with superb ocean views from the top of some of the hills with very few tourists to be found. It will of course be a bit busier if you decide to visit Lanta in the thick of peak season.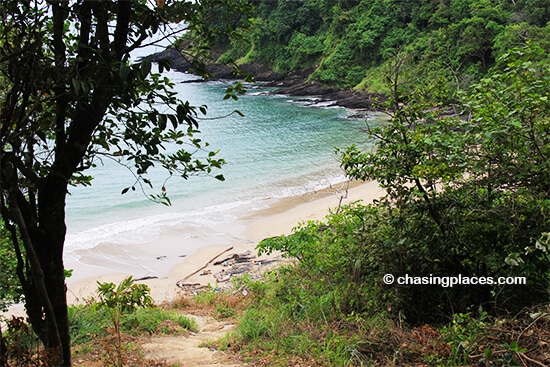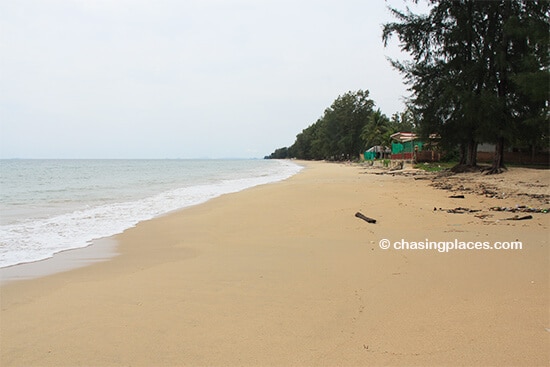 I personally recommend packing a lunch and a few drinks and driving south on Lanta. Eventually, you will come across a beach all to yourself in low season. Very little development has reached the southern tip of the island.  The accommodation choices available blend well with the natural feel of Lanta, therefore is does still feel like a frontier island.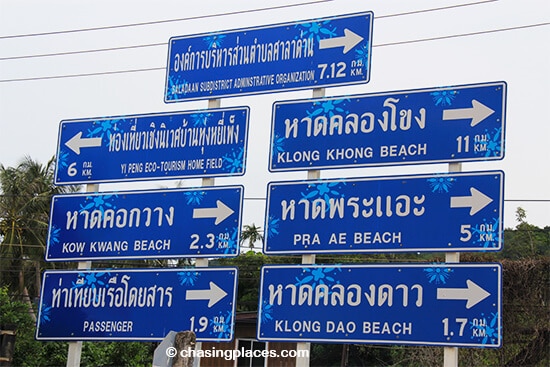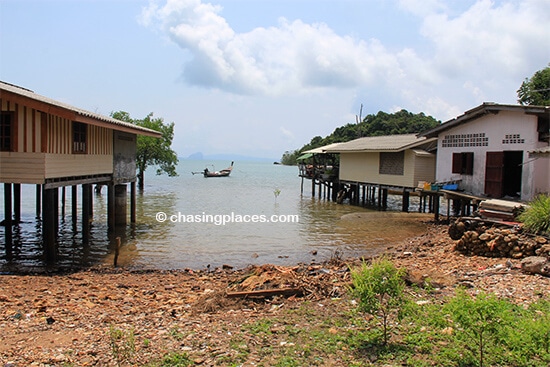 As you head south on the road hugging the eastern shoreline of Lanta you will drive by charming, old Lanta Town which is definitely worth a detour. Further south you will stumble upon fishing villages and some nice hilltops that offer beautiful views of the Andaman Sea and surrounding islands.
If you take the road in the middle of Lanta that connects the east coast road with the west coast road you will reach a very steep hill.  On top, there is a superb viewpoint with a laidback restaurant.  The view is much better than the food, however.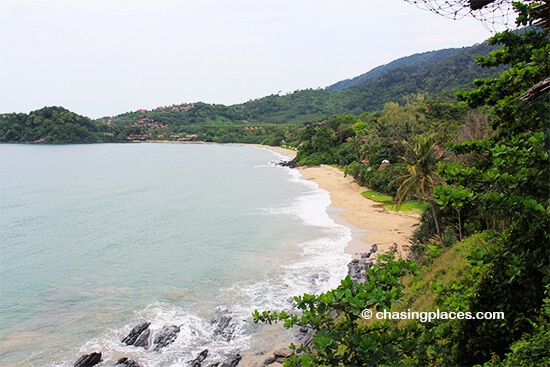 Lanta is loaded with 'sunset' restaurants that are strategically located around the island right beside the road.  During our visit, these establishments were practically empty.  Therefore, Lanta's laidback and tranquil vibe definitely still lingers through low season.  Therefore, if you want to experience a beautiful island with welcoming locals Koh Lanta is the place.  Just don't expect the same level of serenity during peak season from December to February.
If you are still looking for additional information about Koh Lanta's attractions click here.
Where did we stay on Koh Lanta?
We had a few goals in mind when it came to finding the right room on Koh Lanta. We definitely wanted to be either directly on a beach, or very close to one. Also, we didn't want to be too close to the road noise since we wanted a relaxing trip. I had read that Kantiang Bay was regarded as one of the nicest beach areas on Lanta.  Therefore, I narrowed down my search to Pamalai Resort and Spa or Baan Lanta Resort and Spa. Both of these are on Kantiang Bay. Eventually, I opted for Baan Lanta Resort and Spa. This was strictly a financial decision.  We don't have an affiliation with these, or any properties on Lanta, therefore our opinion is an unbiased one. The place turned out to be quite nice.  It has a nice view over Kantiang Bay with a nice pool.  The rooms could be priced a bit cheaper in my opinion, but overall I can't complain too much about it.  At the time of writing it had a score of 7.7/10 based on 251 verified guest reviews. Pamalai Resort and Spa also looked very nice and it's located in a perfect spot on the beach, so if you've got the budget, I would opt for that instead.
Scenic Hotels on Koh Lanta
Due to the undulating nature of Koh Lanta be sure to use a large accommodation booking site that shows the terrain and proximity to the beaches with a map widget. Some visitors prefer a room with a sea view but this comes with the possibility of a steep climb to get to your room whereas other want to be right on the beach. Either way, take your time to find what suits your personal preference. Most of our readers who plan to visit Thailand tend to use three primary sites: www.agoda.com,  www.hotelscombined.com and www.booking.com. Here is a list of their respective properties for Koh Lanta to save you some time:
Top Rated Properties on Koh Lanta
Based on Verified Guest Reviews
Important: Mobile Users must swipe from left to right to see entire table.
Criteria:
Properties rated based on 'overall' review scores from each respective website's verified guests.
Minimum of 50 verified guest reviews required to be considered eligible for comparison.
All star ratings and verified guest review scores are tallied at the time of writing, and therefore, are subject to change.
Regardless of where you choose to stay on Koh Lanta, enjoy safe rides on your moto!  Feel free to tell us about your experience on the island in the comment section below.
You may also use the Search Box below to compare hotel prices effectively: