Buddhism is the main religion in Thailand; and the Thai people honor their strong faith by building thousands of temples all throughout the country.  In Thai, a Buddhist temple is called a "Wat".  The capital city of Bangkok is home to many magnificent 'Wats', which have become not only symbols of religion but also the perfect representations of the Thai's magnificent architectural style.
Wat Pho and Wat Arun are two of the most prominent temples found in Bangkok. Both landmarks are must-sees for anyone exploring Bangkok. Wat Pho is known to the English-speaking world as the "Reclining Buddha" Temple. Since Wat Pho is just walking distance from the Grand Palace, most tourists tend to drop by here first before proceeding to Wat Arun.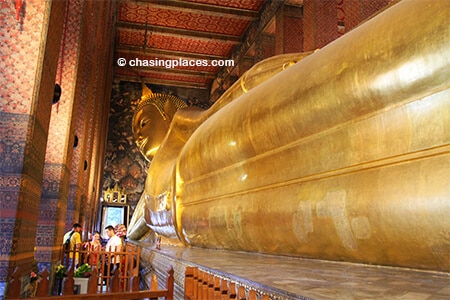 Geographically speaking, Wat Pho is just opposite Wat Arun, which is given the appropriate English moniker: "Temple of the Dawn." But take note that walking across Wat Pho to Wat Arun is impossible as they are separated by the iconic Chao Praya River. So what is the fastest and most convenient way to reach Wat Arun from the Wat Pho area?
Here are the steps on how to get to Wat Arun from Wat Pho.
1. Walk about 200 meters from the Wat Pho complex to the Tha Tien Pier, also called Pier 8. There, small boats frequently come in and go to take passengers to the Wat Arun side of the river.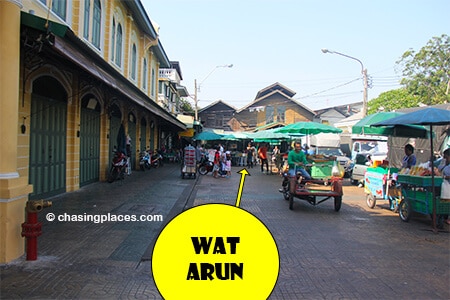 2. Pay for the boat ride from the small ticket office before boarding the boat. The cost for the ride is only 3 Baht which is extremely affordable.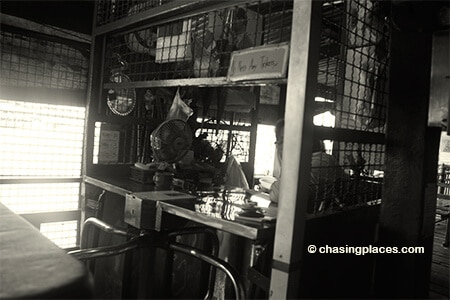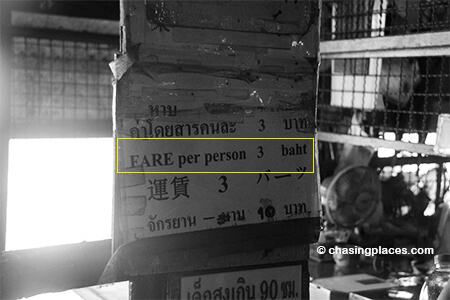 3. Get on the small shuttle boat that takes passengers to the western side of the Chao Praya River. This side is referred to as the Thonburi side. The boat will have a sign of the route on its roof so you won't miss it. The boat will usually wait a few minutes to unload old passengers and allow new passengers on before leaving. Just wait calmly. Don't worry, the boat can reach the other side of the river in under 5 minutes.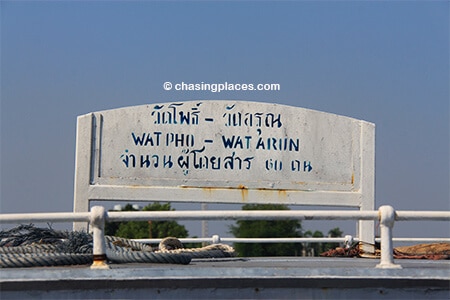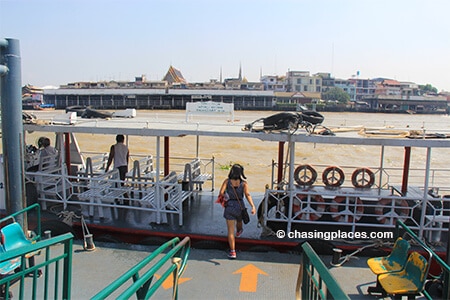 Travel Checklist: Do you have everything you need?
4. Make your way to the entrance of Wat Arun. This entrance is just to the left of the exit area of the express boat. After turning left, just keep walking further until you see the complex.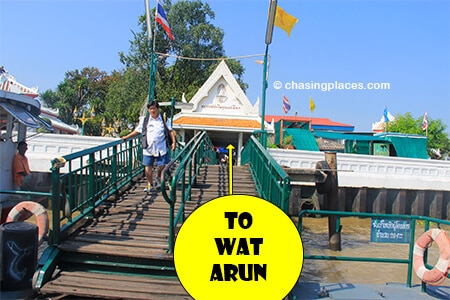 5. Pay the entrance ticket to access the main Wat Arun complex. Prescribed admission fee is 30 Baht for foreigners, while Thai citizens can come in and go without paying anything. Do not forget to dress appropriately as this is considered to be sacred grounds. Shorts, short skirts and short sleeved tops including muscle shirts are frowned upon. The temple keepers may also ask you to wrap a sarong around your body before getting in. Sometimes, this rule is not strictly enforced, but for the sake of respect, bring your own sarong and wrap it around your legs like a good tourist should do. Wat Arun is open to visitors from 08:30 to 17:30 every day.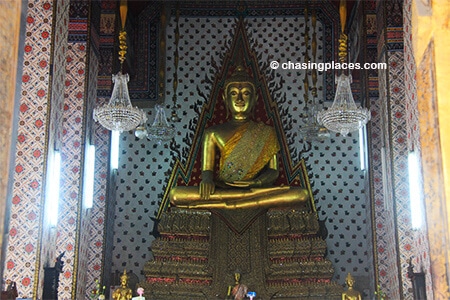 6. To go back to the Wat Pho side or the east bank of the river, all you have to do is return to the pier area where you were dropped off, and pay the 3 Baht ferry fee again.
That's it, easy and convenient.
Additional Tip:
If you are coming from the other piers along Chao Phraya, you just need to find the Chao Phraya River Express boat that passes by Tha Tien. If you are located more inland, you can hire a taxi, bus or a tuk tuk to bring you to Than Tien Pier. Ordinary buses that stop on Maharat road, which is very close to Than Tien include 1, 25, 44, 47, 62 and 91.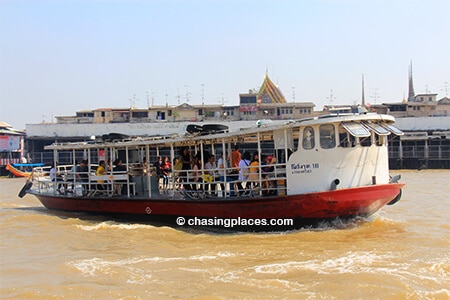 Where did we stay in Bangkok?
The main focus our room 'hunt' leading up to our visit to Bangkok was finding a room within walking distance of both the Grand Palace area as well as Khao San Road. It sounds easier than it actually turned out to be. Eventually, we decided to book at Baanboran. We are not directly affiliated with any properties in Bangkok (including this one), therefore our opinion is an unbiased one. We enjoyed staying at this property. The room we had was very clean and the staff were very helpful.  They spoke minimal English, but they could eventually understand our questions. Baanboran turned out to be a 15 minute walk to the Grand Palace and roughly a 10 minute walk to Khaosan.  At the time of writing it had an excellent score of 8.1/10 based on 164 verified guest reviews. Since this is a budget option, if you're looking for something more upscale then I would recommend somewhere else like the Mandarin Oriental Hotel.
Finding the cheapest room near Wat Pho and Wat Arun in Bangkok
Since Wat Pho and Wat Arun are conveniently located in the heart of the historic region of Bangkok it's best to book your room well in advance if you want easy access to this area. Technically, we suggest booking with Thailand's largest and most popular hotel provider, booking.com or through the world's best price comparison site. Rest assured, that either way you will have the largest selection and the best prices of hotels and guesthouses available. I have included links to their respective properties as well as booking.com below to save you some time:
Top Rated Properties in Bangkok
Based on Verified Guest Reviews
Important: Mobile Users must swipe from left to right to see entire table.
Criteria:
Properties rated based on 'overall' review scores from each respective website's verified guests.
Minimum of 50 verified guest reviews required to be considered eligible for comparison.
All star ratings and verified guest review scores are tallied at the time of writing, and therefore, are subject to change.
Compare Room Prices in Bangkok – www.hotelscombined.com
Alternatively, you can compare room prices in Bangkok using the search box below: