You may have already heard of the legendary Khao San Road (read our article) – the 'nightlife central' of Bangkok. This road is the place to be for anyone who would like to experience the electric, and sometimes urban scene that made Bangkok alluring not only to international traveling communities, but also to Hollywood (movies like the Hangover were based in Bangkok)
However, it is also safe to say that Khao San is not for everybody. For some tourists, the road is too wild and chaotic; and at times, sloppy and dodgy especially late at night. So if you are looking for an alternative destination at night, the road called "Rambuttri" makes the perfect choice.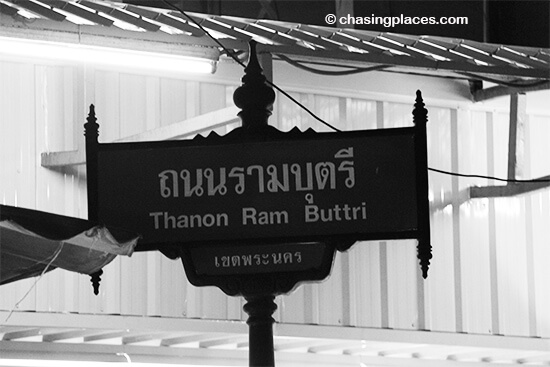 Rambuttri runs parallel to Khao San and is literally just a 5-minute walk away. You can access it from either the northern or southern end of Khao San. Guidebooks argue that Rambuttri's nightlife is just a spill-over from Khao San. In fact, when some people say Khao San, they refer to the whole area including the Rambuttri section. But Rambuttri has managed to create its own character as a tourist hotspot. The road is actually divided into two sections. The first one is called Thannon Rambuttri, which means major road, and the second section is named Soi Rambuttri, which refers to a smaller street that branches off from the main road.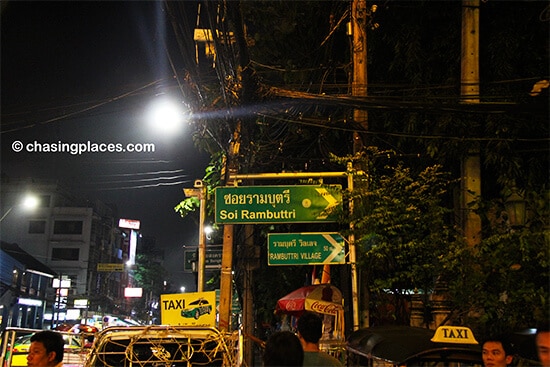 Thanon Rambuttri is longer than Khao San and exudes a more easygoing and relaxing vibe. This is due to the fact that instead of bars blasting loud techno music, Rambuttri is mainly populated with restaurants, most of which try to promote a more intimate and laidback dining experience. It is on this road where you will find candlelit tables and restaurants with more thought-out concepts and themes.
But if you think that Rambuttri is an upscale destination, this is also not entirely true. Yes, Thanon Rambuttri might have better-looking restaurants that offer a range of western meals, but it also has smaller eateries that serve up local cuisine with very reasonable prices. For instance, you can easily locate a place here that serves the iconic Thai meal 'green curry chicken with rice" for 80 to 120 Baht.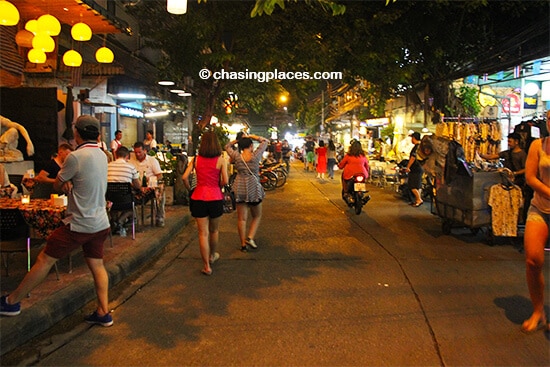 Staying in Rambuttri also does not mean that you will have to miss out on those cheap Asian beer. All restaurants sell various alcoholic drinks, including bucket specials of local beer variety. Rambuttri is not boring either. If you are really craving for some entertainment, a couple of the dining establishments, located further down the road, enlist bands and performers to play live music.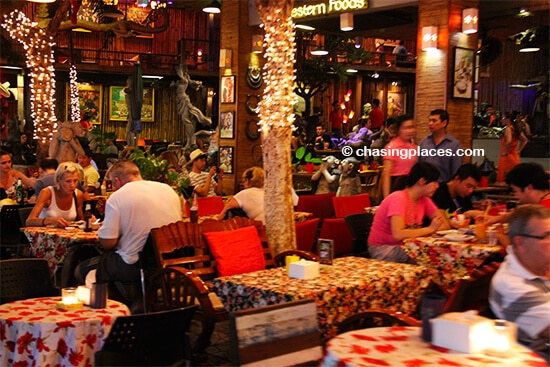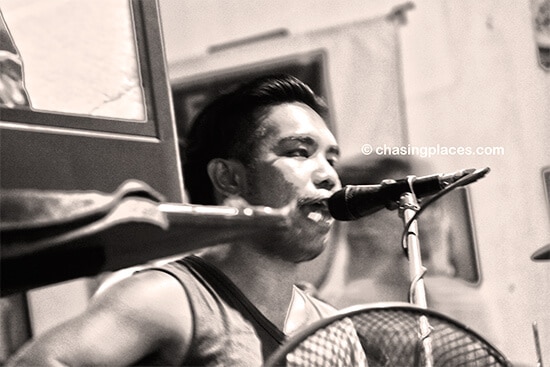 Travel Checklist: Do you have everything you need?
If you walk all the way to the northern end of Thannon Rambuttri and go across Chakrabongse Road, you will reach Soi Rambuttri. This street is lined up with stalls selling clothes, accessories and other items. It populated by guesthouses, convenience stores, tour offices, as well as indoor and outdoor massage services. Soi Rambuttri is even more low-key than its bigger sister. I don't know if it was done purposely, but the street lights here are dimmer, matching the overall mood perfectly.  Here, neither techno nor club music fill the air.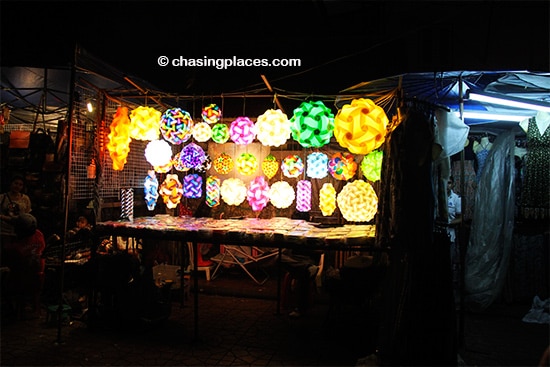 The heavy presence of makeshift outdoor and hole in the wall eateries featuring very cheap menus only further reinforce to me the idea that Soi Rambuttri is indeed the true backpacker haven in Bangkok. The foreigners you will see here do not look like the ones who are just passing through the city for a quick holiday. Most of them look like they have been living in Bangkok for weeks or even months.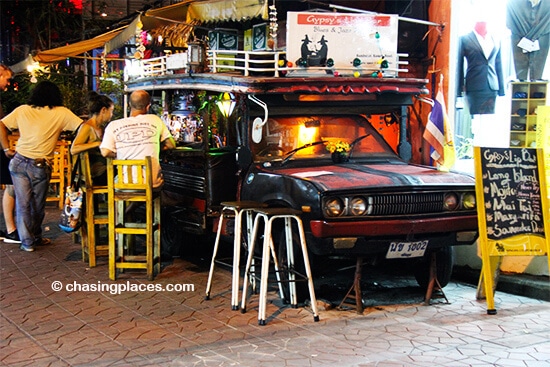 Since Soi Rambuttri obviously does not get the huge tourist crowd, it tries to take on a different marketing approach.  The bars here seem to cater to 'regulars", which are locals and expats who know the city very well. They are more artsy and alternative. Instead of occupying building space, some of these bars are retro vans that have been ingeniously converted into neon-lit, cool-looking mobile bars.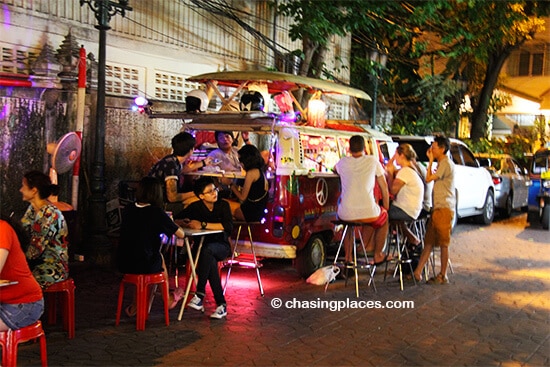 As mentioned, there are many guesthouses in and around Soi Rambuttri. If you're on a budget, they make excellent accommodation choices because they are close to the Khao San action, but are far enough to assure you a good night's sleep.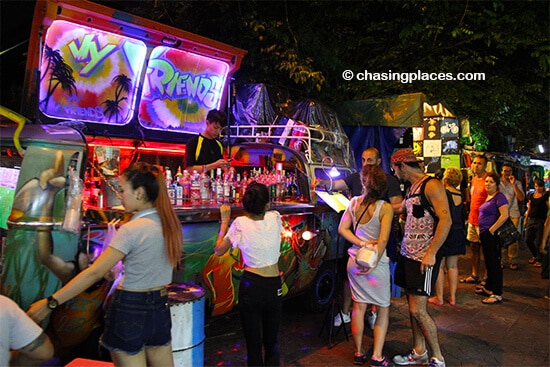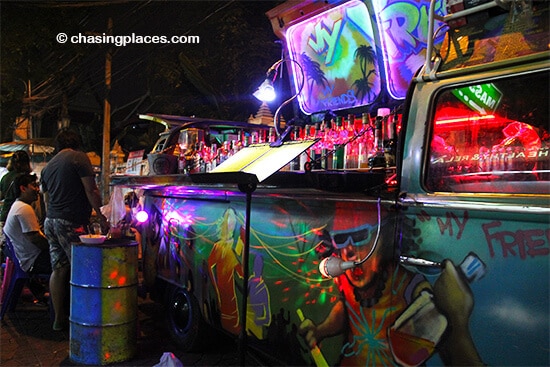 Where did we stay during this trip to Bangkok?
We typically stay near Khaosan Rd. when we visit Bangkok, and this trip was no exception. Since we were on a budget we decided to stay at Baanboran. We don't have an affiliation with this property or any property in Bangkok, therefore our opinion of it is neutral.  Overall, this was a nice budget choice. It has this ancient wood house in the middle of the property which was unique. The staff could barely speak English, but they were super friendly. The room was clean and this property is about a 15 minute walk from the Grand Palace and a 10 minute walk from Khaosan Rd. At the time of writing it had a very respectable score of 8.1/10 based on 164 verified guest reviews.  If you are looking for something more upscale, then this isn't the place for you.
How to find the cheapest room in Bangkok?
To book your room in Bangkok try using Thailand's largest accommodation provider, the world's best hotel price comparison website, or the always popular booking.com.  Either way you will have access to the widest range of rooms with best prices available. Here are links to the top accommodation sites in Bangkok:
Top Rated Properties in Bangkok
Based on Verified Guest Reviews
Important: Mobile Users must swipe from left to right to see entire table.
Criteria:
Properties rated based on 'overall' review scores from each respective website's verified guests.
Minimum of 50 verified guest reviews required to be considered eligible for comparison.
All star ratings and verified guest review scores are tallied at the time of writing, and therefore, are subject to change.