If you come across travel guidebooks on Bangkok, they will most likely recommend a visit to the Chatuchak market. And Chatuchak has every reason to be mentioned as it holds the title of being one of the largest markets in Southeast Asia. The sheer size of this market is enough reason to dedicate some time to see it. But before planning to put Chatuchak in your Bangkok itinerary, take note that it is a weekend market that's only open every Saturday and Sunday. So if you happen to come to Bangkok during the week, don't worry as there are other regular markets in the city to check out. Fortunately for us, we were in Bangkok during the weekend, so we decided to head to Chatuchak early in the morning since my travel companion hadn't been to this market before.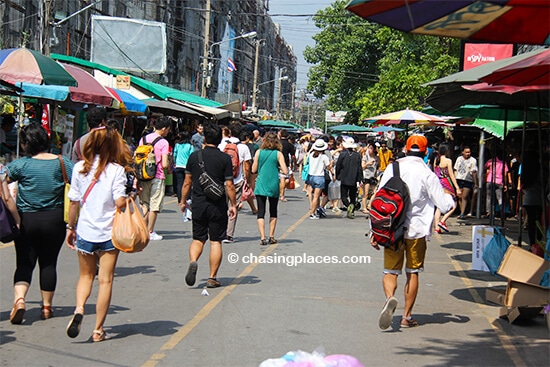 I realized that it's a lot easier to read and talk about the size of Chatuchak, than to actually explore it entirety. According to Chatuchak.org, there are over 15,000 booths in the market, which are divided into 27 sections. This makes it nearly impossible to go through all the sections in only one day.  But if you don't want to do it, you are not really missing out in my opinion.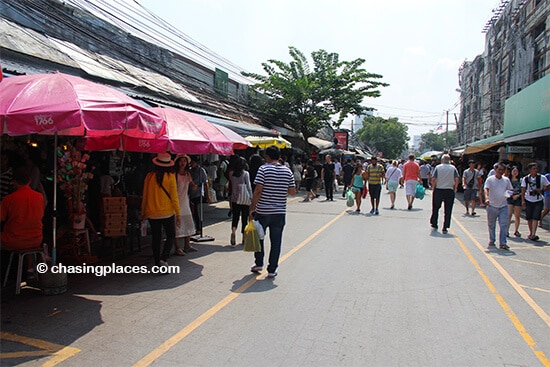 Even though Chatuchak is definitely enormous, the variety of what is sold there is not overly diverse in considering its size. Yes, there are antiques, food, furniture, home décor, souvenirs and various trinkets you can find, but it's mostly a clothing market. There are stalls upon stalls selling clothes for women. And as you may have guessed it, a large number of these clothes have similar designs. So perhaps Chatuchak has become a big tourist draw, but at its heart, it is still a market for the locals. It is the kind of market where Bangkok residents tend to choose their favorite stalls and go there often.
We were not really in the mood for shopping during our visit, but it really didn't matter because we enjoyed the whole market atmosphere, which was very lively and engaging. Though there were definitely a lot of people roaming through the Chatuchak area, the streets are wide enough to accommodate such a large number. I did not feel claustrophobic at all.  The most crowded part during my experience was the walk on the narrow side street from the BTS Mo Chit Station to the main entrance of Chatuchak. Come to Chatuchak early in the morning so you can walk around more comfortably. As the day progresses, it can become really hot, sunny and humid.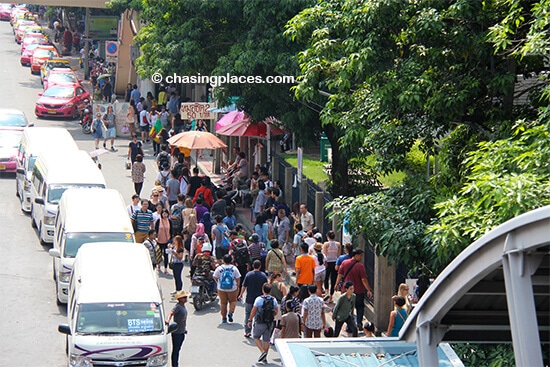 Travel Checklist: Do you have everything you need?
Eating at Chatuchak: Our Experience:
Besides shopping, a visit to Chatuchak can easily turn into a food trip.  Most of the popular Thai street snacks and delicacies like mango sticky rice, fruit shakes, banana chips, fried chicken, and pork sausages can be bought in the market. So if you don't want a proper sit-down meal, then you can just go from stall to stall and taste a little of what they have to offer. Chatuchak also has "proper" eating places. But when I say 'proper' I do not mean only conventional cafes and restaurants. The market has particular eating areas exhibiting the 'hole-in-the-wall style." You will stumble upon stalls selling home-cooked meals and barbecued seafood.  Most of them cook the seafood right there; and display their dishes for the whole world to see and salivate over.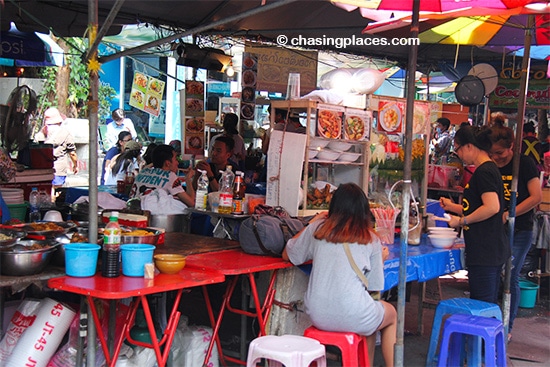 At the back of these stalls are tented areas where long plastic tables and chairs are set up. This setup does not really offer a comfortable and conducive dining experience. If you buy seafood from one of the stalls, you earn a chair within the tented area. But be prepared to be seated next to sweaty diners.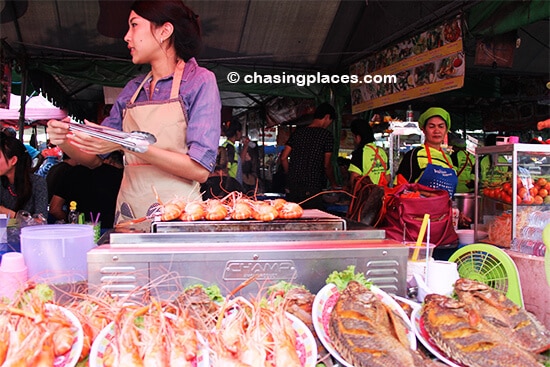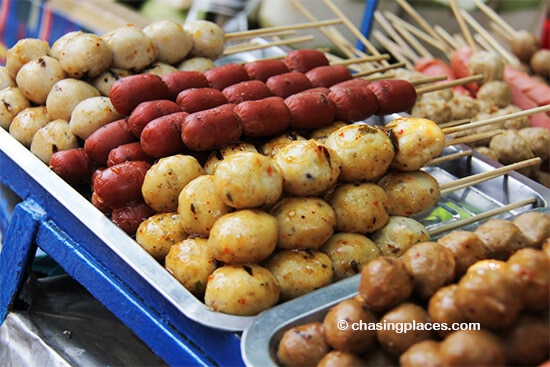 Once I sat down I could not resist ordering the deliciously looking prawns on display, so we sat down to wait for my order to arrive.  When one server saw that my companion was a white guy, she immediately said in an abrupt manner, "Beer…" to him. My companion politely declined, and laughed at the blatant stereotype. The commune-type of dining was not really that bad, considering it is Bangkok and it is Asia. But the whole "hurry-up-and-finish-your-meal so-others-can-sit" vibe that the servers were giving off, that made the whole experience unpleasant. The server gave us a menu with prices, and we ordered some drinks and a dish. Fortunately, we knew the stuff we ordered, because when we asked for the bill, the girl charged us an extra 200 Baht for a dish we did not order. We corrected her right away, but something told me from her expression that she did the miscalculation deliberately. Meanwhile, beside us, a Chinese couple were arguing with one server about the price of the prawn-dish she ordered. They claimed that she ordered the more expensive kind, which she vehemently denied.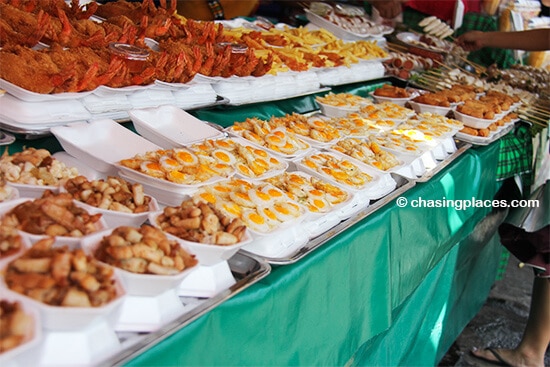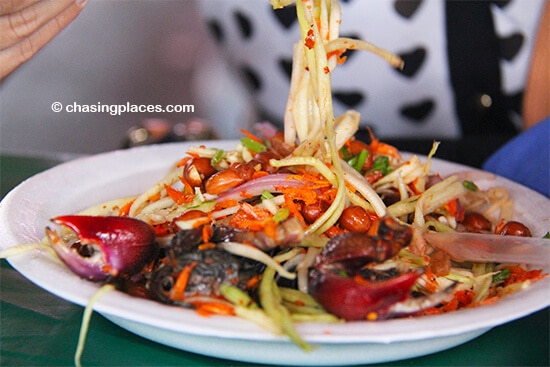 I don't want to go as far as accusing the stalls of running a scam, but a word of warning, if you want to eat in the tented areas in Chatuchak, make sure to ask the vendors how much exactly is the price of each dish your order. Be sharp and keep tabs of what was served to you.  The prawns I ordered were okay but the dish my companion ordered was one of the worst he had ever tasted in Bangkok. If you have the choice, I recommend that you avoid getting a sit-down lunch or dinner at Chatuchak because the meal prices especially seafood, are generally more than other restaurants; and they are neither great nor unique.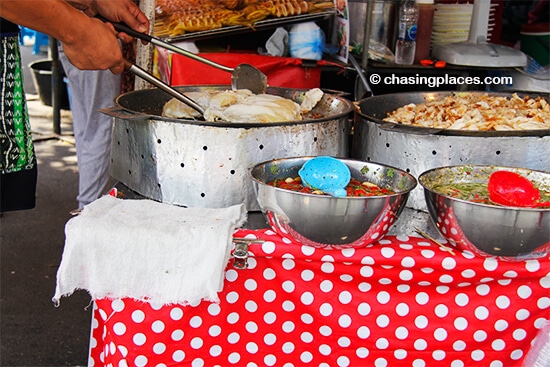 If you're wondering where Chatuchak Weekend Market is, it's conveniently located along Kamphaeng Phet 2 Road within a neighborhood of the same name.  You can get here through various public transport, depending where in Bangkok you are coming from. Here is our article that discusses how to get to Chatuchak from Khao San.
Where did we stay in Bangkok during this trip?
Although we have been to Bangkok on multiple occasions, we tend to stay in the Khaosan Rd. area. During this trip we ended up staying at Baanboran. We don't have a direct affiliation with this property or any property in Bangkok, therefore our opinion is an unbiased one. Overall, this was a pretty unique place to stay in Bangkok. It's located on a street that isn't overly touristy which was a nice surprise. The staff barely spoke English, but our room was very clean and the breakfast was okay. This property is about a 15 minute walk to the Grand Palace and a 10 minute walk to Khaosan Rd. At the time of writing it had a very respectable score of 8.1/10 based on 164 verified guest reviews. Look elsewhere if you don't want a budget stay, however.
Where to stay to access Chatuchak Market?
We wouldn't recommend staying in the vicinity of the market.  Instead find a hotel near the sky train.  If you are on a budget try the Khaosan area.  We typically book our room in Bangkok with either www.agoda.com, www.booking.com or www.hotelscombined.com. Just be sure to check the specific location of your preferred hotel prior to confirming. Here is a list of their respective properties for Bangkok to save you some time:
Top Rated Properties in Bangkok
Based on Verified Guest Reviews
Important: Mobile Users must swipe from left to right to see entire table.
Criteria:
Properties rated based on 'overall' review scores from each respective website's verified guests.
Minimum of 50 verified guest reviews required to be considered eligible for comparison.
All star ratings and verified guest review scores are tallied at the time of writing, and therefore, are subject to change.
Regardless of where you decide to stay, enjoy your time in Bangkok.