Bangkok welcomes millions of tourists every year.  Many of whom arrive to bustling Bangkok with no previous experience travelling in Southeast Asia.  This makes Bangkok both an "exciting" and a "slightly intimidating" place to take in what Southeast Asia has to offer. One of the challenges you must consider when visiting a city like Bangkok with so many sites on display, is prioritizing what are the "must sees" from everyday attractions throughout the city. Wat Pho gets a lot of attention from guidebooks and travel websites around the world.  If you are not familiar with Wat Pho, it is a famous religious and historical site found in Bangkok's famous tourist corner. In this article, I plan to provide an unbiased overview about my recent experience visiting Wat Pho in Bangkok to make your itinerary easier to develop.
Why is Wat Pho famous?
Well, due to its massive reclining Buddha it receives lots of attention.  To be more specific, Wat Pho is not only a temple with an impressive reclining Buddha, but instead it is a fairly large complex of structures.  Wat Pho is the main temple within a walled complex containing the reclining Buddha.  Therefore, when you pay the entrance fee to Wat Pho, don't think that this only allows you to enter the main building.  You can wander around the temple grounds at your own pace, and enter to see the reclining Buddha when you feel the time is right.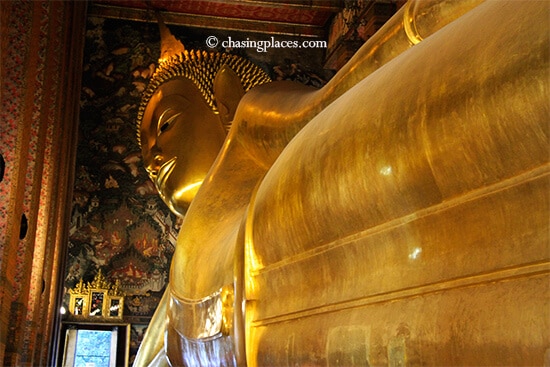 Expect a Line to Wat Pho
I visited Wat Pho during low season in Thailand at about 11:00 am in the morning.  There was a very small line to see the reclining Buddha.  I would expect this to be much longer from December to March or June to August when more visitors are on vacation. Wat Pho is open daily from 8:30 am to 6:30 pm.  Therefore, to avoid too much congestion try to get there right when it opens or around 6:00 pm (near closing).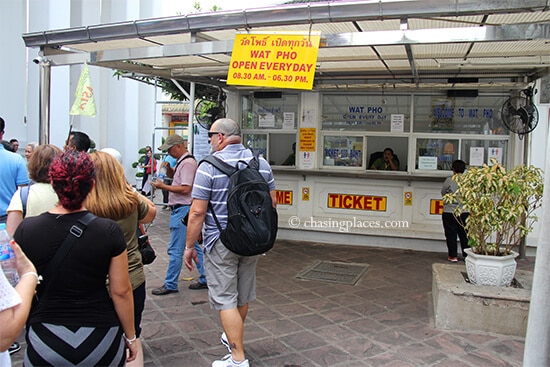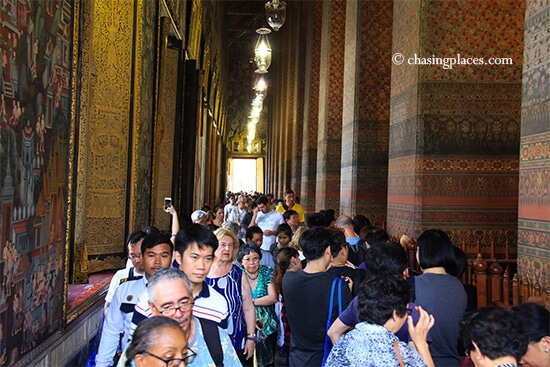 Was the Reclining Buddha Worth Seeing?
I personally felt that seeing the reclining Buddha was definitely worth the price of admission. It looked large and the way in which it was situated in the Wat was unique from other Buddha statues that I have seen before.  I think that a very long queue in Bangkok's sweltering heat might change my opinion, however. Due to the size of the Buddha it isn't the easiest structure to photograph. As you walk into the Wat you will first come across the upper (head) section of the Buddha statue.  Then, you will have to walk parallel to the Buddha until you reach its legs. Here, you will get the best opportunity to get a good photo to show how long it actually is. Since the flow of tourists behind you will most likely be steady, I suggest having your camera prepared before you enter Wat Pho because "walking back" to take photos will not be very practical at the time. After you have seen the front of the reclining Buddha you will walk parallel to its back to a different door. The photo opportunities on your way back are not nearly as good.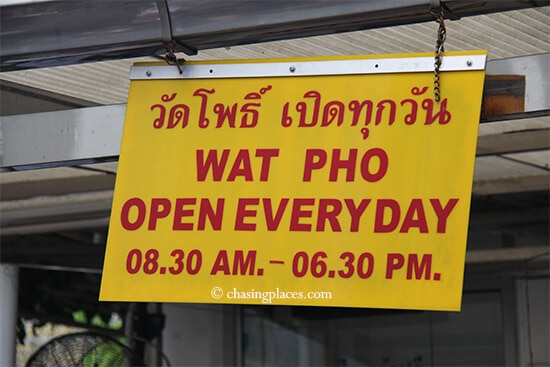 Travel Checklist: Do you have everything you need?
How much does it cost to see Wat Pho?
During my visit to Wat Pho the price of admission was 100 Baht.  This price also included a complimentary small water bottle. After I saw the reclining Buddha I immediately went to the small water station to collect it. After you have seen the reclining Buddha you can also walk around the complex if your time permits. You might want to consider checking out the other structures in the complex first if the line is too large to see the reclining Buddha initially. The 100 Baht entrance fee is quite reasonable in comparison to the Grand Palace's 500 Baht entrance price. Also, take note that you will have the opportunity to place your shoes in a bag before entering Wat Pho.  You can then carry the bag with you until you exit the Wat. Then you can place your shoes back on and pass the bag back to one of the containers provided.  I thought this was a good idea that limits the potential confusion of finding your shoes amongst hundreds of other pairs. The bag should be free of charge.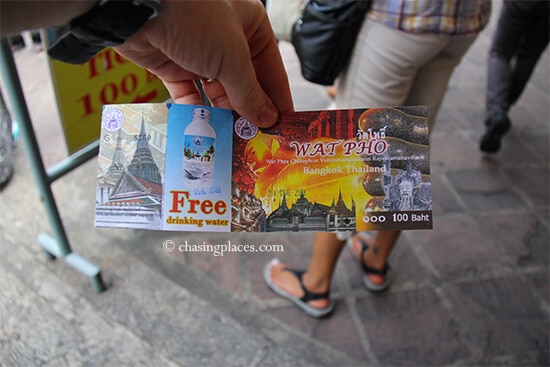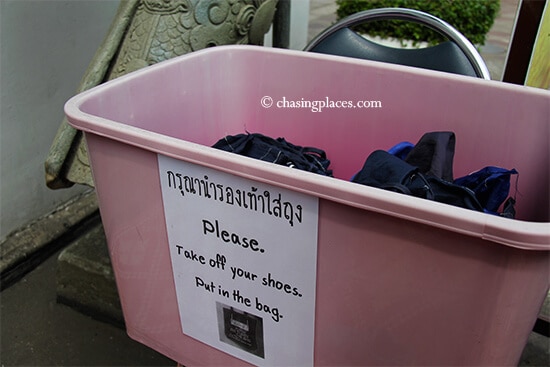 The Grand Palace, Wat Pho and Wat Arun
Since Wat Pho is conveniently located in the heart of the historic region of Bangkok, it's also close to some of Bangkok's other prime attractions like The Grand Palace and Wat Arun. Here is our popular article which outlines how to get from Wat Pho to Wat Arun. The Grand Palace's main entrance is only about a 10 minute walk from Wat Pho. I suggest going to the Grand Palace first and then Wat Pho. Then, finish off at Wat Arun across the river. Since the Grand Palace is the most popular attraction in Bangkok get there early to beat the huge crowds and while they are still in the Palace complex try to reach Wat Pho. Wat Arun should be a bit quieter because requires a short ferry ride to reach it.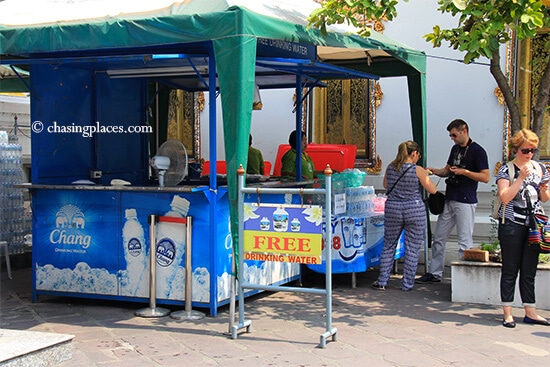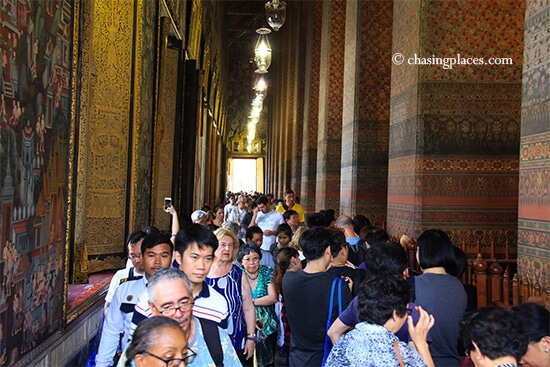 We are dedicated to providing informative, unbiased travel information about Bangkok, Thailand, and all of the destinations that we visit. To access our ever growing list of articles about Bangkok and Thailand click here.
Where did we stay in Bangkok for this trip?
We have been to Bangkok on multiple occasions. Typically, we try to stay in the Khaosan Rd. area due to the wide range of restaurants and tourist services in that part of Bangkok. Our last time in the city we decided to stay at Baanboran. We don't have a direct affiliation with this property or any property in Bangkok, therefore our opinion is an unbiased one. Overall, this was a pretty interesting place to stay. The property itself is quiet at night and it sort of looks like a family operated establishment with an antique wooden house in the middle of the property.  The staff were nice, but spoke little English. The rooms were clean and it was about a 15 minute walk to the Grand Palace and a 10 minute walk to Khaosan Rd. It's a a great budget choice, but if you're looking for something a bit more refined and upscale I would recommend something else. At the time of writing it had a very respectable score of 8.1/10 based on 164 verified guest reviews.
How to get the cheapest rooms in Bangkok?
Bangkok has a massive selection of rooms to choose from. Literally, thousands of choices are spread throughout the city. Regardless of which site you use, always be sure to check the exact location of the hotel/guesthouse because some areas of Bangkok are not the best for families, etc. Try using www.agoda.com – this is the largest booking site in Southeast Asia (and Bangkok). Another popular option is Booking.com. If you are on a strict budget try using www.hotelscombined.com – this allows for quick price comparisons from the world's leading accommodation sites. I have included links to their respective property lists for Bangkok to save you some time.
Top Rated Properties in Bangkok
Based on Verified Guest Reviews
Important: Mobile Users must swipe from left to right to see entire table.
Criteria:
Properties rated based on 'overall' review scores from each respective website's verified guests.
Minimum of 50 verified guest reviews required to be considered eligible for comparison.
All star ratings and verified guest review scores are tallied at the time of writing, and therefore, are subject to change.
Alternatively, you can also:
Compare Room Prices in Bangkok – www.hotelscombined.com
In the meantime, feel free to ask any questions below and let us know how your visit to Wat Pho went.  Safe travels!