If you're visiting the Thai island of Koh Phi Phi for a couple of days; going for an island tour is definitely one viable option that will allow you to soak up some time and have fun while at it. Conveniently, island tours are easy to arrange once you are already on Koh Phi Phi Island. From the time you step onto the entrance pier to the island, you will immediately notice signs offering island tours scattered everywhere. And once you get to your hotel or guesthouse, the host or manager will most likely offer to arrange an island tour on your behalf.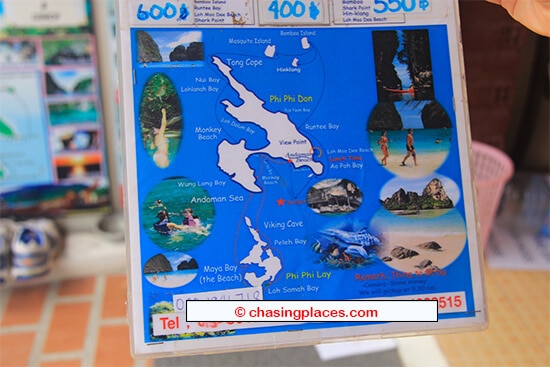 A Matter of Pricing
One thing you need to know about booking island tours on Koh Phi Phi is that prices can slightly vary, depending on who you are booking it with. If you are arranging it at your hotel, they will most likely quote a price that is slightly higher than the usual, as the extra cost is counted as their commission.  We are talking about a commission ranging from 20-40 Baht. So if you like the management and don't mind them getting commission off of you; then purchasing the ticket from them is no issue at all. However, you should also be aware of how much a fair commission is supposed to be; there is a fine line between getting a commission and overcharging (a.k.a ripping you off).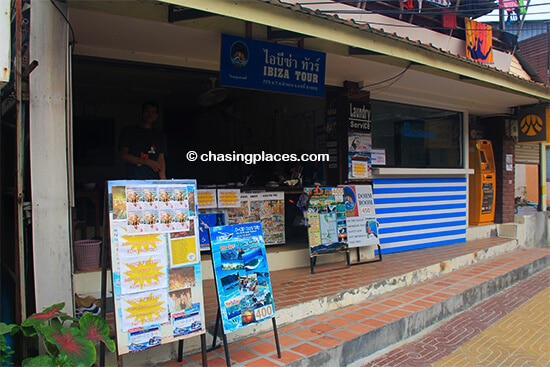 If you're on a budget and would like to get the best price possible, then we suggest that you take your time to shop around. When you walk to the main commercial area on Koh Phi Phi Island (the isthmus portion), you will see many small booths and offices that offer island tours.  These offices are the "middle men", which means that they are not direct representatives of the company providing the tour, but are instead agents, whose main purpose is to sell the tickets. Being agents, they also put commission on top of the original price. This is why prices from agent to agent can vary, even if the tour is run by the same boat company.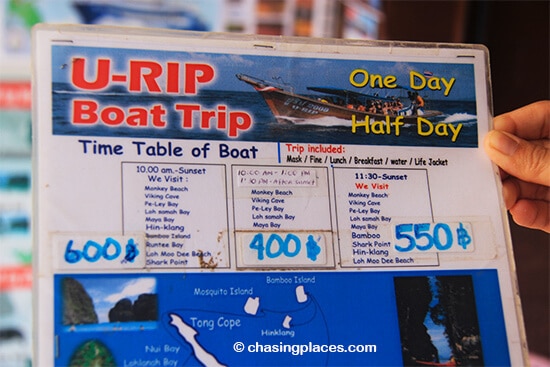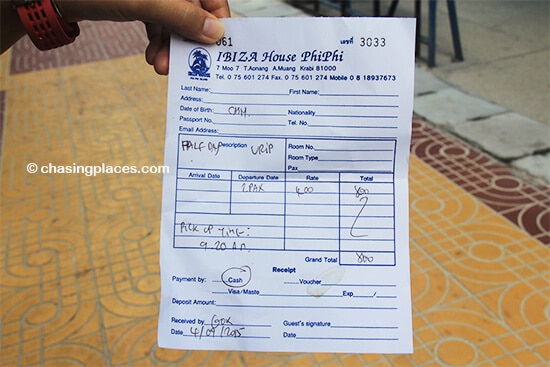 The Agents
The more you travel in Thailand, the more you will realize how much locals like this 'middle men' system.  On the economic side of things, this system provides jobs to many small-time Thai entrepreneurs, who can get a slice of the revenue pie brought about by the country's booming tourism industry.
The issue with this 'middle men' system is that it can be confusing for first time travelers to Thailand. The main responsibility of the agents is to give you the ticket and tell you when and where to show up. However, they do not hold any responsibility if the tour that they are promoting will go well or not. In other words, if you have issues and concerns about the trip, you can't go back to the agents to complain.  They can be charming, knowledgeable about the tour and decent in English, but once you have paid the fee, that's the end of their job.  The receipt for the tour that they provide will not have their details, but instead, the details of the company providing their tour.
Tour Types
Even though there are a couple of companies that offer boat tours on Koh Phi Phi, you may be surprised to know that the itineraries for all companies are very much similar. It is not clear to us whether this startling similarity is born out of convenience (proximity of the islands) or lack of imagination among competing companies.  Thus, when it comes to the itinerary, your choice of company to go with, makes no difference.
The tours come in two major types 'half-day' or 'whole day'.  Aside from the length, there are also tour classes depending on the type of boat you would like to go on to. The basic tour type is on a longboat. This is the choice for backpackers and budget travelers. Higher classes of tours make use of speedboats or yachts.  Due to our own experience, we will mostly focus on the island hopping tour that uses longtail boats.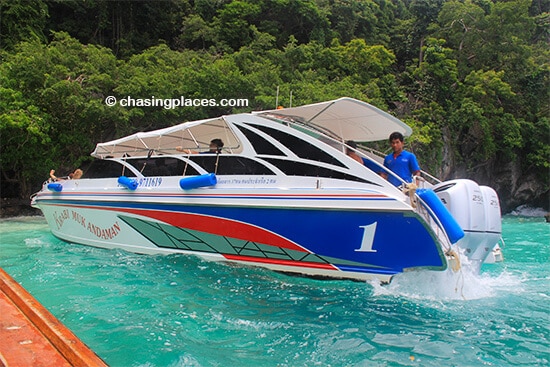 Full day tours can start at 10 am, while others begin at 11:30 am until sunset (perfect for those nursing a hangover from the previous night of heavy partying).
Half day tours can start at 10 am and 1:30 pm. Check sample timetable below. But take note that the hours can slightly vary depending if it's high or low season.
The Stops:
Monkey Beach
Monkey Beach is one of the stops for full-day and half-day tours. It is close to Koh Phi Phi pier on the western side of Loh Dalum Bay. During high tide, the tiny beach is below sea level so it is hard to get off the boat. The longtail gets close enough for you to see the only local inhabitants in the area– Macaque monkeys, which are used to having visitors toss them some food. Despite having hundreds of tourists give them food each day, the monkeys always seem to be famished. They jump and down along the rocks and compete against each other to get a piece of bread or banana tossed in the air. Perhaps the coolest part of this visit is when you see them swim. If you have not seen hungry monkeys before, this visit is worthwhile. But if you are living in Southeast Asia, this stop is nothing extraordinary.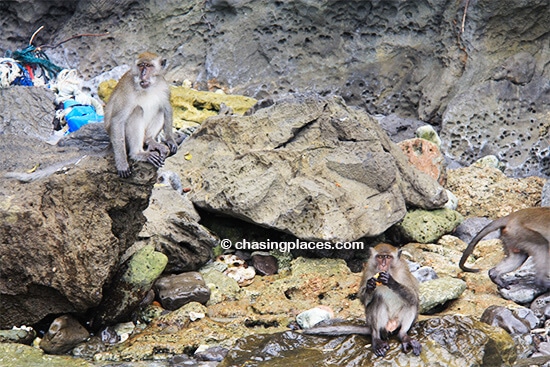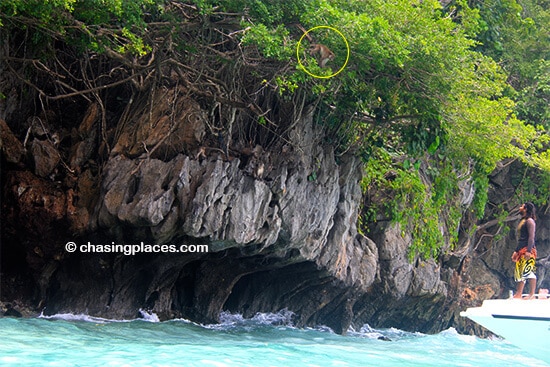 Travel Checklist: Do you have everything you need?
Maya Bay
Well, as mentioned before this is the highlight for many tours, and boatmen tend to devote the most time to this stop. But Maya Bay is in fact, the most crowded spot. To give more idea of this world-famous bay, read our extensive article. For half-day tours, Maya Bay is most likely the first stop as it is the longest.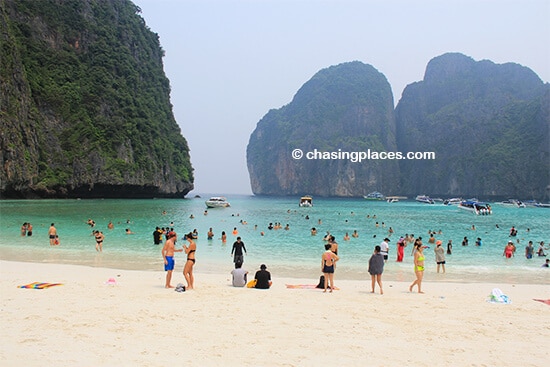 Viking Cave
Most tours don't usually involve going into the cave, despite its cool name. The boat usually just slows down to give tourists the opportunity to get photos of it. There are apparently some cave paintings inside, but your boatman most likely won't explain this. We felt it was more like a 'fill-in" attraction, an added site to make the itinerary look fuller. They were also doing some construction work on the cave during our visit to Koh Phi Phi.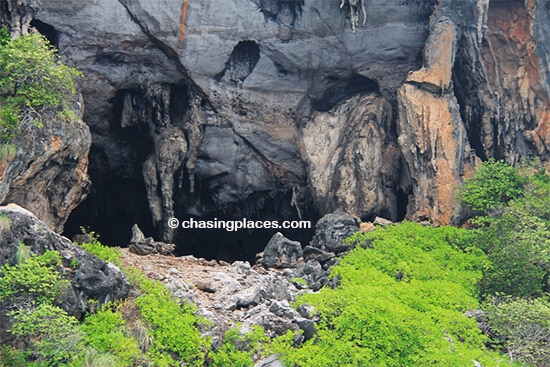 Phe Lay Bay
Also called Phileh Bay, this small but beautiful lagoon is nestled on the eastern section of Phi Phi Leh Island. Tour boats tend to anchor within the lagoon and allow passengers to snorkel around the surrounding water. Snorkeling here is decent with many opportunities to see colorful fish. If you brought bread, then the fish will really swarm around you. Whether feeding the fish is an ethical thing to do or not, our boatman was seemingly encouraging tourists to do this.
Full day tours usually include visits to other spots around Koh Phi Phi Don such as Mosquito Island, Run Tee Bay, Loh Moo Dee Beach and Bamboo Island. Shark Point, in particular, is a great spot for snorkeling, but it's certainly not a guarantee whether you can actually see sharks.  But if you opted to do a half-day tour, you can still visit such places individually by hiring a longtail boat.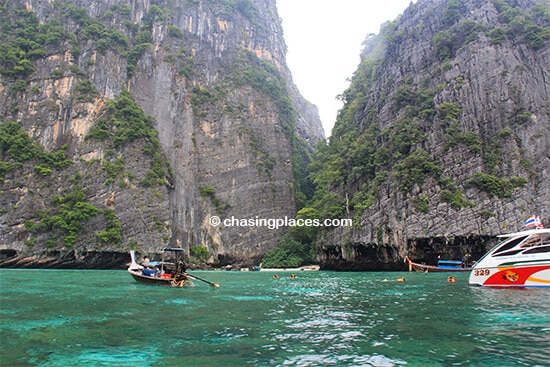 Tour Length and Process
Both itinerary lengths feature what is considered to be the highlight attraction, which is none other than Maya Bay. So if seeing this world-famous bay is your priority, you can do that on either type of tour.
At the beginning of the tour, you will be asked to make your way to a certain spot, most likely at the ticket office where you bought your tickets originally. You will be met by a company representative who will confirm if you are part of the tour. Then he will ask you to walk with him all around the island to pick up other tour participants. This process is odd and a little awkward as the representative does not explain the process and will just tell you to follow him. Once our guy gathered all attendees, he then brought us to a beachside restaurant to get breakfast. Expect to share the space with other tourists going on the same kind of tour.
After breakfast, the Thai representative will direct the group to their respective boats, dividing the half-day and full-day tour.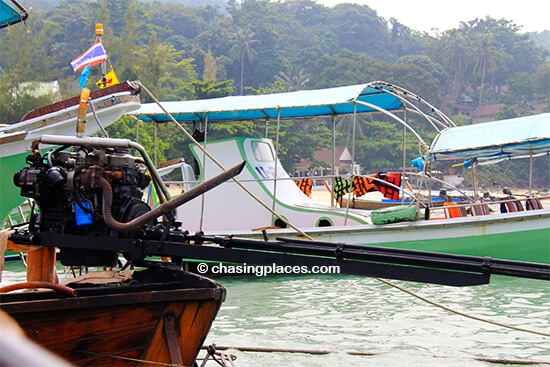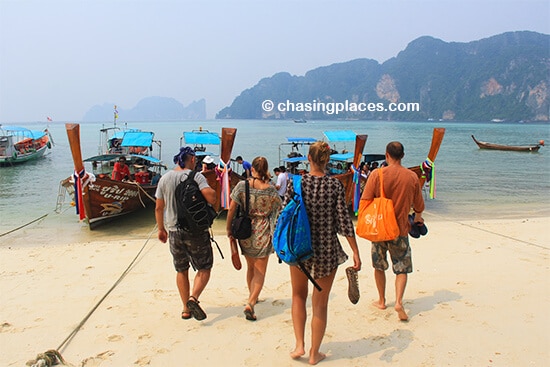 Tour Meals
Most tours, whether half-day or full-day, include meals. If you choose half-day you get breakfast, and at times, lunch.  Agents promoting island tours will use the 'meals included' add-in as a way to entice you to go on the tour. But based on our experience, the meals during any island hopping tour on Koh Phi Phi are not something to particularly look forward to.
The breakfast is usually buffet style in a restaurant located from quite far from the central pier. You will most likely get fruits, fried rice and some kind of meat, but don't expect it to be extravagant unless you are getting a higher class of tour. The lunch for half day tours will most likely consist of fried rice with no drinks, so we advise that you keep your expectations for this particular meal particularly low. The longtail boat you will go on will most likely be docked close to the restaurant.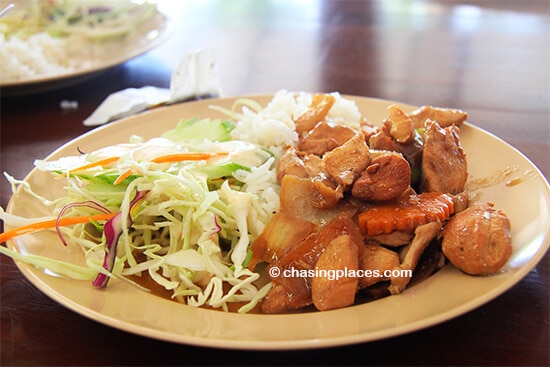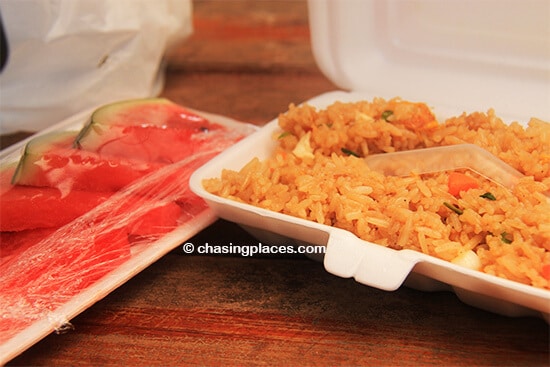 Important Reminder
When you book a tour, your agent should tell you that you will need to pay additional 200 Baht for the environmental fee. The agent does not collect this, but it will be collected before you have your breakfast. Some agents neglect to say this important bit of information. Thus, it has caused confusion and angered tourists for having to pay more than what they thought the initial tour price was.
Final Thoughts
The whole breakfast and dividing the groups was the worst part of our island-hopping tour experience. This is because we found the company representatives to be rude and unhelpful. We had to figure out what was happening on our own because they gave no explanation. There was also an issue regarding a delay starting the tour. We had to speak up and ask them when we would go on the boat. We are not entirely sure that this experience is the same for everybody. This does not also mean that we are strongly against going for an island hopping tour on Koh Phi pHi. Some parts of the tour are great and we are glad we did it. But going for a half-day was definitely enough for us. In the end, it is a matter of preference and building the right expectations.
Where did we stay on Koh Phi Phi?
We have been to Koh Phi Phi on multiple occasions and it's sometimes tough to find a clean spot that's close enough to the beaches without being too loud at night.  The last few times we have stayed at P.P. Casita. We have no direct affiliation with this property or any of the properties on Phi Phi, therefore our option is an unbiased one. The room was nothing extravagant, but it was clean.  They have a nice little pool and a pretty impressive breakfast buffet. It was also quiet at night and only about a 3-minute walk to the beach. We think that the score of 7.4/10 is pretty accurate for this property based on the 3423 verified guest reviews at the time of writing. If you're looking for something a bit more relaxing and far removed from Phi Phi's hustle and bustle then consider the highly rated Zeavola Hotel.
How to get the cheapest rooms on Koh Phi Phi?
There is probably no better island in Southeast Asia than Koh Phi Phi to book your room online well before you arrive.  Phi Phi can get super busy especially from November through to March. Also, most of the highest rated places to stay get booked up early leaving "first timers" visiting the island scrambling to find a clean place to stay away from the pulsating music at night. Lesson learned.
Try booking with a large provider such as www.agoda.com (Thailand's most popular booking site) or a reputable price comparison site such as www.hotelscombined.com. Be sure to refer to their respective map tools prior to booking to ensure that you are far enough from the intense party scene during your evenings on this scenic isle. To save you time, here are top properties on Koh Phi Phi:
Top Rated Properties on Koh Phi Phi 
Based on Verified Guest Reviews
Important: Mobile Users must swipe from left to right to see entire table. 
Properties rated based on 'overall' review scores from each respective website's verified guests.
Minimum of 50 verified guest reviews required to be considered eligible for comparison.
All star ratings and verified guest review scores are tallied at the time of writing, and therefore, are subject to change.
Accommodation Map of Koh Phi Phi: Top Rated Properties
Alternatively, you can quickly compare room prices on Koh Phi Phi using the search box below: