Situated on the uninhabited island Phi Phi Leh within the Phi Phi archipelago, Maya Bay is arguably the most famous beach in the entire Southern Thai Gulf region. The popularity of this beach is greatly attributed to movie "The Beach" which starred the young heartthrob Leonardo DiCaprio back in 2000.
 How Maya Bay Became Insanely Famous
The movie centered on the lives of young travelers who were on a quest to find a mysterious Thai island, blessed with a beach paradise, far hidden from the ocean by gigantic limestone karsts. The film, itself, put up decent numbers at the box office, but it received lackluster reviews from critics.   Word quickly got out that the stunning beach featured in the movie was none other than Maya Bay.  This started a tourism frenzy in the Koh Phi Phi archipelago that has continued 15 years since "The Beach" was originally released.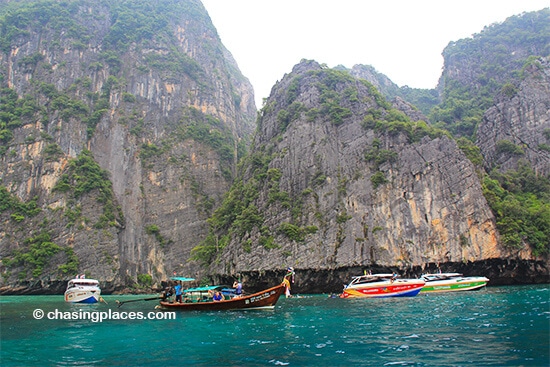 Because of our recent visit to Maya Bay, I felt the need to watch the movie again. There were a couple of inconsistencies about Maya Bay presented in the film that might confuse movie fans and prospective tourists. The first one is Maya Bay's location, which is actually within the Koh Phi Phi archipelago and nowhere close to Koh Phangan, as suggested in the movie. The second fallacy is that the bay is completely closed off to the ocean by limestone karsts. And although there are indeed spectacular limestone cliffs protecting the bay; a huge opening to the ocean exists. These fallacies, however, do not take away from the beauty of Maya Bay.
"The Beach" Controversy
It is also important to note that the Maya Bay we see today is not how it used to look before the movie was filmed on the island.   Environmentalists were shaken up and controversy stirred when the film production decided to alter the ecosystem on the island by removing original trees and plants, and replacing them with palm trees; all in the name of making Maya Bay appear more "tropical" for the movie.  Complaints were lodged by environmentalists, who were baffled by the government's decision to allow the production to make such alterations, especially because Koh Phi Phi Leh is part of a protected marine park.  The movie ironically talks about environmental conservation; and its lead star DiCaprio has eventually become an outspoken Hollywood crusader for Mother Nature.
Thoughts on the Famous Bay
Having seen Maya Bay, I cannot deny that it is truly a stunning beach. It has white pearly powdery sand and possibly the clearest water out of all the bays in the region.  The limestone karsts that jut out of the water and look like mighty guardians give the bay a unique character. It is hard to find any other beach in the world that has those picturesque limestone formations set up the way there are at Maya Bay. What's surprising is that the beach itself is not that long, barely 500 meters long; but the number of tourists it receives on a day-to-day basis is mind boggling.
Maya Bay is definitely beyond gorgeous, but it is hard to enjoy its beauty when there's about a thousand people crammed on this small bay. I couldn't really enjoy the view of the water and karsts, as they were disrupted by almost 70 longtail and speed boats coming in and out of the bay.  It was a 'superlative' display of mass tourism.  Admittedly, the visit made me feel uneasy and torn.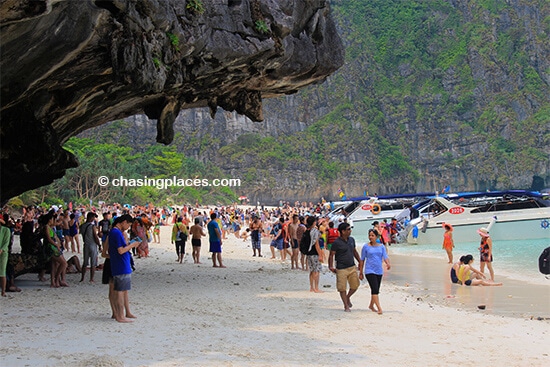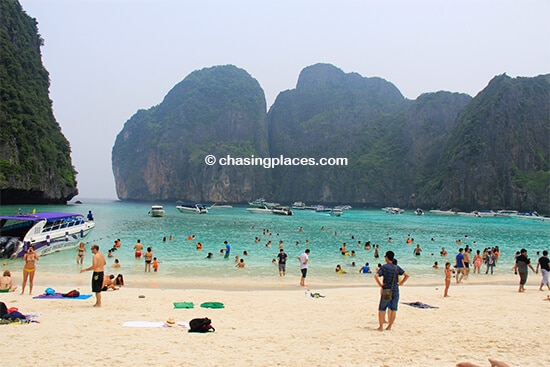 There's no doubt that Maya Bay is a money-maker for the local tourism industry and at this point, nobody can stop people from coming to see one of the most beautiful beaches in the world. I normally would have no problem with crowded attractions, especially when such places deserve their popularity. A museum, concert, and even an ancient city can handle the crowd, but can Maya Bay's fragile ecosystem, which has already been altered, do the same?
Given that it's officially part of a marine park, and to ensure the preservation of its natural beauty, I personally feel that regulations must be set to limit the number of people and boat operators coming into Maya per day. Perhaps this is one of those things that are easier said than done, and you may think it's more convenient for me to voice out this wishful thinking as I already had the opportunity to see the enchanting bay myself. So if you are still wondering whether you should visit Maya Bay or not? Only you can answer this question my dear travelers, only you.
Take note that Maya Bay is separate from Koh Phi Phi Don, where accommodation is available for tourists. If for some reason you won't be able to see Maya Bay, your visit to Koh Phi Phi Don will not be in vain, as this place is stunning on its own.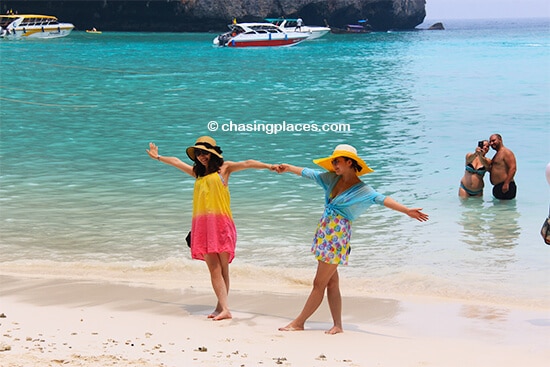 Travel Checklist: Do you have everything you need?
If you decide to Visit Maya Bay
I strongly recommend renting a private longtail boat opposed to joining a tour group. Since most tour operators leave Koh Phi Phi Don around the same, many boats tend to arrive at Maya Bay around the same time as well. Therefore, to beat the large crowds try to get there early in the morning before the packaged tour groups start showing up.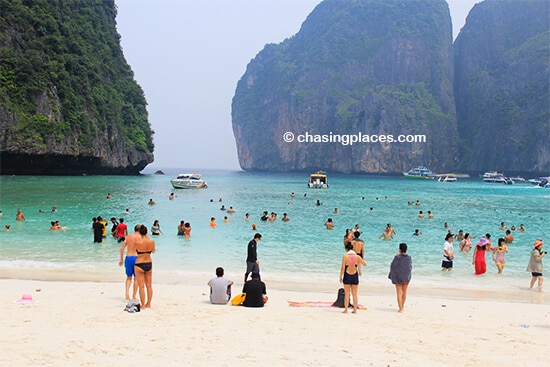 Of course, you will have to shell out more cash for the private longtail boat. So, if you choose to go on a tour group for budget reasons, make sure to remember what your longtail boat looks like and where it's exactly docked on the bay. This may sound like a silly advice but because of the sheer number of longtail boats and their similar appearance, it's easy to get confused.  Once you've reached Maya Bay, your boatman will tell you when you're expected to come back onboard to continue the tour. Follow this time frame to avoid delays.
How to Get to Maya Bay
All standard boat tours offered on Koh Phi Phi Don, whether they are half-day or full-day, go to Maya Bay. It's an automatic thing for tour operators to assume that all tourists who come to Koh Phi Phi would like to see Maya Bay. Most longtail boats and organized tours that leave for Maya Bay, do so from Ao Ton Sai (Ton Sai Bay).
Give us your opinion about Maya Bay. We are always interested in hearing updates about the conservation of tourist sites around the world.
Where to stay in order to visit Maya Bay?
There are some tours that originate in Phuket, Koh Lanta, Ao Nang and Krabi that bring tourists to Maya Bay. However, by far the most practical and convenient plan is to stay on Koh Phi Phi Don; as it is only about a 20-minute longtail boat ride from Maya Bay and it has more than enough tourist accommodation options and services to please all budgets. There are more than 200 hotels on this island that can be found on HotelsCombined.
Where did we stay in Koh Phi Phi?
While we were on Koh Phi Phi we wanted to be close to the beach while still far enough away from Koh Phi Phi's notorious pulsating music at night.  Eventually, we decided to stay at P.P. Casita. The hotel rate includes breakfast, which was pretty good and the staff was friendly. It is only a 5 minute walk to the beach, but still relatively quiet at night.  t could be argued that it's too expensive during high season.  We would tend to agree with this.  At the time of writing it had a score of 7.4/10 based on 3424 verified guest reviews. We consider this to be a fairly accurate score based on our experience there.
To save you time, here are the:
Top Rated Properties on Koh Phi Phi Based on Verified Guest Reviews
Important: Mobile Users must swipe from left to right to see entire table. 
Properties rated based on 'overall' review scores from each respective website's verified guests.
Minimum of 50 verified guest reviews required to be considered eligible for comparison.
All star ratings and verified guest review scores are tallied at the time of writing, and therefore, are subject to change.
Accommodation Map for Koh Phi Phi