If you are planning on visiting Koh Lanta then this article is intended to provide you with an unbiased overview of the top hotels, resorts and budget options on the Island.  We have spent considerable time on Koh Lanta, and one thing is for certain: if you want convenient access to Lanta's nicest beaches, then you should try to book a room along the western shoreline. The challenging part about finding the correct room on Lanta is selecting the right beach to suit your preferences.  Koh Lanta has numerous stretches of sand making it somewhat challenging to narrow your choice down to only one. In general, we felt the beaches became more remote and exotic as you progress towards the southern tip of the island and Mo Koh Lanta National Park.  The beaches up north near the pier are still nice enough and convenient to access, but they lack the frontier feel that Koh Lanta is truly known for. Koh Lanta is quite undulating in certain areas, therefore if you are not located right near the beach, expect some steep climbs to your room especially in the southern region of the island.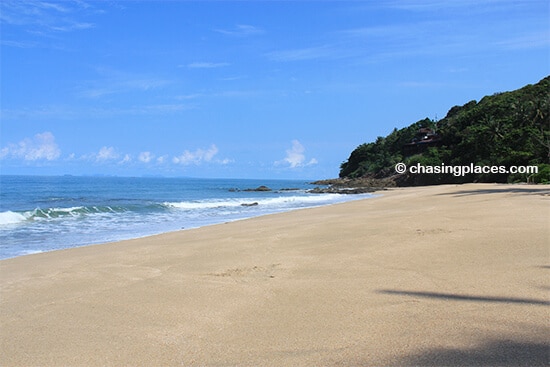 Here is our unbiased overview of the top hotels, resorts and guesthouses on Koh Lanta Island:
Conveniently located on Pra Ae Beach, Layana Resort and Spa is without question one of the top resorts on Koh Lanta. At the time of writing is had a superb guest review score of 9.3/10 on Thailand's top accommodation site. Guests rave about their service and they have been known to serve spontaneous treats to their guests while they chill out on the beach. If you have the room in your budget, you will most likely appreciate the spacious rooms at Layana Resort and Spa. Since this resort is located roughly half-way down the western shoreline of Koh Lanta, it is perfectly located for exploring both ends of the island.
During our time on Koh Lanta we stayed on Kantiang Bay (sometimes called Ba Kan Tiang Beach). It is a long, wide stretch of beautiful sand found in the southwestern corner of the island that still manages to retain a laidback vibe despite its growing popularity.  Pimalai Resort and Spa is prominently located right in the middle of Kantiang Bay.  The resort itself, is beautiful, but its location is hard to beat. When you also consider the positive reviews it receives, it comes as no surprise that this is one of the most sought after resorts on all of Lanta.
Travel Checklist: Do you have everything you need?