Kuala Lumpur, the mighty Federal Territory of Malaysia, is no doubt one of the most developed cities in the Southeast Asian region. A tourist's journey in Malaysia often starts in this ultra- modern metropolis as it's the major destination for many prominent airlines.  But if you only have one day to explore Kuala Lumpur, let us help draft up an itinerary of attractions that no Kuala Lumpur visitors should miss.
So if you only have one day to tour Kuala Lumpur, here's a sample itinerary that may suit you:
Morning Itinerary in KL
Batu Caves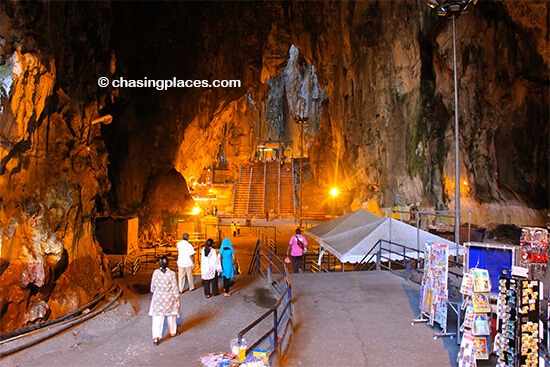 Malaysia is not exactly a melting pot of cultures, instead, the major cultural groups, Chinese, Indians and Malay have somehow managed to maintain their identity, religion and way of life in a reasonably harmonious environment.  If you are interested to see the more cultural and religious part of KL, then make your way to Batu Caves.
Batu Caves is a sacred Hindu temple right within the vicinity of the Kuala Lumpur metropolitan area. Instead of a building, the temple is housed within a natural limestone cave, which you can access by climbing more than 200 steps.  Batu Caves is the venue for the all-important Hindu festival Thaipusam.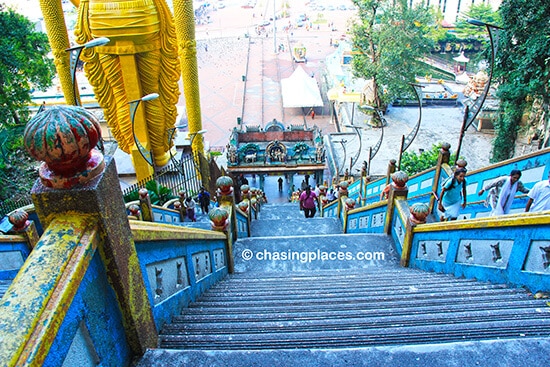 To reach Batu Caves from any point in the city, you can take a metered taxi. You can also take the KL Commuter Train service at KL Sentral – the main train station in the city. For more information about Batu Caves, click here.
Batu Caves is an ideal early morning destination as the temple is free for the public to visit all throughout the day.
Estimated time of exploration: 1- 2 hours
KL Bird Park
Malaysia is known for its lush environment and wildlife. And you can get a taste of this when you make your way to the KL Bird Park.
KL Bird Park is the perfect attraction for visiting families, but any nature lover will appreciate this park, which is nestled in the British-inspired Lake Gardens. On its official website, the Bird Park is tagged as the "world's largest free-flight walk-in aviary." From hornbills, ostriches, flamingoes to peacocks, you will find various fascinating fowls in a vast setting that is less flashy or commercial than the usual zoo.
The best way to reach the KL Bird Park is by taking a taxi, as this area is not directly serviced by train or bus. KL Sentral and Pasar Seni are the closest train stations to the park. A short taxi ride from either of these stations is recommended if you're not up for walking in KL's sweltering heat.
Estimated time of exploration: 2-3 hours
Afternoon Itinerary in KL
Petronas Twin Towers
After visiting Batu Caves and the Bird Park, your next stop can be the Petronas Twin Towers. Soaring above KL's downtown, these iconic towers have become a symbol of power and prosperity for Kuala Lumpur.  Although they're not anymore the tallest buildings in the world, the Petronas Towers never fail to impress visitors with its unique architecture that is both powerful and artistic. The Twin Towers' look captures what it is to be truly modern Asian. You can take photos of the towers from different angles.  Beneath the twin towers is the sophisticated KLCC Suria Mall, where you can shop and have lunch. If you walk through the mall to the opposite end of the towers, you will find a beautiful well-manicured park with a lovely fountain in the middle. If you don't feel like window shopping, then you can also check out the KLCC Aquaria, a large marine center attached to Petronas Suria Mall that is home to a range of marine animals, originating both in Asia and from the other continents.
Important Note: Do not hire the taxis that are parked within the vicinity of the Petronas Towers. These taxis do not use the meter and are known to charge customers with an exorbitant fixed rate. No matter how convincing they may sound in terms of justifying their offered rate, they are most likely overcharging. Walk a few kilometers away from the towers, and hail a cab driving on the road. You can also make use of mobile app called MyTeksi.  The app locates a taxi driver who is willing to use the meter, for only an additional 2 RM fee.
Merdeka Square
After having lunch and relaxing around the tower area, you can proceed to Merdeka Square. This square is home to a football field referred to as 'Padang', a landmark very characteristic to British colonies in Asia. It is surrounded by two historical buildings, The Royal Selangor Club and the Sultan Abdul Samad Building. The Malayan flag was first raised in Merdeka Square, symbolizing the independence of the Malayan peninsula from British rule. Since then, the square has been the host of the yearly Merdeka Parade and the starting point for various runs including the KL Marathon.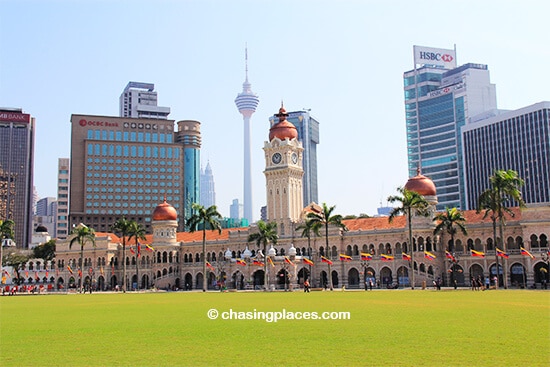 Travel Checklist: Do you have everything you need?
Central Market and Petaling Street
From Merdeka Square, you can walk to Central Market. This market is home many Malaysian products and handmade crafts. There are also many stalls around the market area that sell local snacks and street food. The fish foot spa located within the main building of the Central Market is a big hit among visitors.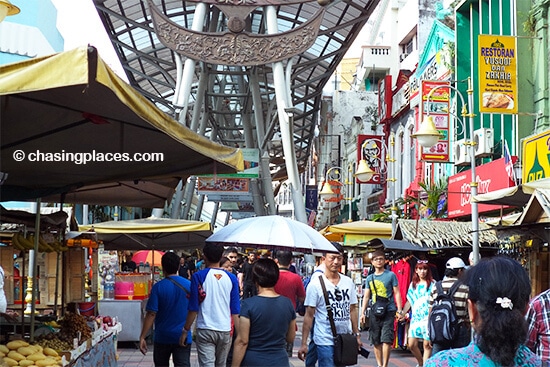 As the sun sets, it is time to walk over to Petaling Street, the "Chinatown" of Kuala Lumpur. Although Petaling Street is identified as the main market street, Chinatown technically spills over adjacent streets in the area known to locals as Puduraya.  Chinatown is mainly an open-air street market selling clothes, shoes, luggage and accessories. But if haggling for a bootleg Louis Vuitton bag is not your cup of tea, then Chinatown is a great place to just dine or have drinks while people watching.
Important Note: Merdeka Square, Central Market and Petaling Street are all within walking distance from each other.  Taking a taxi from one of these place to another is not practical as the roads are often congested, especially during weekdays.  To get from the Petronas Twin Towers to the Puduraya area (to access the attractions mentioned), you can take the LRT Kelana Jaya Line to Pasar Seni Station or the KL GO BUS service, which stop is in front of the tower entrance.
Estimated time of exploration for the Petronas Twin Towers, Central Market and Merdeka Square: 3-4 hours
Early Evening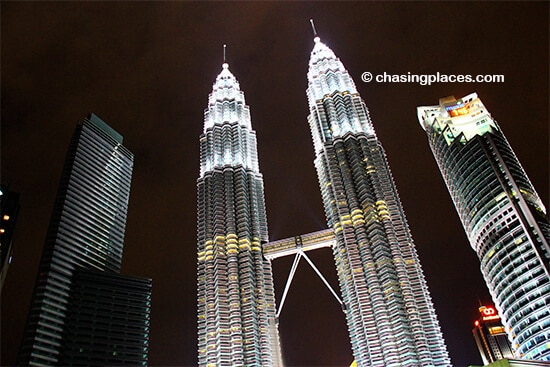 Tower Views
If you still have more energy; head back to the Petronas Towers, to get a view of the towers all lit up at night.  You can also proceed to one of the following restaurants/bars to get splendid views of the towers and the remarkable KL skyline if you make your way to these nearby spots:
Menara KL – Atmosphere 360 (Revolving Restaurant) or viewing platform
Sky Bar-  33rd floor of Traders Hotel KL
Luna Bar – the rooftop bar on the 4th floor of Pacific Regency Suites
Marini's on 57 – Italian Restaurant on 57th floor of Petronas Tower 3 (adjacent to Suria KLCC).
View Rooftop Bar – nightclub on the 29th floor of G Tower Hotel KL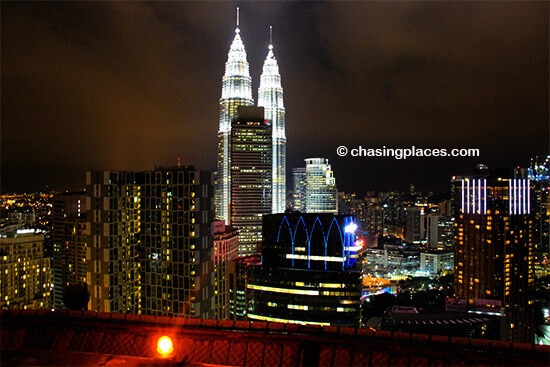 Lake Titiwangsa Park
Another great alternative for capturing KL's skyline is to checkout Lake Titiwangsa Park.  It offers superb panoramic views of KL in a quiet and tourist-free atmosphere.  We suggest taking a taxi to access Lake Titiwangsa Park as the metro access is somewhat inconvenient.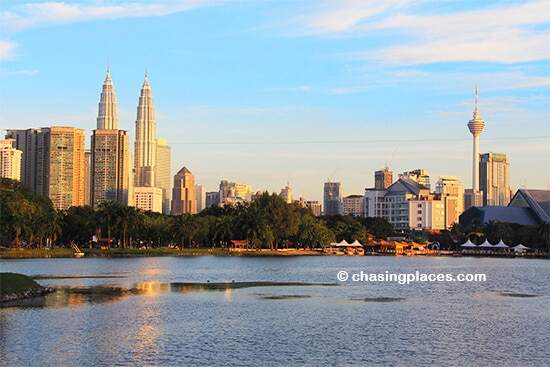 Where do we stay in Kuala Lumpur (as tourists)?
Our most important priorities when it comes to finding our room in Kuala Lumpur are being close to KLCC, close to Bukit Bintang and close to KL's public transit system (LRT or Monrail lines).  It sounds redundant, but the point I'm trying to emphasize here is that location is very important in a city that has frequent traffic jams. We usually stay at the Pacific Regency Hotel Suites. We are not directly affiliated with this hotel, or any property in KL for that matter. Therefore, our opinion is an unbiased one. It's a nice hotel and one of the best bargains in the city with massive rooms.  KLCC is about a ten minute walk, Bukit Bintang about 15 minutes and the Monorail about 5 minutes from this property. If you want something closer to KLCC with superb Tower views then Traders Hotel by Shangri-La is another solid but more expensive option. At the time of writing the Pacific Regency had a score of 8.0/10 based on 8382 verified customer reviews. 
How to find the cheapest rooms in Kuala Lumpur?
Most tourists want so be located right in the heart of Kuala Lumpur (within the Golden Triangle).  I think this is a smart idea considering KL's notorious traffic jams!  The most popular hotel booking site in Malaysia (and Kuala Lumpur) is Agoda.com. Booking.com can also be an excellent choice if you're looking for some more options with cancellation policies and so forth. To save you time:
Top Rated Properties in Kuala Lumpur
Based on Verified Guest Reviews
Important: Mobile Users must swipe from left to right to see entire table.
 Criteria:
Properties rated based on 'overall' review scores from each respective website's verified guests.
Minimum of 50 verified guest reviews required to be considered eligible for comparison.
All star ratings and verified guest review scores are tallied at the time of writing, and therefore, are subject to change.
Many of our readers, who are not quite as loyal to either of these large sites, use hotelscombined.com because it's a price comparison site that works well with tight budgets
Try to stay near Bukit Bintang, or KLCC if at all possible to avoid jams!