Koh Lanta is one of the more interesting island destinations in the southern region of Thailand. Unlike its neighbors Phi Phi and Railay, Lanta receives less tourists and promotes a more laidback and close-to-nature holiday experience.  With plenty of beautiful undeveloped beaches along its western shoreline, Koh Lanta is an excellent destination to get some rest and relaxation with Thai convenience at your fingertips.  (For a Koh Lanta overview, click here).
Unfortunately, Lanta does not have its own airport. Therefore, boats, taxis and buses are the main modes of public transport to get to Koh Lanta. The nearest airport to Lanta is Krabi International Airport on mainland Krabi. During our recent trip from Krabi Airport to Koh Lanta we travelled via mini bus before checking in at our beautiful beach-side resort.
Here are the simple steps on how to get from Krabi Airport to Koh Lanta:
1. Make your way to one of the tour desks at Krabi Airport. Krabi Airport is not a huge airport and thus, all passengers are funneled through one arrival area.  Once you have cleared immigration, you will soon come down an escalator/staircase with the exit from the building very much visible. Do not go through the exit as you will only get confused with the transport arrangement and possibly, be greeted by touts. Instead, approach one of the tour desks near the entrance/exit. You cannot miss them as they have all signs pertaining to transport and tourist assistance.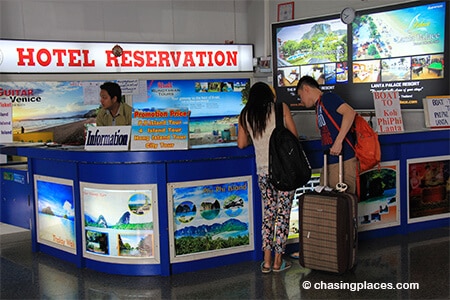 2. Ask for transport to Koh Lanta.  The person in charge will recommend three options, taxi or minibus or ferry depending on the time of year. During high season (November to April) ferries are a solid option, but they are not offered during low season, and during bad weather. Therefore, during low season you will have to take either a taxi or minibus from Krabi Airport to Koh Lanta.
Important things to remember: The journey from Krabi Airport to Koh Lanta Island takes about 2.5-3 hours by bus. Taking a taxi is quicker but the more expensive option and may cost around 3000 baht.
The cheaper option is to take the minibus, which costs 450 baht per person at of the time writing.
3. If you don't have the budget to get a taxi from Krabi Airport to Koh Lanta pay for the minibus and ask for the receipt. Make sure to confirm with the person at the desk that the minibus will drive you to your hotel on Lanta. The desk will have a map of the Koh Lanta. Use the map and ask the operator to locate your hotel on the map so you will have an idea.  Our hotel was located in Kantiang Bay which is slightly farther than most hotels.  They charged us each 50 Baht per person more because of this.
Travel Checklist: Do you have everything you need?
4. Look for the waiting shed where the minibus will pick you up. Unfortunately, the minibus that will bring you to Koh Lanta from Krabi Airport does not go into the airport complex.  You need leave the airport premises in order to reach a public bus stop.  To do this, you need to go around a small park, which separates the airport area from the main road.  Don't worry, everything can be done on foot and the distance is only about 500 meters.  From outside of the arrival area, the minibus stop with its orange roof is visible.  There is one company that operates the mini bus service from Krabi Airport to Lanta and their buses are colored white and blue.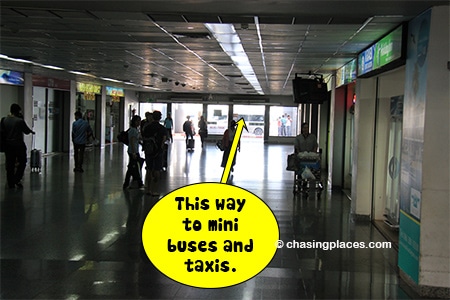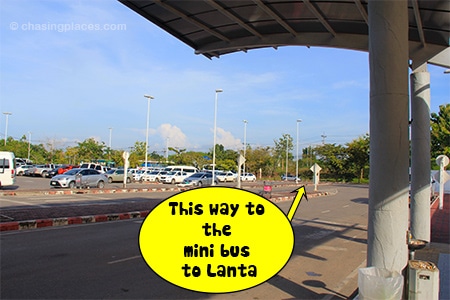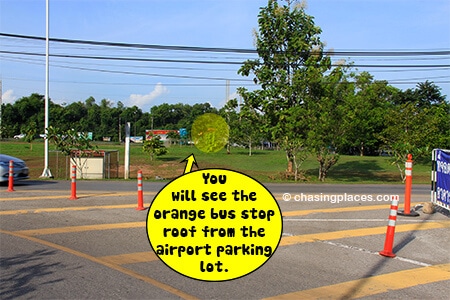 5. Keep your receipt and give to the driver. No matter what happens don't lose the receipt given to you at the tour desk. Once the mini bus arrives, the driver will shout "Koh Lanta" and will ask for the receipt. Tell the driver which hotel/guesthouse you will be staying at on Koh Lanta. He will know where to drop you off.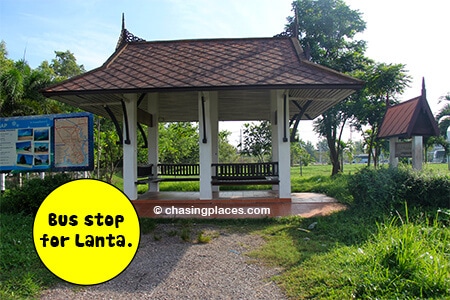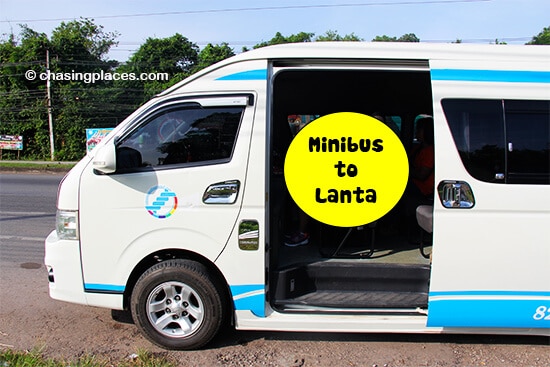 Important Note: In order to reach Koh Lanta, the minibus must make two car ferry transfers.  It will take roughly 60 minutes to reach the first ferry. The first ferry transfer takes the minibus to Koh Lanta Noi (Small Koh Lanta). From here the minibus must drive about 15 minutes further to reach the second ferry transfer that will bring you Koh Lanta Yai (Big Koh Lanta), which is the tourist island.  The second ferry transfer terminates at a pier at the northern part of Koh Lanta Yai.  Thus, sometimes the operator may ask you for an additional payment if your hotel/accommodation is on the far north of the island. The additional fee should only be about 50 baht per person.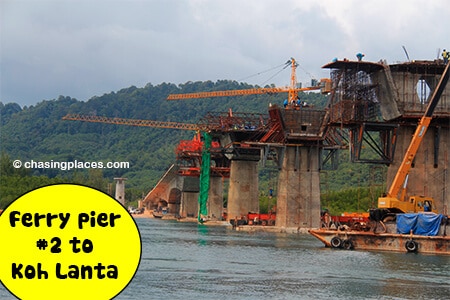 The total trip from Krabi Airport to Koh Lanta should take approximately 2.5-3 hours.  However, if traffic is heavy at the ferries then expect some delays.  During our trip we waited about 20 minutes at the first ferry and then 30 minutes at the second ferry with minimal traffic and it took 2 hours and 40 minutes.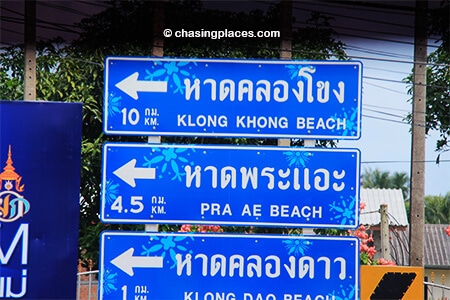 Where did we stay while on Koh Lanta?
The main priority we had while we were planning on our trip to Lanta was to be near the beach without spending a fortune.  Eventually we decided to stay at Baan Lanta Resort & Spa. It's important to note that we don't have a direct affiliation with this property or any specific property on Lanta, therefore we can maintain an unbiased opinion of the place. Overall it turned out to be a nice mid-range resort to stay at.  It's nicely located on picturesque Kantiang Bay.  The staff were friendly and the pool was nice.  Breakfast was well prepared at their beach-side restaurant. At the time of writing it had a score of 7.7/10 based on 263 verified guest reviews.
How to find accommodation on Koh Lanta?
Based on our recent trip to Koh Lanta, try to book your room on the western shoreline of the island.  Some of the resorts and guest houses on the island are located on steep hills quite far from the beaches.  Therefore, read over verified guest reviews before booking.  We have used the following three sites to book our rooms on Lanta over the years: www.agoda.com, www.booking.com and www.hotelscombined.com. I have included links below to their respective property lists for Koh Lanta to save you some time:
Top Rated Properties on Koh Lanta Based on Verified Guest Reviews
Important: Mobile Users must swipe from left to right to see entire table.
Criteria:
Properties rated based on 'overall' review scores from each respective website's verified guests.
Minimum of 50 verified guest reviews required to be considered eligible for comparison.
All star ratings and verified guest review scores are tallied at the time of writing, and therefore, are subject to change.
Enjoy your Koh Lanta trip! For comments and questions, don't hesitate to write to us.