Planning Websites we used for this Trip to Nepal
World Nomads Travel Insurance. 24/7 coverage for 150+ adventure activities. Get a Quote
Momondo, Booking Buddy. We always use these 2 great price comparison sites to find the world's cheapest flights.
Agoda, Booking.com, HotelsCombined. We have relied on these 3 accommodation sites for over 10 years.
See the Complete List of all the Cost-Cutting Travel Resources we use here….
Searching for the Face of Mount Everest
Window or Aisle Seat?
There are all kinds of travelers out there in the world today.  Some love budget backpacking whereas others love the tranquil feeling of relaxing on a freshly raked resort beach.  I find it even more interesting to analyze how different tourists behave during flights.  During my travels I have met all kinds of tourists who perceive "the flying experience" much differently.  I was once flying from Pearson International Airport (YYZ) in Toronto to Heathrow Airport (LHR) in London England when I met a very interesting passenger.  He told me that he tries to get a window seat on every flight.  Immediately, I thought to myself, he must love taking photos. Instead, he went on to tell me that he enjoys predicting the time of day based on the position of the sun relative to the plane at 36,000 feet.  He obviously has plenty of air miles accumulated. I have also been literally grabbed during periods of moderate turbulence by passengers on the other end of fear-of-flying spectrum. Some passengers always prefer the aisle.  I am a window seat kind of passenger myself. The main two reasons for this are 1) my interest in taking aerial photos and 2) it's also the best way to sit back and relax without being distracted by other passengers making bathroom visits and so forth. If you are like me and you enjoy flying enough to check out the scenery during a flight, try flying from Kuala Lumpur International Airport (KUL) into Tribhuvan International Airport (KTM) in Kathmandu (Nepal) to catch a glimpse of Mount Everest.
Direct from Kuala Lumpur, Malaysia to Kathmandu, Nepal
During a recent flight to Nepal from Kuala Lumpur International Airport I had the unique opportunity to see the most famous mountain face in the world; the face of Mount Everest. The interesting thing about my experience was that I never even touched the tarmac at Tribhuvan and I had already seen the peak that has challenged so many adventure enthusiasts from around the world.
Right Window Seat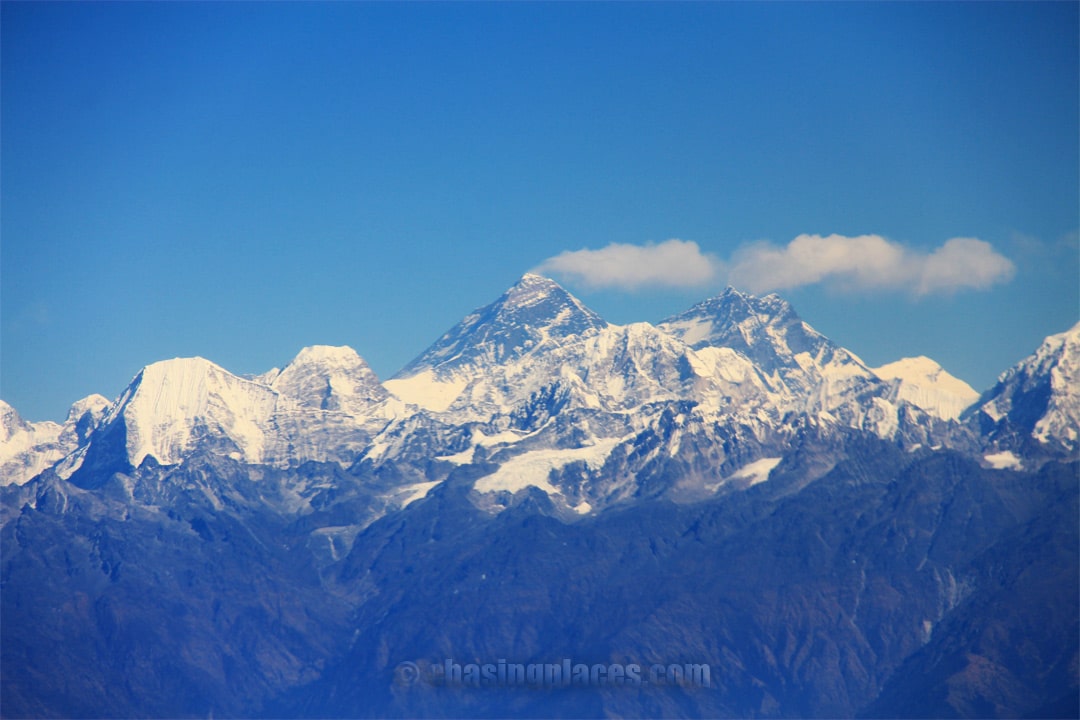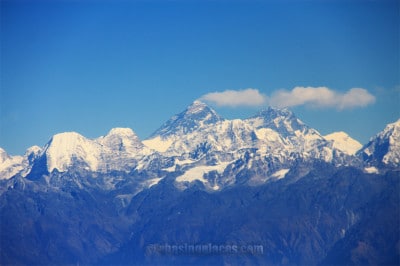 Initially, I had no idea that the south face was visible from a direct flight from Kuala Lumpur.  I was aware, however, that smaller prop planes commonly fly around the Everest Range.  Fortunately, a good friend of mine (a fellow  blog writer) was nice enough to tip me off that it is indeed visible on a clear day and that I should select a "right window seat on the way from KL and a left window seat for the return" for the round trip journey. Taking his advice, I arrived early at Kuala Lumpur International Airport and proceeded to the Malaysian Airline's check in counter to secure this coveted window seat.  I was surprised to learn that it wasn't so coveted after all – with most of the window seats still available.  This suggested to me that most of the people flying didn't know what they were going to miss later that day!
Travel Checklist: Do you have everything you need?
Searching for the Face of Mount Everest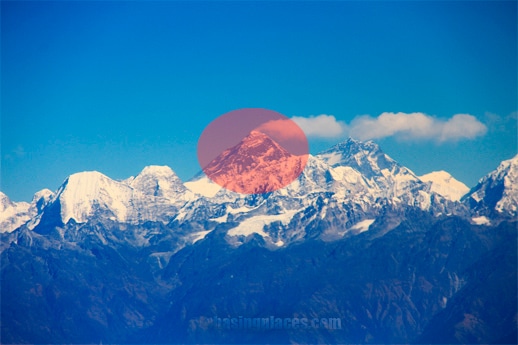 Throughout the first couple hours of the flight the sky was clear with very little cloud cover.  The plane seemed to be moving seamlessly through the air with minimal turbulence. Typically, under these conditions I tend to be calm, but this flight was much different. I was so anxious about getting a glimpse of the Himalayan range that I practically stared out the window for the last three hours of the trip. When the range began to dissect the patches of white clouds in the sky, I knew that it wouldn't be long until the moment I was waiting for. I got my Canon DSLR out and snapped a few quick shots in order to examine the range for the south face.  Luckily, the sky was very clear with the exception of a few clouds near the peaks. After about 15 photos, I noticed the dark configuration that I was looking for. I zoomed in as close as possible and noticed snow blowing off of the peak, but no climbers were present.  Time was limited, but I did manage to capture a bundle of genuine pictures before the view was obstructed by the forward movement of the plane.  It took a bit of effort and patience, but it was definitely well worth it.  I am not a mountain climber, nor have I even trekked to the Everest Basecamp, but I can say that I have seen the famous southern face of Mount Everest!
Here is some travel information about viewing Mount Everest while on a commercial flight from Kuala Lumpur:
1- It is well worth booking a window seat on the right side of the plane to maximize the chances of seeing the south face. Select a left window seat for the flight sector from Kathmandu to Kuala Lumpur.
2- The Everest Range is visible with the naked eye, but binoculars or a camera with a zoom (telephoto) lens will definitely enhance the experience.
 3- The range is visible well before your arrival at Tribhuvan International Airport (KTM) in Kathmandu, therefore have your camera ready well in advance.
4- If there is too much cloud cover on the way to Nepal, try again during the return sector of your flight.
Where did we stay in Kathmandu?
During this trip to Nepal we were travelling as a group of 4. Two of us stayed at the famous Kathmandu Guest House. Two of us stayed at another guest house that is no longer open.  It's important to note that we don't have an affiliation with any specific properties in Nepal, therefore our opinions are unbiased. Overall, Kathmandu Guest House turned out to be a nice place to stay.  It's located right in the heart of Thamel – Kathmandu's tourist area. We would stay there again.  At the time of writing it had a score of 7.4/10 based on 325 verified guest reviews. 
How to find the cheapest room in Kathmandu? 

Suggestions.
Our followers primarily book their rooms using one of the three reputable online sites: either www.agoda.com, booking.com or hotelscombined.com.  Booking.com is famous for their large selection of rooms, excellent prices and their many refundable room options.  Hotelscombined.com is the world's best hotel price comparison site, so if you're travelling on a budget it's an excellent site to use. We use www.agoda.com all the time because they have many choices in Asia with the most verified guest reviews to rely on. To save you some time I have created links to their respective property lists for Kathmandu below:
Rooms in Kathmandu – www.agoda.com
Rooms in Kathmandu – www.booking.com