The first thing that most often comes to mind when you hear the word "Yogyakarta" is Borobudur – the famous UNESCO listed Buddhist temple.  Due to its proximity to Yogyakarta (called "Jogja" for short by locals) in Java, Borobudur often overshadows some of the fascinating, less broadcasted sites in the area. One of those, in my opinion, is Kota Gede – a historic neighbourhood in Jogja known for excellent silverware and jewellery.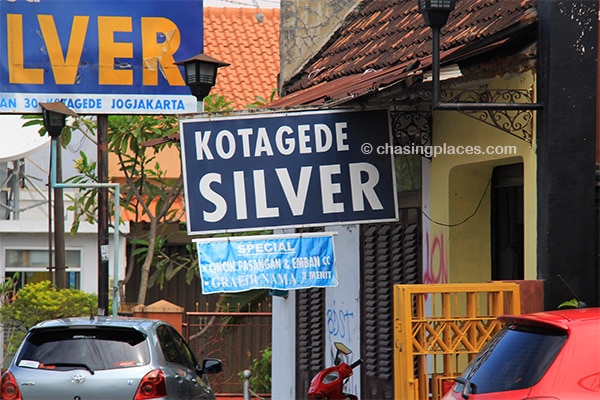 Instead of arranging a tour of Yogyakarta we decided to break out our guidebook and privately arranged a becak driver to escort us to Kota Gede for one reason and one reason only- to buy some silver. The driver was in his early-sixties and looked like he needed the business so we sacrificed efficiency in favour of the cultural experience. As he slowly peddled with the sun overhead I couldn't help but notice the vibrant colours of Yogyakarta and the energy on the streets.  Motorcycles whisked by and horns belted, but our experienced driver appeared un-rattled by the sporadic street action. It took him well over half an hour to reach Kota Gede from our guesthouse located in Jogja's main tourist drag, Jalan Malioboro. The ride was worth every minute and every penny.
As we approached Kota Gede, we asked the becak driver if he would be so kind to wait until we were finished shopping before driving us back to Jalan Malioboro. He kindly obliged.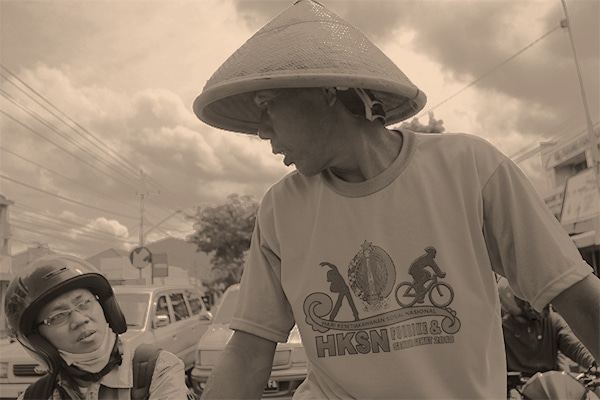 My initial interpretation of Kota Gede was confusion.  On the main drag large silver signs covered both sides of the road, but they far outnumbered the number of shoppers.  The stores were empty of tourists like us, but full of pristine silver locally designed in Yogyakarta and area. The first shop we entered looked quite small from the road but we were impressed by the broad array of jewellery including everything from sparkling necklaces to intricately designed earrings.  The prices were very competitive so we were super surprised when one of the shy sales representatives quietly informed us that everything in the store was 30% off. After purchasing a few items we made the decision to head to a larger silver shop because the English proficiency of the locals in this particular store made it somewhat challenging to get specific details about some of the pieces they were selling.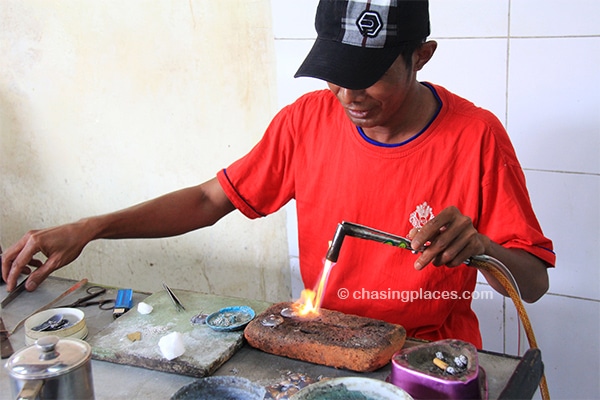 Travel Checklist: Do you have everything you need?
Our becak driver greeted us with a big smile when he saw that we had bought a few things at the first shop. We then slowly asked him if he knew of any reputable shops that had English speaking sales representatives. After about another 500 meters, he swerved off the road and pointed to another small shop. As anticipated, it was still quite challenging to understand some of the details regarding the price per gram and so forth. This didn't stop our driver, however. He suddenly began shouting the name of a silver factory that he was familiar with. He told us that it was big and that they have English speaking employees. This sounded exactly like what we were looking for. He cycled another two gruelling kilometres through Kota Gede under the sweltering sun before arriving at HS Silver. Unlike the other shops we had stopped at, this one had a factory attached that designed and created their own silver-based jewellery.  Their showroom was massive with a broad selection of jewellery and beautiful silver plated cutlery. This factory outlet also had the first shoppers that we saw that afternoon.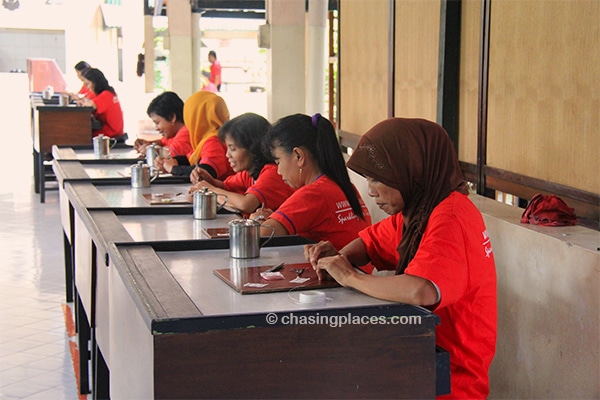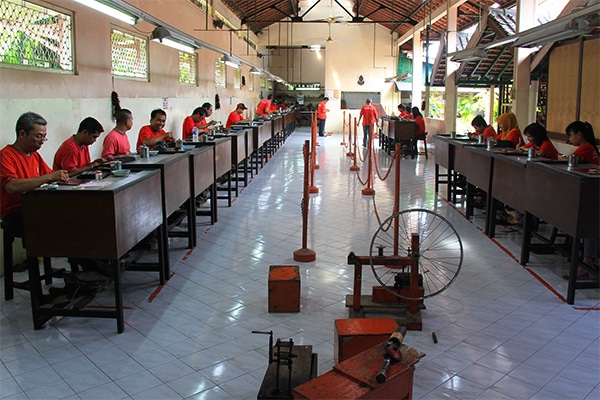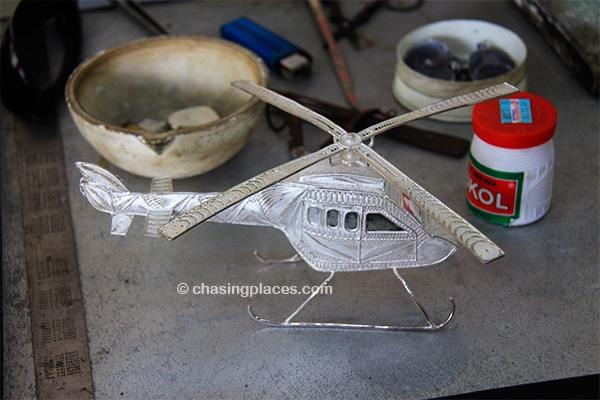 Prior to this trip to Kota Gede I never had any real idea about the process or the work that went into creating some of these stunning pieces of jewellery. Fortunately, HS Silver allowed us to take a tour of their factory during our visit. The first room that we walked through had a row of male designers on one side and a row of female designers on the other. Some of the artists were heating the silver with blow torches in order to shape it effectively whereas others were making intricate tiny coils that would be added to earrings and necklaces. I felt sympathetic for them when I placed myself in their shoes. They were sort of on display in the same way as the pieces of jewellery they were making. But, consistent with true Indonesian form, they greeted us with warm enthusiastic smiles. After a few photos and some questions it was time for us to head back to Jalan Malioboro with a few new shiny pieces of Indonesian silver. We were satisfied with our purchases and the educational experiences of seeing some of the dedicated, highly skilled artists behind the Indonesian silver industry.
Our loyal becak driver remained at the door and was happy to see that we found what we were looking for. He then focused his attention on getting us back to our guesthouse before the looming weather overhead reminded us of what Java rainy season is all about.
Want to find the cheapest room in Yogyakarta?
Yogyakarta has its fair share of solid mid-range and budget accommodation options in close proximity to the historical region. I would suggest using these sites for your search: www.agoda.com and/or www.hotelscombined.com. It's really hard to find a better site than Agoda for Yogyakarta. At the time of writing it offered almost 600 different accommodation choices within the city.  If you're on a tight budget then another solid choice is www.hotelscombined.com. With so many rooms available in Jogja, you can quickly compare prices with Hotelscombined making it easy to save some cash.
If anyone has gone to Kota Gede to buy silver during peak season in Yogyakarta please let us know below. We would love to hear about your experience there compared to ours!