Phuket is world famous for beautiful beaches and luxurious resorts running along its western coastline. Over the years, it has been steadily becoming more of an upscale island getaway for families and expat Scandinavians opposed to a backpacker haven. Regardless of who you are or what your interests may be, Phuket does have many beaches to choose from with different ambiances. One of our favorites is Karon Beach. Karon Beach is a popular choice due to its beautiful honey-hued sand, fresh ocean breezes, and close proximity to Patong Beach – the nightlife capital of Phuket. After visiting Karon Beach (on multiple occasions) we have decided to share our opinion with you in the form of a Beach Breakdown to see if Karon Beach suits your vacation preferences.
Chasing Places Beach Breakdown = 7
1- Worst Imaginable 2- Terrible  3- Very Poor  4- Poor  5- Average  6- Good  7- Very Good  8- Great  9- Extraordinary  10-Unmatchable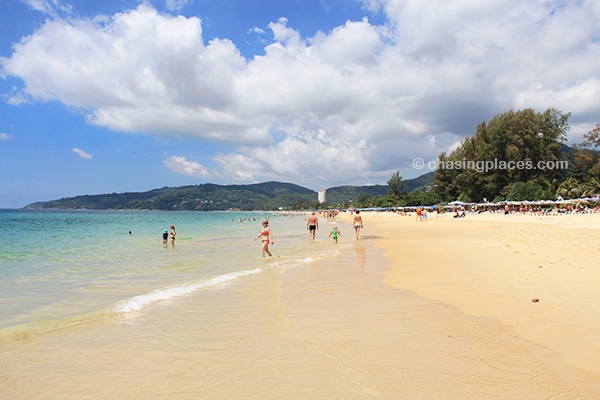 Sand Color and Texture

: 8
Karon Beach has beautiful, honey-hued sand.  Without question this is the best feature of the Beach.  As you walk or jog down the beach your feet will sink in with every step. Many travel guides claim that the beach has white sand, but this is ultimately not true. The sand granules are not quite as fine as some of the beaches in Oceanic countries such as New Caledonia and the Maldives, but the coloration helps to make up for it.
Cleanliness: 8
Karon Beach is very well maintained in comparison to most Southeast Asian beaches.  Many of the shops and restaurants backing Karon Beach are owned and operated by Scandinavians who understand the importance of beach cleanliness. Many tourists that go to Phuket stay near Patong Beach and get turned off by the rubbish there, but Karon Beach is a much better and cleaner choice for a family vacation.  Considering the number of tourists that make their way to Karon Beach in a given year, the beach upkeep is quite impressive.
Water Transparency and Color:

6
The water at Karon Beach has a slight jade green coloration like much of the Andaman Sea. The water is clean, but it doesn't appear to be overly clear due to a strong undertow and choppy waves churning up some of the underlying sand.  The water gets deep fairly quick, therefore it is difficult to see the ocean floor in comparison to Boracay, Koh Phi Phi and other prominent beach destinations in the region. The water at Karon Beach is not murky and much cleaner and clearer than at Patong Beach.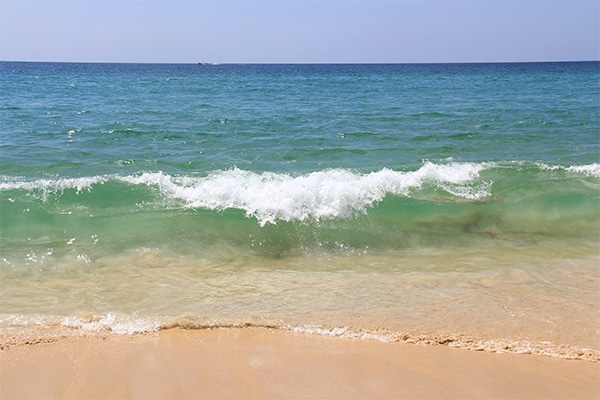 Beachscape:

6
Karon Beach is quite wide (especially at low tide). It is long and ideal for an early morning or evening jog along the beach.  The sea view is not particularly exciting as there are neither visible off shore islands nor dramatic limestone karsts to gaze at as you soak up the fresh balmy ocean breeze.  You will also notice that the distance from Karon Beach to the shops and restaurants behind it is rather lengthy. This could be a means of safeguarding establishments and tourists from the potential future threat of a Tsunami in the future.
Travel Checklist: Do you have everything you need?
Additional Information about Karon Beach on Phuket Island:
Accessibility
Once you arrive at Phuket's International Airport, the most convenient way to reach Karon is by taxi.  The ride should take anywhere between 35 minutes to an hour depending on traffic. Taxi's charge different amounts depending on where your drop off point will be so try to know the exact address of your hotel/resort before you land. Try to find a few tourists to split the fare with if you can. If you are at an adjacent beach then you can either take a taxi or a tuk tuk to get to Karon Beach. Renting a car or a motorcycle may be a good choice when you consider how expensive beach-to-beach connections are on Phuket Island.
Accommodation Choices
Karon Beach and the surrounding area is full of excellent accommodation choices.  Phuket, in general, is more expensive than most of Thailand so expect an increasing number of upscale options to choose from.  You can still find tiny guesthouses and budget hotels if you do your research in advance. Unless you have your own wheels, try to stay as close to the beach as possible because taxis and tuk tuks are expensive on Phuket.
Nightlife
Karon Beach has plenty of candle-lit restaurants and some pubs backing the honey-hued sand and interior beach access roads. As you travel closer to Patong you will find more establishments that resemble go-go bars.  If you are open minded and what to experience famous Bangla Road – the epicenter of Phuket's nightlife scene then head to Patong Beach. Try to go with a friend or two as the ride will cost a whopping 400-baht per way!
Restaurant Choices
Karon beach has no shortage of local, Western, European, and seafood restaurants to choose from.  Simply take a walk near the beach or along the access roads and you should be quite satisfied with the options.
Watersports
Phuket Island is loaded with watersport options. Parasailing, diving excursions, kayaking, deep sea fishing and jet skiing are just a few of the activities that are available.  Karon Beach has a very strong undertow, so be extremely cautious if you want to take a dip.  The lifeguards will wave red flags if the conditions are not suitable for safe swimming.
Recommended for: Families, snowbirds, couples, and honeymooners
Best Beach Features: Sand Color and Texture
Want to find the cheapest room near Karon Beach?
Karon beach has a solid range of accommodation choices to suit all budgets. Closer to the beach, the better.  I would recommend using one of these two sites: www.agoda.com and/or www.hotelscombined.com. During my travels in Thailand Agoda has been very useful for room bookings due to their massive selection. It's the largest booking site in Southeast Asia. If you're on a tight budget while travelling in Thailand then consider www.hotelscombined.com.  We have saved hundreds of dollars over the last year using their price comparison searches for rooms in Southeast Asia.
Top Rated Properties on Phuket
Based on Verified Guest Reviews
Important: Mobile Users must swipe from left to right to see entire table.
Criteria:
Properties rated based on 'overall' review scores from each respective website's verified guests.
Minimum of 50 verified guest reviews required to be considered eligible for comparison.
All star ratings and verified guest review scores are tallied at the time of writing, and therefore, are subject to change.
Hopefully, these suggestions can help you out during your travels in Thailand.
If you have any questions about our experience staying on Karon Beach (or Phuket Island) please feel free to comment below or check out one of our related articles.