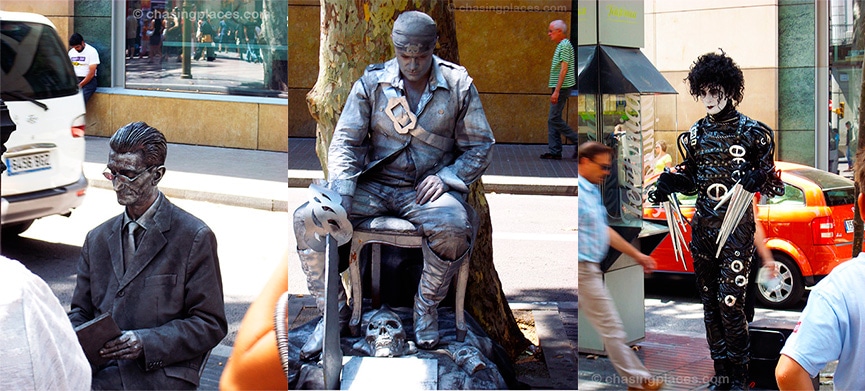 Las Ramblas (La Rambla) is the most famous street in Barcelona, Spain.  This 1.2 kilometer, tree-lined artery is an absolute delight to locals and tourists. Some of the city's best cafes, restaurants and hotels can be found in and around Las Ramblas.
The street also houses some quaint shops that can easily tempt tourists into taking home a souvenir. Aside from contemporary commercial establishments; Las Ramblas has a historical section that contains old yet well-preserved buildings, considered to be prized architectural pieces of Barcelona.  Las Ramblas is bordered by Port Vell, so it has become a ritual for cruise ship passengers to head over to the street.  These passengers form a big portion of the daily crowd that flock to Las Ramblas.
People do not just come to Las Ramblas to eat, drink, shop and sightsee. They come here to be entertained and to experience the famed carnival atmosphere. But it's not elaborate shows or grand concerts that provide the entertainment in Las Ramblas. The real stars of this world-renowned thoroughfare are the daily street performers.
They are the clowns, mimes, magicians, dancers and human statues that populate Las Ramblas from morning till night.  They come in dazzling costumes and extensive make-up; and create their own little show to capture the public's attention and imagination. Sipping coffee in a Las Ramblas café is not just sipping coffee; it is also an opportunity to conveniently watch these talented street performers in action.
The Las Ramblas street performers are most likely doing what they do to earn a living. But this doesn't discount the fact that they are dedicated individuals who are masters of their craft. Behind their make-up, costumes, props and performances are a whole lot of passion, artistry and creativity. That is why these artists can invoke curiosity, amazement, and amusement from people. That is why they can make a traveler smile.
Travel Checklist: Do you have everything you need?
There are times that a destination is worth visiting, not because it offers outstanding scenery, entreats excitement or showcases impressive man-made structures. Sometimes, a destination is worth chasing because of the people in it. For me, the street performers are the ones that give color and character to Las Ramblas. They make the street what it is today, a destination worth traveling to.
 

Finding Las Ramblas
To reach Las Ramblas via public transport, take Barcelona's Metro train services. There are three train stops situated near this famous street. These are:
 Drassanes Metro Stop – near Christopher Columbus Memorial,

Liceu Metro Stop – beside Liceu Theater,

Catalunya Metro Stop – northern end of Las Ramblas.
The airport express bus service called Aerobus usually drops off passengers at the Catalunya stop. The hop-on hop-off Barcelona Tours Bus, also takes tourists to Las Ramblas and to other notable city attractions

.
Where did we stay while in Barcelona?
We have been to Barcelona on multiple occasions. During our most recent trip we stayed at Pension Mariluz. We don't have a direct affiliation with this property, therefore in an unbiased manner we can say that we enjoyed our stay here. It took us under 5 minutes to walk to Las Ramblas.  The staff were also very friendly and helpful.  They had a nice kitchen area in case you want to make your own meals.  At the time of writing it had a score of 8.4/10 based on 624 verified guest reviews.
Want to find the Cheapest Rooms in Barcelona?
We suggest booking online well in advance (especially during the summer months). Barcelona is extremely popular with tourists, so this often means the top rated hotels and guesthouses fill up quickly.  There are plenty of choices and your best bet of finding the widest range of quality rooms is by using one of the following three sites: www.agoda.com, hotelscombined.com or booking.com.  All of these are world class sites and very reputable (especially in Europe). I have included links to their respective property lists for Barcelona to save you some time:
Rooms in Barcelona – www.agoda.com
Rooms in Barcelona – www.booking.com