Kampong Glam is the center for Malay culture and Islamic Heritage in Singapore. For Chasing Places, this neighborhood is a must-visit for tourists as it is one of the most culturally-rich attractions in this small Southeast Asian nation.   And when you have finally made your way to the enigmatic neighborhood of Kampong Glam, here are some the individual landmarks you should not miss checking out:
Learn how to reach Kampong Glam by clicking this link.
1. Sultan Mosque
A visit to Kampong Glam is never complete without stopping by its iconic landmark, the Shah Mosque. It is named after Sultan Hussein Shah and it is indeed the centerpiece of this neighborhood. It's hard to miss it as it is one of the few tall structures in the area. Plus, its golden-dome roof and exquisite Moorish design easily stand out from the other concrete buildings in the area. You can access Shah Mosque through a couple of narrow streets from the main thoroughfare of Arab Street. But it's most scenic access point is Muscat Street.  Admission is free to some parts of the mosque, but non-Muslims are not allowed in the prayer hall, which is said to be capable of accommodating around 5000 worshippers.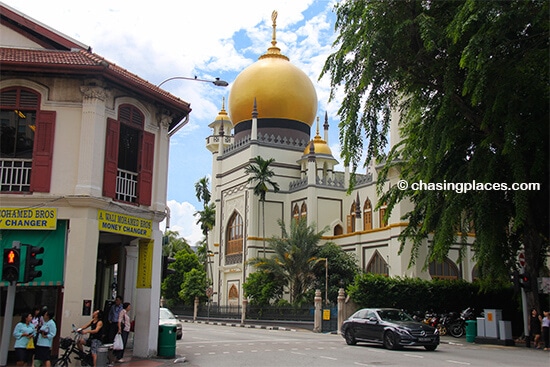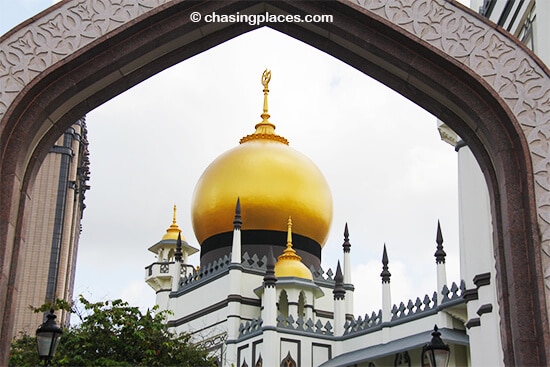 2. Muscat Street
As mentioned, this street leads to the entrance of Shah Mosque. But before you reach the entrance at the end of the street, you will be greeted by a slew of fancy Middle Eastern restaurants, lining up both sides of the street. The view of the Mosque, the chic restaurant designs and the multicultural vibe of Muscat Street all make this spot quite atmospheric. But if you wish to dine along Muscat Street, be prepared to pay more as the dinner meal prices range from $20 and above, more than most mid-range restaurant prices in Singapore.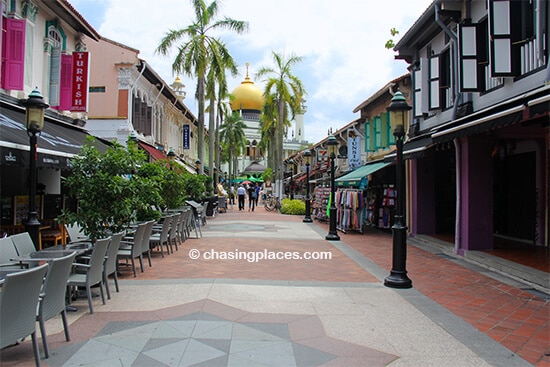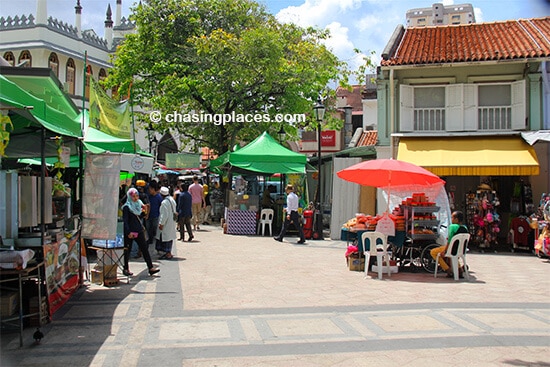 3. Malay Heritage Center
Once the Malay Royal Palace (Istana in Bahasa Malaysia), the old terracotta-tiled building is now acting as the Malay Heritage Center.  The structure was built in 1843 for the last Sultan of Singapore, Ali Iskandar Shah. After the Sultan's family left, the then declining building was fully restored in 2004 to be a museum and heritage center.  On the second floor of the center is a reconstructed model of a traditional kampong house, which once stood in this neighborhood of Singapore. Aside from exhibits and displays, the Malay Heritage Center also organizes cultural performances occasionally. To book and learn more about these performances, you can visit the museum's official website.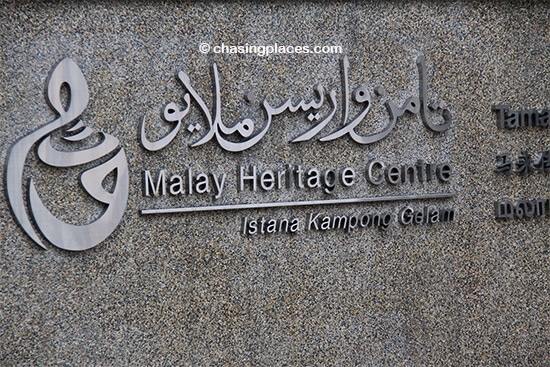 The center is located on 85 Sultan Gate Street and is open to visitors from Tuesdays to Sundays, 10 am to 6 pm (Last admission is at 5:30 pm). It is literally 100 meters away from the Sultan Mosque. Admission fee is charged for tourists and foreign citizens. Here is the fee structure:
Category                                                               Corresponding Fees
Adults                                                                    $4.00
Adults
(for group of 20 and above)                              20% discount
Family
(for maximum of 5 members)                           $12.00
Seniors*
(60 years old and above)                                    $2.00
Students*
(Free for children under 6 years old)                $2.00
Travel Checklist: Do you have everything you need?
4. Arab Street
Arab Street is the main thoroughfare in the Kampong Glam neighborhood.  The street is quite long and makes a nice place to stroll around especially when you are still trying to orient yourself with the neighborhood. Arab Street is home to a selection traditional Malay and Middle Eastern clothing shops as well as jewelers, who specialize in gold items. This also a good place to purchase some raw cloths for custom tailoring purposes.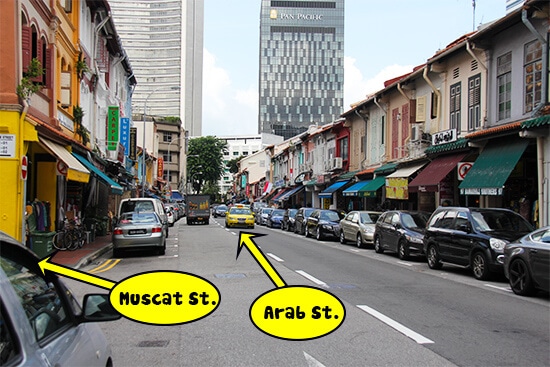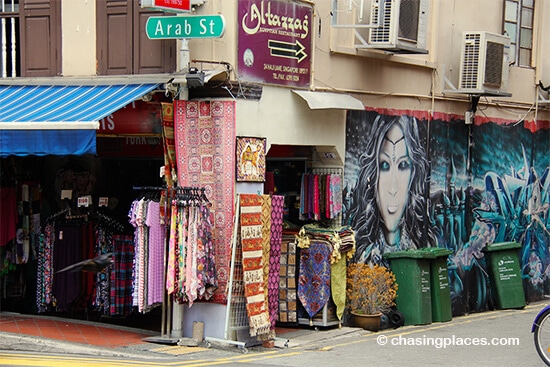 5. Haji Lane
This little known lane is a real gem especially for the fashion and art-loving population.  At first, it will be hard to notice Haji Lane from the main road, but if you look hard enough, you will notice the wonderfully colored colonial-style buildings that adorn this narrow street. Don't hesitate to take a stroll as you will be impressed. Haji Lane is lined with small fashion boutiques, but they are definitely not the usual brands you see in big malls throughout Singapore. The lane seems to be populated by start-up shops who take pride in their own products and cater to people who like something hip, cool and different. Haji Lane is like the indie movie of retail and the indie rock music of fashion.  Aside from fashion shops, it also has some cool, artsy and funky-looking cafes, which make excellent places to hang out in especially during a hot and sunny day!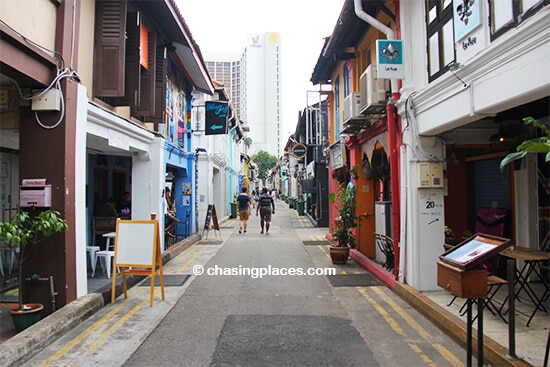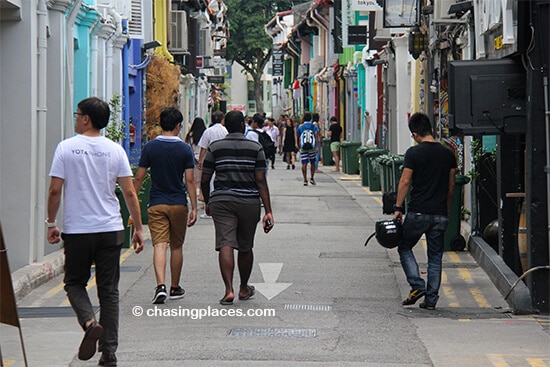 Accommodation Choices near Kampong Glam
The most convenient place to stay near Kampung Glam in Singapore is in the vicinity of Bugis MRT Station. This will enable you to quickly reach the public transport network while still having a short walk to Arab Street, Haji Lane, the Malay Heritage Center, Muscat Street, and of course the restaurants around the Sultan Mosque. Another alternative is staying in Little India. There are more budget options and plenty of cheap eateries in Little India, but your walk to Kampung Glam will be around 25 minutes.  Again, it depends on your budget and priorities.  Either way, be sure to enjoy your visit to Kampong Glam!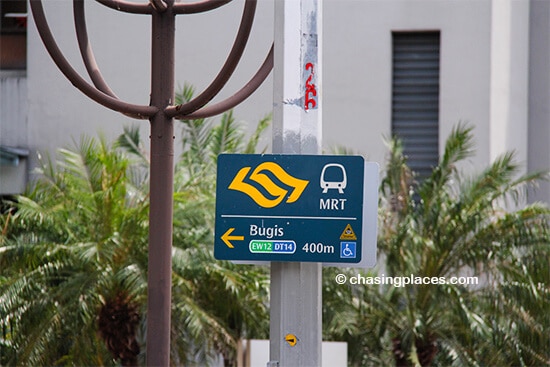 Where did we stay while in Singapore? 
During this trip to Singapore we stayed at Jayleen 1918 Hotel. We don't have a direct affiliation with this property, therefore in an unbiased way we can say that we enjoyed our stay.  It's a nice, cozy budget hotel right near Clarke Quay MRT. The breakfast was great for the price we paid and the staff was very friendly.  The rooms are not very big so check to see how it compares with other rooms around the city that you're interested in. At the time of writing it had a score of 7.4/10 based on 403 verified guest reviews.
How to get the cheapest rooms in Singapore?
Singapore is a super expensive city. Therefore, be sure to do your research prior to booking.  A good place to start is with www.agoda.com – the most popular accommodation provider in Singapore. Alternatively, give www.booking.com or www.hotelscombined.com a try. They get excellent reviews from our readers. I have created links to their respective property lists in Singapore to save you some time:
Top Rated Properties in Singapore Based on Verified Guest Reviews
Important: Mobile Users must swipe from left to right to see entire table.
Criteria:
Properties rated based on 'overall' review scores from each respective website's verified guests.
Minimum of 50 verified guest reviews required to be considered eligible for comparison.
All star ratings and verified guest review scores are tallied at the time of writing, and therefore, are subject to change.
Map of Singapore – Top Accommodation Choices
Based on verified guest Reviews