When people think about the dominant race in Singapore, they immediately think of the Chinese. And although this is true, what many people may be unaware of is that the country also has a strong and proud Malay population. And the center of commercial and religious activities for the Malay community in Singapore is called Kampong Glam.
It took me a couple of visits to Singapore to actually discover that a place like Kampong Glam actually exists. Come to think of it, the existence of such a spot makes perfect sense as places like Chinatown and Little India are the iconic representations of the two major races inhabiting the island nation. The existence of Kampong Glam is quite logical, and of course, a gift to a traveler like me who loves cultural diversity.
The Malay culture is rich and the Islamic religion reigns in Kampong Glam. It represents a different facet of Singapore that may not be known to many tourists.  In Malay Bahasa, the word 'kampung' means village, and glam is supposed to be short for 'gelam' – a kind of tree that is used to grow in this area.  Perhaps Glam was a thriving rustic village before. Today, this small district has managed to distinguish itself from the other more cosmopolitan areas of Singapore.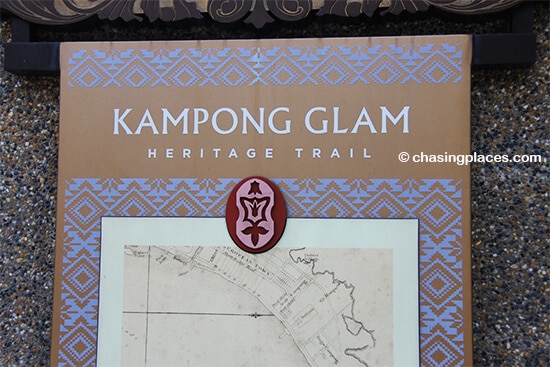 At one point, a friend of mine living in Singapore mentioned a nice dining spot called Arab Street.  At that time, I didn't know that such street is actually part of Kampong Glam. So during our subsequent visit to Singapore, we decided to check out Arab Street.   We did not exactly know where it was and we foolishly did not try to consult the internet or a guide book (or maybe we were being a little bit adventurous). We knew at the time that our guest house had a branch close to Little India and Arab Street. So we deduced that Arab Street may be walking distance from Little India.
Getting to Arab Street
It took a while to finally figure out where Arab Street is located.  We stepped out of the Little India Metro Station and asked a couple of people who happily pointed us in the right direction. Yes it is true that Arab Street is in 'walking distance' from Little India. But we had to walk a great deal, in the vicinity of 30 minutes. Lesson learned – Little India Metro Station is definitely not the closest station to this district.
The nearest station to Arab Street is Bugis (northeast of Kampong Glam). From the station, look for the signs that point to Kampong Glam. For some reason, Arab Street is not visible on the street maps found outside the station.
What Can You See along Arab Street?
Arab Street is a very long road full of traditional Malay clothing shops, raw cloth and good jewelry stores. It was a little underwhelming for us, as we were expecting a slew of Middle Eastern restaurants. But we did not give up and continued exploring despite the very hot and humid weather.  Little did we know that the real attractions are not exactly on Arab Street itself, but on the small narrow streets parallel and perpendicular to it.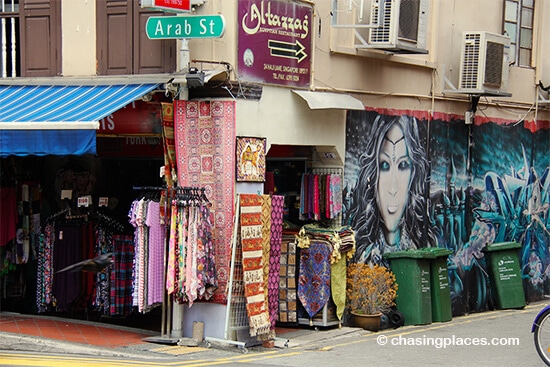 Once we explored these narrow streets beside Arab Street, we soon found many nice and exotic-looking dining establishments.  We noticed various Iranian and Turkish restaurants, but also cafes and small eateries serving Indonesian and Chinese dishes.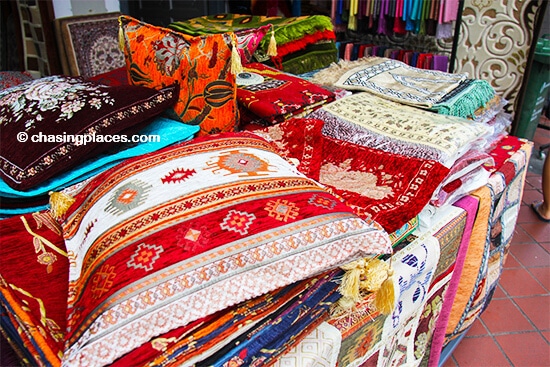 Travel Checklist: Do you have everything you need?
Enigmatic Muscat Street
But perhaps the most atmospheric dining street we found was Muscat Street. This street, which is lined up with cozy and elegant restaurants, leads all the way to the entrance of the captivating Sultan Mosque.  Muscat's Street strategic position and the presence of Middle Eastern joints makes the environment quite atmospheric. If you decide to dine outside, you will be treated to the impressive view of the exquisitely-designed Sultan Mosque. The mosque is characterized by it shiny gold roof, standing out from the other high rises in the area.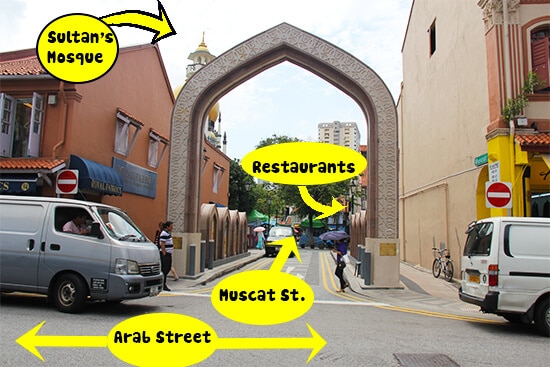 We visited Muscat Street early in the afternoon, but I have a feeling that this spot is even more beautiful at night when all the restaurants and the mosque itself is lit up. True enough, some blogs and guide books describe Muscat Street as a trendy nightlife spot. Young people supposedly do not only come here to eat but also to enjoy shisha.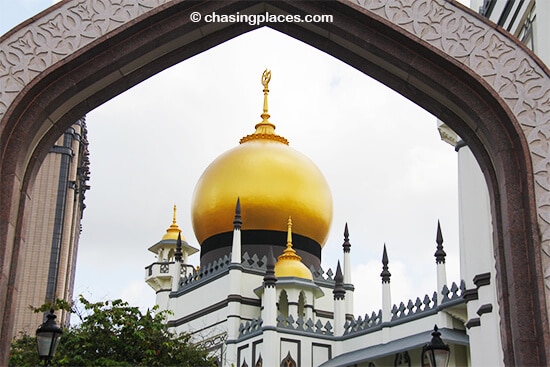 It is important to take note that the restaurants on Muscat Street are quite upscale, with meals ranging from $20 to 60 Singaporean dollars a plate.  If you do not have the budget, don't leave Kampong Glam immediately. As what was mentioned previously, the neighboring streets offer more affordable dining options.   Don't be deterred by the prices, walk around Muscat for it is free as it is charming!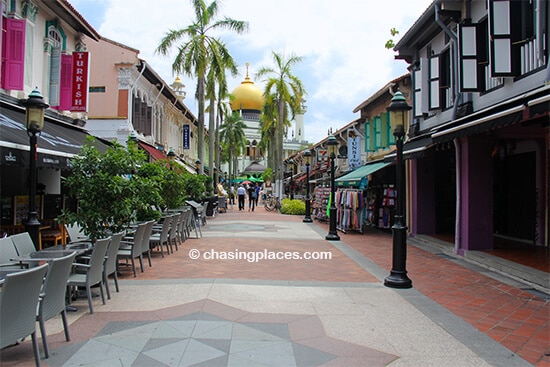 Sadly, we only had a couple of hours to roam around this cultural neighborhood.  But I was glad we did because it's always great to discover something new and special in a place I frequently visit like Singapore. And Kampong Glam was special indeed.
Places to Stay Near Kampong Glam
The most convenient place to stay near Kampong Glam in Singapore is in the vicinity of Bugis Station. This will enable you to quickly access the public transport network while still having a short walk to the nice restaurants around Sultan Mosque. Another alternative is staying in Little India. There are more budget options and plenty of cheap eateries in Little India, but your walk to Kampong Glam will be a bit longer.  Again, it depends on your preferences.  Either way, be sure to enjoy your visit to Kampong Glam!
Where did we stay while in Singapore?
During this trip we stayed at Jayleen 1918 Hotel. We don't have a direct affiliation with this property, therefore in an unbiased we can say that we liked our stay.  It's a small budget hotel with a colonial feel.  Clean rooms and very friendly staff.  Also, it's ideally located about 200 meters from the Clarke Quay MRT Station. The rooms are quite small, so if you're looking for something larger you might want to shop around.  At the time of writing it had a score of 7.4/10 based on 405 verified guest reviews.
How to get the cheapest room in Singapore?
Singapore is a super expensive city. Therefore, be sure to do your research prior to booking.  A good place to start is with www.agoda.com – the most popular accommodation provider in Singapore. Alternatively, give www.booking.com or www.hotelscombined.com a try. They get excellent reviews from our readers. I have created links to their respective property lists for Singapore to save you some time:
Top Rated Properties in Singapore Based on Verified Guest Reviews
Important: Mobile Users must swipe from left to right to see entire table.
Criteria:
Properties rated based on 'overall' review scores from each respective website's verified guests.
Minimum of 50 verified guest reviews required to be considered eligible for comparison.
All star ratings and verified guest review scores are tallied at the time of writing, and therefore, are subject to change.
Map of Singapore – Top Accommodation Choices
Based on verified guest Reviews
Read More About Singapore