There's one major reason why you should include Central Java, Indonesia in your bucket list of places to visit in Southeast Asia, and this is because of Borobudur. If you are not familiar with this historical site yet, let Chasing Places guide you.
The temple complex of Borobudur is a UNESCO World Heritage Site, and it is the single biggest Buddhist structure in the world. Dating as far back as the 8th century, Borobudur is one ancient monument that is truly precious to the Buddhist world. The temple is an astonishing sight due to its magnitude as well as its very exquisite and intricate designs. If you look closely at this Buddhist stupa, you will surely appreciate the amount of the time and detail put into its construction.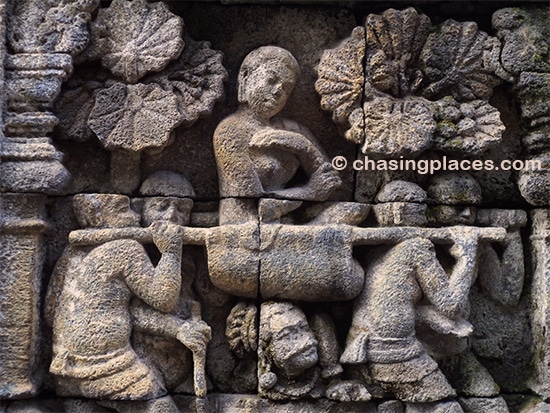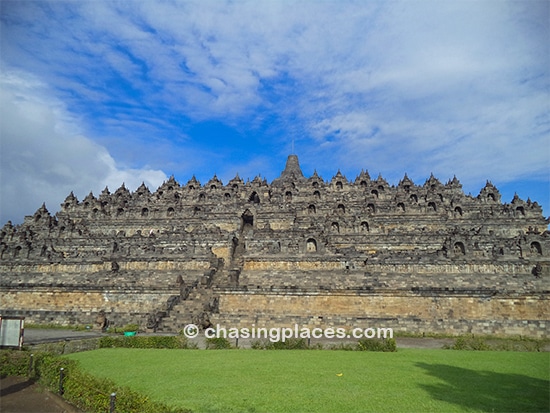 The temple complex is situated in the Kedu Plain, just outside the city of Yogyakarta.  This massive complex is not the only one that will captivate you once you set foot in the area. The temple's surrounding landscape, marked by green paddies, lush vegetation, mountains and active volcanoes in the distance, will do nothing short of taking your breath away. For most travelers, this incredible backdrop enhances the overall experience of visiting Borobudur.
The History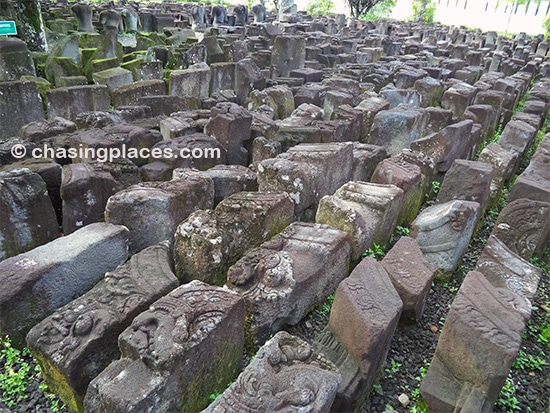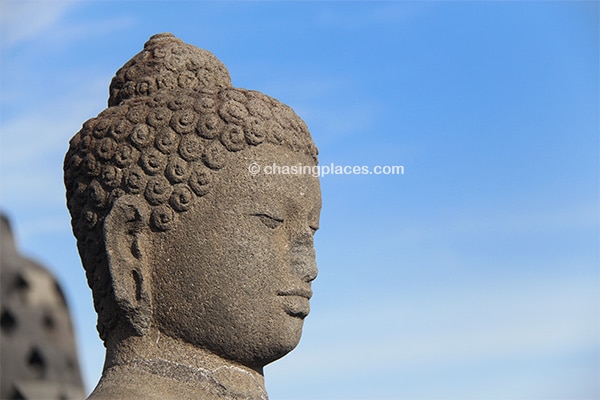 Aside from its fascinating ancient history, Borobudur will impress anyone who has taken the time to learn how resilient it has been against threats. When nearby Mount Merapi erupted, a massive earthquake hit in 2006, and some terrorists executed bombing attempts; and yet the temple, with its all its glory, still stands today.
It is believed that Borobudur is made up of more than two million stones that where carted from nearby rivers and streams. You can only imagine how many workers it took to fit the stone pieces together to build a temple, which rises to about 95 feet. Borobudur is adorned with over 500 Buddha statues. Not all of them remained intact at the turn of the 21st century. When you walk around the temple, some of these statues lost their body parts like heads, arms and legs. If you look closely, Borobudur's lower terraces are surrounded by thousands of sculptures carved into its stone walls. These bas-relief sculptures were created to reflect the life and teachings of Buddha.  There are almost 3000 sculptures around Borobudur, making it the largest assemblage of its kind in the world. Most of these wall depictions are still in excellent condition.
Travel Checklist: Do you have everything you need?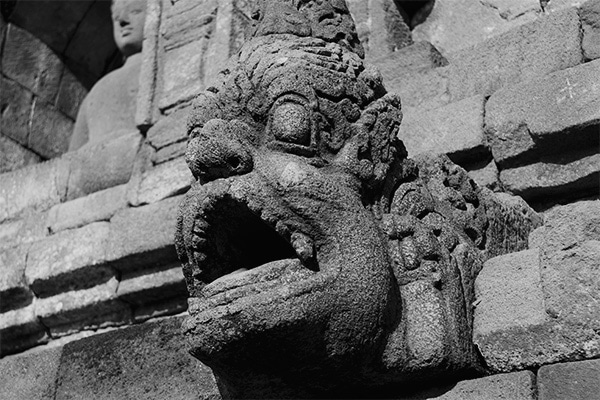 History experts revealed that Borobudur was built when the Syailendra dynasty reigned over Java. According to them, the temple highlights Gupta architecture, which originated from India. However, they also agree that some temple features reflect scenes that are native to the Java region. Unfortunately, if you are not familiar with the history and the design significance of Borobudur; you may not fully appreciate the structure especially because you have to pay relatively more to access this information.
The best way to truly maximize your visit, is to join a tour so a guide can explain the details of the temple's stone carvings. As an alternative, you can also come with a guidebook to make your experience more meaningful. A number of tourists book their accommodation in Yogyakarta and only come to Borobudur Temple on a day trip. 
The Exploration
Once you have reached the Borobudur temple complex, the only way to explore the attraction is by walking. The humongous single-standing temple has six square platforms and three circular platforms on top, creating a shape that is similar to a pyramid. This means that your exploration will involve climbing a number of stairs. According to the teachings of Mahayana Buddhism, the temple's levels represent the journey to enlightenment. Each time you climb one level, the sculptures are supposed to impart on you the stories and wisdom of Buddha. The highest level signifies the completion of the spiritual journey. Whether you are on a pilgrimage or not, there are other reasons why you should climb all the way to the top of Borobudur. This uppermost section features ample space that exudes a mysterious air of serenity. It also unveils the most amazing views of the surrounding landscape which includes a number of volcanic peaks.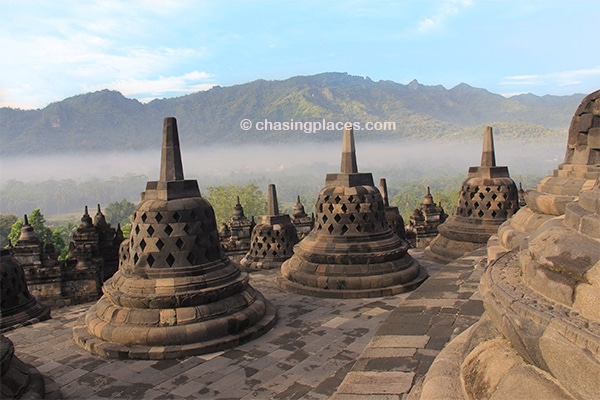 Entrance Fee and Opening Times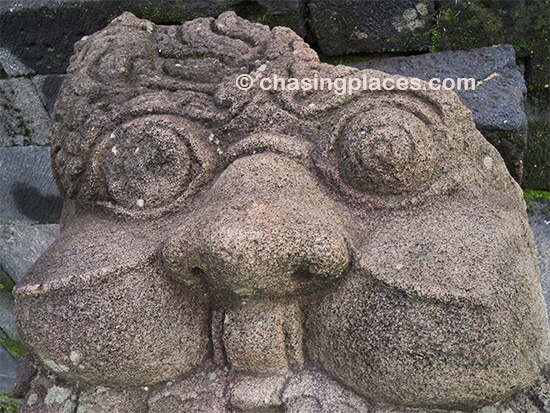 Adult foreigners who wish to gain access to the site have to pay the standard fee of $20. If you have travelled around Southeast Asia, you will immediately realize that this amount is relatively more than prices prescribed at other ancient sites. Nevertheless, if you find old monuments interesting and ancient civilizations fascinating; then Borobudur is worth the extra cash.
The site opens its doors at 6 a.m. and closes at 5 p.m. However, there is a Borobudur Sunrise tour offered daily by the Manohara Hotel. Being on top of the temple as the sun rises in the east comes at a hefty price of Rp 380,000 for non-guest foreigners. But this is the best time for photography or for a more tranquil Borobudur experience.  Hotel guests get a substantial discount and can get the same experience for only Rp 230,000.
Where Did We Stay During this Trip?
We stayed along Jalan Marlioboro in Yogyakarta in the city center. I would suggest staying in this area.  It has the most tourist services and it's central to the city sites.
Want to find the cheapest room near Borobudur or nearby Yogyakarta?
Yogyakarta is a great city for budget accommodation choices.  If you're planning on staying near Borobudur then there are fewer options, but also fewer distractions in the beautiful countryside.  During our visit, we decided to stay in Yogyakarta and visit the temples during the daytime. We used www.agoda.com to book our rooms, but some other solid options are www.hotelscombined.com and www.booking.com. Any one of these three should help you to find the cheapest rooms in the location of your choice.  Be sure to enjoy captivating Java Indonesia!
ALL ROOMS IN YOGYAKARTA – www.agoda.com
ALL ROOMS IN YOGYAKARTA – www.booking.com
COMPARE ALL ROOM PRICES IN YOGYAKARTA – www.hotelscombined.com
Have you gone to Borobudur? Share your experience! For questions and comments, don't hesitate to leave us a message!