The bustling Indonesian city of Yogyakarta is the most popular and convenient gateway to the UNESCO World Heritage Site of Borobudur. Yogyakarta's Adisucipto International Airport has excellent domestic and international connections to major cities like Kuala Lumpur and Singapore. Most travelers arrive and book their hotels in Yogyakarta and then make their way to Borobudur, which is about an hour ride from the city center.  If you don't have a lot of time on your hands, you can also make a direct trip to this ancient temple from Jakarta and Bali. But take note, that these journeys are quite long and tiring.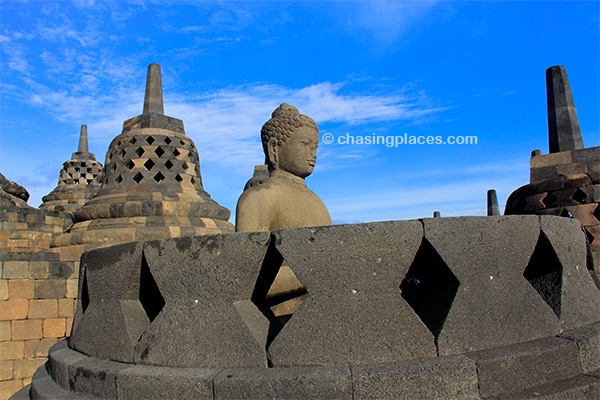 Booking the Tour
Once in Yogyakarta, it's very easy to arrange a trip to Borobudur.  In the tourist neighborhood of Malioboro, several travel agents in small offices offer mini-bus packaged tours to those interested in visiting the temples. There are plenty of packages to choose from.  One of the popular ones is the combined day trip to Prambanan and Borobudur.  Other packages include a stop at a nearby town to get an amazing view of Mount Merapi.
Choosing the most suitable package greatly depends on your budget, time frame and priorities. One important thing to remember before booking, is that tour availability is based on the number of passengers. If there are aren't enough tourists signed up, then the tour can potentially be postponed to another time or day. For this reason, it's best to book your arrangements ahead of time. It is also ideal to spend a couple days in the city of Yogyakarta just in case there is a sudden change to your tour itinerary. As a major tourist destination of its own, Yogyakarta has a wide selection of hotels and other accommodation options.
Choosing the Right Travel Agent
If you are backpacking on a backpacking budget, it is essential to scout two or more operators when it comes to tour costs before choosing a package. The golden rule is to not settle for the first travel agent you find. In fact, in some cases, agents are willing to negotiate the prices to match the offer of their competitors. Why do they do this? The truth is people in tourist offices do not directly own the vehicle used for the tour. They act as a third party, contacting the vehicle's owner when there are interested customers. Since they can decide on the commission for each passengers they refer, they also have the flexibility to changing their initial prices.
At this point, you might be thinking that arranging for a Borobudur temple tour is a tedious or stressful task. But the simple reality is, it isn't. This is because people in Yogyakarta are generally laidback and friendly, even the operators.  They may run a business but they are not too persuasive to the point of annoying customers. They will tell you what you need to know, and let you make the decision without breathing down your neck.
You have the option to pay the entrance fee to the operator or when you reach the ticket counter of the site itself. For some reason, the operators often offer a cheaper fee. Our best guess is that they receive some kind of discount from the government for bringing in loads of tourists to the temple.
Travel Checklist: Do you have everything you need?
Breakfast or No Breakfast?!
Most tour operators offer to include breakfast in the package for an additional fee. This may appear to be a good idea at the time of the booking, but based on our experience, it's not necessary. Outside Borobudur there are a slew of little eating stalls that sell the same dishes at almost the same price. But it is also interesting to note that some stalls are cleaner and more pleasant-looking than the others. The operators each have their own "go to" stalls where they bring their passengers to for breakfast. But if you don't book lunch with a certain operator; you have the freedom to choose which stall you want to dine in, and which dish you want to eat.
Proper Guide is Not Included
Even though operators like to label what they offer as tour packages, you are essentially just paying for the van ride and nothing else. Unfortunately, there is no English-speaking guide to walk around with you during "the tour."  The minivan comes with a driver that speaks little English. His job includes taking you to the site, settling the entrance fee, and waiting until you're done exploring. If you want an English speaking guide, book a proper tour with a reputable hotel.  But this, of course, means you will have to dig down deep into your pocket for this option.
Choosing Public Transport
Getting a minivan ride to Borobudur is a financially reasonable and convenient way to visit the ancient temple. However, if you want to use public transport to Borobudur, this option is also available. It is important to remember that only a few tourists take this route because it involves a couple of transfers.
You can catch the Trans-Jogja buses, particularly 2B and 2A from central Yogyakarta. These buses end up at Jombor bus terminal, situated in northern Yogyakarta. This ride costs a minimal fee of Rp 3,000. Once you arrive at Jombor terminal, you need to take another bus to reach Borobudur Bus Terminal. This one-way bus ride costs Rp 20,000. The bus will not drop you at the entrance of the temple. Instead, you will need to walk for about 5 minutes to reach the temple's parking lot. Taking public transit is a good option if you are planning to stay overnight in the Borobudur area. Most hotels are situated within walking distance from the terminal. If you don't want to walk, you can hire a becak (local bicycle transport) to take you anywhere around the village.
The Best Time
The best time to visit Borobudur is during the early morning or mid-afternoon. Weekends and holidays tend to be very busy. The tourist crowds may take away from the experience of visiting a temple known for its serenity. The site officially opens at 6:00 am, and closes at 5:00 pm. But guests of Amanjiwo and Manohara hotels can enter as early as 4:30 am, in time for the sunrise. You can also purchase a ticket for the sunrise tour if you are not staying at these hotels, but you need to pay a significantly higher amount.
Where did we stay during this trip?
We stayed along Jalan Marlioboro in Jogja.  I would recommend this area because it has the most restaurants and tourist services.
Want to find the cheapest room near Borobudur or nearby Yogyakarta?
Yogyakarta is loaded with accommodation options and there are some good options near Borobudur if you're looking to get out of the city for a few days. We stayed in Yogyakarta and made trips out to the surrounding temples. We used three different sites before we finalized all of our rooms: www.agoda.com, www.hotelscombined.com and www.booking.com.  You will find that Agoda has the largest selection and solid prices, whereas booking.com is known for its cancellation policies and great customer service. If you're on a budget then you might find the cheapest rooms around Borobudur with www.hotelscombined.com because they have handy price comparison searches before you finalize your room. If you book early you should have no problem finding the cheapest rooms in this fascinating region of Java Indonesia. I have included links to their respective property lists to save you some time:
ALL ROOMS IN YOGYAKARTA – www.agoda.com
ALL ROOMS IN YOGYAKARTA – www.booking.com
COMPARE ALL ROOM PRICES IN YOGYAKARTA – www.hotelscombined.com