There is something very enchanting about the little Japanese town of Magome that makes it highly recommendable to any traveler visiting Japan. But if you have not heard about this town, rest assured, you are not alone. Magome does not share the same level of popularity as other historical attractions like those in Kyoto. Nonetheless, this tiny town is packed with culture and rich with history.
History places Magome as one of the postal towns in Japan's Kiso Valley. It is one of the stops along the Nakasendo – a major trail that connected Kyoto and Tokyo at the height of the Edo Period.  Magome is connected to another postal town called Tsumago by the Magome-Tsumago Trail — one of the most scenic parts of the Nakasendo Trail.
The Picturesque Wooden Town
It is very rare to see a whole village filled with houses made out of hardwood. I, personally, had never seen one, until I came across Magome.  The hardwood, as my companion pointed out, is actually cedar, which has aged magnificently together with the town. The truth is our pictures do not even give justice to how beautiful the houses are (plus, it was very overcast at the time we took them). But trust me when I say that the architecture of the buildings is impeccable and everything about the town is so neat and properly designed that it looks like a well-preserved outdoor museum.   Magome is unquestionably quaint and charming as if it were a stuffed toy that no one could resist cuddling with.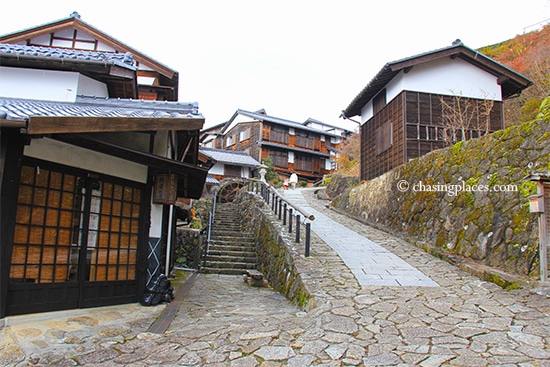 Getting to Magome
Admittedly, Magome is not straightforward to get to, and takes some planning when you are visiting on your own. I think that most tourists who visit Magome do so as part of packaged tours with buses conveniently driving passengers to the town.
I have seen photos of Magome during spring and summer, but I have to say that the town is even more breathtaking during winter (which is fortunately the time we visited the place.) We hardly saw any visitors roaming around town.  Perhaps winter is low season for visitors, due to the chilly weather. Nevertheless, I had a consistent smile on my face as we walked through the cobblestone streets decorated with fresh fluffy snow, gazing upon the wooden houses, which reminded me of gingerbread houses with snow-covered roofs.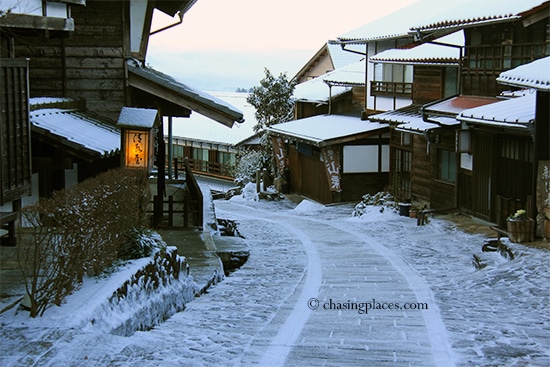 As you might have guessed by now, the town is very small and is easy to get around. The entrance of the town is only a few steps from where the local bus drops off visitors. You basically just need to walk straight up to reach the end of town, which happens to be the beginning of the Nakasendo Trail.
Travel Checklist: Do you have everything you need?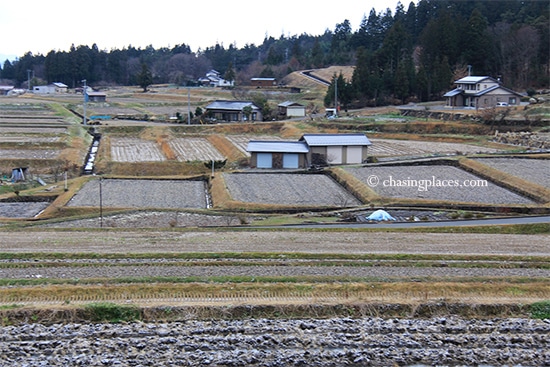 Exploring Magome
The cobblestone path towards the end of town is ambulating and at times, steep. But there is no real need to rush to get to the top as there are plenty of things to distract you along the way.  There is one convenience shop a few meters from the town entrance that acts as a supermarket for the village.  The shop sells plenty of Japanese snacks like cookies and dried sweet cuttlefish. As you walk through the village, you will come across nice teashops and quaint cafes, where you can just relax and soak in the wonderful atmosphere.  The village, as ancient as it is, conveniently has a free Wi-Fi zone. And if you are feeling very chilly during your walk around town, you can get warm up at one of the small heated rooms scattered around town.  These rest stops are free of use for tourists.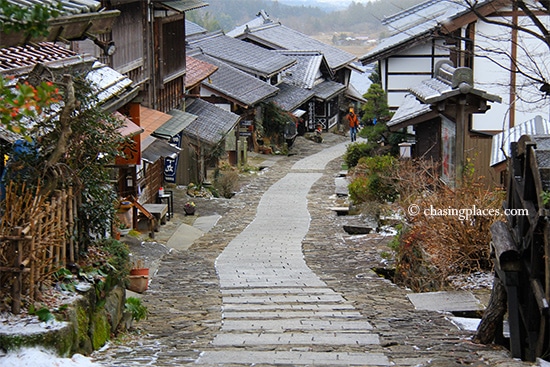 The Villagers
Despite looking very much like an immaculate outdoor museum, Magome has permanent inhabitants. Noticeably, we did not see any young people in the village, which suggests that it's one of those aging Japanese communities. Nevertheless, the few people we met along the way were all very friendly, respectful and helpful.
We met one lady who was selling this delicious flour cake snack. It was a joy to watch her prepare these snacks as she seemed to be making them the traditional way. We felt bad for her as she kept on looking down the street to see if some more visitors were coming.  There were not a lot of visitors that day, which might have been due to the snowy weather. But she managed to keep her smile and good nature.
Staying Overnight in Magome
For many, especially during the winter months, Magome is probably a better day-trip destination. In the winter, everything closes at 5 pm, which makes it even more intimidating for anyone who wishes to stay in the village through the night.  But we had our eyes set on doing the Nakasendo Trail the next day, so we decided to stay. If tackling the Nakasendo is your goal, then it is certainly an advantage to stay overnight and do the trail early in the morning.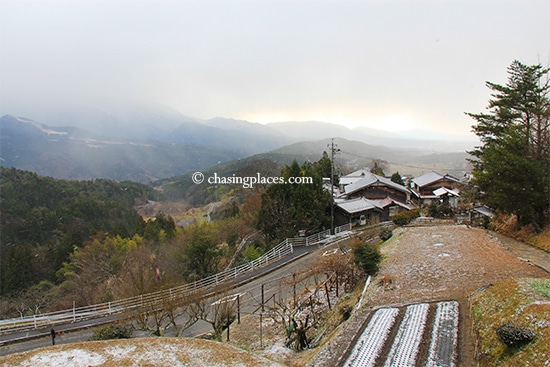 The town has a few guesthouses that welcome those who wish to stay overnight. The guesthouse we stayed at was originally a residence and like other buildings in town, was beautifully made of teak wood. It was not surprising that the manager was adamant about telling us not to smoke or cook inside the house. The only drawback about this guesthouse was that they turned off the heating system around the house at a certain time. Our room had a heater but the rest of the house was cold!
Knowing that businesses close early, we bought our food for dinner and ate at the guesthouse's main dining room, which was traditionally adorned with antique Japanese furniture including the low table.
We also slept on traditional Japanese mattresses that have no frame and lie on the floor.  The guesthouse was not a Ryokan, which means that we had to lay out our mattresses and fix our Japanese bedding on our own. It was the first time that we had to do it, so it was a little exciting.  We were also given the traditional Japanese robes, which we eagerly put on after soaking in the hot tub.
The night was certainly too young for us to go to bed. But outside, everything was still except for snow blowing with the wind. So we decided to sleep early as there seemed to be a quiet promise that the next morning would bring in something exciting in Magome.
How to find the cheapest rooms in Magome, Japan?
Like mentioned above, rooms in Magome are hard to find online, but we have done the research for you. Many people show up to walk the Nakasendo Trail during the warmer months only to find the rooms in this area sold out. Based on our experience, book early.  The two sites that were the most helpful for us were: www.booking.com and www.hotelscombined.com.