One of the main attractions within the Central Highlands of Sri Lanka is the town of Nuwara Eliya.  Located north of the tourist hub Kandy, Nuwara Eliya is more known for the grandiose tea estates around it.  It is possible to take the train to Nuwara Eliya, but hiring a driver to take you to the town and the neighboring attractions definitely has major advantages.
Driving to Nuwara Eliya gives you more freedom in terms of stopping by the various tea estates like the Delta Estate, the Rothchild Estate, and the Mackwoods Kellany Valley Estate. And this was what we did.  The drive proved to be incredibly picturesque. Along the way, we got to see not only the lush tea plantations, but also the industrious local workers, who have been laboring in these plantations for years.
I assure you that the scenery is so picturesque that it would almost be a sin if you didn't bring a nice camera along to capture the experience.
Ramboda Falls
One of the stops we made on the way to Nuwara Eliya was Ramboda Falls. This 109 meter-high waterfall is situated in the Pussellawa area, along the A5 highway.  Those who are not familiar with the area, may find it hard to find the falls especially because there are no sufficient signs that indicate where it is exactly. If you are one of those who are absolutely clueless about the exact location, it is best to arrange for an experienced local driver to take you there.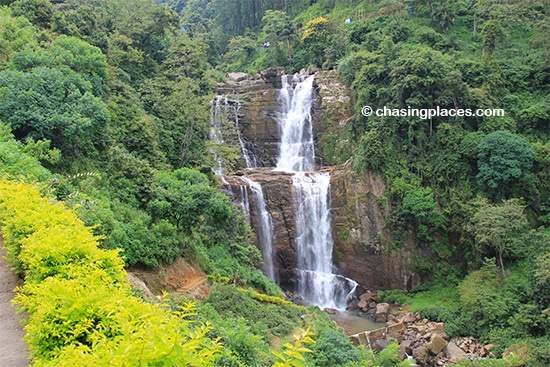 To access the falls, you will need to go through Ramboda Hotel first. It is important to ask permission from the management before you enter the hotel premises.  You will need to go down two floors of the hotel, passing through the lobby and the restaurant, to reach the base of the waterfalls.
Despite its not so conspicuous and peculiar location, Ramboda Falls is quite the attraction. It sheer size and the amount of water that cascades kept me glued to it, without noticing the minutes going by. This was when I realized that guests at the Ramboda Hotel must feel very lucky to get up to this sight in the morning.  I have always liked waterfalls because there is some kind of serenity and magic to them that just amazes me. Ramboda Falls was indeed an excellent stop on our journey to Nuwara Eliya.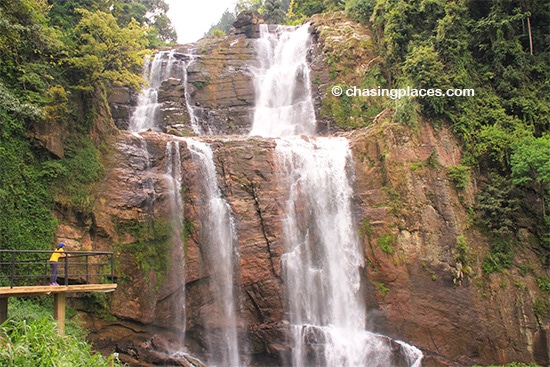 Gregory Lake
The ride from Kandy to Nuwara Eliya is definitely a long one, but we actually did not mind the time. When we got to the actual town, we were ready to get out of the the car to look around. Our first stop was popular Gregory Lake. This very clean lake is a popular destination among families. Aside from just admiring the view, you can also rent swan boats and sail around the vast expanse of the lake.  An outfitter company by the lake also offers Jet Ski rentals; although I imagine that Jet Skis zipping through the water would disrupt the tranquility of the lake. There are a few snack stands near the lake. There is even a moving restaurant bus that looks quite trendy.   But aside from these joints, there are no other established restaurants in the area.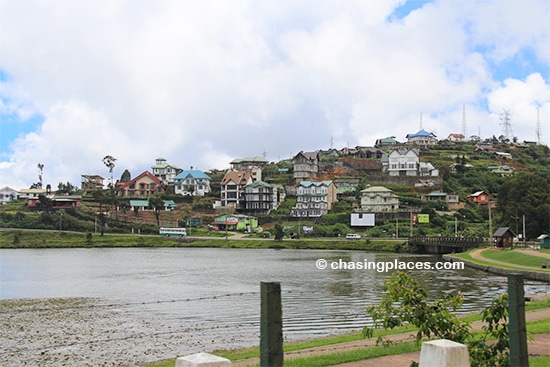 While in the lake area, it would be hard not to notice some of the largest and most lavished mansions in the country. They say that the richest and the most famous in Sri Lanka would certainly have properties in Nuwara Eliya.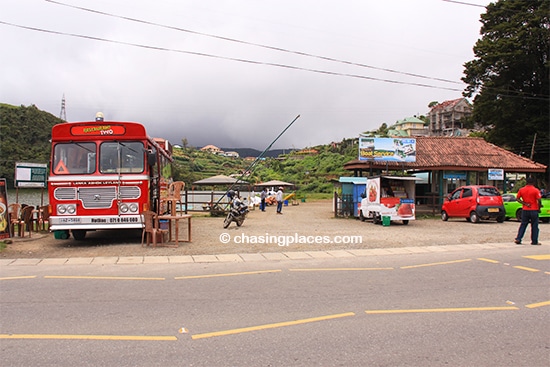 Travel Checklist: Do you have everything you need?
The Town Proper
After the lake, we stopped at the town center, which is not really built up. We saw different row of shops and some bakeries, but aside from that, the center seems to be devoid of western-type restaurants and fancy cafes.  There is nothing much to do in the downtown except if you want to go shopping for sarees (traditional South Indian dresses, jewelries and other local souvenirs).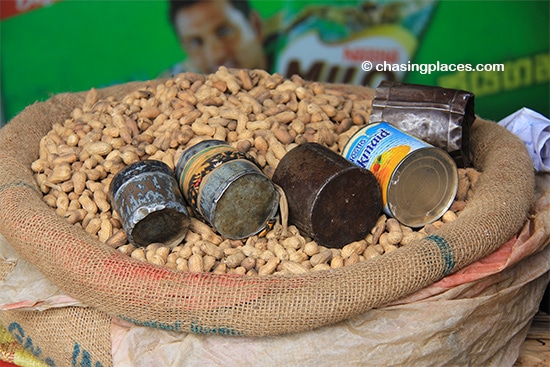 The town is quite pricey compared to other spots in the Central Highlands; and is more geared towards packaged tourism. In terms of restaurants, we did not find any mid-range eateries around. The hotels in the area usually have their own upscale restaurants, serving meals that range from $15 USD (equivalent) and above. The other choice you have is to dine in low-end eateries that may not pass the usual sanitary standard.  So if you are a mid-range budget traveler, prepare to spend more if you want to eat lunch in Nuwara Eliya. Otherwise, you can just bring some snacks, and plan to have dinner somewhere else. The city of Kandy, in comparison, has more varied and extensive options when it comes to dining, drinking and accommodation.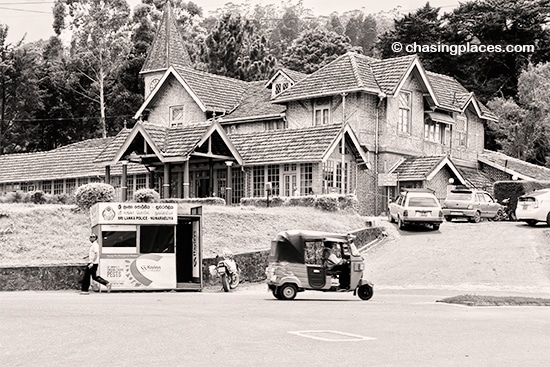 Although Nuwara Eliya is a very clean and laidback town with some solid views, the surrounding tea estates are definitely the highlight of the visit to this area.  If you are on a day trip, we recommend that you spend no more than three hours in town, and dedicate more time at other nearby attractions.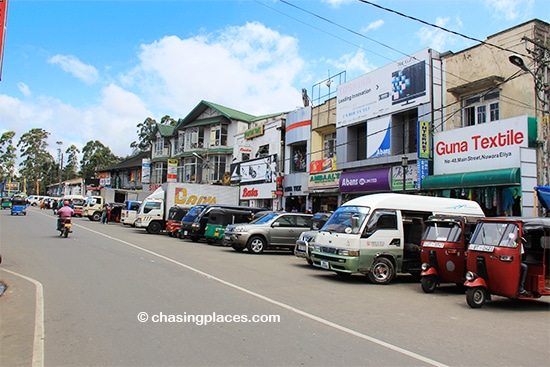 How to find the cheapest rooms in Nuwara Eliya?
If you want to take it super easy during your trip to Nuwara Eliya then you can stay a night in town in order to have more freedom to roam around nearby tea plantations for a day or two.  This will avoid long transit hours. Try to get a view of the lake if possible.  Kandy has more hotels, guesthouses and tourist amenities so many visitors choose Kandy as their base.
During our trip to Sri Lanka we used three different booking sites: www.agoda.com, www.booking.com and www.hotelscombined.com. Ultimately, it depends on your budget and personal preference but these sites are a solid place to start your search.
Be sure to have a safe and enjoyable trip! Feel free to comment below or check out one of our related articles about Sri Lanka.